We Brits are known for many things: Shakespeare, Churchill, Harry Potter, the Beatles – yet, few things compare to our ol' Sunday roast. Not only is it a much-loved British tradition; a roast also serves as an important marker of the week.
And now, we have Easter this coming Sunday. AKA: a day lost to vegetable prep and coordinating copious sides, not to mention the intense scrutiny from the meat police on the adequate browning, roasting and resting of the beef...
Fear not, renowned Chef Joe Lazzerini has created the ultimate stress-free solution and teamed up with HOME-X to bring us this roast through the post.
Step aside Toby Carvery, this is a refined version of our beloved British staple and offers hearty, unfussy and delicious Sunday scran straight to your door.
What do you get?
There are two roast boxes available to choose from: a traditional chicken or a Speyside Beef Sirloin.
I opted for the latter which included:
Caramelised Cauliflower and Apple Velouté
Speyside Beef Sirloin, Red Wine Gravy, Yorkshire Puddings
Cauliflower Cheese with a Cheddar and Herb Crumb
Beef Fat Roast Potatoes
Honey Glazed Root Vegetables
Vegetable Ecrase
Williams Pear and Vanilla Custard Trifle
The above came neatly presented in chic, minimalist cardboard packaging with an instruction sheet and two laminated menu cards for that fine-dining feel.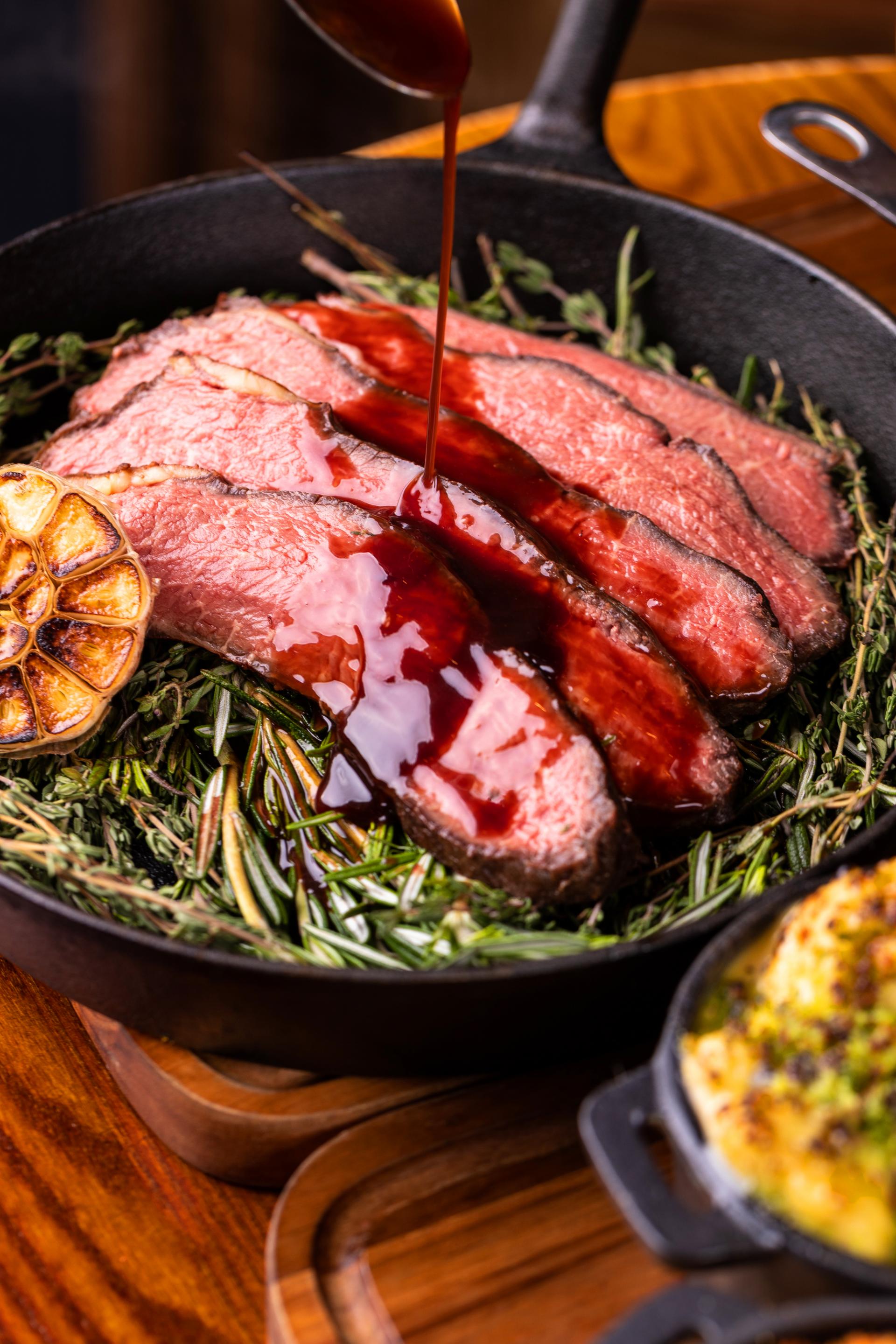 Standout dish?
It's safe to say everyone thinks their family makes the best roast dinner – until you taste this effort by the Loveable Rogue. Sorry mum, but this is good, so very, very good.
Standout dish? It's really obvious to say the Speyside Beef, but oh my lord the Speyside Beef. Paired with lashings of the richest red wine gravy, these salty, succulent slices are so delicious you could finish fat and happy without even touching the 'tators. Almost. But not quite. The crispy, golden, Beef Fat Roast Potatoes are a deliciously decadent partner in crime.
It would be gross misconduct to completely disregard the starter: Caramelised Cauliflower and Apple Velouté. The term 'Velouté' is the French word for velvety, and that's exactly what you can expect. Spoonfuls of thick, velvety caramelised Cauliflower topped with curried apple cubes and crunchy croutons. My brother claimed it was – and I quote – "The best soup I have ever tasted."
Save a slab of stomach space for the Williams Pear and Vanilla Custard Trifle, already complete in it's own cute jam jar and topped with almond crumb – it's a sweet and nostalgic end to an even sweeter Sunday.
How hard is the preparation?
Whether it's a quiet affair or a big ass get-together you're having this Easter weekend – yes, groups of six now count as big in our books – this meal box will certainly alleviate the Sunday roast stress.
The Beef took the longest which – after a quick glaze in the pan to caramelise its sticky skin – only took 30 minutes in a preheated oven. Everything else came clearly labelled and pre-prepared, ready to pop straight in the oven or simmer over the stove.
No roast should take all day to prepare. This meal box lets you get outside in the sun.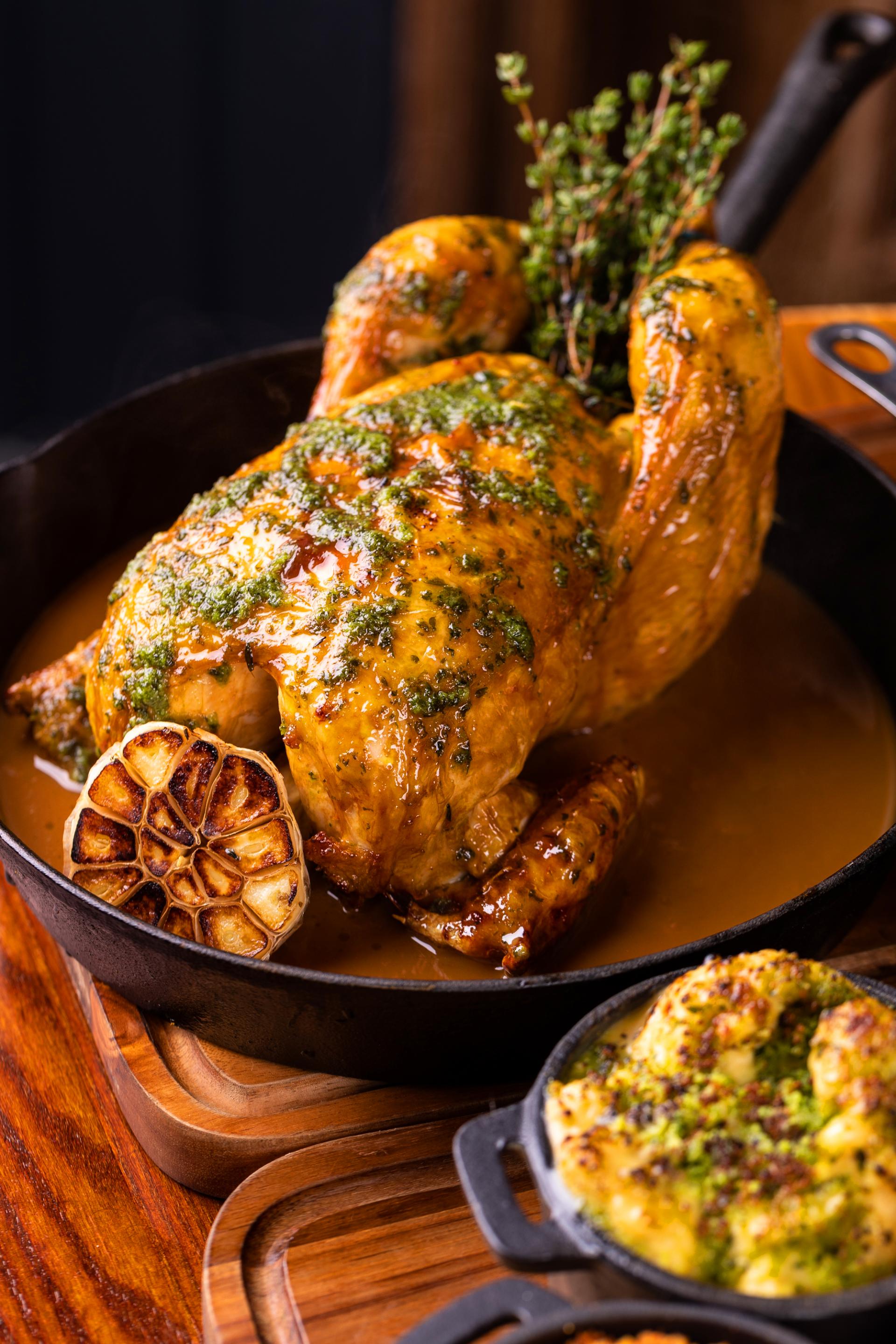 What's the damage?
Priced at £65 for two (£55 for the roast chicken) this is not your average pub grub, but it is fantastic value for money considering the portion sizes and the quality of that hunk of beef. 
Final note?
Forget grey and grisly overcooked meat, soggy oil-drenched potatoes and khaki-coloured broccoli mush. This, my friends, is a roast done right.
Simple, wholesome and traditionally British: The Loveable Rogue offers you all of the best bits of eating out from the comfort of your own home, and rest assured you'll be left down for the count.
All that's left to do is curl up for that sweet afternoon snooze. 
ROAST is available to order for Nationwide delivery