Call me a trope but nothing gets my middle-class-woman cogs turning like Italian small plates and Scandi-minimal décor. 
So, you can imagine the weakening of my knees when I visited Casa to find it delivered both. Indeed, I make the bold claim that Casa is up there with one of the best restaurants I have ever visited. 
Casa opened its doors this November, promising a contemporary, refined yet accessible take on traditional Italian dining. 
Located on the former Bristol harbourside site of his family culinary institution, the infamous Casamia, head chef Peter Sanchez-Iglesias had some big (Michelin-starred) boots to fill. But boy does he fill them. 
A combination of elegant Italian cooking with genuine verve, lovely staff and a stylish ambience make Casa a bonafide success. 
What's the vibe? 
Apart from the odd gold framed painting from the OG Casamia, Casa barely resembles its predecessor, opting for light, neutral and minimal decor. The walls are white, the tables are unvarnished pine and there is an open kitchen where you can eye-up eye up trays of focaccia sunbathing under the pendant lights. 
An open kitchen is always a risky move in my opinion because it offers the potential for a spectacle. And a spectacle, my friend, is not always a good thing. Particularly if it involves a foul-mouthed altercation between chefs or a Kilimanjaro-esque pile of saucepans. Casa (expectedly) pulls it off well. Harmonious and immaculate. Lick the floor kind of immaculate. 
A contradiction to this harmony was the thump of electronic house music which emanated through speakers all evening. Admittedly I didn't expect to eat a bowl of tortellini to Fred Again, but I didn't hate it.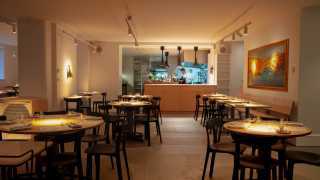 What to eat?
I'm not going to give you a ball-by-ball account of what I ate, because quite frankly, it was a lot. I will however give you the Spark Notes rendition. The menu is split into antipasti, cured meats, formaggi, pasta, carne, pesce, vegetables and dolci. Unlike other Italian eateries, the primi and secondi are tapas-sized portions, meaning you have the joy of trying more dishes (and the woes of paying for them too). The plates come out in different groupings depending on what Casa deems to work well together. It's equivalent to receiving your food in batches of in-laws who get along. And it makes sense.
Perhaps my favourite batch of in-laws was the not-so-chicken Milanese served with their wet polenta. And I hear you. Chicken breast as a star dish? Am I in some sort of Charlie Bigham's hell dream? But hear me out, this chicken was tender, filled with parmesan cream, topped with crispy breadcrumbs, and dunked in a cheesy, silky polenta. What's not to like? Some other menu highlights include the Orkney scallops, blue belly prawn crudo, confit trout and London-made burrata, which are some of the freshest, good-quality morsels I have tasted. Focaccia is also an essential accompaniment to these dishes. Particularly for burrata mopping duties.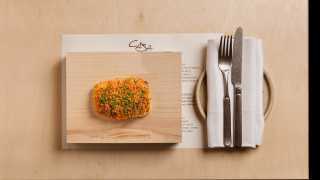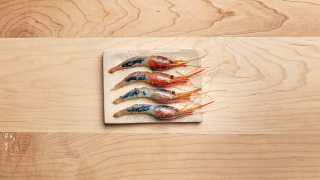 Now, onto the pasta. We tried the tortellini in brodo and double agnolotti. The former, a delicacy native to Emilia-Romagna, consisting of pasta filled with pork, mortadella and parmesan, bathing in chicken broth. The latter, a sort of Siamese-twin-stuffed pasta, made up of ricotta and gorgonzola agnolotti on one side, and pumpkin on the other. But no, the pasta did not stop there. They even serve deep-fried pasta dough (semolina) which was stuffed with parmesan. I fail to believe at this point, you're not salivating. 
Assuming you have room for dessert Casa has a selection of traditional Italian dolce. There is of course tiramisu, but also some lighter offerings if you're feeling a little comatosed, such as a cannoli or clementine sorbet. If sweet stuff isn't your thing, you can order cheese or cured meats as a final course (how continental).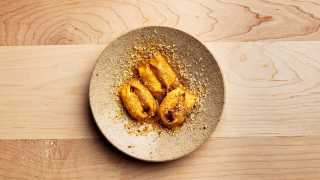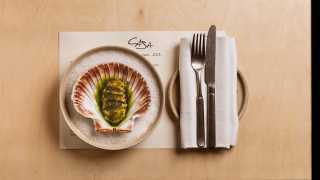 What to drink? 
In short: Slovenian orange wine, Campari and Amaro Montenegro. Casa's drink offering is both extensive and exciting, boasting an impressive selection of cocktails, frizzante, vermouth, wines, and digestifs. We started with a Campari spritz and Joegroni Sbagliato (named after an ex-colleague and made from Chinotto, Knightor, Vermouth and Turbullent). Shortly followed by a bottle of the Vipava Roza Pinot Gris - a Slovenian orange wine, which was surprisingly versatile when paired with the (shed load of) food we ordered. 
Finally, we enjoyed a digestif in the company of the restaurant manager. I went for an Amaro Montenegro on ice whilst my fellow diner had a Che Figo (a short cocktail, consisting of Don Q Critsal Rum, Fig and Frangelico). Thankfully, the drinks were far more pleasant than my inebriated chat which accompanied them. 
What's the damage?
Damage is all about perspective. And in the context of the late Casamia which was renowned for being the most eye-wateringly expensive restaurant in Bristol, Casa may seem like a bargain. However just because it no longer serves a 20-course meal for £360 does not mean you'll escape without a three-figure bill. Casa prioritises quality over quantity, which inevitably leaves a mark on your wallet. 
With smaller bites setting you back around £3-12 a portion, larger dishes £15-65 a pop and bottles of wine spanning £28-145, it's dangerously easy to drink and eat your way through the menu like a locust. That said, it would feel rude to pay anything less for an evening at Casa, given the genuine quality and originality of their offering. So, as a wise man once said. Go hard or go home. 
Anything else to note?
Casa is conveniently located on Bristol's harbourside stretch, so is the perfect al fresco dining spot in the summer months. Great food, great views! Sorted.
8, The General, Lower Guinea St, Redcliffe, Bristol BS1 6FU; Casa