If the name Crispin sounds familiar, it may be the ghosts of English A-level whispering from the past: the St Crispin's Day speech from Henry V is one of the most celebrated in the language. Not "Cry God for Harry! England and Saint George!" – the other one. "We few, we happy few, etc etc", and no, your breast is suddenly swelling with a patriotism latent since 2012, give or take that Eric Dier penalty against Columbia.
The passage I want you to consider runs thus:
This day is call'd the feast of Crispian.
He that outlives this day, and comes safe home,
Will stand a tip-toe when this day is nam'd,
And rouse him at the name of Crispian.
He that shall live this day, and see old age,
Will yearly on the vigil feast his neighbours,
And say "To-morrow is Saint Crispian."
Then will he strip his sleeve and show his scars,
And say "These wounds I had on Crispin's day."
First up, congratulations to the attentive readers who noticed the magically disappearing 'a": is it Crispian or Crispin? Both: Crispin and Crispinian were brothers, and no wonder the pair became saints because my God what other option did they have? However Crispin got the Day named after him – 25 October should you care – which seems a tad unfair. If I was Crispinian I'd be rightfully pissed off, firstly that my parents somehow saddled me with a dumber name than 'Crispin' – I'd say fair play parents, were it not for their chronic lack of imagination – secondly because this stupid name cost me my shot at posterity, and during my torture at the hands of the Romans the shot at posterity was my primary source of consolation, 'they can tear out my fingernails but they will never take my name', only no, Crispin gets the Day, Crispin gets posterity, Crispin gets Shakespeare, Crispin gets the restaurant – oh yeah, the restaurant – while poor old Crispinian gets his head chopped off.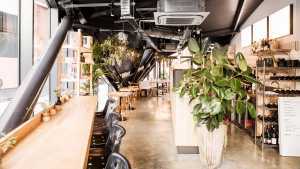 Anyway. Enough about Crispinian. Nobody cares about him. Even Shakespeare couldn't be bothered to get his name right. (Hack.) Let us return to the extract, and attempt to start this review. There are several tantalising segues from saints to Spitalfields (but none as tantalising as the latter's friggitelli tempura, can I get a 'hell yeah?!').
If you can't do something with "the feast of Crispin" then you're in the wrong industry, but let's try and be a little more inventive (as inventive as Crispin's veal tartare, oyster and black garlic, which wins instant entry onto the list of Dishes I Didn't Know Existed But Now Can't Stop Fantasising Over).
Crispin has quickly established itself as one of the most impressive venues in London
There's potential in "Will stand a tip-toe when this day is nam'd", provided you swap 'day' for 'duck, peanut sauce, pickled plum', the beautifully confident centerpiece of our meal that lived by the mantra 'keep it simple and let the taste do the talkin'', and my, did the taste speak well. (The taste said a lot of things, "you're going to want to order me again" being the most vocal.)
However I tend to favour the idiosyncratic, and thus can't resist trying to fashion something from "Then will he strip his sleeve and show his scars / And say "These wounds I had on Crispin's day" – probably along the lines of 'you may attain wounds, fighting to secure a reservation inside Crispin's pavilion, but trust me, they will be worth it once you taste the monkfish, mussels, and Cafe De Paris sauce', although I can't rule out the even more circuitous 'while you may face a fight to secure a reservation at Crispin's, which seats 40 inside and another 30 on the outdoor terrace, you hopefully won't pick up any literal scars, and can therefore enjoy the burrata – the finest burrata I've ever tasted – without getting blood on your plate.'
(My, but writing is fun.)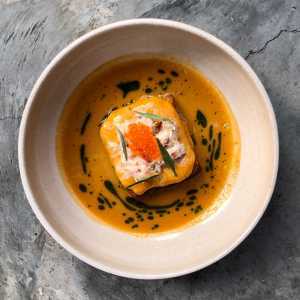 Look, the salient facts are these: Crispin opened last year and has quickly established itself as one of the most impressive venues in London. This is true of both the literal venue itself – a custom-built glass and zinc pavilion that looks like an art installation, or a really funky fish tank – the food served within; food that is seasonally suitable and, where possible, locally sourced. The bread, for example, comes from Dalston's Dusty Knuckle bakery.
Currently working the Crispin's kitchen are Fabien Spagnolo and Max Truel, the chefs behind acclaimed pop-up restaurant Kitchen FM. Their stint at Crispin earlier this year proved so popular they've been invited back for more.
Expect a menu of elegant dishes that speak with a French accent – Spagnolo and Truel grew up in the South of France (the bastards). Don't expect the exact dishes referenced above: the menu changes weekly. Do order the 'one of everything' option. Don't expect me to explain what the 'one of everything' option entails.
So yes, visit Crispin, and bring your band of brothers with you. (Or sisters, for that matter: we don't discriminate between siblings, metaphorical or otherwise.) Those who miss out shall think themselves accurs'd they were not here.
Pavilion on The Corner, White's Row, E1 7NF; crispinlondon.com