Talk about a treat. Founded by Jay Patel and head chef Matt Beardmore, Legare encapsulates the very best of the London restaurant scene: fantastic food served in an unpretentious yet classy setting at prices that will not make you weep when presented with the bill.
The restaurant combines a central London location – barely a minute from Tower Bridge – with a neighbourhood conviviality, the whitewashed walls and shelves of wine bottles contributing to the sense of home. Or rather, round the corner from home – which if is indeed the case, congratulations.
The staff are knowledgeable and attentive, the atmosphere is lively without being overcrowded, and the food – well onto the next section.
How's the food?
Delectable. Legare specialises in pasta, made in house and hand-rolled daily. And you really must try the pasta: the ricotta cappellacci with brown butter, sage and pine nuts is swoon-inducing, ditto the orecchiette with braised rabbit and swiss chard. Even typing out the names of the dishes brings a faraway expression to the eye and a wistful tugging at the corner of the mouth.
But there's plenty more than pasta in Legare's locker. Angus beef carpaccio comes in a tonnato, caper and anchovy dressing and ranks among the finest carpaccio I've ever tasted. Nor should you sleep on the fettunta of bull's heart tomato, wild oregano and olive oil, bruschetta turned all the way up to eleven. And however stuffed your stomach, I guarantee you'll find room for the cannoli. 
Legare uses strictly seasonal ingredients so I can't promise all of the above will be on the menu when you visit. However I can promise their replacements will be good enough for you not to care.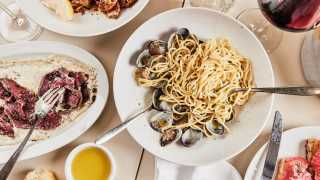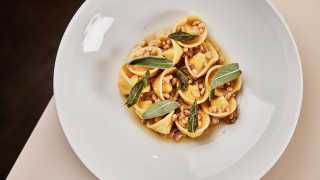 What to drink?
There's a small yet diverse wine list, which describes itself as low intervention. While this may sound more like a foreign policy strategy than a bottle of plonk, it simply means the wines are natural: made by small Italian producers from hand-picked grapes and no additives. We had a bottle of the house and it went down very naturally indeed.
Like what you taste? Legare also has a wine shop allowing you to take home a few bottles for future consumption. You'll feel like a baller on your way out.
What's the damage?
While the bill won't draw tears, it certainly makes itself known. Antipasti and Primi dishes tend to range between £10 to £20, the house wine is £24.
You'll do well to escape below three figures for two people, but equally you'll do well to go too far above it – unless of course you venture to the punchier end of the wine list, at which point you don't care about budget so go nuts!
Anything else to note?
Quality doesn't go unrecognised: Legare was awarded a Bib Gourmand accolade from the Michelin Guide in January 2021. I doubt it'll be the last accolade coming its way. 
For more info, see Legare