Looking to squeeze in a culinary treat before the next arbitrary round of lockdown rules kicks in? If so, you should definitely go to Liv. And we don't mean that in a 'Go to the pub but only between six and 10pm on the third Wednesday of the month, and don't see your mum unless you're both going on a grouse shoot' kind of a way, we just mean unambiguously, unequivocally, go to this restaurant. It's fantastic.
Relaunched post-lockdown under new Chef Director Mark Jarvis, Liv styles itself as a 'relaxed and vibrant neighbourhood restaurant'. A fair assessment, sure, but bear in mind that the 'neighbourhood' it is relaxing in is Belgravia, so you can expect a healthy dose of sophistication mixed in with your easy-going vibrancy.
The outside seating is in the style of a Parisian café for the warmer days, and the interior is bright and stylish, with understated Matisse sketches hanging on the walls. Throw cushions in shades of yellow and gold are scattered artfully; arranged deliberately, but without looking like it. The result is a bit like that friend you have with irritatingly great taste but who insists they never make any effort. You know the one: "This old thing? Yeah my aunt was just throwing it out, I had no idea it was an original Philippe Starck…"
How's the food?
It's contemporary British, relying on quality ingredients which have been made to sing by the chef's knack for perfect balance. Try the Burrata, served cold with walnuts and warm figs for a lesson in subtle combinations of texture, taste and temperature. Go for the truffle pasta with girolle mushrooms if you prefer knock-your-socks-off flavour and creamy, dreamy richness. You really can't miss with this menu.
The star of the show is the duck breast. The skin is perfectly crispy, slightly caramelised by the maple glaze, which in turn lends a sweetness to the deeply savoury meat. It looks a picture too, garnished with salad leaves strewn playfully around the plate, and served on a bed of celeriac puree.
Does Celeriac ever come in anything other than a puree, by the way? What does a Celeriac look like in real life? Come to think of it, have you ever seen one in a shop? Do they really exist? Sure, they use them all the time on Masterchef, but I'm not convinced that Celeriac isn't some secret ingredient that only Monica Galetti knows how to find. Maybe she keeps it hidden away in some secret larder behind the stuff they use to shine Greg Wallace's head…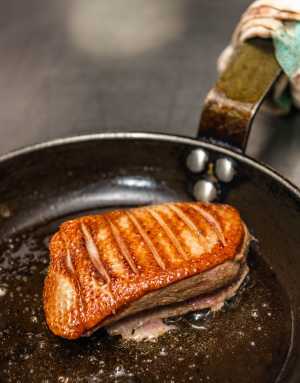 What to drink?
The wine list boasts a healthy range, from the humble house red (£28) up to a Pomerol just north of £100, so there is something there for everyone.
If you are in the mood for a cocktail, the cellar-style bar downstairs will happily knock you up whatever your heart desires, or for the less adventurous they also provide a list of 'suggested drinks', which is a nice touch. You can't say no to an espresso Martini if it's 'suggested'. Your dentist 'suggests' Colgate, Liv 'suggests' a Negroni. It's almost like having one of your five a day, isn't it?
Will it bankrupt me?
Mains range from Sea Bream with potato & fennel gratin (£21) to Lamb rump with anchovy butter and king oyster mushrooms(£26), so given the quality it's certainly reasonable, just not the sort of thing that eat-out-to-help-out would make much of a dent in.
Anything else to note?
After dinner, take a stroll past the galleries and antique shops of Pimlico Road opposite, and if you have a spare five grand lying around, pick yourself up a nineteenth century Chinese vase from Anthony Outred. Or if you want to go a little older, grab a genuine Siberian mammoth tusk from Dale Rogers over the road.
Ice age not old enough? How about a three-metre fossilised Jurassic Crocodile (yes really). Now that probably will bankrupt you…
18-22 Holbein Pl, SW1W 8NL; Liv