There can be few more baller dining spots than M Restaurant in Canary Wharf: bang on the waterfront, the financial district towering all around you, the City gleaming on the horizon. The decor is evokes a luxury cruise ship: marbled blue floor, curved velvet booths, windows overlooking the water.
Prosperity abounds. There's a wine tasting room with £7,000 bottles. A members' lounge decked out with £35,000 Bang & Olufsen speakers (three of 'em), one cupboard housing members' personal spirit bottles, and an adjacent private dining room – aka the winners' circle.
Meat hangs in dry-ageing fridges above trays of Himalayan salt. A six-litre bottle of rosé rises from the bar like a skyscraper which caught the sun. Most baller of all? The steak roulette wheel. Pay £68 and spin for your supper: if you're lucky you might land a £150 cut of Kobe.
Directly outside the restaurant, you will find two Himalayan salt pods. These are transparent pods lined with blocks of Himalayan salt to purify the air. Imagine dining in a very luxurious igloo, one equipped with bluetooth speakers that link to your phone.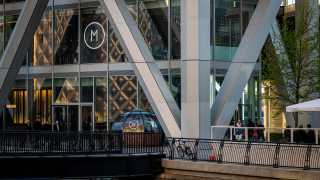 And what to order in the Himalayan salt pods? The Wagyu Experience Menu of course – six courses of meaty magnificence to leave you weeping with gratitude that you were not born vegetarian. Let's go through it:
Wagyu biltong comes with a crown of fat and tangy pickles: it would make the best lunchtime snack of all time. Then you have the Wagyu tartare with egg, M's signature dish. It arrives under a cover, appears through a mist of steam and then has foie gras grated over it. I didn't know meat could be refreshing but refreshing it certainly is: 
Wagyu scotch egg is a Wagyu scotch egg: comfort food par excellence. You could imagine chomping it down hungover on your sofa, provided your sofa is velvet and your hangover champagne. Then we reach the meat of the meal (no pun intended) with the arrival of the Blackmore Wagyu duo, cuts of inside skirt and beeswax sirloin served with 15-hour Wagyu parmesan chips – cooked to utter perfection.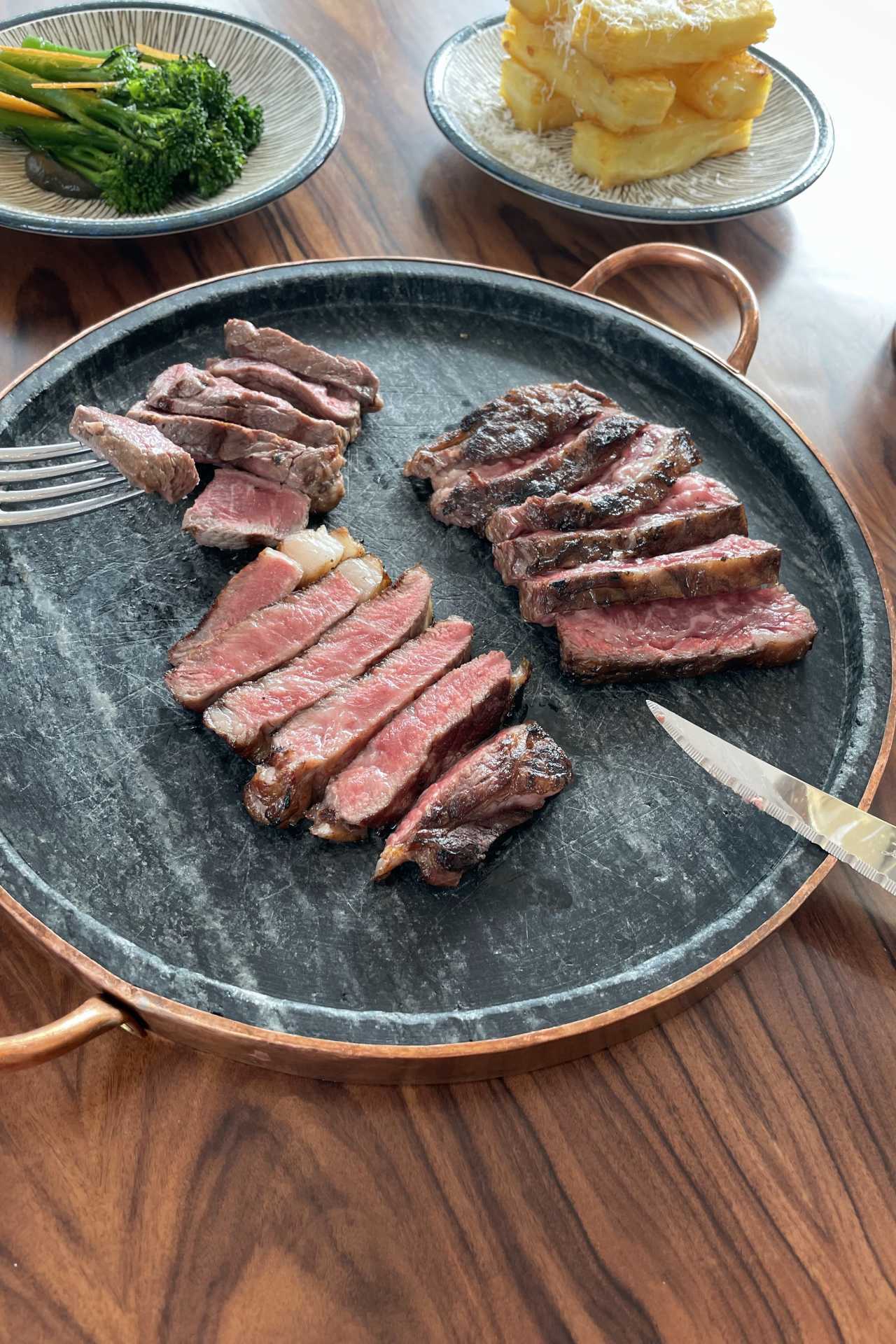 Let's talk BMS. For the initiated: BMS stands for Beef Marbling Score and measures the amount of marbling on a steak. It runs from 1 to 12, with any score above a 7 earning A5 status, the highest category. The cuts served by M have a BMS of 9++ – so we're talking seriously, seriously high-quality meat.
But the meal isn't done yet. Finally, arriving on the metaphorical red carpet, 50g of Kobe beef. Grade 10+ – the highest grade of Kobe available in London. (There are only 10 restaurants licensed to sell Kobe meat in the entire UK.) Savour each slice: the incredible richness of the meat, almost melting in your mouth. It tastes slightly of mushrooms and earthy fields. It tastes better than you can imagine.
Happily for your digestion, dessert is a light affair – wagyu chocolate truffles rounding off the meal. There are also wine pairings for three of the dishes: 2018 Viñedos Sierra Cantabria for the tartare, a crisp 2020 Silver Lining chardonnay for the Scotch Egg and a 2018 Château Eglise d'Armens for the wagyu cuts, almost as complex and rich as the meat itself.
Naturally, six courses of wagyu don't come cheap: the tasting menu costs £250 a person plus another £40 for the paired wines. But like The Matrix, this is a tasting menu you need to experience for yourself. 
Unit 10, Newfoundland Place, London E14 4BH; M Canary Wharf