When a restaurant is namechecked on a Nicki Minaj track, you can pretty safely say it's 'arrived'. Congratulations, then, to Philippe Chow, for its appearance on 2017's 'Rake It Up' – "I'm at Philippe Chow, I got a Patek on," raps Yo Gotti, displaying a fine taste in both cuisine and horology. (The best things in life absolutely do NOT come free.)
Gotti is in good company: everyone from Rhianna to Jay Z has been spotted at the Upper East Side venue, chowing down (sorry) on dishes such Salt and Pepper Lobster and Spicy Velvet Chicken. So it's no surprise that Philippe Chow has consolidated its hold on Manhattan with the opening of a second branch in the Meatpacking District: Philippe Chow Downtown.
Naturally 'Downtown' doesn't mean downmarket: as soon as you descend the mirrored staircase and enter the subterranean dining area, it's clear the new venue shares its elder sister's sense of style. There's a DJ booth, housed in golden bamboo (obviously), while the dark red ambience would win favour with any Bond villain (and A-lister, going by past clientele).
And there's a reason why people who can eat in literally any restaurant in the world often choose to eat here. The food is damn good. The $85 Peking Duck is considered to be the menu's VIP, and apparently the favourite of many visiting VIPS as well, including Cardi B (whose love of Philippe Chow is well-documented). You'll at least one other person to share with, but they shouldn't be too hard to find.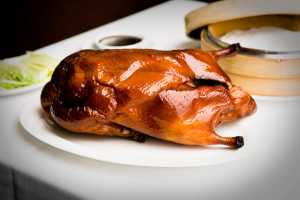 However you can order pretty much anything on here and go home happy and well-fed. We opted for crispy beef in a sweet orange and carrot sauce, with a side of bok choy and of course wok-fried pork dumplings. Oh, and cocktails – try the Lychee Martini (Absolut Vodka, lychee juice, coconut cream, lime juice, Citronge). As good as it sounds.
If you're travelling with a big party – or happen to be a big name yourself (hi, Cardi) – it would be remiss of us not to mention the private dining room, which can seat between six to 30 people. A sliding screen keeps you away from the Muggles. And if you're going really hard, hire the whole restaurant and party like a rock star (albeit a responsible rock who doesn't trash places) with 176 of your closest friends.
Fancy a post-dinner drink? Then you're in luck: Lower Manhattan houses some of the world's finest cocktail bars. May we suggest The Happiest Hour for fun and frivolity, and Slowly Shirley for a more relaxed, speakeasy vibe. Both are situated within the same building, less than 15 minutes' walk away.
Well, it is the city that never sleeps...
For more info, see philippechow.com