One of the benefits of working for a luxury lifestyle magazine is you get to take your friends to nice restaurants. (You also, entirely coincidentally, double your number of friends. Four of 'em!)
Yet one of my closest and dearest friends had never enjoyed this perk. He got ill, you see, not long after I got the job – the kind of illness where you spend months in hospital being injected with stuff that will make you lose your hair and possibly develop superpowers. The hair departed, the superpowers failed to arrive. So it goes.
He got ill, he got better, he got ill again, he got better again – albeit minus hair, energy, or the ability to drink alcohol. (Picture a teetotal walnut.) The process took four years. Severe illness is many things but monotonous might be first among them.
By the fourth year, the getting better got better. His hair returned. He didn't need a nap after walking to the shops. (He might nap anyway, he likes napping, but it would be a matter of choice rather than necessity.) And he could booze, first cautiously, then slightly less cautiously – although the first hangover after years of chemotherapy treatment and enforced abstinence is apparently one for the ages.
So. Last night, for the first time ever, I got to take my friend to a restaurant review. And I can think of no higher compliment to Trivet than to say it absolutely lived up to the occasion.

Frankly, I had a feeling it might. Opening in 2019 (good timing), Trivet is the first solo restaurant from Fat Duck alumni Jonny Lake and Isa Bal, and those credentials alone should banish any doubts. The recent Michelin star doesn't hurt, either.
Trivet is a very relaxed place, with the decor of an architect's front room: cool, clean, confident. Stonewashed walls, lots of light, outdoor terrace, overwhelming sense of bonhomie. Trivet isn't here to show off. Trivet knows it's a 10.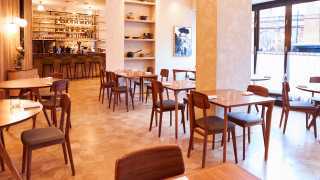 What to order?
Brilliant, thinks the reader, we finally reach the food bit after those opening paragraphs on the effects of chemotherapy. Rather like Mike Tyson, the menu is compact but packs one hell of a punch. Let's strive for similar efficiency.
On starters: I went for the Drunk Lobster with noodles, my pal had crispy veal sweetbread. My lobster was delicious but the sweetbread was positively swoonsome. Advantage sweetbread, you would think, but there's a sting: the lobster is cooked in saki and leaves behind a small puddle of miso soup, a soup so good that I came this close to lifting my plate to my lips (instead I furiously excavated with my spoon). So draw.
Things only got better from there. Poached and roasted Aylesbury duck was good enough to put all other ducks to shame – Donald, hide your face! Daffy, begone! Actually, Daffy, come back, I've something to show you in Trivet's kitchen. My friend's monkfish should really be promoted to Cardinal, if not Pope – it came in a sauce described by him as a "masterpiece – sharp yet rich. I've never really tasted anything like that."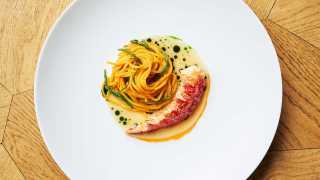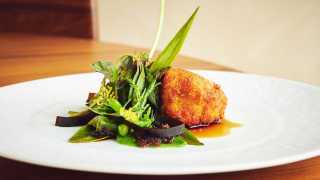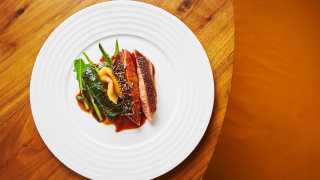 What of the wines? Trivet doesn't have a wine list so much as a wine bible, listing its regions from the estimated birth of their winemaking. More than 350 bottles take you on an oenophilic journey from 7000 B.C. (Georgia, Armenia, Turkey) all the way through to the babies of the sixteenth century (Argentina, America to name a few). I suggest you surrender yourself to head sommelier Philipp Reinstaller and opt for bespoke pairings with each dish.
However a couple of gentle nudges: firstly, a 2016 Chateau Delmond Sauternes that somehow ended an exceptional meal on its highest point. It was paired with the Hokkaido Potato, a monumental dessert in every sense (tastes great, looks like a sculpture). And secondly a Junmai Ginjo 'Indigo' saki (paired with the sweetbread) that went down as sharp and clean as Excalibur after its morning polish.
Oh yeah – there's a lot of saki. If you like saki – as all right thinking people do – you're in for a treat.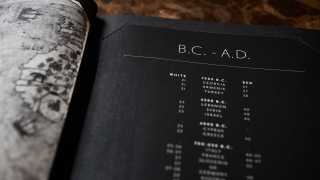 What's the damage?
Great power comes with great responsibility, great food comes with a high price tag. (Although obviously you can have delicious cheap food, and recklessly irresponsible great power – Spider-Man, why are you hiding outside the arachnophobes' group counselling room?)
Trivet is a place where the starters are priced like mains (£39 for the lobster noodles), the mains are priced like meals (£52 for the turbot) and the more expensive wine bottles are priced like a maths equation. Break three figures? You're gonna smash three figures to pieces, leave it whimpering in a pool of its own blood.
And you know what? That's OK. Expensive meals cost money: that's why they're called expensive meals. And in the case of Trivet, you won't resent a penny of the bill. (Maybe order a digestif before you read it, though.)
Anything else to note?
Great restaurants require both great food and great service – I've rhapsodised enough about the former so let's end with a shoutout to the latter. Manager Melissa Fergus has assembled a wonderful team who'll look after you with charm and efficiency.
Superlative food, brilliant staff, gorgeous setting? It's enough to make you sick.
36 Snowsfields, London SE1 3SU; Trivet