Bowmore, the first licensed Islay distillery, has stood on the shores of Lochindaal – a sea loch opening in the wild Atlantic Ocean – since 1779.
Throughout its 240-year history, the Bowmore Distillery made it its mission to honour original whisky making techniques, combining the power of centuries of skill and tradition with innovation and the magical character of Islay in every single drop.
The intention to celebrate tradition and create a distinctive distillery character is what makes Bowmore such a multidimensional and timeless single malt, enjoyed by many today.
At Bowmore, time is invested at every stage. Each ingredient is carefully selected to add in more flavour, starting with the grain.
Bowmore continues to champion the handcrafted techniques that have formed a part of the distillery since its fruition, including using floor maltings – an artisanal process used today by only a handful of distilleries in the 130 that Scotland counts.
During this process, the grain is manually turned every four hours, adding just the right amount of peat to the furnace – a delicate balancing act that gives Bowmore its subtle peat smoke dimension – while preserving enough of the cereal to leave space for other flavours to develop.
To incorporate the magical character of Islay in their malt, Bowmore uses water from the River Laggan to create the wort, carefully preserving the purity of the water and the delicacy of the malt by only stirring the mixture three times for exactly five and a half hours.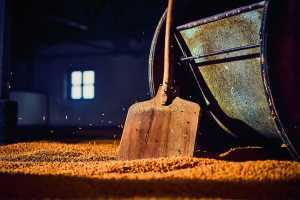 As a final ingredient, Bowmore uses fresh yeast to add its own dimension of flavour to the whisky.
When it comes to storage, Bowmore invests in a high proportion of first-fill casks: including bourbon or sherry, with lots of flavour to impart. After 12, 15 or 40 years, Bowmore marries casks from different provenances together – typically ex-bourbon and ex-sherry casks – in order to create more dimensions of taste.
Something for the whisky first timer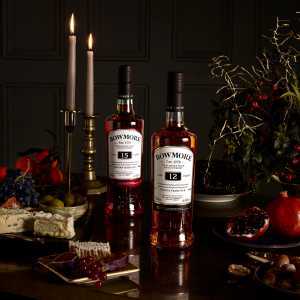 While undeniably popular among long time whisky enthusiasts, Bowmore also has a lot to offer to whisky first timers. The core range, including the 12 and 15 Year Old single malt Scotch whiskies, is perfect for those who want to diversify their whisky knowledge but are unsure where to start their journey.
Capturing the essence of Bowmore – thrashing waves, windswept landscapes and generations of tradition – Bowmore's 12 Year Old is both complex and perfectly balanced. Its tasting notes of subtle lemon and sweet heather honey complement Bowmore's trademark peat smoke, leading to a delicious, long and mellow finish.
Rich raisins and gentle smoke lead the way to a delicious chocolatey centre in Bowmore's 15 Year Old. Matured first in bourbon barrels then Oloroso casks, Bowmore 15 Year Old is a great example of a sherry cask finished whisky – spending its final three years in Oloroso sherry casks to give it a rich, deep colour and warming finish.
For first timers, Bowmore recommends carefully nosing the spirit and adding a splash of tepid water to slightly soften the taste. Or, use Bowmore to form the base of some of our favourite cocktails. Whether you choose a Whisky Sour or opt for a classic such as the Old Fashioned, introducing Bowmore within cocktails is a great way to start out your whisky adventure.
Expressions for car lovers
Over the years, Bowmore has celebrated its long-standing relationship with Aston Martin through a series of limited releases. Sharing a commitment to heritage, craftsmanship and innovation, the two brands set to unite the worlds of whisky making and automotive design with the creation of Bowmore Masters' Selection back in 2021. The latest bottle in the series was released at the end of last year.
Prior to this, Bowmore whiskies have taken on a striking new look inspired by some of the rarest and influential cars from Aston Martin's 110-year history. Released annually, the new-look limited-edition collection incorporates Bowmore 10, 15 and 18 Year Old single malts and allows for the exploration of the significant synergies of these two worlds.
Something for the collectors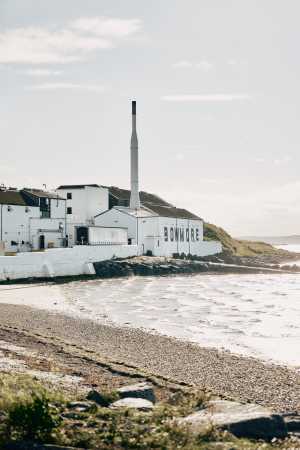 While Bowmore has long established itself as a master of innovation and pioneering design, sought-after whiskies are what has resulted in Bowmore catching the eye of whisky collectors. Black Bowmore DB5 1964 is just one example. Described as a unique, handcrafted vessel filled with an equally exceptional rare single malt, Black Bowmore DB5 1964 marked the first collaborative creation between the distillery and Aston Martin. With only 25 bottles made available to purchase, this masterpiece celebrated the exceptional Bowmore single malt whisky and Aston Martin's most recognised cars – the DB5 – and has become one of the rarest and most sought-after single malt whiskies ever created.
More recently, Bowmore introduced a new collection of aged and rare whiskies. Perfect for collectors and investors, it showcased some of the rarest whiskies from Bowmore and brought a totally new aged expression to the global portfolio – including Bowmore 30 Year Old, bottled in 2000 from vintage 1989 stocks at an ABV of 45.1% following maturation in sherry hogsheads.
Lastly, we focus our attention on Bowmore ARC-52 – a limited release fusing together a futuristic and striking decanter with one of Bowmore's oldest whiskies. This unique whisky explores the ideals of balance and is older than 50 years old, blending herbal and medicinal notes combined with exotic fruits, praline and butterscotch to finish. Innovative inside and out, we can see why Bowmore ARC-52 would be a collectors' favourite.
So whether you're a long-time whisky enthusiast looking for the latest addition to your collection, a car fanatic or a first timer just stepping into the world of whisky, Bowmore has something unique to offer to you. To dive into the world of Bowmore is to dive into a beautiful mix of centuries of tradition and innovation in every single drop. 
See more at bowmore.com