The Scotch whisky trade is full of big characters. That is not much of a surprise; distilling in Scotland's most remote and unforgiving landscapes is not for most folk.
For all of the romanticism and artisanal undertones, it is bloody hard work. It is best suited to those who never shy from hard graft, who can find a fix to almost anything and can do so with that brutally dry and self-deprecating humour for which Scots are known.
It also requires a gentleness and a bit of humility; someone who appreciates that, whilst it may be a rather distinguished one, whisky is just a drink.
Few embody the above as much as Dennis Malcolm of Glen Grant distillery on Speyside. Born in a house on the distillery estate - Dennis' father and grandfather both worked at Glen Grant - it was almost inevitable that he too would find himself in the trade.
It started at just fifteen years of age when Dennis began his apprenticeship at Glen Grant as a cooper. The most traditional and untouched of all crafts in the whisky trade, coopering sees oak casks hand-crafted from little more than wooden staves and metal hoops. There are no nails nor glue; coopers must feel the tension in the hand-hammered staves and know when they'll hold.
It is a craft which takes years to learn - let alone master - but one that yields a lesson that sets one up well for a lifetime in the whisky trade, namely that there are no substitutes for a job well done - ever.
It is one that Dennis has carried through a remarkable six decades in the industry. His story has seen him manage some of Speyside's pre-eminent distilleries - including many at once - before returning home to Glen Grant where he is currently the Master Distiller.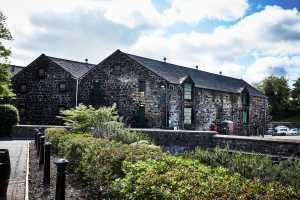 Those decades have seen everything and nothing change. When Dennis began apprenticing on site, much of Glen Grant's output was blended with other malt and grain whiskies to create the leading blended whiskies of the day.
Single malts - whiskies produced only at one named distillery - were still a relative obscurity. Today, the overwhelming majority of Glen Grant's output is bottled as single malts.
The distillery's wood profile was also much more eclectic than it is today; prior to the sixties, distilleries filled their spirit into almost any cask they could get their hands on.
Grocer shops - who would import wines and spirits from the world over and bottle the contents in-house - became natural partners to whisky distilleries. Empty casks soaked with treacle like marsalas or stewed fruit driven madeiras would be sold onto distillers looking to mature their whiskies on woods which would impart new flavours and character.
Glen Grant was no different. The scarce stocks remaining from that time consist largely of ex-sherry butts - a much larger vessel than a standard barrel - crafted from European oak which imparts whiskies with more tannic and spicier notes than American varieties.
Many of these casks held oloroso sherries, famed for their dry and nutty profiles, a good match for Glen Grant's fruit-forward style of distillate which, whilst lighter compared to many Speyside malts, has just enough weight to mature for decades in ex-sherry wood without being overwhelmed.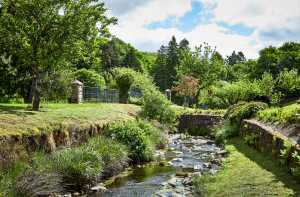 As ex-bourbon, American oak barrels became more readily available - bourbon distillers can only legally use casks once so often shift them onto frugal Scots who face no such restriction - Glen Grant became a more bourbon-driven style of whisky, although a mix of wood types is still used.
Glen Grant's signature flavour profile of vanilla and toffee accompanied with a gentle spiciness can be largely attributed to that wood policy, something that Dennis and his recent predecessors have maintained.
And it has worked. Whilst those heavily sherried, fireside malts have their place, as do the sea-salt laden monsters of Islay, there is an awful lot to be said for a more delicate but equally as complex style of dram.
As ex-bourbon casks often impart less colour and flavour to the spirit, the underlying quality of the whisky which is filled into them is paramount. Or, as Dennis himself would put it, there is 'nowhere for the whisky to hide.' It has to hold its own.
As legacies go, then, Dennis has a claim to a rather remarkable one. The handy thing about the Scotch trade is that when a celebration is in order, the natural thing is to crack open a cask and raise a glass. And, in tribute to Dennis' sixty years in whisky, Glen Grant has done just that.
"It's never been a job to me," explains Dennis. "It's been a way of life. I don't like my actual birthday - that makes me a year older. But I like my milestones with Glen Grant because it's a year longer that I'm here. I can keep doing what I was destined to do."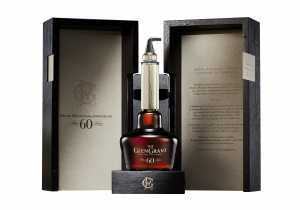 Appropriately, the chosen dram harks back to that rich, heavily sherried style of Glen Grant of days past. Dennis chose a European oak, ex-sherry cask laid down on 24 October 1960 and bottled at sixty years of age, making this dram one of the oldest Glen Grant's ever bottled.
Drawing a sample from cask #5040, Dennis found in the liquid a memory of growing up on Glen Grant's grounds. Ten years of age and gathering chestnuts, he recalls splitting the green and spiky husks which gave way to that shiny, golden brown conker within.
He found that colour in this whisky, an aged but remarkably fresh and autumnal dram loaded with notes of pecan pastries and orange zest.
It is for that liveliness that Dennis picked this cask; six decades of maturation could have easily drowned out Glen Grant's light and fruity spirit character but, to the contrary, the whisky has won out here.
It has been influenced by time and fate but is still undeniably a Glen Grant. Moreover, it is a truly beautiful whisky and a fitting tribute to the man who made it.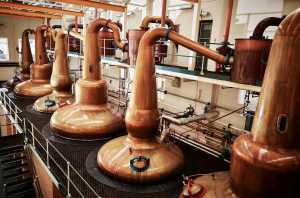 Tasting notes
Appearance: Slow running, oily legs run down the walls of the glass - a classic hallmark of a greatly aged whisky. Deep mahogany in colour.
On the nose: Red plums meet peaches. Then a whiff of smoke emerges (this whisky would have been distilled when Glen Grant malted their own barley with peat), as do tobacco leaves and leather.
The texture: Soft and silky. Gripping tannins but far from aggressive.
To taste: All the fruits on the attack: peaches, plums and apricots. Then a shift to drying spices.
The finish: Pleasingly (and expectedly) long and drying.
The Glen Grant Dennis Malcolm 60th Anniversary Edition Aged 60 Years is priced at €25,000.