Staying in a barn may sound like a quite literal last resort should the hotel be fully booked, the car out of petrol, and the locals resemble extras from The Wicker Man. But you, my friend, have not stayed in Howells Barn. Howells Barn is a barn like no other.
Howells Barn puts its fellow barns to shame. Frankly, the amenities of Howells Barn would shame your average boutique hotel, or even your exceptional boutique hotel. Allow us to give you the tour…
Howells Barn is situated within a private corner of Lower Mill Estate – the 550-acre Cotswold estate that boasts numerous lakes, a nature reserve, indoor and outdoor swimming pools, tennis courts and an astroturf football pitch. Lower Mill offers all the benefits of a country estate with none of the hassle – and Howells Barn may well be the most desirable property on the grounds.
The Barn dates back to the 1800s, but don't worry: the decor has been updated since then. Before we venture inside, however, let's take in the view. Yes, you're directly next to one of Lower Mill's eight lakes; a 70-acre watery playground that offers activities such as paddle boarding, canoeing, or just good ol' fashioned swimming.
It also has its own private heated swimming pool, open between April and October.
That cute little building? That would be The Hide – voted Britain's Best Small Building in 2009
That cute little building? The one on literal stilts above the lake? That would be The Hide, your private annex that you access from the garden via a wooden walkway. With a bedroom that sleeps two, an en-suite bathroom and separate kitchen, The Hide basically offers seclusion, squared. JD Salinger would have found it a tad on the quiet side; at least he would, if he wasn't mesmerised by that breathtaking view. There's a reason why The Hide was voted Britain's Best Small Building in 2009.
OK, back to the main digs. Welcome to the open-plan reception hall – yes, there's wifi, naturally. There's also a large dining and sitting room, and a lovely modern kitchen equipped with an AGA cooker: you'll be fighting over who gets the privilege of making dinner.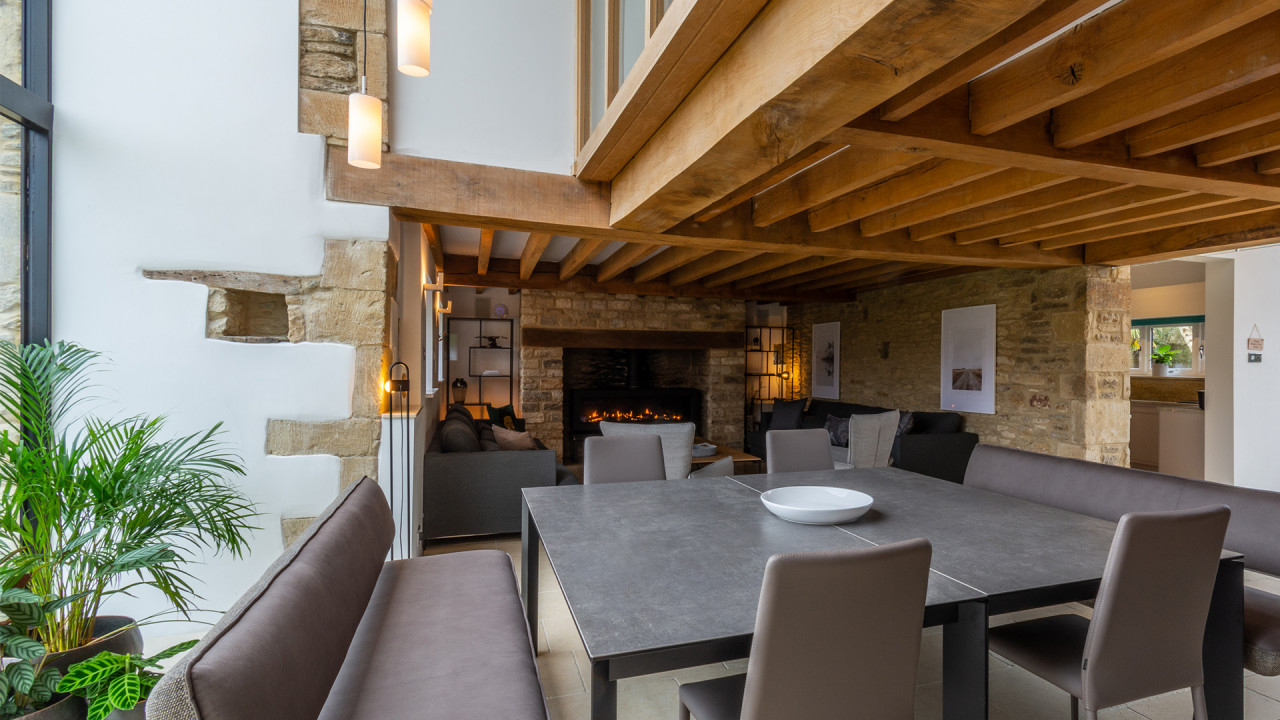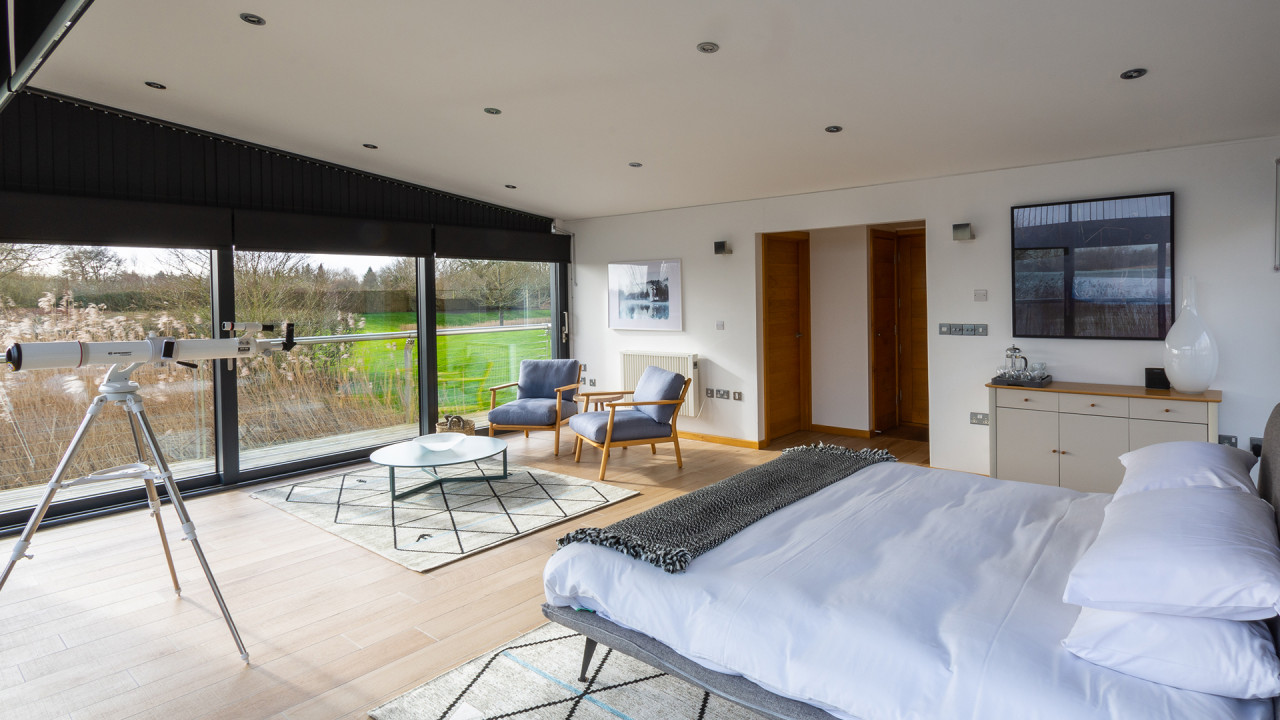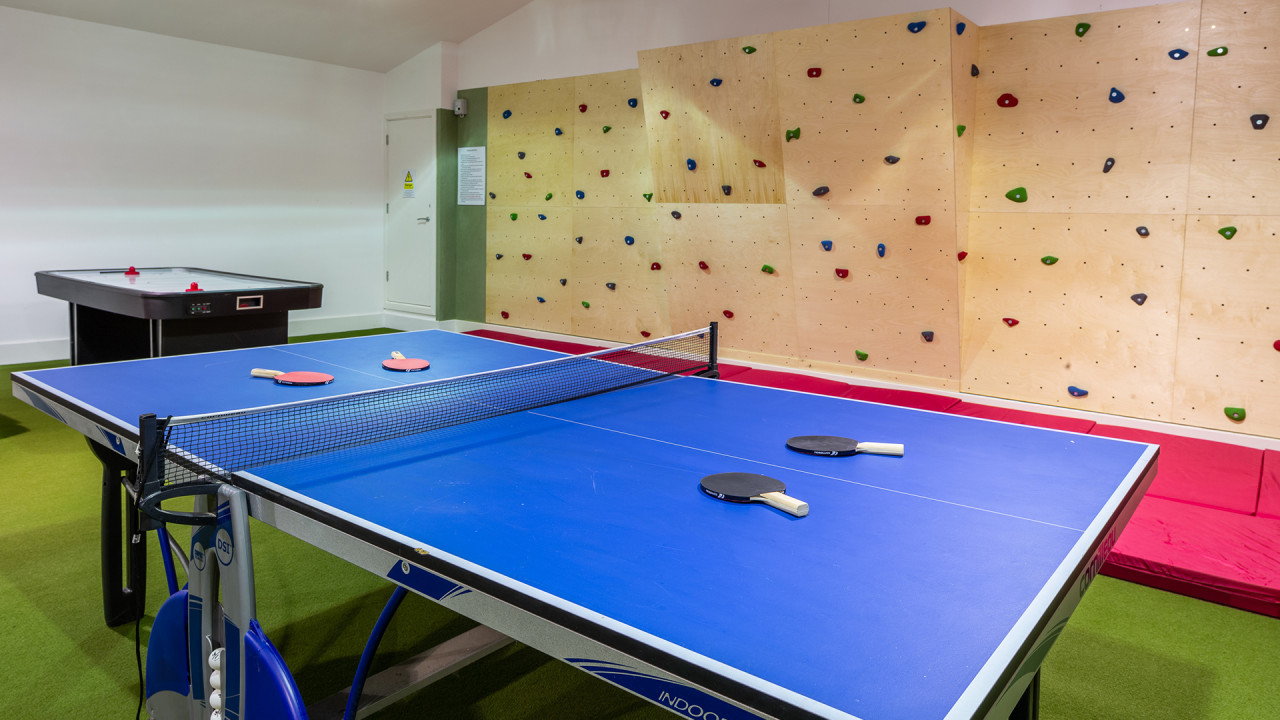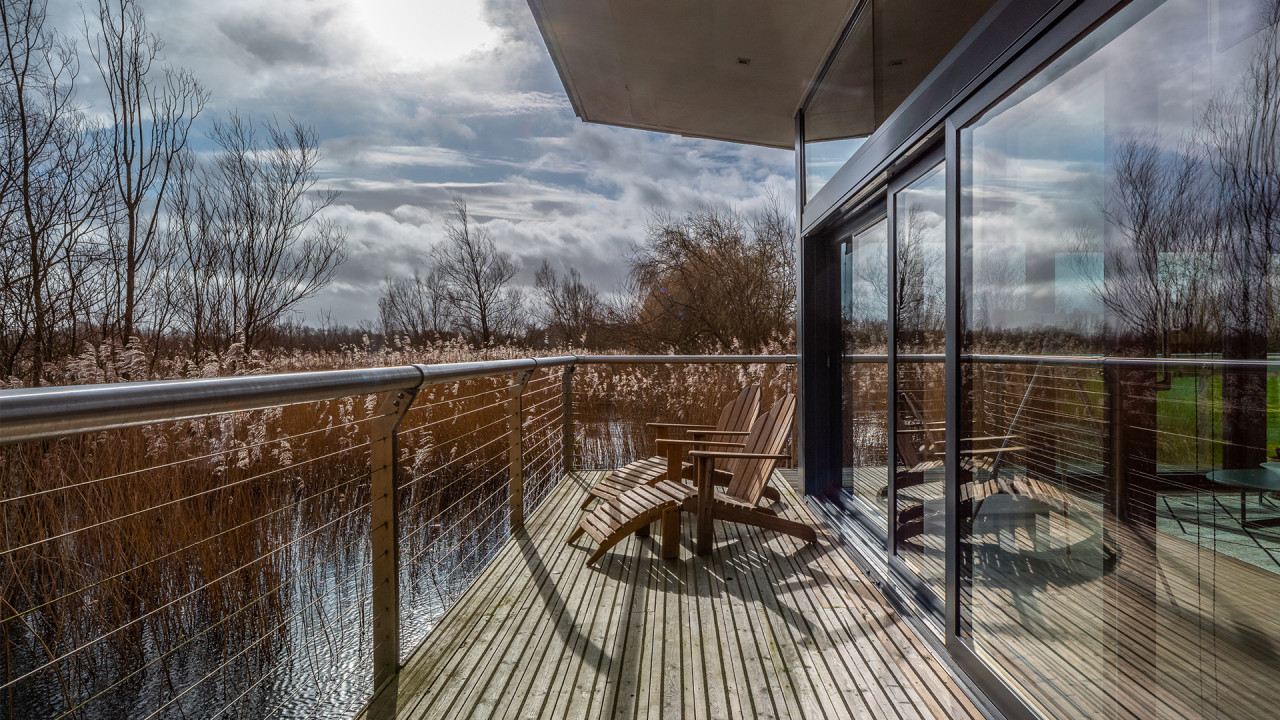 Upstairs, shall we? Make sure you bag the master bedroom, which boasts an en-suite bathroom and dressing room, allowing you to look as baller as you'll feel. Don't worry if you miss out: there's another king en-suite bedroom down the corridor. Plus a double bedroom and twin bedroom on the second floor. Altogether, Howells Barn can sleep up to 14 people, making it an ideal getaway destination for you and your mates. (Assuming you have 13 mates. If you don't, we'll come and make up the numbers.)
Now for the really fun stuff. Like the games room, with a climbing wall, basketball, pool, foosball, table tennis, darts, air hockey and – wait for it – board games. (If you opt for the board games first, take a long hard look at yourself.)
Oh, and four Bobbin bikes that you can ride to Lower Mill's spa and restaurant, or simply race each other around the lake. And a cinema room for when the day's activities render you tired out and in need of a kick back. (Just don't watch Eden Lake. Or Lake Placid. Or The Lake House – that one's not a horror movie, it's just a bit rubbish.)
Modern luxury, natural beauty, splendid isolation – if more barns were like Howells Barn, we'd never have need for houses.
For more information, see habitatescapes.com