Tucked beneath the railway arches of Vauxhall, The Hayemaker Gym is a fairly typical boxing gym, albeit a boxing gym belonging to the former WBA heavyweight champion of the world.
All the standard stuff is here. Punchbags, dumbbells, various fiendish-looking apparatus, and of course a boxing ring. Within that ring, however, stands a more unusual piece of equipment: a poker table.
David Haye has swapped gloves for cards / canvas for baize / knockouts for all-ins by entering the 2019 edition of Grosvenor Casino's Goliath Poker Tournament – the biggest live festival of poker outside of Las Vegas, which naturally takes place in Coventry aka the Sin City of the West Midlands. (Maybe.)
Square Mile spent an evening playing Texas Hold 'Em with Haye, Haye's entourage, and a few other journalists (including one who absolutely plays in his spare time). Sadly, the only stakes were honour, and the kudos of bluffing a former heavyweight world champion off a pot. Gambling laws and all that.
Probably for the best. Haye likes a competitive environment – "I play better in a tournament than when I'm playing mates" – and I'm not sure if I can include gambling losses on my expense form. (Ed: you can't.)
For a man who had literally never played a hand less than a year ago, the Bermondsey man is no slouch at the table. He handles his cards, journalistic queries – "which boxers would you most like to play poker with?" – and what sounds like quite a severe head-cold with the same pizzazz-ish aplomb that helped revive British boxing at the start of the decade. (Make no mistake: Anthony Joshua, Dillian Whyte et al owe a massive debt of gratitude to David Haye.)
Audley Harrison gave me a 48-hour bootcamp. We played all day long
Posters of past fights adorn the walls, mementos of another life. It's tempting to draw parallels between the two disciplines – 'fighting… in the mind!' – but Haye says the only major similarity is the value of patience. "In boxing you have to be patient otherwise you'll be punished pretty quick. A couple of times in poker, I've lost patience, tried too hard and ended up getting knocked out."

There is a rich tradition of athletes succumbing to the poker bug, with Gerald Pique, Rafael Nadal and Shane Warne all notable examples. Audley Harrison is another – and Haye met his former rival in the Philippines for a crash-course in cards. The two fought a bitter grudge match in 2011 – Haye won by third-round KO – but bygones be bygones and all that.
"Audley Harrison gave me a 48-hour bootcamp. We literally played all day long. After every hand, I'd say why I did what I did, and he'd explain whether it was a good idea, bad idea. He's a good player. He knows how to explain stuff to me in a palatable format. He's a good teacher, a really good teacher."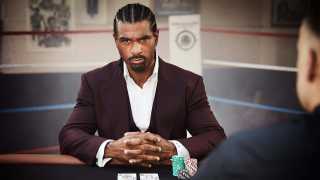 He must be. Haye and Harrison entered a poker tournament in the Philippines; Harrison, having not played for a year, placed second, while Haye finished 28th.
"David should be confident in his play," Harrison tells me down the phone. "In the tournament we played, about 500 players, I came second and David cashed. Thirty-two players got paid, and he came 28th out of 32. That was a great achievement."
Harrison started playing in Coventry Las Vegas, more than a decade ago. "Learning to play poker in Las Vegas has probably given me an unfair advantage. You've got some of the biggest sharks in the world that play there."
Why did he agree to help Haye? "Me and David were good friends before we fell out. Once the fight was put behind us, we reconnected."
"He's gonna do OK," says Harrison of his protégé's chances at Goliath. Haye won't be alone: Harrison plans to fly over and compete there as well. As a regular at the World Series of Poker, he will have serious designs on winning the thing.
I don't want to go out there and play horrendously
"It's gonna be that competitive element of survival," says Harrison. "Who's gonna go further?" What are the chances of the two men facing off at the final table? He chuckles. "It would be a great story."
Haye's ambitions are a little more modest. "I don't want to embarrass myself. I don't want to go out there and play horrendously – which I would have done, if I played like I was playing a few months ago." Nonetheless, at the table the competitive edge will kick in – you don't conquer the world by accepting second best.
Whatever happens at Goliath, Haye claims to have found a new passion, one that will endure for many years to come. He's organised several games between fellow boxers – so who would make up the dream table?
Harrison for one. Who else? "Definitely Bellew," grins Haye, "you've gotta have Bellew in there. Bellew's first on the list. Chisora's good as well. Tyson Fury, for sure. All the guys who give it large. Naseem Hameed – I know he's retired but he's great value. I've played with Chris Eubank Jr; he's a good poker player, really good. Been playing for a while."
Fury, Bellew, and Haye facing off across the card table? Now there's a show you could put on pay-per-view. (Nobody tell Eddie Hearn.)
David Haye will be competing at the Grosvenor Casino's Goliath Poker Tournament at the Ricoh Arena next week, which begins on 28 July.