"Sammy Davis Jnr was one of his most loyal customers. And a good one," says Gordon Millings of his father, the tailor Douglas Millings.
"Dad first met him at a restaurant and showed him a few cloths to choose from, so Sammy – you know, with his one eye – quickly flicked through them and singled out a dozen or so. Dad asked him if he was interested in any, and Sammy said all of them. He'd take a suit in each cloth.
"On another occasion my dad took some suits round to his hotel one morning," Gordon Millings adds.
"Sammy was still asleep. Dad went into his suite and gently woke him up. Sammy, barely awake, still in bed, asked Dad to hang the suits up and then inquired what he owed him. Dad had the invoice. Sammy waved him over to a dressing table drawer. Dad opened it and it was laden with cash. 'Just take whatever you want,' he said. He trusted Dad."
Davis Jnr may have been a good customer of Douglas Millings – inarguably one of a few defining tailors of the Swinging Sixties, alongside the likes of Cyril Castle and Douglas Hayward – but he was not the best.
Nor was Cliff Richard, for whom Millings was hired by manager Tito Burns to make an off-white sharkskin stage suit that helped shape his early image as the British Elvis. Millings's big break came when one Brian Epstein saw Richard's attire and approached Millings to style a new band from Liverpool he was looking after.
Dad had no idea who Brian Epstein was and at that point nobody had heard of the Beatles
Millings – who was born in Manchester and trained in Edinburgh before moving to London to work as a cutter on Regent Street in the 1930s – would go on to make most of the Beatles' clothing, on stage and frequently off, for the rest of the decade. That's some 500 suits. When the Beatles went to Buckingham Palace to be invested MBE, Millings made their morning suits. The frustrated tailor in the 1964 movie A Hard Day's Night? That's Millings.
And now, in a way, he's doing it again. Douglas Millings died in 2001. And his son Gordon, now 74 – who worked with his father from the age of 17, after having apprenticed at Huntsman on Savile Row – retired five years ago. But a chance conversation – Gordon walking into Chiltern Street's Dashing Tweeds, purveyor of 21st-century takes on the hardy cloth, and mentioning in passing his pedigree tailoring history – inspired an idea: the development of collections, made-to-measure and bespoke, recreating tailored pieces from the Beatles' sartorial back catalogue, this time in tweed, for the first time in half a century.
Said collections are based on the original patterns: Gordon Millings waves these around as though they are workaday pieces of paper, rather than valuable cultural artefacts akin to the Douglas Millings garments that have found their way into the archives of MOMA and the V&A, or which are on display in Cleveland's Rock'n'Roll Hall of Fame.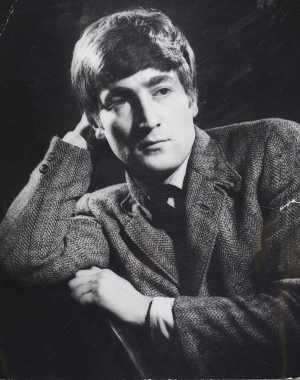 "Included so far are, for example, the caped coat from the cover of 'Help!'; the velvet-collared, three-button suits the Beatles wore for their first US tour and landmark performance on The Ed Sullivan Show; and, of course, the round-collared, slightly space-age two-piece that would come to be known as 'the Beatle suit'. This was the suit – radical in its day – that defined the band.
"Epstein told dad he needed a look that made the Beatles look like a modern group, rather than the rock'n'roll leather jacket look they'd had for their time in Hamburg," Millings recalls.
"Dad had no idea who Epstein was and, of course, at that point nobody had heard of the Beatles. But Dad had cut these round-collared jackets for ship stewards and thought that idea could work.
"It was the kind of thing that the like of Pierre Cardin was doing at the time, too. So that's what he came up with, these jackets with half-inch braiding on the edges, flared cuffs and a three pearl button-fastening, and tight, flat-fronted trousers with no pockets to keep the lines lean – and because Epstein said he didn't want the band members to have pockets to put their hands in.
"Mostly their fittings were done at the studio, or their homes," Millings adds. "But when we did them at the shop [first on Soho's Old Compton Street and then at much larger, three-storey premises on Great Pulteney Street, a move made possible, Lennon quipped, because of all the profit the band made for Millings] it didn't take long before there would be hundreds of screaming fans pressed up against the window.
"On one occasion we had to call the police at the station on Savile Row to come by to help the guys get out of the shop."
The Beatles also had their own demands, chiefly, "just don't make us look like The Shadows," as Lennon put it.
Paul McCartney, the most interested in shaping the band's image, sketched out some ideas, working with Millings' trademark detailing: tab and button closures on breast pockets, throat latches on tweed jacket revers, for example.
"We'd get into our jackets and suddenly we're the four-headed monster," as McCartney has put it. "I was always keen that the Beatles had uniforms. We didn't look like any four guys; it was a unit."
On one floor of Millings' shop was a piano. Popular music's greatest ever songwriting partnership would tinkle the keys between fittings. Perhaps Douglas Millings – who was something of a part-time crooner himself, performing at the Charing Cross Astoria and Piccadilly's The Pigalle clubs, co-writing tunes with Marty Wilde, for whom he also made suits – really wanted to down his tape measure and join in.
But dedication to the cutting table was worth it. The Beatles Suit – however short-lived it may have been in the Beatles' regularly updated wardrobe, worn only through 1962 – became iconic, even if Millings himself did not.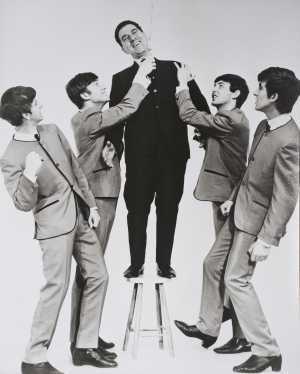 "We tend to hear about the likes of Edward Sexton and Tommy Nutter when thinking about the ground-breaking tailors of the 1960s and 1970s, but, given the impact of his tailoring, it's odd how Douglas Millings isn't a household name too," argues Dan MacAngus of City tailors MacAngus & Wainwright, and the man making the Dashing Tweeds/Douglas Millings & Son bespoke commissions.
"When Gordon passed me John Lennon's suit patterns and told me to look after them that was a bit worrying. But then I saw just what a technical challenge these pieces were. Just look at the pleated back on that mohair suit. That's not the kind of thing we're used to doing for City clients, obviously. I was working from patterns and pictures. But Millings came up with that from scratch just so his customer would have something original. It's impressive."
Indeed, these pieces cemented Douglas and Gordon Millings' reputation as the go-to tailors for the pop-stars of the period.
Billy Fury had his suits made by them. So did Gerry and the Pacemakers and The Kinks, who opted for red riding jackets. The Small Faces, The Everly Brothers, The Four Tops, The Temptations, The Rolling Stones, Tom Jones – all went to Douglas Millings for their suits, Roy Orbison having his made with a concealed zip fastening.
"Keith Moon died in one of my suits," Millings once noted. "In fact, he hadn't paid for it." And where pop-stars went, Hollywood and entertainment stars followed: Sammy Davis Jnr, but also Warren Beaty, Rex Harrison and Steve McQueen.
Keith Moon died in one of my suits – in fact, he hadn't paid for it
"My dad was all about being individualistic, which showbiz people liked, of course. It was different to what you'd get out of Burton's or Cecil Gee [the major high-street menswear shops of the period], or even what you could get on Savile Row," says Millings.
"At Huntsman at the time you had to be referred by a couple of customers to even be allowed to have a suit made there. But the times were very different too – it was all about a push to uniqueness after a long post-war period of everything being very drab.
"My father was one of this new generation of tailors who were part of that period's intense creativity – in music, film, fashion – that has allowed so much of its influence to so carry well over the decades. They just wanted to try out some new ideas."
Do those ideas still work today? Is there scope for the tailoring coming out of the Dashing Tweeds/Douglas Millings & Son collaboration to appeal to other than the most ardent of Beatles fans?
"I think for most of our customers what they will first be drawn to is the modernity of the designs, and what's remarkable is just how modern they still are," says Guy Hills, founder of Dashing Tweeds. "I've long appreciated the history of the Savile Row tailors – and their snobbishness, how some unknown band from Liverpool wouldn't have been for them – but didn't know much about the Soho tailors of the 1960s. And for them tailoring was all about looking fantastic, being contemporary.
"Tailors like Dougie Millings could produce original designs – they weren't just craftspeople, but that as well. That's what I think men can still appreciate in this tailoring today. Appreciating their provenance comes afterwards."
Remarkably – a testament to keeping trim as much as to a style that's travelled – Paul McCartney, who would go on to use Millings for his band Wings, is still occasionally snapped in an original Douglas Millings jacket.
"People forget how bold the Beatles' look was. Timing is everything and the suits were all part of that right moment," says Gordon Millings, his pride self-evident.
"It's funny to think that this revival of those suits came out of me living locally and deciding to pop into a shop. But I think my dad would have been very chuffed. He would have thrown me the odd bit of praise: 'Well done, son'. He'd have been rather proud to see his suits back again."
Two-piece made to measure suits from £1,265; two-piece bespoke suits from £2,500. For more information, see dashingtweeds.co.uk