A suit should be many things. Accommodating, refined and elegant.
It should help you to feel better about yourself, and provide loyal years of service, across all manner of occasions.
In many ways, Lee Rekert is the personification of these characteristics.
Add to the mix his booming baritone voice and gregarious charm, and what you're left with is the ideal candidate for a general manager of London tailor, Timothy Everest.
Fresh from the set of the new Bond film, we caught up with the man who is taking the bespoke brand to the masses.
How would you define the Timothy Everest signature style?
We're soon entering our 30th year as a bespoke tailor – and we remain a bespoke tailor first and foremost. But what we've tried to do over the last four years is open that up to a wider market. It's something that in the past we couldn't do – we didn't have the funds nor the retail space to do so. Now we're increasing our productivity: creating bespoke, made-to-measure and ready-to-wear so that we offer the full package.
Tell us about the Redchurch Street store…
The idea of the store was to highlight a bigger offering. Previously we had a bespoke house in Shoreditch, but it wasn't able to offer room for expansion. Redchurch Street was an opportunity to have a bigger retail presence, more product categories, and to move the brand forward: we offer a made-to-measure collection from the new store, which is a real area of growth for us.
There's also an open cutting room in which we showcase the bespoke clothing. It's an educational place in a sense – it lets people see the craft for what it is, without the fear of having to actually indulge in it.
How would you describe a typical client?
Well, it depends on the store. Mayfair would cater for the business-orientated client in a two-piece suit with a shirt and tie, very elegant and sophisticated. Redchurch Street is a bit more eclectic: no tie, maybe a polo or a T-shirt, less traditional. East might be late twenties and up, Mayfair is usually forties upwards.
The most important thing we do is make somebody feel better about themselves
Are you fashionable or stylish?
I don't think we consider fashion at all. The most important thing we do is make somebody feel better about themselves. We make them look slightly better than they did: whether that's slimmer, or maybe they just stand more upright. So while there's fashion trends, like colours and materials, we have our own identity which we follow.
Where does Timothy Everest take its inspiration from when making garments?
For the bespoke and made-to-measure ranges, we take it on a customer-by-customer basis – there's no template. We try and work as closely to them as we can. We're very honest, and if we don't think something will work we tell them – there's nothing worse than making a garment for the sake of making a garment. There's a lot of trust in our hands, of course, because to look at a piece of fabric 5x3 inches and to picture how it will look at the end is not easy for everyone to do.
How did you get into the industry?
I left school at 16, not really knowing what to do with myself – so I did a one-year BTEC course in retail at Harrods, which was probably as close as you can get to the military without being there. I ended up working in men's casual wear in the Ralph Lauren department.
After five years I went to work for an agency who looked after a brand called Marlboro Classics. It was part of a bigger company based in Italy, so I spent time there, and then the ex-managing director of the agency called and asked if I'd be interested in coming to work for Timothy Everest.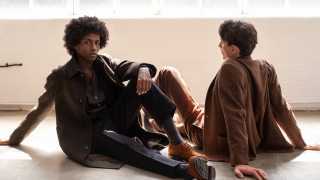 Why did you enrol in the Harrods course?
I didn't know what to do. The only things I was really interested in were Elvis, swimming and fashion. Elvis was dead, and I wasn't that good a swimmer, so clothing it was.
What's your favourite piece of clothing?
For many years I was known as Mr Blue, because of how often I wore a navy two-piece suit. It still is what I typically wear, maybe I've changed shape/style and the fabrics have changed, but I still like a well-fitted, simple, classic, English-looking suit which kind of defines you but doesn't make you. Understatement gives me a lot of confidence. It's absolutely timeless.
How many suits do you have?
I try and make one new suit a year for myself, which isn't a lot in this business but maybe shows how busy we are. And my weight is going up and down more, so it's harder to keep on top of the perfect fit. The one being made at the moment is brown… how adventurous!
One of your better-known clients is Ralph Fiennes. What's it like working with him?
Yeah he's pretty big, isn't he? We mainly work with him by making the costumes for his films, that's where the relationship began and blossomed. Working with him is an enjoyable challenge. He's extremely intelligent, very aware of what he wants, and a workaholic. He's a very nice guy and is always learning.