Never before has mastering the workwear wardrobe been such a challenge. The days of 'dark suit, light shirt, never brown in town' were already dwindling before Covid – and the pandemic has ensured such rigidity is now consigned to the history books. Well, those and corporate lawyers.
For the vast majority of workers, though, a new paradigm exists. One that can be far less straightforward to navigate.
When it comes to selecting workwear, you want people to respect you but not be bored by you. You should look smart but not stuffy. You have to be ready for both the boardroom and the bar. And you need to be able to cope with wind, rain and shine.
Enter Ted Baker. Since 1988, Ted Baker has been a staple for City workers looking to stand out for all the right reasons. It started as a purely menswear brand, and its Tailoring collection has always been one of its core offerings; albeit one that is constantly evolving to its customer's demand.
And so to 2022, and its most eclectic offering yet. The AW22 Tailoring collection's success comes from its versatility – allowing for a multi-hyphenated wardrobe that gives you plenty of opportunities to mix and match.
Our favourite pieces include the Iris suit – a contemporary take on the classic navy suit, courtesy of a stylish check pattern. Made from 100% wool, it can be dressed up with a shirt and tie, or dressed down with trainers and a T-shirt. The light shades of the check make it a perfect pairing with tennis trainers and a white T-shirt.


A well-chosen blazer is one of the most versatile items in your arsenal. For your next purchase, how about one in Donegal tweed?
Donegal tweed was first developed as an ideal fabric for dissipating the damp and cold weather so often found in northwest Ireland. Making it a perfect match for the damp and cold weather so often found in southeast England.
However, just because it can cope with a heavy shower, doesn't mean it needs to be all dark and broody – this Aclare blazer (£325) in a light grey-marl is a perfect case in point.
Dress with a dark pair of jeans for a more casual look, or go for the full suit if you really want to impress.

Flick through any fashion magazine or interior design brochure, and you'll become more than aware that grey is the new black.
These Badsey flannel trousers are a handy staple that will work as well with a matching jacket as they do with a warm knitted jumper. Or break out a strong graphic T-shirt for a more youthful look.
Similarly, an unstructured Virgin wool blend blazer is a sleek and timeless addition to any line-up.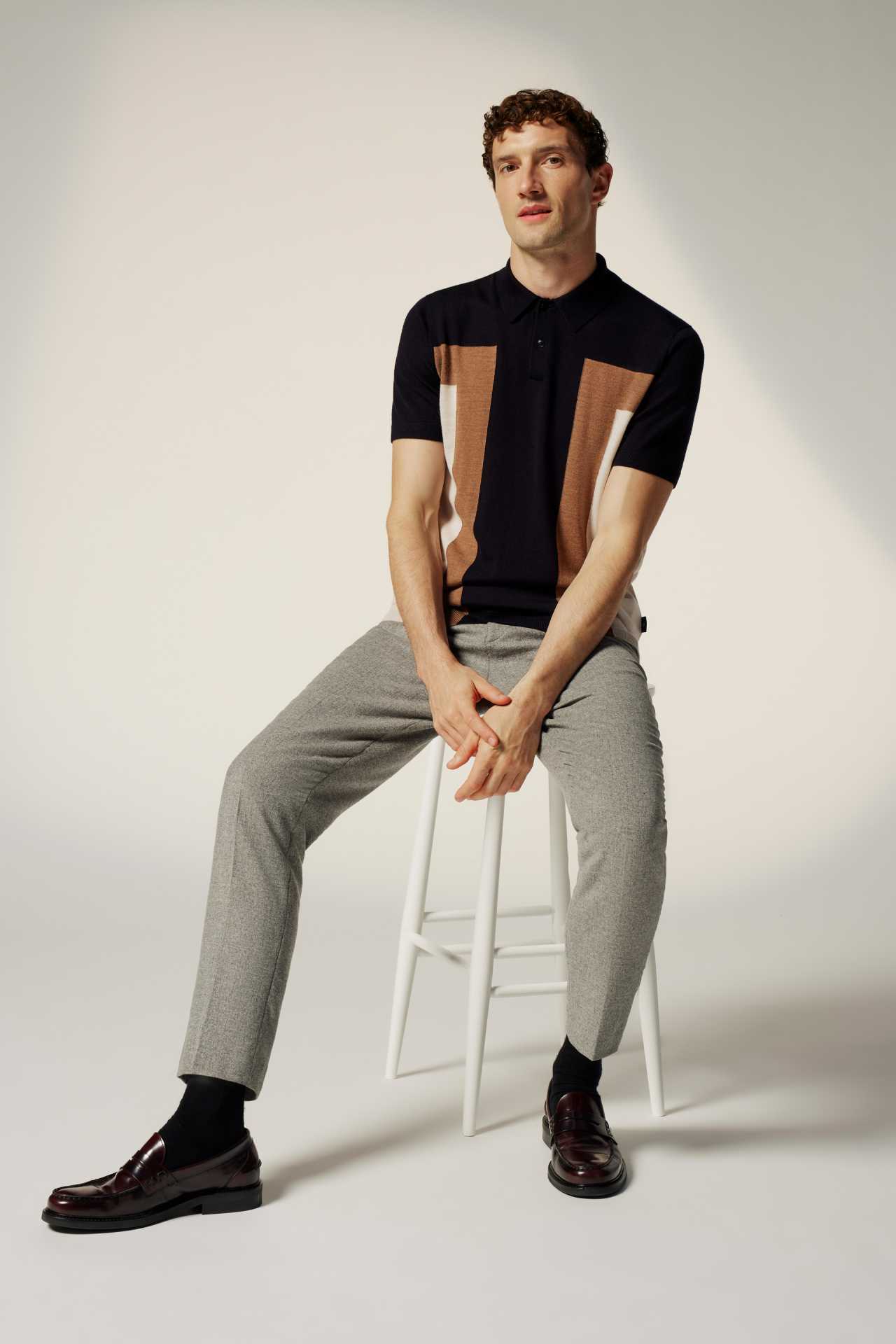 And finally, what about 'Casual Friday'. If that's still a thing in your office, then it means it's still a fairly traditional institution. So no AC/DC T-shirts for you, I'm afraid.
This Tooting Merino wool top is smart enough to say 'I mean business', casual enough to show that you'll be a laugh down the pub come 5pm.

Ultimately, your workwear wardrobe needs to do just that: work. It shouldn't be a question; it should be a solution, offering pieces that fit together yet still stand out.
Now all you need to do is make sure you remember to brush your hair.
To see more and shop the looks, head over to tedbaker.com