On 10 December 2019, Arthur Touchot was in New York for PHILLIPS' final auction of the season.
The sale, which hundreds of collectors from around the world flew in to attend in person, ended with a significant lot, an Urwerk Ref. UR-105 CT Iron wristwatch worn by Robert Downey Jr in Avengers.
It sold for $312,500 – more than ten times the pre-sale low estimate, triggering thunderous applause from the crowd to close another big year for the auction house and then… silence. 
It would be six long months before PHILLIPS would sell another watch, this time during a very different type of auction held in Geneva with only a handful of local clients in the room.
But online, thousands of collectors were present for the start of a new and much anticipated auction season. A season Arthur Touchot – Head of Digital Strategy & Watch Specialist at PHILLIPS – had been preparing for, and one that would eventually kick-off an exceptional year.
Despite the inevitable adjustments that the global pandemic induced in 2020, PHILLIPS' watch auctions broke the record books last year.
We caught up with Touchot to find out how…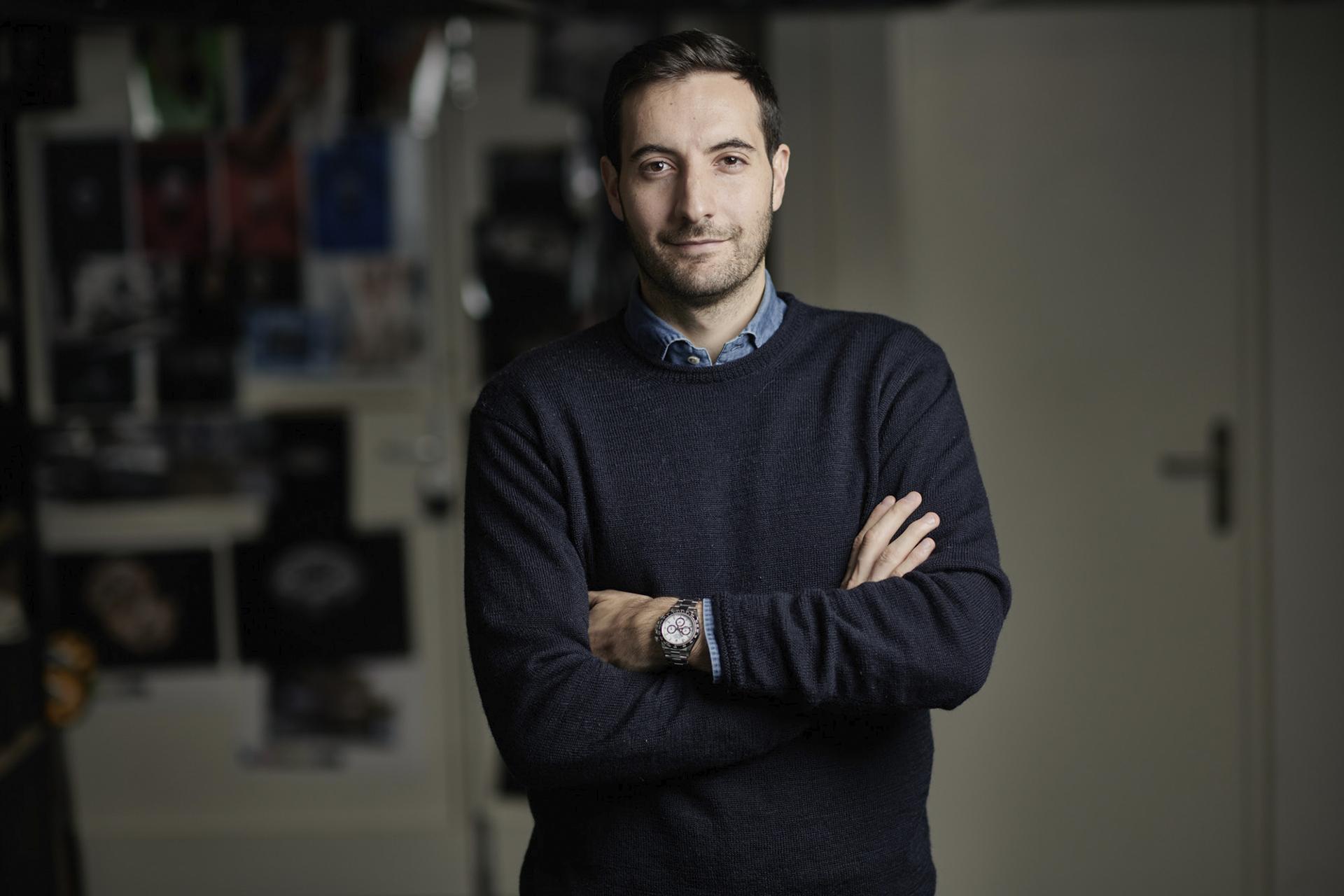 Over the last 12 months, there has been an inevitable digital overhaul of the auction industry – one that was already well underway, but that has been accelerated by Covid. Talk us through how you've felt the change?
Collectors are the soul of our industry. They bring watches to life by winding them, wearing them, loving them and as we have seen in recent years, by achieving incredible things with them on the wrist – PHILLIPS has had the privilege of selling watches worn during some of the world's greatest sporting events, on the battlefield, and in blockbuster movies.
It's the same thing when it comes to the auction world – you think the watches are the most important part, but it's the collectors.
When you think of an auction, you think of people raising their paddles or scratching their noses discretely, you think of the auctioneer looking for bids, warming the room before slamming his gavel against the podium – you think of the human interactions and how it feels to be part of that crowd.
So it's sad not to be able to have that right now, but what we can do is make our auctions easy to follow from abroad, safe to take part in for bidders, and ultimately, more entertaining for all those involved – consignors, participants and casual viewers who are there "for the show".
How quickly was Phillips specifically able to respond to this shift to digitisation?
We were fortunately in a very good position, as most of our clients were already very comfortable with bidding online – it's been their favourite method of bidding for many years now and some of our most important clients had already started bidding from the comfort of their homes, before the lockdowns made it impossible for them to travel abroad.
In 2019, a client based in America purchased a vintage Patek Philippe Ref. 2499 for £1.3m via online bidding, and that result certainly felt exceptional at the time because it was. But bidding at that level became more common last year. During our November auction in Geneva, a client based in Germany bought a Patek Philippe Ref. 2523 for £4m – setting a new record result for a watch purchased online at any auction house.
What has changed for PHILLIPS is that we began hosting online-only sales, something others had already been doing. Until then, PHILLIPS had really focused on hosting a handful of live sales with catalogues presenting no more than a couple hundred pieces, but we knew our clients wanted more – more watches, and more opportunities to buy and sell in between the flagship auctions.
Without knowing for sure when and where (or even if) we could host live auctions, we saw an opportunity to present our own version of an online only sale, one that would offer watches of the same quality as the ones our clients were used to seeing in our live auctions. We had tremendous success with these sales, all of which were 100% sold which is the best result an auction house can hope for.
And how did the collectors react?
Despite there being no clients in the room last season, we saw a 50% increase in online participants compared to 2019.
Collectors still made their presence felt by bidding on almost every single watch presented in the catalogues, and by sharing their experiences online in real time.
We saw hundreds of photos on social media of our little auction room plastered on TV screens in people's home, and they were watching us as if they were watching a World Cup final – it was pretty wild to see.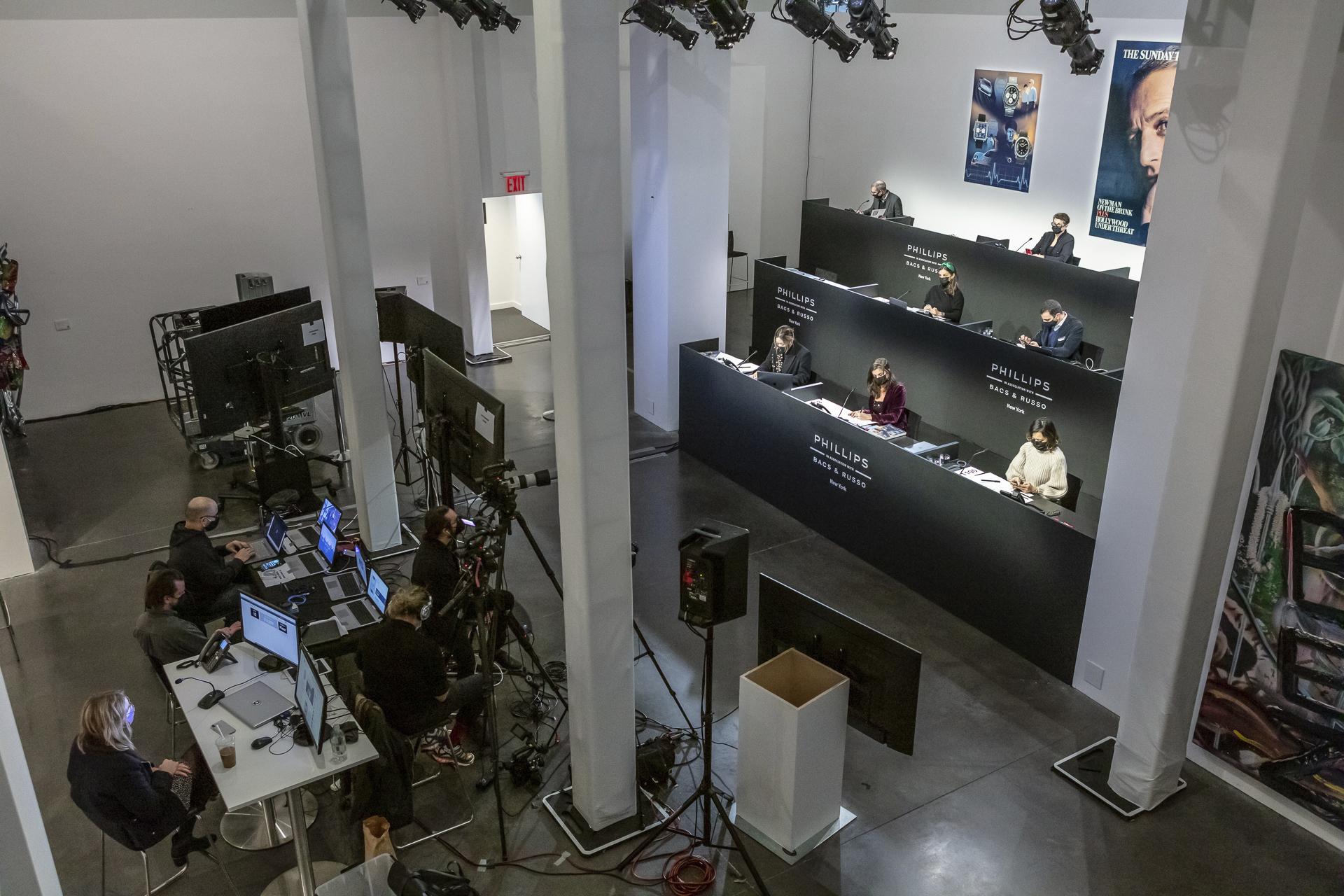 What new technologies have you incorporated over the last 12 months?
We didn't reinvent the wheel. We already had a very strong application, a great website, a very engaged following on social media – the only thing that really challenged us was not knowing how deeply we could commit to any of our "live" auctions – and that led to planning different scenarios for our live sales, and in one case, planning the same sale in multiple locations.
So if you watched our most recent New York sale online, you may not have been able to guess that Aurel was actually auctioneering from London, in the basement turn TV-studio of our Berkeley Square office, while others were in other small studios around the world – it looked like we were all in the same room but the camera was actually cutting between different specialists in different time zones.
I hope we'll be able to host sales with clients raising their paddles in the room, but a lot of what we tried in 2020 is here to stay, including broadcasting the sales internationally – we truly don't have the space to host the number of clients that our sales attract nowadays, we'd have to start looking into renting large theatre halls.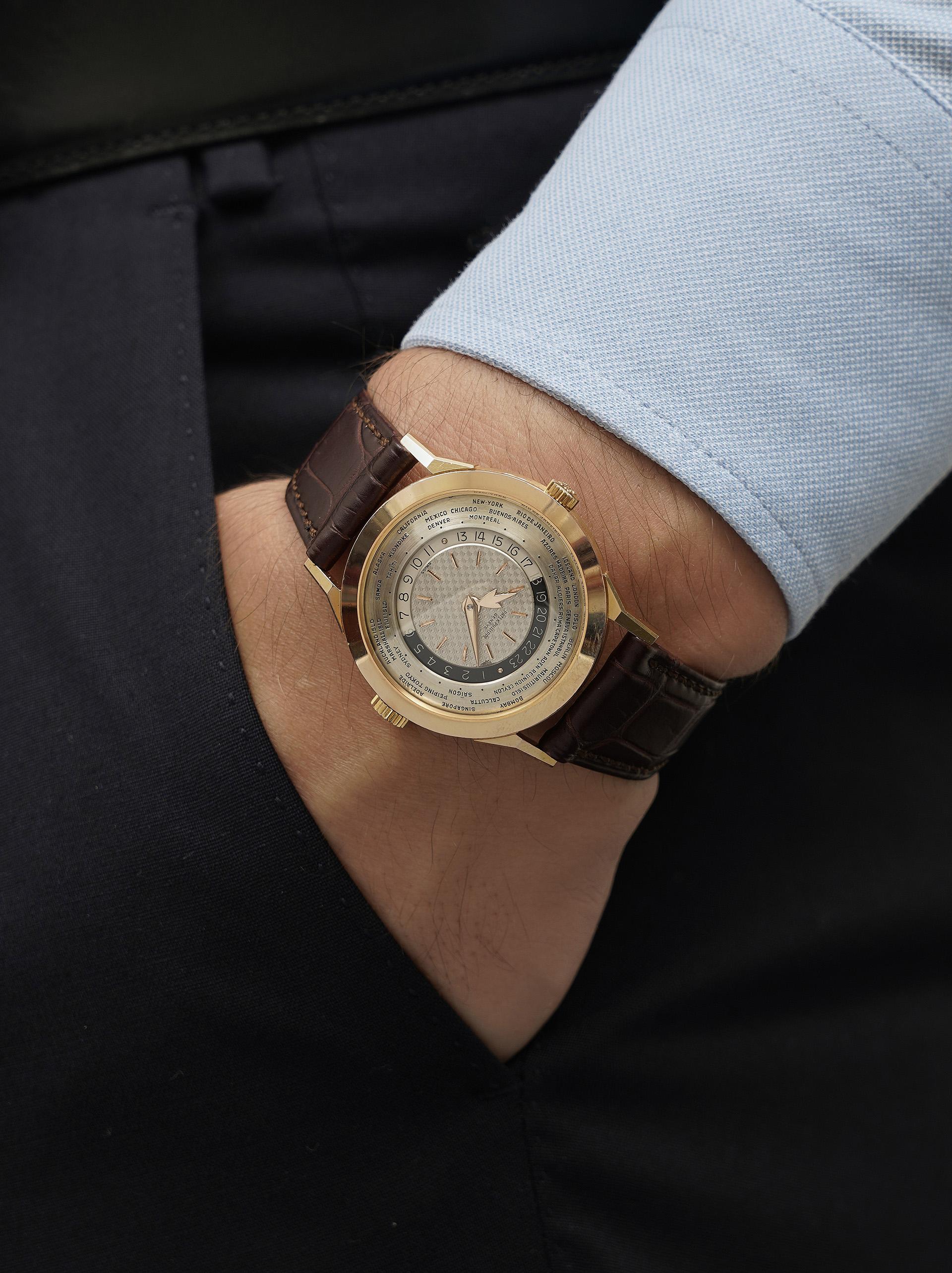 As far fewer people are able to see lots in the flesh now, what have you done to ensure they can see more of them from home?
This has been one of the most complicated challenges tied to COVID-19, because it's always been so important for us to meet clients in person, so they can see the watches themselves and determine the level they are ready to go to during an auction.
For some clients, not being able to see a watch "in the metal" is a deal-breaker. But for the majority, the dozens of images, the one-on-one Zoom meetings and the personal videos that we produce for each watch was enough to establish the trust needed to bid sight unseen.
Believe it or not, we're often asked to re-shoot watches that have been professionally photographed for our catalogues with our iPhones because clients want to know what the watch looks like outside of the perfect studio conditions.
Have you noticed a more diverse geographic spread to your pool of buyers thanks to the increased digitisation?
During every auction we notice that watches are attracting a more diverse group of collectors, which really isn't surprising but it's nice to finally see.
I personally remember when I was much younger feeling quite intimidated by this world, and having later been offered an opportunity to join it, I've tried to make it a priority to make it more accessible, easier to navigate, and much more representative of the outside world.
Things have changed thankfully. Watches have become mainstream.
Last year we saw strong demand from collectors worldwide, with participants from 75 countries in total - watching Aurel recite the locations of our online bidders can sometimes feel like you're sitting in geography class.
More importantly, watches are attracting a new generation of collectors. Even the gender disparity between ranks of bidders is fading with time. It certainly feels like we're seeing a changing of the guard, but what I don't think anyone really expected is the speed at which it is changing.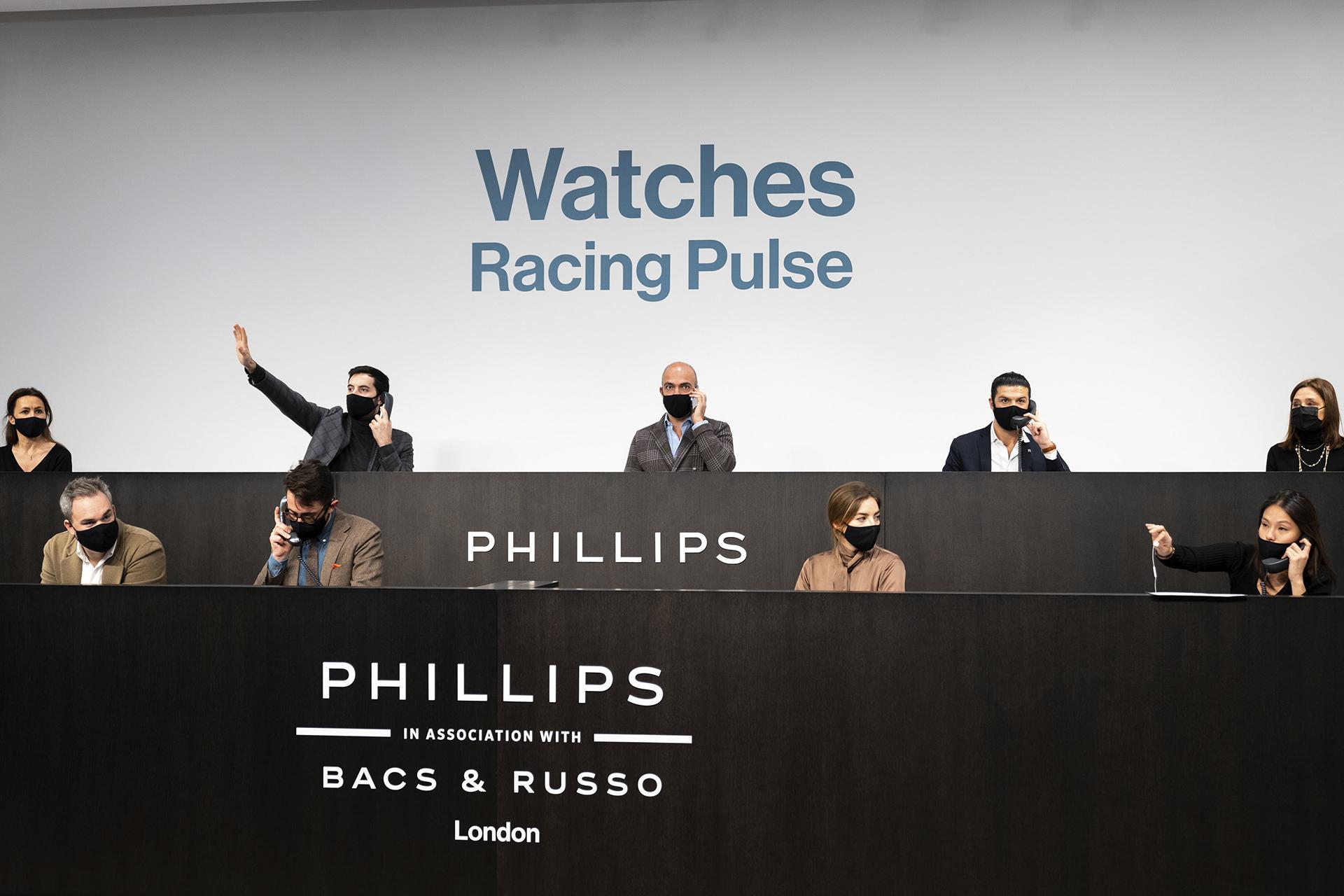 Talk any newcomers through the online bidding process…
It's really easy, all you need is a phone. Download our application and complete the registration form within the 24 hours from the start of the sale.
It's like checking in to your next flight, without the hassle of actually going to the airport and taking the plane afterwards.
What are the biggest misconceptions of online auctions?
That the watches offered online aren't as good as the ones sold in live auctions. And until a few years ago, it may have been true – it's one of the reasons we stuck to our schedule of live sales. If you wanted to buy a second-hand watch online, there were only a couple of places you could go and they didn't necessarily have the best reputation.
But the e-commerce landscape has changed drastically, with retailers, brands and even magazines such as HODINKEE selling popular and collectible second-hand watches, and the service offered has improved tremendously, between the quality of the information prepared for these watches all the way down to the packaging of the items sold.
Clients are more comfortable buying high value products online, and auction houses are more comfortable giving them that opportunity. It's not as difficult to tell a potential consignor that you want to sell his watch online selling it in a live auction.
How were your sales numbers last year compared to previous years?
Despite all the uncertainty we witnessed throughout the year, the demand for collectible watches continued to grow in 2020, and PHILLIPS Watches achieved its most successful year ever with an annual total of over US$133m, up 20% from 2019.
During the year, we also set a new record price for a watch purchased online at any auction house when the Patek Philippe reference 2523/1 in rose gold offered in our Geneva Watch auction in November sold to an online bidder in Germany for CHF 4,991,000 (£4,127,652).
For forthcoming auctions hosted by Phillips, see phillips.com/calendar