There have been more column inches written on the Audemars Piguet Royal Oak than just about any other wristwatch. And for good reason: it has everything. A back story worthy of a Hollywood prequel; a patronage that ranges from rock stars to royalty; and a legacy that, as of 15 April 2022, dates back fifty years.
The watch industry loves a good anniversary, but this one definitely deserves the fanfare.
Famously, Gérald Genta was given one night to come up with the design for the Royal Oak – a challenge he was set by AP's then head honcho Georges Golay. It was the night before Baselworld 1970 – and Golay had just stuck a deal with the Société Suisse pour l'industrie Horlogère to build a "high prestige timepiece in steel."
It's safe to say that Genta rose to the occasion.
The Royal Oak origin story is so mythical that watch nerd site Hodinkee even dedicated a 1,500-word article on 'eight things you didn't know about the origin of the Royal Oak'.
The inference here being there is a lot more that you really should know.
Indeed, Audemars Piguet has even created a dedicated hub – the AP Chronicles – resulting from years of research by the Audemars Piguet Heritage team. It is the reference source on the history of the Royal Oak collection from 1972 to the present day.
We won't attempt to regurgitate it here, but instead have asked the great and the good from the watch world (and beyond) to recount their personal insights into this iconic watch.
The question is, which is your favourite…?
Michael Friedman
Head of Complications, Audemars Piguet
Watch: Audemars Piguet Royal Oak Grande Complication, ref 25865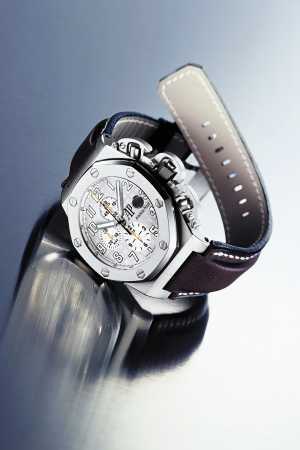 If there is one year that summarises the depth, scope, beauty and possibilities of the Royal Oak, it is without a doubt 1997 – its 25th Anniversary. I was working as the Curator of the National Watch & Clock Museum in Columbia, Pennsylvania at the time, so it also happens to be the year that I became aware and interested in Audemars Piguet in 'real time'.
This year included a number of highlights. First was the first Royal Oak Tourbillon (25831), which remains the only Royal Oak with the winding crown on the back of the watch. There was the Royal Oak Grande Complication combining minute repeater, perpetual calendar and split-seconds chronograph (25865). And it was the year that the first Royal Oak Chronograph (25860) was introduced.
There was even the smallest Royal Oak model ever produced – the impossibly lovely quartz-driven Royal Oak Mini (67075), measuring only 20mm in diameter.
Mark Ronson
Songwriter and record producer
Watch: Audemars Piguet Royal Oak Quartz in yellow gold, 35mm, ref. 56023BA; 1982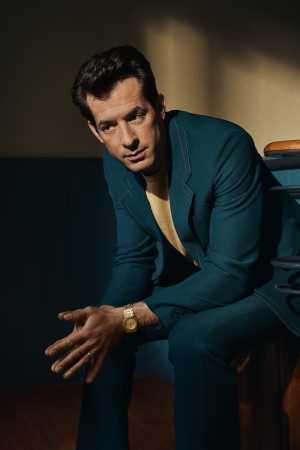 This is a piece of art that I wear, essentially. When I went to Paris, there were these guys – Daft Punk, extended family, all the cool guys – they always had this watch. And I'd be like 'what is that?'. At the time I didn't even know how to pronounce Audemars Piguet.
I ended up tracking one down online – but realised it's dangerous to buy online. So I found a great dealer, and she helped me find it. I remember I went in – and she said 'I've got your watch…' She opened the box – and it was like rays of sunshine came from the skies – it was one of those moments. It's beautiful.
Being in AP's factory, I really noticed this attention to detail and this combination of analogue instruments and these soulful maestros who make these watches. It is so similar to what we are doing in the studio with our heritage, in the sense of dedication and craft.
Robin Swithinbank
Watch writer
Watch: Audemars Piguet Royal Oak Offshore T3 Chronograph, ref. 25863T1.OO.A001CU.01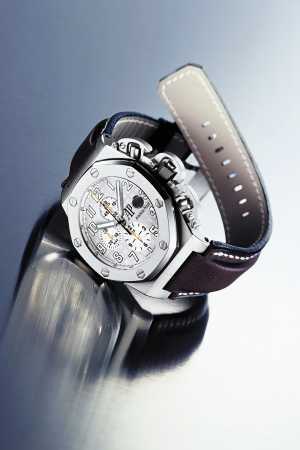 I can't say it's my favourite as I don't tend to deal in such absolutes, but the watch that triggered my appreciation of Audemars Piguet's Royal Oak was the Offshore T3 Chronograph, released in 2003 as Arnold Schwarzenegger returned to the Terminator franchise and I got my first job working on a watch title.
The coming together of two brutalist forms – Arnie's pecs and Genta's angular, albeit in this case supercharged design – spoke to something innate in me.
A bit of a guilty pleasure, perhaps. There are purer executions, easier-to-wear executions and plenty more sophisticated, but the T3 is my Royal Oak ground zero.
Justin Hast
Watch photographer and writer
Watch: Audemars Piguet Royal Oak Jumbo, ref. 15202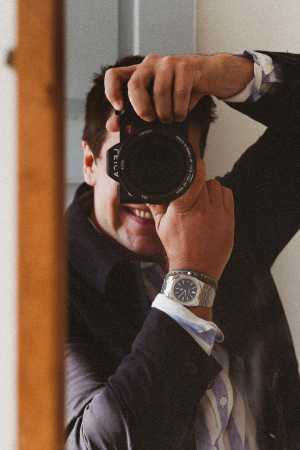 It's funny. A friend will mention a restaurant, a holiday spot or even local shop to visit. They will big it up and in the end, it tends to fall short of expectations (although you don't always tell them that, because we are British we tell them it was "interesting").
The watch world has become kinda like that friend, multiplied by infinity. But the difference is, when it comes to watches, when you actually get the chance to wear a watch, you very quickly (if not immediately) know what the deal is. Is it true love or not? And while you will likely talk yourself into a corner, for me the Royal Oak Jumbo 15202 was love at first sight. Like Pammy in the 1990s love at first sight. Like perfectly cooked beef wellington on a Sunday afternoon love at first sight.
I knew what I was getting myself into. It is an icon, which transcends the watch industry. It's beautiful in the hand, it's thin, it's perfectly sized at 39mm, the bracelet is a work of art in itself, and the movement is important.
Not only was it love at first sight, but it has got better and better and better as the months have turned to a year (almost). And while it may be laughed off by my fellow watch geeks out there, I have come to recognise that I am maybe, just maybe, a one-watch guy at heart.
Chris Hall
Senior Watch Editor, Mr Porter
Watch: Audemars Piguet Royal Oak, ref. 15202IP.OO.1240IP.01 from 2018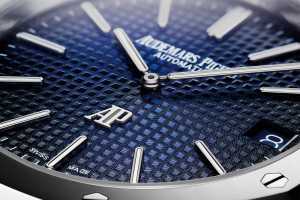 It is an article of faith among watch fans that the original Royal Oak is held in the highest possible esteem; like a Tank or Daytona, dogma dictates that this is a watch against which nothing can be said – in private, opinions may be held against many of the Oaks to have followed it, but no-one comes gunning for the great-great-grandfather, this Adam of sports-luxury design.
So why not just pick the original, if it can't be bettered? I felt duty-bound to pick a reference that I had actually seen enter the world, rather than a watch that I'll never be able to appreciate in its original context.
It might have burst onto the scene as a rebel in 1972, but to anyone under the age of 40 it's an establishment figure. I'm OK with that – my horological tastes are fundamentally conservative – but I wanted something with a leftfield, insidery quality to it, without straying from that original design.
Hence the mix of titanium and platinum; I admire titanium's practical qualities but can't abide the rattly, insubstantial feel of an all-titanium watch, so a little 'billionaire's ballast' helps make this feel proper on the wrist, without attracting the attention of yellow gold.
This watch is also – objectively – the perfect size: there is absolutely no reason for a time-only watch to be wider or thicker. I was tempted by the perpetual calendar in the same mix of metals, as that's a watch with phenomenal engineering as well as a venerated design, but it came down to a very simple emotional reaction: a Royal Oak has to have tapisserie. It's as simple as that, and the blue fumé of this Jumbo's dial is a colour I don't think I'd tire of.
Ahmed 'Shary' Rahman
World renowned watch collector
Watch: Audemars Piguet Royal Oak 39mm Perpetual Calendar, ref. 25820ST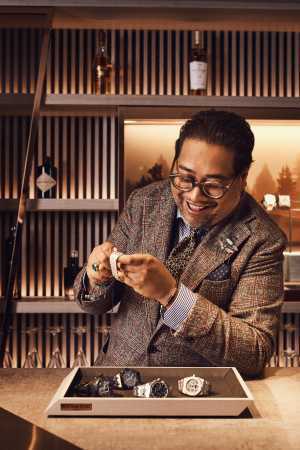 I love the Royal Oak and everything it embodies: the design, the aesthetics, the bracelet, the history, the story behind it. I have always loved the Royal Oak 15202 - the Jumbo.
But for me, the 39mm Perpetual Calendar (QP) is still my favourite of all time. The 39mm QP is an extraordinary feat of engineering.
It is such an elegant watch on the wrist. It's so thin. And the bracelet works so well. But the best part of it is that it's a perpetual calendar inside the body of a sports watch.
The QP was launched in the early 1980s. It's amazing. To think of putting a perpetual calendar inside a sports watch, which you're meant to go swimming in and play tennis with, was unheard of.
But they did it. And that is why I love what AP has done over the years. To quote them, they have been pushing their own boundaries.
Tracey Llewellyn
Watch writer
Watch: Audemars Piguet Royal Oak Selfwinding 34mm in black ceramic, ref. 77350CE.OO.1266CE.01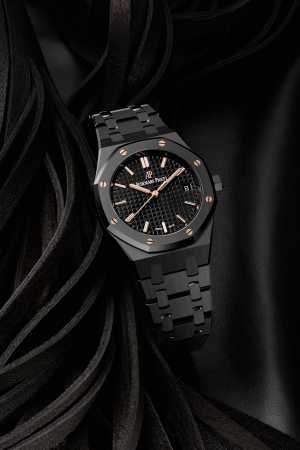 The lazy answer to 'what's your favourite Royal Oak?' would have to be the Jumbo – after all, what's not to like with the OG?
But reaching beyond the low-hanging fruit ultimately takes you in a totally different direction. While praise is, quite rightly, heaped on the designer of 1972's original Oak, it was in-house designer Jacqueline Dimier who, just four years later, reinterpreted the perfect proportions of Genta's legendary design, combining the original sporty aesthetic with a new femininity in the diminutive 29mm ref. 8638.
And, as company ledgers record women's pocket watches being made by Audemars back in the 1890s, it should come as little surprise that AP quickly addressed the women's segment, nor that the brand got it just right with the Lady Royal Oak.
The model has seen jewelled, complicated, quartz and mechanical pieces for women, all decidedly feminine without ever compromising the original intentions.
In 2016, to celebrate the Lady Royal Oak's 40th anniversary, AP collaborated with famed Italian jeweller Carolina Bucci to produce a case and bracelet in 'frosted' gold – a design that proved so universally appealing that it was soon seen in larger-sized models as well.
And then, in 2021, came the 34mm black ceramic Royal Oak Selfwinding. Everything a great timepiece should be, it may be the best woman's watch on the market today, not because it carries a 'unisex' label and was created in the image of a man's watch – although it certainly appeals across the board – but precisely because it was made for a woman's wrist.
Virginie Liatard Roessli
Watch specialist, Phillips in Association with Bacs & Russo
Watch: Audemars Piguet Royal Oak ref, 25595BC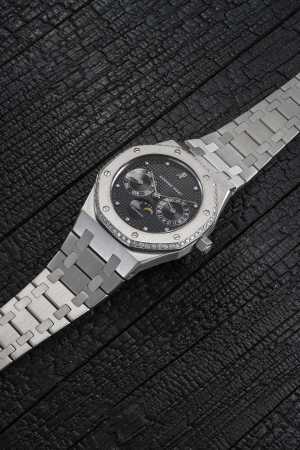 The design of the Royal Oak has always greatly appealed to me, but it's only recently that I've really considered adding one to my collection.
Indeed, being a bit of a purist, I only considered the Jumbo (39mm) models which are clearly too generous for my wrist.
During the curation of the Royal Oak thematic auction that we organised at PHILLIPS, I had the immense privilege of tying on many models, of different sizes, different metals and various complications. And of course, I found the watch of my dreams!
This is what is fascinating about this model, although extremely distinctive compared to other watches, the variety offered is immense and allows everyone to find the perfect watch.
My ideal Royal Oak sports a 36mm case diameter. Having said that, my heart still cannot decide between an ultra-rare and elegant reference 25595BC with its white gold case, black dial and very subtle diamond setting on the bevel of the bezel or a 15100ST "Time for the Trees" in stainless steel with the oak logo embedded on the dark blue Grande Tapisserie patterned dial.
Both proudly exult the Royal Oak iconic DNA but a better look delights the discerning eye with subtle and exciting details.
Chris Youé
Watch specialist, Phillips Perpetual London
Watch: Audemars Piguet Royal Oak Perpetual Calendar, ref. 25820SP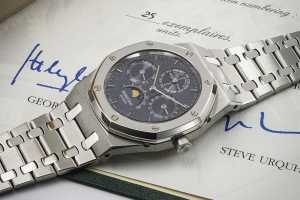 Having spent the past 18 years in the watch business I've been lucky enough to handle some of the most incredible Royal Oaks ever made but one reference that really deserves extra attention is the 25820.
Introduced in the 1990s as a modernised version of the original RO Perpetuals, the 25820 featured a useful leap year indicator, more water resistant case and a sapphire crystal case back. Produced with a huge array of dials and metal combinations they represent an opportunity for a collector to deep dive down a rabbit hole of rarity and fun.
One that stands out as a star was the 25 pieces limited edition that the Phillips Geneva team presented in 2020. Combining a mixed metal, steel and platinum case with a gorgeous hand finished "Tuscan" dial, the 25820SP maintains similar proportions and understated style to the iconic 1972 design but packs in a super slim perpetual calendar and a tonne of Italian style.
It was sharp as you like, and reminds you that AP have always been willing to respectfully experiment with their established DNA.
Sam Kessler
Editor, Oracle Time magazine
Watch: Royal Oak Chronograph ref. 26317BC.OO.1256BC.01, circa 2020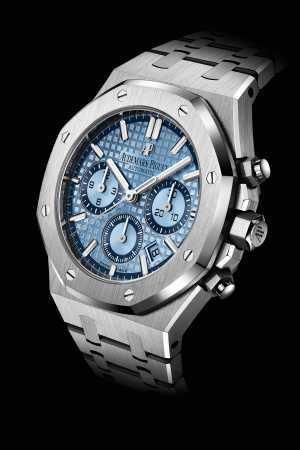 Let me just say first of all that I love the Royal Oak. It deserves its place in horological history and, if I had ready cash, I'd be wearing one as I type this. The Royal Oak Chronograph ref. 26317BC.OO.1256BC.01 really gets me excited. Perhaps a little too excited in all honesty. My girlfriend doesn't like me looking at it anymore.
Over the last couple of years, I've grown a worrying penchant for brightly coloured dials in pop art shades and I honestly never thought I'd see a watch to satisfy that craving for the eye-catching. Well, not in a watch I actually like, anyway. The Black Panther watch is definitely eye-catching.
This 100-piece limited-edition piece of icy beauty is a cool twist on the classic blue and steel combo that made the original Royal Oak famous – just with a brighter shift of the palette. The steel's been upgraded to white gold and the subdued dial hue into a magnificent sky blue. Paired with dark blue rings around the dial and subdials, it's a stunner.
Sure, it's not some authentic vintage throwback to the 1970s, but if you're looking for something a little more unusual – and I always am – then this is a standout. If you managed to buy one of the 100, drop me a line so I can find out where you live.
Ben Winstanley
Deputy Editor, Square Mile
Watch: Audemars Piguet Royal Oak Jumbo "Jubilee Edition" with salmon-pink dial, ref. 14802ST.OO.0944ST.02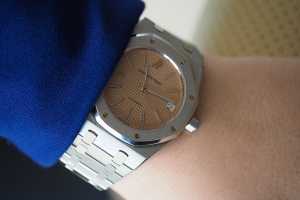 Sometimes in life, it pays to be different. It's a principle that guided much of Gerald Genta's catalogue of unorthodox watch designs, and it's at least part of the reason why the Royal Oak holds such esteem in horology today.
Regardless of whether you believe the Royal Oak was the saviour of the Swiss watch industry it has been made out to be in recent years, it's an irrefutable fact that it directly preceded one of the most exciting and creative flurries of activity the watch world has ever known. Did it provide the spark that lit the flame? I like to think so.
In the spirit of being different, the Royal Oak that has most captured my heart in my time of handling this prestigious collection is the lesser-spotted salmon-pink dial variation of the Royal Oak Jumbo "Jubilee Edition" released in 1992.
Audemars Piguet produced around 700 of this charming series to celebrate the 20th anniversary of the iconic design. Most were fitted with the 'standard' blue tapisserie dial (standard being a filthy word for such a stellar dial), but a special few featured a rather lovely shade of pink gold that these days is colloquially termed salmon.
No Royal Oak had ever featured such a dial, but the contrast with the steel case and bracelet was captivating – and it remains so to this day. Different? Yes. Brilliant? Without question.
50th anniversary highlights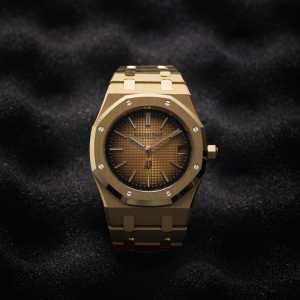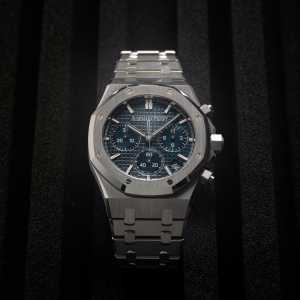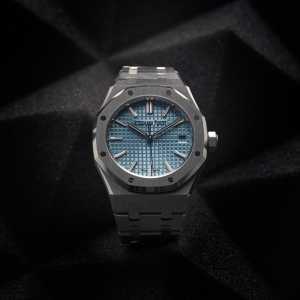 Learn more about the the Royal Oak 50th Anniversary Collection.