Kickstarter might seem like an unusual place to launch a new watch company, but over the last decade more and more plucky entrepreneurs have turned to the crowdfunding platform in the hope of entering the marketplace. It won't surprise you to hear that many of these brands claim to be a game changer: "The most REBELLIOUS watch ever made", "The future smartwatch", "The blackest watch ever made", and my personal favourite "An Ancient Greek soul in a modern Swiss body"; each catchy phrase intended to draw you in and donate towards the company's first few steps. It's a curious business model that relies entirely on the whim of the public, but get it right and it might just propel you into the big time.
On the surface, you'd be forgiven for thinking Furlan Marri is much the same. Its tagline, "Highly Attractive Wristwatches" is a little more understated than some of its peers, but then its watches don't profess to reinvent the wheel. These are timepieces inspired by the great vintage watch cases of the past, the kind that have graced the boutiques of the industry's most renowned watchmakers. And, boy, they are attractive – not simply because of their looks, but thanks to their price point. The Kickstarter community agrees: as of September 2021, 2,032 backers have pledged CHF 1,088,206 to help bring this project to life.
The clue to the fact this isn't yet another start-up brand is in the people behind the project. Andrea Furlan has lived and breathed watchmaking since the age of 15 when he interned at Hublot under the legendary Jean-Claude Biver. A graduate of the world-renowned ECAL design school in Lausanne, Furlan worked for a number of prestigious watch brands before ending up under the tutelage of Dominique Renaud at cult watch manufacture Renaud et Papi (responsible for some of the most complicated movements developed by Audemars Piguet, Richard Mille and Cartier). Here he honed his craft, including designing the momentous DR01 Twelve First concept piece alongside Renaud.
Boy, are these watches attractive – not simply because of their looks, but their price point
But the idea for his own brand had been slowly percolating for some time and having met his business partner Hamad Al Marri, a watch collector and artist from the Middle East, at a Christie's auction in Geneva, he finally had the means to realise his dream.
Furlan Marri's first watch, or "story" as the brand labels each of its models, revolves around two points in horological history. The first is the hybrid meca-quartz, a Swiss invention of the 1980s that brought together the feeling of a traditional watch movement with quartz technology, and the second is the decagonal watch case created by François Borgel – a case design favoured by some of the biggest names in Swiss watchmaking. In fact, one look at Furlan Marri's Mecaquartz Chronograph brings to mind Patek Philippe's fabled ref.1463 'Tasti Tondi' chronograph.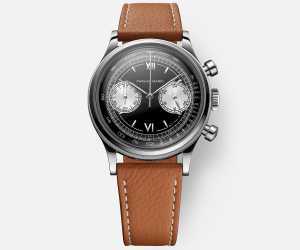 That watch sold for $591,000 at a Phillips auction in 2017, but Marri's homage will cost you just £361. How? The movement is a Seiko VK64 meca-quartz made in Japan and the watch itself is assembled in Shenzhen, China. But neither of these facts has impacted on the overall quality of the watch itself. Having handled a number of watches in this price point, even those manufactured by big-name reputable brands, few showcase quite the same level of detail as Furlan Marri's. It seems so simple – classic watch designs of the past made available to a totally new audience – but without this level of execution, the whole premise would fall down.
Whether its the sun pattern engraved chronograph pushers, the CNC machine polished 38mm case, or the domed and curved minute hands, the watch goes above and beyond what would normally be expected at this price point – and that's before you take into account that each piece comes with a spare Italian leather strap, and a burgundy collector's travel box.
Marri has teased the media that he already has designs for "11 new stories" including a Swiss chronograph and a moon phase. This might be a watch brand born on Kickstarter, but it's destined for the stars.
£361; furlanmarri.com