Harry Winston is not a brand that releases its men's watches with the prolific regularity of some rival manufacturers, but its ethos of quality over quantity means it's always worth keeping an eye out for its next timepiece.
The Historie de Tourbillon collection, for example, has seen just ten additions to its ranks since 2009, while the Project Z – arguably Harry Winston's flagship – boasts just 14 members of its brigade since initially launching in 2004.
In a watch world where we are all-too used to certain brands trumpeting the launch of an ALL NEW BLUE DIAL, there's something particularly respectable about Harry Winston's restraint.
It should come as no surprise, therefore, that the brand's latest watch, the new Project Z14, means business.
Let's get into it…
The Elevator Pitch
Harry Winston's Project Z has created a number of unique ways of displaying popular watch complications since the collection's debut in 2004. We've seen alarm, chronograph, big date, and moonphase complications all presented in an avantgarde, steampunk-like design quite unlike anything else on the market.
The brand tells us part of the design inspiration behind each piece is Mr Harry Winston himself – an American jeweller who made a name for himself in the early-to-mid 20th century – with an eye to his beloved industrial New York and its giant steel structures. It gives a little colour to each Project Z model's architecture, for sure, but it's just a fleeting glance to the past on an otherwise modern assembly.
The latest addition to the project, the Z14, features a retrograde seconds complication presented on an unusual three-dimensional structured dial and encased in the immensely durable zirconium-aluminium alloy Zalium.
The confluence of old-school horology and modern presentation has always been the trademark of Project Z; the Z14 is no different.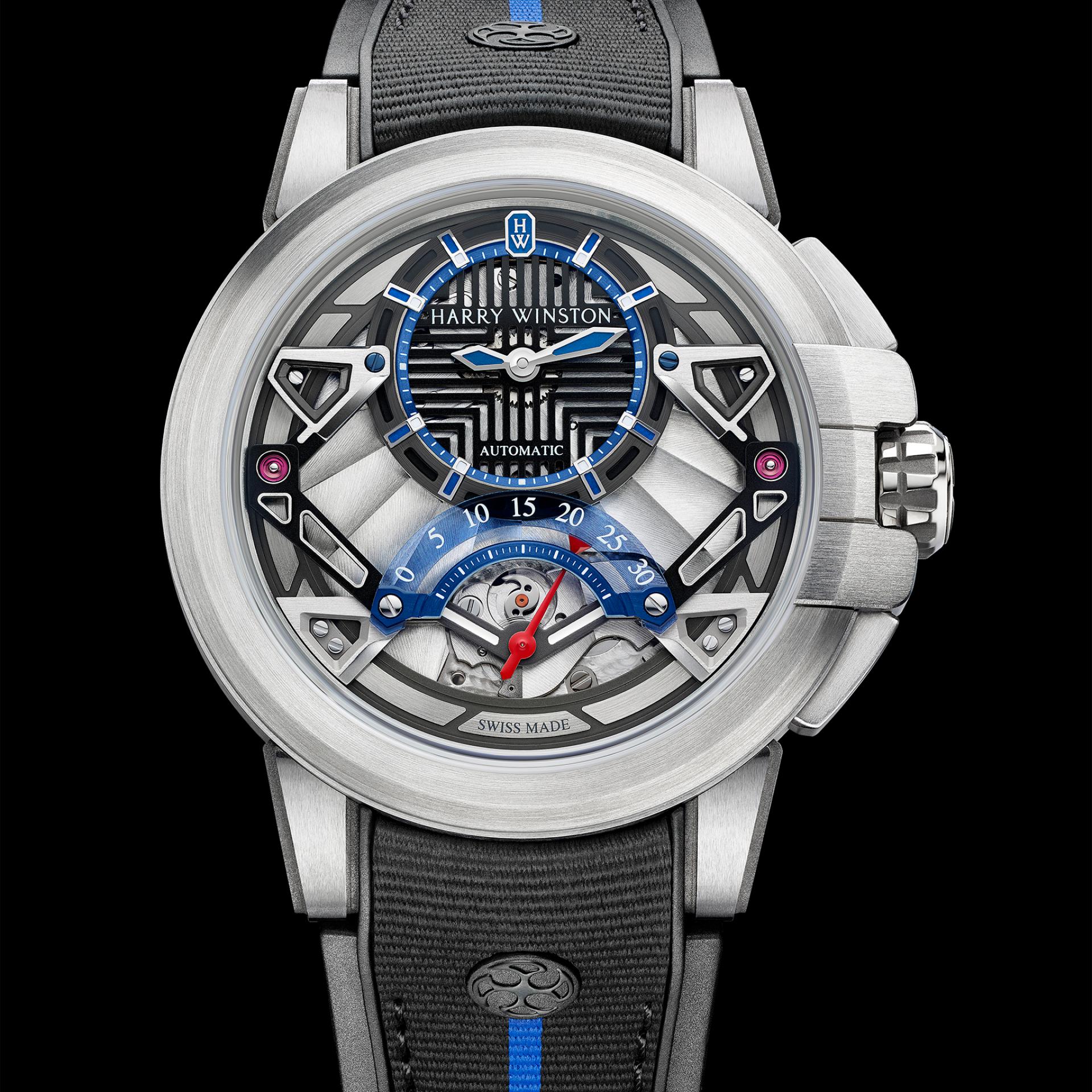 Pub Fact
What is Project Z? Well, the 'Z' stands for Zalium – a trademarked zirconium-aluminum alloy previously utilised by the aerospace and medical industries.
Zalium is a tough-as-nails material that boasts the best properties of both ceramics and metals. Harry Winston claims it's harder than titanium, and resistant to abrasions and dents, so it's no surprise that it makes a good watch case material.
It's worth pointing out that while brands like Hublot and Panerai have also been playing around with proprietary alloys, Harry Winston were one of the very first to invest in this kind of material research and bring high-tech materials into the watch world; some lead, others follow.
Harry Winston's Project Z collection has created unique ways of displaying popular watch complications since its debut in 2004
Add To Your Collection
The application of Zalium has fascinated Harry Winston for almost two decades now, but what is most impressive about the brand's Project Z collection is its relentless pursuit of avantgarde designs blended with classic horology. These are watches that look unlike anything else on the market, with their own distinct style.
On paper, this watch is nominally nothing more than a time-only piece, with a retrograde seconds dial in place of a seconds hand. And yet. To look at the three-dimensional skeletonised structure, the latticed main dial, the pop of blue on the arching retrograde seconds, the muscular Zalium case, this watch feels like a vast departure from the norm.
When would you wear this watch? Black tie? With jeans? A spacesuit, perhaps? It's difficult to say exactly. It's also a lot of money: 'price on request' usually means if you need to ask, you can't afford it. Still, this is a watch that brings a little edginess to horology we rarely get to see. 
This is a project that I am more than willing to subscribe to.
The Harry Winston Project Z14 is limited to 300 pieces. Price is available on request. For more info, see harrywinston.com