Nuun Official is the hottest brand to come out of the Gulf in more than a decade. Conceived and designed by its Bahraini chairman Talal Fakhroo, Nuun Offical watches are developed by an in-house team based in the World Trade Centre in Bahrain.
With just a quick glance, it's easy to tell that these watches are sophisticated, highly stylish, and impressively unique. What's more, they're extraordinary value for money, too.
Oliver Hall, CEO of Nuun Official watches, explains: "Nuun Official is about our ethos, our mission, and our brand. Our ethos is: 'Life is out there – it's never too late'… to go out there, to grab what you want to prove to others and most importantly to yourself that you can, you will and you have.
"We are appealing to an audience that is new, an audience that wants to be able to travel, swim, dive, sail and sit on a terrace with the same watch – one that is robust, good-looking, and does not cost the earth. That's our mission.
"We range products from roughly $100 to $1000 and I believe this is a real affordability sweet spot.
"This is the first Gulf watch brand and following account openings with Saks, Harvey Nichols, FarFetch, and the like, we want to cover the whole globe with our exciting designs and refreshing outlook on life.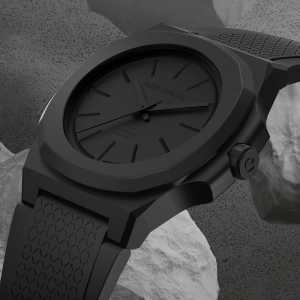 "We're lovers of life who want to bring a little luxury into every corner of humanity and where it cannot be paid for, we give them away where we can. This is our brand.
"We are currently working with the excellent Tide company in Switzerland, with whom we are pioneering our 'Essential' range of watches manufactured using reclaimed materials.
"The initiative is just excellent – we pay fishermen the same tonnage price they would normally be paid for fish, but we ask them to 'fish' plastic instead. This obviously helps the planet two-fold, by removing the plastic and by a natural restocking of fish, which we love."
The Nuun Official brand has seriously caught on and is being worn by His Majesty the King of Bahrain, The Sultan of Oman, The Bahrain Paralympic team, the successful Bahrain Everest team, and many others.
It is maybe no surprise that Oliver Hall has spent close to 20 years in the watch industry, having secured and retailed such brands as Rolex, Swatch Group, and LVMH – and having worked directly for the esteemed Richemont Group, running one of its key watch brands for a number of years.
"Our team is a youthful, exuberant, highly-qualified and skilled group of people here at the Bahrain WTC and across the globe (Oliver's Hundlur offices include New York and the newly opened Greater London area group offices for Europe).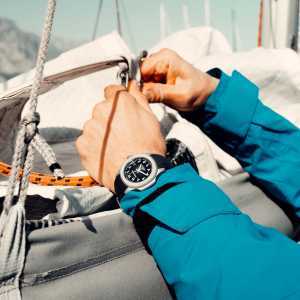 "People buy people as much as they buy objects and the team here really understands and embraces this. We have a lot of fun!
"This team reflects the Bahrain culture and attitude as a whole, which I find simply exceptional – Bahrainis are open, inquisitive, and highly principled people to deal with.
"Bahrain is an international trading centre, very modest but wide-reaching and in my view, it's like Switzerland or Holland in the Middle East. Very progressive, very developed – a great place to do business and a fantastic portal incidentally, to the Gulf region as a whole with a dedicated and superbly integrated ex-pat community.
"Our watches are inspired by the notions and practices of the Middle East and these include; trading, the Bedouin lifestyle, living off the land, traveling, beaches, restaurants, terraces, spices, silks, amazing sense of fashion, industriousness, entrepreneurial flair, money, finance, ownership, development… I could go on and on.
"Each timepiece we produce has a little bit of all of that wrapped up in a perfect little bundle."
For more information, go to nuunofficial.com