Patek Philippe watch releases are greeted with more column inches and social media activity than a whole season of Love Island, such is their incredible far-reaching popularity. One pandemic, three lockdowns, and a ban on going to the pub later, has anything changed? Absolutely not. Patek continue to move the needle more than any other watchmaker. 
We say some things never change… as you'll find out from the round up of our favourite Patek Philippe releases this year, actually somethings do indeed change. There's a new colourway on the ref.5711 Nautilus and, incredibly, there's a new-look Perpetual Calendar that is very much worth your consideration.
Elsewhere, a few old favourites have been given the ol' spit and polish. Of course, this being Patek, the polish is exemplary. 
Whether you're a Nautilus junkie, a fan of high complication timepieces, or simply love a classic dress watch, we can assure you that Patek has looked after you with its releases in 2021. 
Let's get started…
Patek Philippe Nautilus 5711/1A-014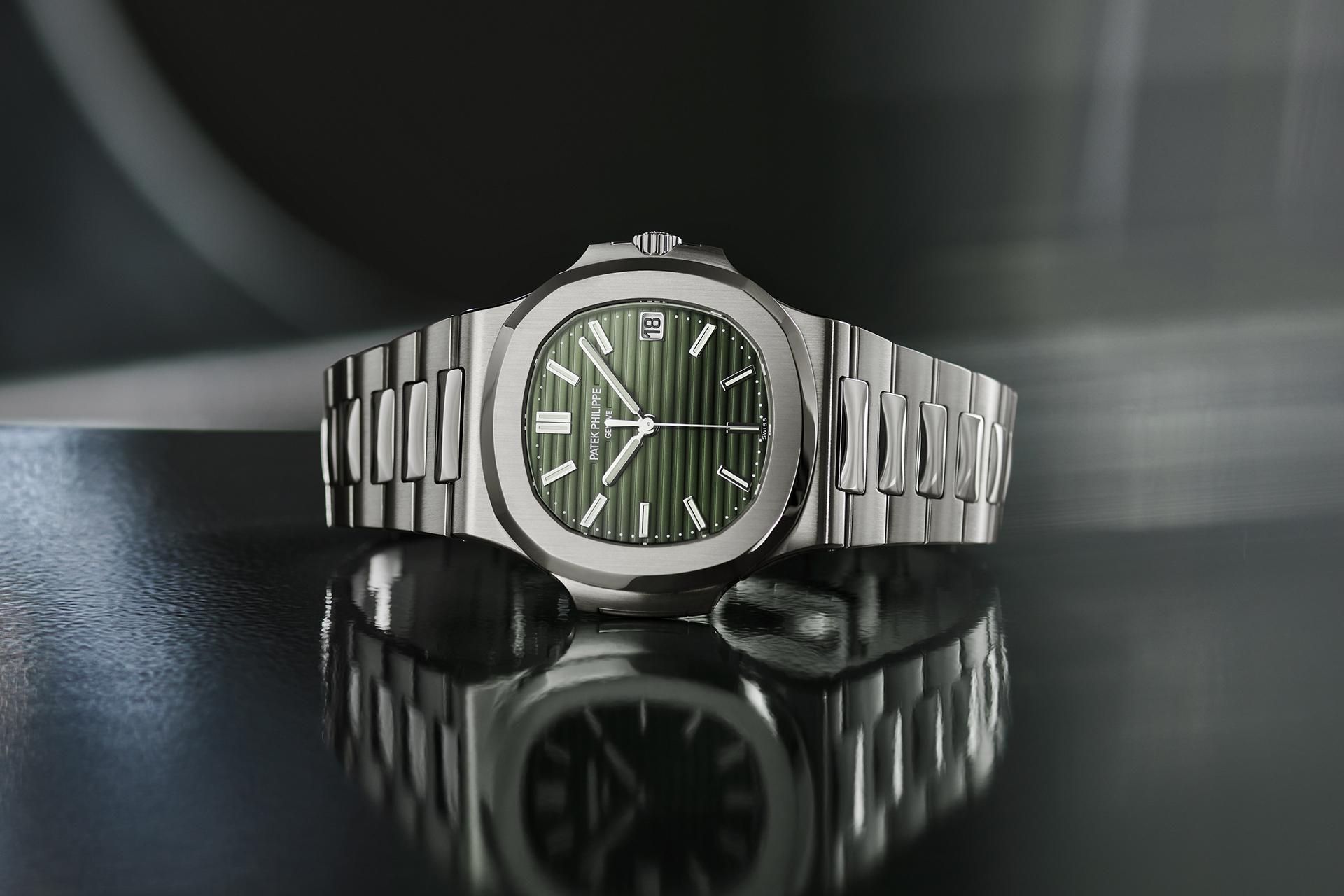 Depending on what corner of the digital watch space you occupy, the latest news from Patek Philippe is either the biggest of 2021, or a rather innocuous colour change.
The story began in January of this year when the watch giant confirmed rumours that the blue-dial version of its iconic ref.5711 Nautilus model (the ref.5711/1A-010, to be specific) was being discontinued with immediate effect. Blue dial = dead.
We've had to wait until April to find out what its replacement would look like, but Patek has finally broken the news to fans: the new-look ref.5711/1A-014 features a sunburst olive green dial.
It's rather lovely. A little more military and utilitarian in disposition, but there's nothing more to say than that, really. The calibre 26-330 SC under the hood has been used in the 5711 Nautilus since 2019, and Patek fans will still lose their minds over the collection – blue or green, that doesn't matter.
Given we have seen a number of green dials this year already (looking at you Audemars Piguet), perhaps 2021 marks the death of the blue dial and the birth of a new hero? Or perhaps we're getting ahead of ourselves. Time will tell.
Patek Philippe Nautilus Travel Time Chronograph 5990/1R-001
Should news that the blue-dial 5711 Nautilus is off the menu leave your watch aspirations in tatters, might we suggest an alternative? This bad boy right here.
First launched in 2014, the Nautilus Travel Time Chronograph 5990 is… well, it's a sexy beast. As one of the most complicated members of Patek's iconic sports watch collection it has always been positively swoon-worthy – seriously, a 60-minute flyback chronograph, push-button dual-time zone complication, and a date display – but, just to make sure, the Swiss giant has introduced a new execution in rose gold with a contrasting sunburst-blue dial.
It is by no means the most notable Patek Philippe release in 2021, but it is certainly one of the prettiest. This gold-hued masterpiece just looks fantastic from every angle.
Patek Philippe In-line Perpetual Calendar Ref.5236P
Perpetual Calendars are already incredibly complicated watches – and Patek Philippe is the undisputed master of making them. (Patek made the first commercial QP wristwatch back in 1925.) Yet somehow the brand keeps finding new ways to refresh and reinvent the complication.
This year, it has launched the Ref. 5236P-001 In-line Perpetual Calendar, which shows the day, date and month in a single panoramic aperture. In order to achieve this feat it had to invent and consequently file three different patents.
The technical term for this unique layout is 'coplanar' – essentially meaning the information is presented all in line and on one level.
Now, this is not the first time this has been done. Indeed, the inspiration behind it was a famous Patek Philippe pocket watch from 1972 (No. P1450) that features a calendar format 'à l'Américaine'. There is one big issue with this – the month and day are the wrong way around. (Thanks, America).
So the challenge was set to Europeanise the layout, while making it small enough to fit on a wristwatch and still remain legible.
The solution was to build four discs that would remain inline but never touch one another. This mechanism alone required 118 parts in addition to a conventional perpetual calendar display.
These include double ball bearings which keep the discs at the correct height with negligible friction, not to mention some ingenious wheels with strategically missing teeth. To the uninitiated, they look like cogs that have been in a fight. Indeed, the tens star – with only four teeth – is the veritable Cletus Spuckler of the watch world.
Yet it is thanks to these missing teeth – along with the Ronseal-named 'catch-up finger' – that help ensure you never need worry about a leap year again. (At least, until 2100.)
All this mechanical genius is presented in a classic Calatrava case made from platinum. The blue lacquered dial – with its black gradation and vertical satin finish – is frankly a work of art in its own right, and a fitting frame from which to present Patek's latest watchmaking art.
Patek Philippe Calatrava "Clous De Paris" 6119
The Nautilus might steal the limelight more often than not – along with Patek Philippe's 'flashier' grand complication pieces, of course – but it's worth sparing a thought for the understated Calatrava collection. Dating back to 1932, the Calatrava is not just a standard bearer for dress watches, but is also one of the longest-running collections in continual production anywhere. Sure, it might not pepper your Instagram feed with the same regularity of its younger siblings, but this is one watch design that has stood the test of time better than most.
We've seen countless Calatrava models over the years, but the one that stands above the rest is probably the ref 3919. First launched in 1985, this iteration featured a distinctive hobnail guilloché bezel, known as a "Clou de Paris" pattern, that framed the otherwise demure dial with an elegant flourish. There's nowhere to hide with this kind of simplicity, but that's just how Patek likes it: those devilish details are executed to perfection.
You know where this is going… The brand-new Calatrava "Clous De Paris" 6119 breathes fresh life into the iconic 3919 model, with a few concessions to contemporary tastes and a new hand-wound movement under the hood for good measure.
First things first, the 6119 is not just a modernised version of the 3919 but it's much larger as well. The case is a perfectly proportioned 39mm (up from 33mm) that benefits from reworked lugs – tapered and curved instead of the straight lugs of its predecessor – ensuring a slender profile in spite of the growth spurt. Elsewhere, faceted "obus" markers in 18K gold replace the 3919's Roman numerals, and dauphine hands are used in place of more ornate leaf-style hands. Both decisions are justifiable: by removing traditional watch design cues and replacing them with more minimal aesthetics, you have a more timeless rendition that feels contemporary even if it's still classic at heart.
Most importantly, however, is the presence of that lovely Cloud De Paris pattern on the bezel. The two rows of mini pyramid accents is just a dynamite feature that creates just enough flair to make this understated gem sing.
The 6119's new case size predicated a new movement, and Patek has plumped for its Calibre 30‑255, which brings with it a host of modern day heft in comparison to the 3919. Think: 65-hour power reserve, and a stop second mechanism useful when setting the time.
Available in the classic combo of a rose-gold case and a silvery grained dial, or a more contemporary white gold and charcoal grey dial, it is a timeless timepiece – and a charming nod to a Patek icon.
We're telling you now, this is a sneaky-good release from Patek.