AUDEMARS PIGUET
ROYAL OAK OFFSHORE
SELFWINDING FLYING TOURBILLON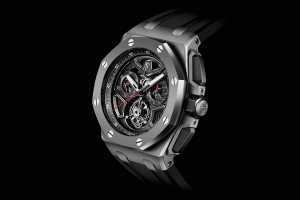 Audemars Piguet's Offshore collection has had a thorough working over this year – and at its pinnacle is the Audemars Piguet Royal Oak Offshore Selfwinding Flying Tourbillon Flyback Chronograph ref. 26622TI.GG.D002CA.01. With a name as long as that, you'd rather hope so, too.
Limited to 100 pieces, this new selfwinding weapon has both barrels loaded – one flying tourbillon; one flyback chronograph – all within a brand new case diameter of 43mm.
It's also complemented with the manufacturer's new interchangeable strap system – always a welcome addition.
Titanium has been liberally applied here, from the satin case to the architectural titanium bridges adorned with black PVD coating. While the titanium bridges have been finished with satin-brushing and hand-polished angles, their inserts present an alternation of sandblasted and polished surfaces for even more high impact.
It's a masterclass in both fine finishing and haute horology, bundled up into one of the most butch watch launches of the year.
CHF 242,100, audemarspiguet.com
BULGARI
OCTO FINISSIMO PERPETUAL CALENDAR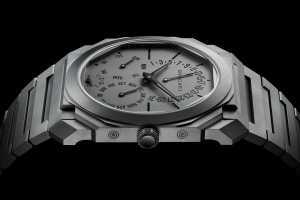 Bulgari is fast becoming the Lewis Hamilton of watchmaking; another race, another record. This year, Bulgari can add 'the slimmest Perpetual Calendar ever made' to its mantelpiece. The superb Octo Finissimo racks up its seventh world record with this latest ultra-thin iteration. It crams 408 components into a 5.80mm case – and its movement, the caliber BVL 305, is only 2.75mm thick.
It comes in two variations – the now familiar 'signature' sandblasted titanium, and a platinum version with a rich sunburst blue dial. Bulgari has never made an Octo Finissimo case in platinum before, so this → → version is definitely getting the collectors excited. When it comes to ultra-thin watchmaking, Bulgari is now the undisputed king – and this may be the jewel of its crown.
CHF 57,000, bulgari.com
CARTIER
TANK MUST SOLARBEAT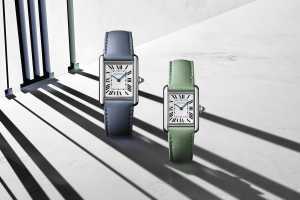 Louis Cartier first designed the Tank in 1917 and more than a century on it's still one of the most recognisable silhouettes in all of watchmaking. By 1977, Cartier had created the Tank Must: a more accessibly priced quartz version of its iconic creation, launched in order to reach a wider audience.
Re-released in 2021, the Tank Must once again has the same goal of broadening appeal to a larger demographic. The jewel in the crown is of course the Solarbeat technology. Powered by a photovoltaic quartz movement, it converts light into power similar to the solar panels on a roof.
How much power? According to Cartier, enough for at least 16 years of battery life.
Now, that's what we call blue-sky thinking.
£2,140, cartier.com
FERDINAND BERTHOUD
SQUELETTE FB 2RS.2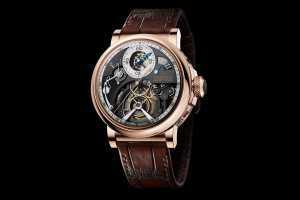 Chronométrie Ferdinand Berthoud is becoming a regular in our Technological Innovation category – each year pusing the watchmaking envelope.
The Squelette FB 2RS.2 is the brand's first fully skeletonised watch. Its chronometer movement is driven by the calibre FB-T.FC-RS complete with fusée-and-chain constant force mechanism transmission. The FB-T.FC-RS comprises over 1,500 components including the chain. (An average ETA movement, for comparison, has around 130-150 components.)
It's impressive on its own, but even more spectacular when regulated by a stunning one-minute tourbillon now fully visible via the large opening at 6 o'clock.
What's particularly interesting about the Squelette FB 2RS.2 is that it comes in two completely different cases. A steel model in an octagonal case; and a round case in polished rose gold. The openworked dial links them – but they have completely different characters despite being the same watch at their cores.
Although this is essentially a remaking of its FB 1, its novel presentation and impeccable execution are enough to warrant its place on this shortlist.
CHF 244,000 for the pink gold version, ferdinandberthoud.ch
FREDERIQUE CONSTANT
SLIMLINE MONOLITHIC MANUFACTURE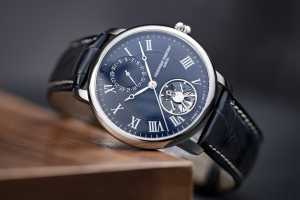 In late March of this year, the watch world was promised something new. Not simply a new collection or an update to a classic model, but an innovation by a Swiss watchmaker that was described as having the potential to turn the world of watch mechanics on its head.
The watchmaker in question is Frederique Constant – and the watch is the Slimline Monolithic Manufacture. Far from merely an updated design, it features a new and incredibly high-tech movement, the FC-810, which all but tears up the rulebook on mechanical watchmaking.
The movement is built around a single-piece silicon oscillator beating at 288,000 vibrations per hour. In real terms? Around ten times faster than most other mechanical watches. It's not just a new style of movement; it's a brand-new approach to
a founding principle of watch mechanics.
Created in collaboration with Dr Nima Tolou, CEO of the horological tech company Flexous, its benefits aren't just limited to the speed of operation: the monocrystalline silicon used to make the oscillator is anti-magnetic, more gravity resistant and lighter than traditional materials.
Alongside the modifications to the new movement to accommodate the rapid pace of the oscillator's pulsations, it all adds up – in theory, at least – to a movement that's harder-wearing and more reliable than one made according to traditional mechanics.
From £3,995; frederiqueconstant.com
GIRARD-PERREGAUX
TOURBILLON WITH THREE FLYING BRIDGES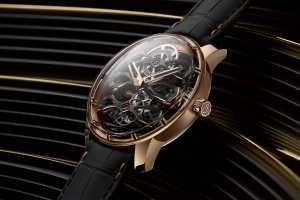 This year, Girard-Perregaux celebrates its 230th anniversary. It wasn't going to let that one go by without some pomp and ceremony.
It channelled its mighty watchmaking power into the most complicated iteration
of its Three Flying Bridges, yet.
The three bridges layout isn't anything new – indeed, the concept dates back to the 18th century. But unlike those of a more Victorian persuasion, GP's latest flying bridges really do look like they're flying – an optical illusion whereby they seem to float in mid-air.
Now add to this a tourbillon which doubles up as a small seconds indicator.
Even the crystal has been given some extra love to take this watch up a gear: it has sloping sides that curve downward allowing GP to reduce the size of the bezel – bringing those bridges even more to the fore.
CHF 129,100, girard-perregaux.com
IWC
BIG PILOT'S WATCH SHOCK ABSORBER XPL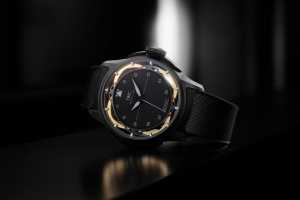 You've heard of racing car drivers pulling 5G in a corner; or fighter pilots pulling 9G in a dog fight. But 30,000G? Well, IWC's new Big Pilot's Watch Shock Absorber XPL has been impact tested at accelerations faster than that – and its movement has still survived intact.
With the help of boffins at the Cambridge University's Cavendish Laboratory, IWC has for the past eight years been diligently developing its new SPRIN-g PROTECT system, based on a cantilever spring that suspends the movement inside the case.
The spring has been designed to evenly spread the stress across its length and width; and it's made from Bulk Metallic Glass – an advanced substance significantly more elastic than conventional metals.
The watch's movement boasts a bidirectional pawl winding system that builds up a mighty power reserve of 120 hours.
And the case is made of Ceratanium – which sounds like something the Avengers created, but is in fact an IWC-developed material based on a proprietary titanium alloy.
£POA, iwc.com
JAEGER-LECOULTRE
REVERSO QUADRIPTYQUE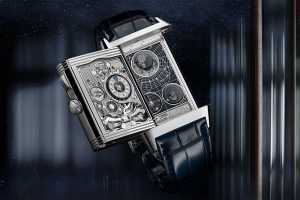 Meet the Jaeger-LeCoultre Reverso Quadriptyque. What we have here is not simply the most complicated rendition of the brand's iconic Reverso, but one of the most complicated watches Jaeger-LeCoultre has ever made. Count 'em: there are a whopping
11 complications in total.
On the first face, there's a perpetual calendar, including day, big date, month, year, and leap year indicators. There's also a day/night indication and a flying tourbillon for good measure. Oh, and there's also two small hands for, you know, actually telling the time. Flip the dial over and you're faced with a minute repeater (something of a Jaeger-LeCoultre speciality), as well as another dial displaying the time – in this instance with the addition of a digital jumping hour.
How can a watch have four dials you ask? Well, Jaeger-LeCoultre has rather cunningly squeezed its final complications into the inside and back of the case chassis itself. The third dial is all about the lunar cycle – and for the first time ever displays the synodic, draconic, and anomalistic cycles on one dial. You'll need an astrology degree just to make sense of it all.
Should you live in the Southern Hemisphere, you'll be pleased to learn that the final dial displays the moon-phase from your part of the world. Just in case.
And that's it. Nothing to it, really.
€1.35m, jaeger-lecoultre.com
PANERAI
SUBMERSIBLE ELAB-ID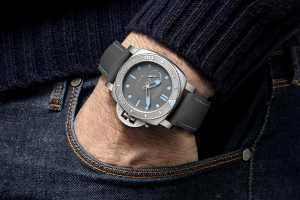 Where some brands pay lip service to sustainability, Panerai is at the other end of the spectrum, leading the way in environmentally responsible watch manufacturing. Its new Panerai Submersible eLAB-ID contains the highest percentage of recycled-based material ever used in the construction of a watch: 98.6%
of its weight comes from recycled materials.
The case, sandwich dial and bridges are composed of EcoTitanium, a recycled titanium alloy. And it's also the first watch to use 100% recycled SuperLuminova™ on its dial and hands, as well as 100% recycled silicon for its movement escapement. Both are obtained through dedicated, small-scale recycling processes that reuse raw material waste.
Fair play to Panerai – not only has it pioneered this, it's not hogging any of the newly developed materials or processes to itself, but rather allowing and encouraging all other watch manufacturers to follow its lead.
£54,000, panerai.com
PATEK PHILIPPE
REF. 5236P-001 IN-LINE PERPETUAL CALENDAR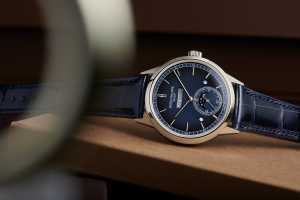 Perpetual Calendars are already incredibly complicated watches – and Patek Philippe is the undisputed master. (Patek made the first commercial QP wristwatch back in 1925.) Yet somehow the brand keeps finding new ways to refresh and reinvent the complication.
This year, it has launched the Ref. 5236P-001 In-line Perpetual Calendar, which shows the day, date and month in a single panoramic aperture. Perpetual Calendar can be compromised aesthetically by struggling to impart all this information in a neat and tidy fashion. Not so, with this in-line solution.
The technical term for this unique layout is 'coplanar' – essentially meaning the information is presented all in line and on one level. In order to achieve this feat, Patek had to invent and consequently file three different patents. (In case you're not aware, Patek has form here – it's invented more than 20 calibres and received more than 100 patents.)
The coplanar layout itself is not novel. Indeed, the inspiration behind it was a famous Patek Philippe pocket watch from 1972 (No. P1450) that features a calendar format 'à l'Américaine'. There is one big issue with this – the month and day are the wrong way around.
So the challenge was set to 'Europeanise' the layout – or, more accurately, correct the layout. Meanwhile, Patek has to also make it small enough to fit on a wristwatch and still remain legible. The solution was to build four discs that would remain inline but never touch one another. This mechanism alone required 118 parts in addition to a conventional perpetual calendar display.
These include double ball bearings which keep the discs at the correct height with negligible friction, not to mention some ingenious wheels with strategically missing teeth. To the uninitiated, they look like cogs that have been in a fight. These missing teeth – along with the Ronseal-named 'catch-up finger' – help ensure you never need worry about a leap year again. (At least, until 2100.)
All this mechanical genius is presented in a classic Calatrava case made from platinum.
£100,190, patek.com