Audemars Piguet
Royal Oak Selfwinding Flying Tourbillon Openworked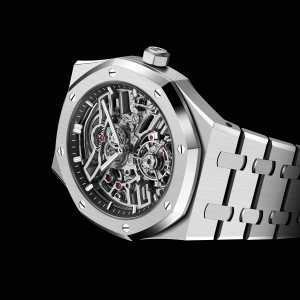 Audemars Piguet is certainly going all out on its celebrations for the 50th anniversary of the Royal Oak. There's been gold Jumbos, new extra-thin calibres, and this mechanical marvel.
The Royal Oak was first equipped with a flying tourbillon back in 2020, but now AP has upped the ante by skeletonising the movement as well. When it comes to the art of skeletonization, AP has form – it's widely credited with creating the first skeletonized wristwatch in 1934.
In this latest execution, everything but the essentials have been filleted away and no edge has been left unangled. There's brushing in three different directions – circular, satin, and sunray – chamfering, and even snailing (a tight pattern of spirals, usually used on sub dials). The effect is a mesmeric masterpiece in whose multiple layers one could easily lose oneself.
Bulgari
Octo Finissimo Ultra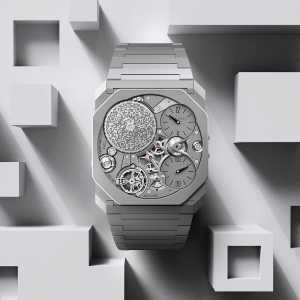 It says a lot about the technical prowess of this watch that a QR code on the dial is probably the least interesting thing about it.
This was the thinnest watch in the world beating Piaget's Altiplano Ultimate Concept watch by 0.2mm until Richard Mille came along with one 0.05mm thinner.
To keep things thin, Bulgari placed as many of the components on one single plane as it could – the going train is clearly visible – and integrated the case into the movement.
The case comprises three parts: a titanium middle and bezel, and a mainplate made from tungsten carbide – an extremely tough material that essentially prevents the whole thing from snapping the moment you strap it to your wrist.
And the QR code that adorns the barrel? That links to an NFT particular to that watch, if having fun with non-fungibles is your thing.
Chopard
L.U.C. Strike One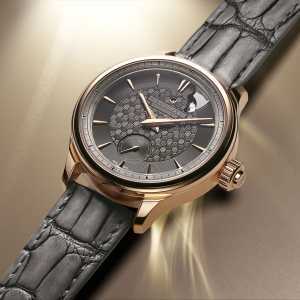 There doesn't appear to be any technological fireworks in this L.U.C, but the galvanically treated gold dial of this refined timepiece hides some mechanical marvels beneath, not least its striking mechanism.
The L.U.C marque was first launched in 1997 and ten years later, it produced its first striking watch, with its patented, innovative monobloc sapphire crystal and gong system, which is at the heart of this timepiece.
Rather than having hammers hitting metal gongs, L.U.C's hammers hit sapphire crystal gongs, which, along with the glass on the dial, have been machined from a single block of sapphire crystal.
The top crystal, which comprises a single piece with the gongs, amplifies the sound, resulting in a purer notes.
It has taken Chopard 17,000 hours of research to get to the point where it can produce this movement – one which has 275 components, a micro-rotor construction, and a patented Twin Technology double-barrel system that delivers 65 hours of power. All proving, you just can't judge a watch by its dial.
Kodo Constant Force Tourbillon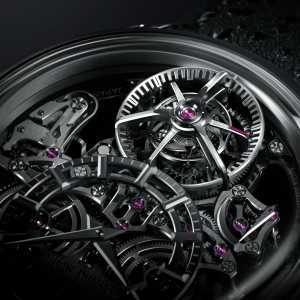 Grand Seiko certainly made its debut at Watches & Wonders one to remember. Not only did it unveil its first-ever mechanical complication, it also launched the world's first tourbillon and constant-force mechanism on a single axis.
This combination was introduced as a concept in 2020, and now it has made it into an in-series timepiece.
This amazing construction sits at six o'clock and, if you look closely, you can see the inner tourbillon carriage rotating in conjunction with the balance vibrating at eight beats per second, and the outer carriage which is the constant-force mechanism rotating at one-second intervals.
The removal of extra wheels or added components between the two means that torque isn't lost resulting in a longer power reserve – 48 hours, which is double the industry standard – and improved accuracy. In a wonderful quirk, the thrum of the 340-part movement is set to an audible 16-note or semi-quaver rhythm.
H Moser & Cie
Pioneer Cylindrical Tourbillon Skeleton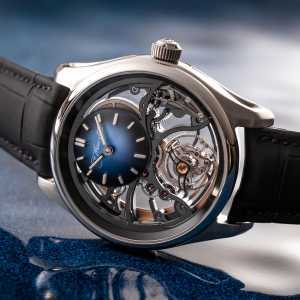 Cylindrical hairsprings in a tourbillon are nothing new; H Moser itself used one in its 2020 collaboration with MB&F.
But to make this complication, every hairspring – here paired with a one-minute flying tourbillon – is hand-shaped, a process that takes ten times as long as producing one by traditional methods. There is a method to this seeming madness.
The concentricity of the hairspring, combined with the friction-reducing Breguet overcoils – a way of bending the hairspring pioneered by Breguet that improves accuracy – at either end delivers near-perfect gravity, thereby improving accuracy.
Add in the hand-finished bridges, an 18ct-gold skeletonised full rotor, the timekeeping dial in H Moser's signature Funky Blue fume with chunky glow-in-the-dark Globalight indices, and you have a beautifully balanced, technically impressive, and really wearable timepiece.
If you have around £70,000 to spare, that is.
Hermès
Arceau Le Temps Voyageur Dual Time Zone Encourages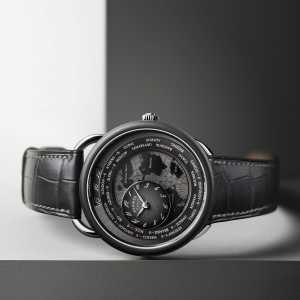 There's always an element of whimsy to Hermès's Arceau complications.
In the past it has given us ways to suspend time, to watch the waxing and waning of the moon on both hemispheres, and now we have its take on a dual time.
The logic of it is fairly standard – the home time hours are in an aperture at 12 o'clock, then use the pusher at nine o'clock to move the satellite sub dial around the city ring until the small red triangle points to your location; the hour hand changing with the city.
What seems simple in execution was involved in development. Created by Chronode, which specialises in unusual complications, and with a patented planetary gear motion, a lot of work and experimentation had to be done across the three differentials on shock resistance because this is a watch designed to be travelled in, not left on the bedside cabinet.
Patek Philippe
Ref. 5470P-001 1/10th Second Monopusher Chronograph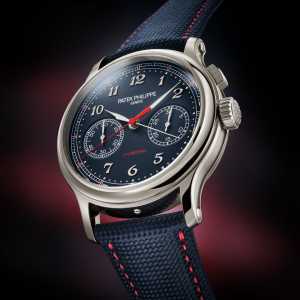 This is the first time Patek Philippe has experimented with a 1/10th chronograph. In the simplest terms, Patek has merely added a second chronograph module to its 4hz CH 29-535 PS. It's a lot more complicated than that.
In order to have a 1/10th chronograph, the movement had to be upgraded to 5hz. To accommodate the greater torque needed for increased balance power, rather than up the case size, Patek increased the number of coils on the hairspring. To temper the knock-on possibility of declining energy efficiency in the escapement, it replaced the whole thing with its Oscillomax in Silinvar (silicon dioxide-coated silicon).
To link the two chronograph modules, it ran them both off a fourth wheel, for which a driving wheel had to be designed, comprising two gears with the upper one having to be flexible to allow it to compensate for any play in the lower gear.
And that's before you factor in patented shock absorber hooks, pendulum shock absorber levers, and a red-lacquered Silinvar chronograph hand with two patents alone.
Richard Mille
RM UP-01 Ferrari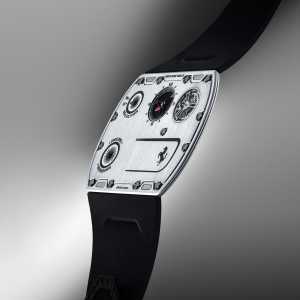 There's ultra-slim, thin, and then this from Richard Mille. A watch so thin it looks as though strapping it to your wrist would snap it.
It won't; it's been developed in conjunction with Ferrari, made from grade 5 titanium, and can withstand 5,000Gs.
Rather than integrate the movement and the case, as seen at Piaget and Bulgari, the movement, which slips in at just 1.18mm thick and has a baseplate and skeletonised bridges in titanium as well as variable-inertia balance wheel for optimum accuracy, is encased.
But that's where the traditional aspect ends. To keep things thin, Richard Mille did away with the winding crown set up and installed two disc-shaped crowns set into the dial of the watch, the top one to select function, the bottom for setting the time and winding.
Despite its size, or lack thereof, it still has an impressive 45 hours of power reserve and a water resistance of 10m, because, as Mille himself can attest, his brand's fans like to put their watches through their paces not leave them in safes.
TAG Heuer
Carrera Plasma Tourbillon Nanograph

How many things can you do with carbon?
Lots, if you're TAG Heuer, which has used the material liberally in this incredible timepiece.
The first thing you notice are the diamonds – lab-grown stones morphed into shapes not found in nature, such as a single 2.5ct crown, as well as on the dial, set into the DLC-coated anodized aluminium case, and for the indices.
This watch also contains TAG Heuer's rarely used, extremely expensive, carbon hairspring. Developed by Guy Semon's TAG Heuer Institute it has better performance than silicon, is antimagnetic, light, and impervious to shocks.
The tourbillon cage is also carbon – a first for TAG Heuer but a practical decision that removes the biggest problem with tourbillons – how much energy is used to rotate the cage.
Lighter cage, less energy. The diamonds may be the things that dazzle but it's the use of carbon in the movement where the real innovation lies.
Ulysse Nardin
Freak S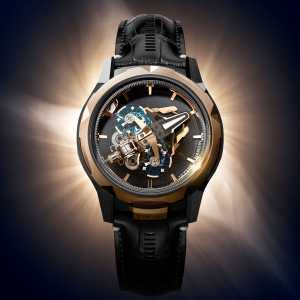 The 2022 iteration of Ulysse Nardin's iconic Freak is all about balance. Or balance wheels, to be precise. It has two of them.
Multiple balances are nothing new – Roger Dubuis has a watch with four of them in it – however, by using vertical differential gearing, the balance wheels can beat at marginally different rates in order to compensate for any errors; errors which are further mitigated by angling the wheels.
The layered construction of the Freak – carousel, barrel, and winding system – is also unprecedented.
At the top is the carousel, which makes one revolution every hour and acts as the minute hand, while the barrel cover is the hour hand.
This Freak also uses the Grinder system devised by Ulysse Nardin in 2017. Transplanted from the Innovision 2, essentially it lowers the winding system's torque so that the energy of the slightest of movements can be captured and stored in the mainspring.