What's the vibe?
Antigua by way of Aldwych: the Parrot is a beach club that happens to be situated a stones' throw from the River Thames rather than the Atlantic Ocean. Vegetation, bright colours, fake parrots – you'll be humming Wham! within seconds of sitting down. Possibly because of the vibe, possibly because the band onstage has launched into Club Tropicana: "Let me take you to the place / where membership's a smiling face…"
What's the story?
The Parrot launched last year with more fanfare normally afforded to a bar opening (which, let's be honest, happens fairly frequently in this great city). That was due to the involvement of one Idris Elba, the actor, activist and musician adding 'bar owner' to an already extensive portfolio. Elba is no longer involved with the bar, but it remains in the safe hands of the Waldorf.
What should I order?
The cocktails aren't so much drinks as art installations. Lovebird (Macallan 12 years, infused peach, peach bitter, peach smoked foam) sits on a log, as austere and flawless as a Japanese painting. Bristlehead (Don Q white, passion fruit liquor, cranberry juice, pineapple juice, honey, lime juice, strawberry and raspberry soda) is served in a monkey head; while Golden Conure (Absolut Elyx vodka, Cointreau, tropical lemon, pineapple juices) comes in a goblet wreathed in a flurry of dry ice. Crucially, this isn't a case of all style, no substance: all three were well-balanced, with the Lovebird, a sort of peachy Old Fashioned, a particular standout.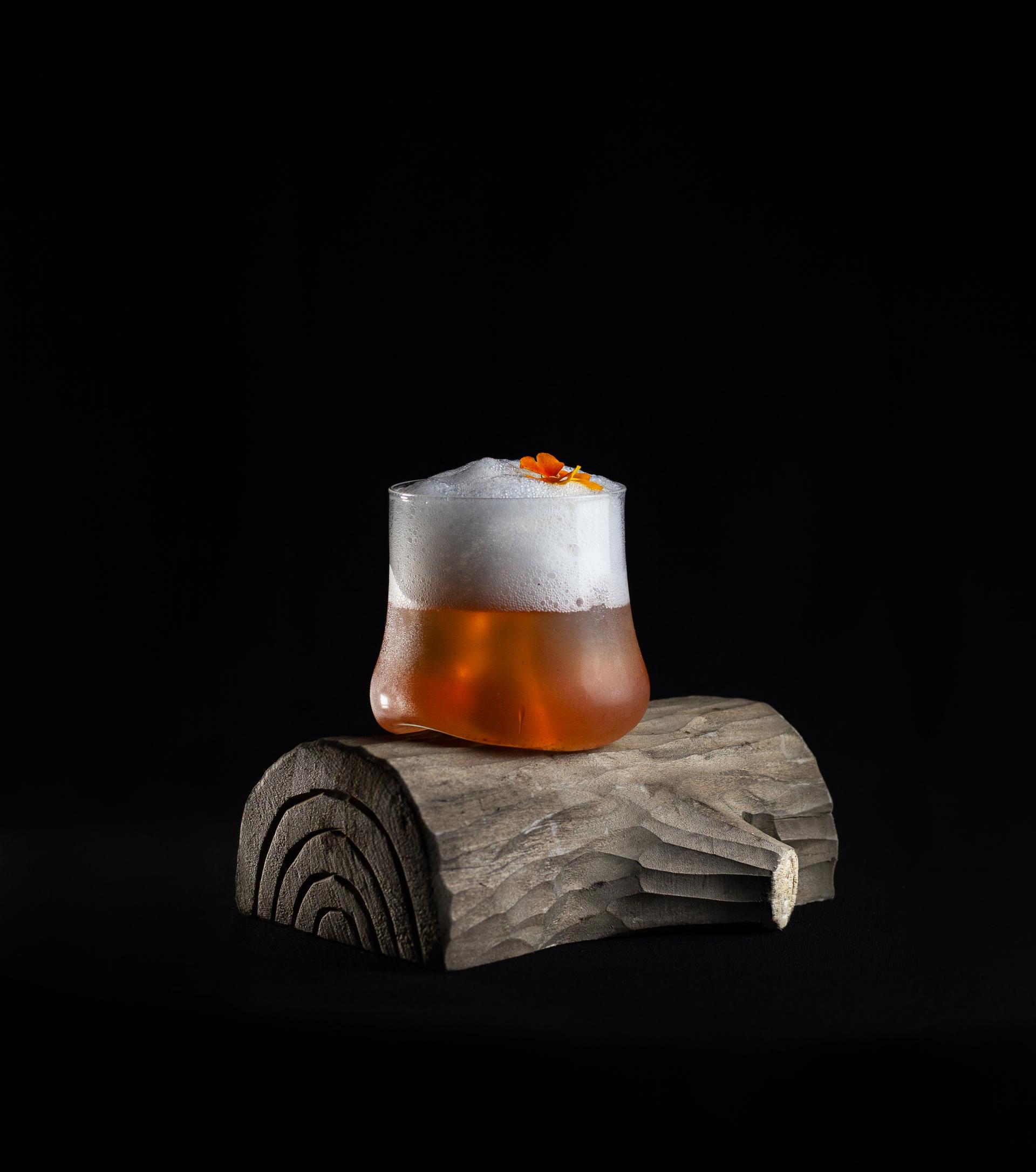 How's the food?
Bar snacks, but really high-quality bar snacks. We're talking king prawn tempura, spiced crispy squid, and chipotle spiced chicken. The squid is especially good, fried golden brown like treacle and served with jam dip. As with the drinks, the presentation is top notch: the squid, for example, comes in an ornamental dish shaped like a tree trunk, which only adds to the fun. However if you're after a proper meal, it's probably best to pop into the Waldorf's Homage restaurant before / after your visit.
Will it bankrupt me?
Not if you're careful, but it isn't hard to rack up a punchy bill. Ranging from £12-16, the cocktails aren't cheap, although you can see where the money goes. The Gin & Tonics and Spirits fall into a similar price range. All food is priced at £9. Basically, come for a couple of cocktails, and maybe share a plate or two, and you'll get change from £50; spend all evening here and you'll comfortably break three figures. It'll be fun, mind.
Anything else to note?
Fancy arriving in style? On its launch last year, the Parrot joined forces with Aston Martin to offer guests the opportunity to take a chauffeur-driven Aston to and from the bar.
For more info, see The Parrot LDN