There are dive bars. Jazz bars. Rooftop bars. Concept bars. And then there are bars like the Beaufort Bar at the Savoy Hotel: a luxury bar, a sleek, sexy, glamorous bar, a film-star bar. (In that you can imagine film stars drinking here, and also if Beaufort Bar was a person it would probably be Elizabeth Taylor.)
I'm not going to dub it "the bar all other bars aspire to be" because every great bar has its own, carefully honed identity; what I will say is the Beaufort Bar is the best possible version of itself, and considering its ambitions that's one hell of an achievement.
There aren't many places that can give off an air of effortless, almost understated class, while simultaneously treating you to the sight – and sound – of a man playing the piano in a giant birdcage. Yeah, it's a trip.
What's the story?
Beaufort Bar opened a few years back and swiftly established a global reputation, regularly making The World's 50 Best Bars.
Last October, Beaufort launched a new three-part menu 'Interpreted Magic': split into three sections – The Pledge, The Turn, The Prestige – and based around the format of a typical magic trick. Each member of the bar team invented their own cocktail – be sure to ask your bartender for theirs.
Incidentally, the bar is built on what used to be the hotel's cabaret stage – insert your own 'worth making a song and dance over' quips. 
What to drink?
OK, now shit gets real. The Beaufort prides itself on its champagne selection, offering more than 20 different vintages by the glass. It would be almost rude not to start the evening with one.
Light cocktails can be found in the Pledge section, 'funky' ones in the Turn, and darker cocktails in the Prestige. Every cocktail has its own short 'biography', explaining the inspiration behind its creation, as well as a beautifully illustrated picture on the opposite page.
Realistically, you are not going to drink a bad cocktail here, so any recommendations are largely pointless: opt for whatever sounds good and it's a near lock that it will be. Make sure you appreciate the level of detail that goes into each drink.
Trying to be frugal at the Beaufort Bar is like closing your eyes while skydiving
Take Twice Shy (Bacardi 4yr rum, Chazalettes vermouth bianco, salted pistachio yoghurt, Earl Grey tea, vanille, lime, framboise eau de vie, milk), inspired by Sigfried and Roy, specifically the show their white tiger attacked and seriously injured Roy. (Never work with children and animals, eh?) The glass is streaked with 'blood' (not real – homage has its limits), and the green of the pistachio yoghurt is removed during the mixing, leaving a flawlessly clear drink.
Or Time Flies (Copperhead Classic gin, St Germain liqueur, Tokaji wine, apricot syrup, lemon), celebrating the pioneering triumvirate of Harry Houndini, Thomas Edison, and Jerry Thomas, and each man's fascination with watches. Look closely at the drink: you'll see three separate shades of yellow in your glass, representing past, present and future. Toto, I don't think we're at Be At One anymore.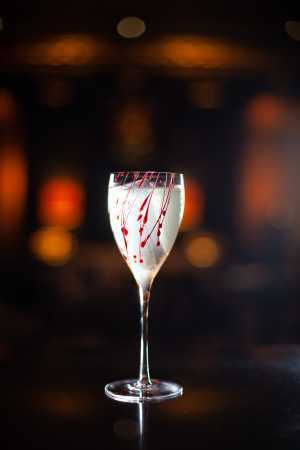 How's the food?
The food is spread across the menu, with plates paired with matching drinks. Enjoy some oysters with your champagne or 'Pledge' cocktail, and make sure you try the bespoke vinaigrette that comes with them.
The two standout dishes are the truffle arancini balls and the pork belly bites: you get five of each so negotiate who gets the extra one of what. If you're still hungry, The Prestige contains heavier dishes such as lobster tempura and truffle pizza – the latter a classic example of 'I'm so full oh go on then, one more slice' moreishness.
However the food, while great, is very much the support act to the drinks: so if you conscious of cost, maybe stick to the liquids and go for a Big Mac afterwards. Which brings us neatly too…
Will it bankrupt me?
Look, trying to be frugal at the Beaufort Bar is like closing your eyes while skydiving: you'll miss all the fun and still get scared regardless. Cocktails are mostly between £25 - £30 so yeah, it's not cheap. Saying that…
See the dusty old bottle of rum in the middle of the back bar, the one that looks like pirates used to drink it? Well, pirates probably did used to drink it: the bottle dates back to 1780, and was bought at auction by the owner of the building. One shot of that will set you back £12,000. Yes, shots have been sold. One guy bought two.
You might want to sit down for this next bit – and possibly your yourself a stiff one. Last year, a party bought four shots and demanded it to be mixed into cocktails! That's £48,000 worth of 240-year-old booze used to make motherfucking Mai Tais! A one-of-a-kind rum, a taste of history, poured into a glass and mixed with orange curaçao, lime juice, and the tears of the bartender on duty. Those monsters are out there in the world, presumably playing baseball with Faberge Eggs, and using a Van Gogh as a dartboard.
Ask your bartender for a few good stories and you'll be sat rapt all evening
If you fancy more bang for marginally less buck, the Port Ellen Tasting Experience offers nine 15ml measures from the now-closed Port Ellen distillery, yours for a cool £10,000.
So in answer to the question posed: yes. Yes Beaufort Bar really could bankrupt you, and it wouldn't even need long to do so. Drink within your means, people! And never, NEVER mix expensive spirits.
Anything else to note?
Loads – I mean, the Savoy is one of the most famous hotels in the world. Ask your bartender for a few good stories and you'll be sat rapt all evening. (Another one: there's a model cat in the adjacent Kaspar's Restaurant that occasionally used to sit with guests. Why? Because one time, 13 people dined together, and within two weeks the host was dead. Henceforth, whenever a dinner party numbered 13, the staff would wheel out Kaspar the cat to ward off any mishap.)
Let's give the final shoutout to the team: every one of them was friendly, immensely knowledge, and made the whole evening a joy. (We were looked after by Victor.) I strongly recommend you sit at the bar, at least for part of your visit. A) it's the coolest place to sit, and B) you'll have a great time up there.