There are few places in London that can offer unparalleled views, great transport links and a wide range of boozers – that is until London Waterloo is thrown in the mix.
The easy-to-get-to and always vibrant hub is a classic post-work spot which boasts bars along the river, newly-launched rooftop bars and timeless pubs that don't put a foot wrong.
You'd be forgiven for wondering where to begin – so let Square Mile do that for you.
Here's our nifty guide to the best bars and pubs in Waterloo.
What is it Abba once said? "Waterloo, couldn't escape if I wanted to. Waterloo, knowing my fate is to be with you…"
[For more great boozers – our guide to the Best Pubs in London Bridge.] 
Duke of Sussex
What's the beer selection like?
Plentiful. From lagers to IPAs, there is something for everyone at this popular drinking spot. Not to mention the wide selection of bottled beers available, including the game-changing Belgian white Blue Moon, served best with a slice of orange.
The spirits collection is also full to the brim with the likes of Don Julio and Martell XO on the menu.
How's the food?
Diverse. As well as an inclusive menu, which features the likes of vegan chicken and a non-meat, burger, the grazing menu is a real treat. We're told the chicken wings, accompanied by Chef Lee's hot sauce, are as good as they sound.
Is there a beer garden?
There sure is – it's actually one of the pub's best and most identifiable features. The garden is out the front and can be seen almost immediately after you leave Waterloo station. You've probably walked past it a million times and thought "wow, that looks nice". Well, now's your chance to go and try it out.
Anything else to note?
There's a bottomless brunch option, which although not currently available will be returning soon. And every Monday night, there's a lively pub quiz with prizes so good, you have to pay £2 to enter.
When is the Duke of Sussex open?
Monday – Saturday: 12pm to 11pm
Sunday: 12pm to 10.30pm
23 Baylis Rd, London SE1 7AY; Duke of Sussex
Waterloo Tap
What's the beer selection like? 
With 28 lines of everchanging beer (22 keg and six cask), there's no shortage of choice. Waterloo Tap features independent local breweries, as well as a few global names.

From lambic beer, fastenbier, Schwarzbier, sours, red ales, stouts, porters, plus your standard lagers and ales, even the biggest beer snob will find something to enjoy. Prices start at £4.20, another win! 
How's the food?
Compliment your drink with some homemade gyozas, cooked in-house, fried on the bottom to give a subtle crunch and then steamed. They taste great with the dipping sauce.

There's also a range of bar snacks such as peanuts, chilli rice crackers and crisps.
Is there a beer garden?
Not quite but there's outside seating on both sides, 21 outside tables which can seat more than 70 people. Plus London's biggest unintentional canopy – aka the railway line above!
Anything else to note?
Waterloo Tap is a female-run business and a safe space for the LGBTQ+ community. Oh and of course dog friendly, too.
When is Waterloo Tap open? 
Mon- Thursday: 3pm-11pm
Friday- Saturday: 12pm-12am
Sunday: 12pm-10pm
Sutton Walk, London SE1 8RL; Waterloo Tap
The Stage Door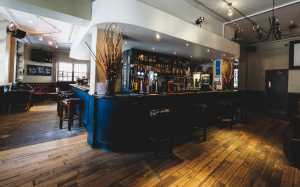 What's the beer selection like?
Award-winning. When a pub wins London's Cellar Keeper of the Year, you know you're on to a keeper. The Stage Door has all the craft, lager, stout and ales you could possibly think of.
Don't believe us? Check out their drinks menu and see for yourself.
How's the food?
Pretty damn good, especially if you like pie and mash in great quantities. There's also pizza, paninis and sharing platters. What more could you want? Nothing is the right answer, nothing.
Is there a beer garden?
Even better, there's a roof garden which catches the sun at pretty much every hour of the day. There is often live music playing too.
Anything else to note?
There are a couple of Airbnb-listed rooms above the pub which have great ratings and come at a good price for central London. Plus with Sky and BT Sport available, you can count on the staff to show the games that matter.
Oh, and on Sunday there's an open mic night which is known to attract some real talent.
When is The Stage Door open?
Monday – Sunday: 12pm to 11pm
28-30 Webber St, London SE1 8QA; The Stage Door
Mulberry Bush
What's the beer selection like?
Good. But, if we're honest, this is a pub first for fine wine and impressive spirits before it is one you head to for a pint.
On that note, the Fever-Tree G&T and Gin Spritz menu is something to marvel at this summer.
How's the food?
Impressive. When as much effort has gone into the aesthetic of a pub like it has at the Mulberry Bush, you know the menu is going to be on point.
Don't be mistaken by the humble offerings of fish and chips and steak, this is top-of-the-range public house dining.
Try the Butler's Secret cheddar and Guinness rarebit… trust us.
Is there a beer garden?
Not quite – but the pub's front doors open up to create a stunning and inviting terrace, ready to serve anyone who wishes to cap off a day of exploring the city or enjoy some post-work bevs.
Anything else to note?
The Sunday roasts are magnificent and if you're a meat lover, the Sunday Roast Feat Board is said to cure all hangovers. This summer's much-missed sporting events, such as the Wimbledon championships, can also be viewed here.
When is the Mulberry Bush open?
Monday – Saturday: 12pm to 11pm
Sunday: 12pm to 10.30pm
89 Upper Ground, London SE1 9PP; Mulberry Bush
The Understudy
What's the beer selection like?
Crafty. Billed as the National Theatre's relaxed and friendly craft beer bar, with seats along the river, you can't be disappointed by this one.
Draught beers, wines and cocktails are also served if craft isn't your thing, though. What can we say? It feels quite nice to have a drink 'at the theatre' once in a while, especially when you don't even have to go into the theatre to get it.
How's the food?
Minimal. There are burgers and some snacks but The Understudy is more a place you visit before or after a meal elsewhere. With the amount of restaurants on offer along Waterloo's Southbank, you'll be spoiled for choice.
Is there a beer garden?
If riverside seating counts as a beer garden, then yes, yes there is.
Anything else to note?
There are plenty of board games available for customers to play, which makes this a wholesome Sunday spot.
When is The Understudy open?
Monday – Saturday: 12 to 10.30pm
Sunday: 12 to 10pm
National Theatre, Upper Ground, London SE1 9PX; The Understudy
Bar Elba
What's the beer selection like?
Pretty good, considering Bar Elba is a cocktail roof bar. There are lagers, pale ales and ciders galore – which can be enjoyed before or in between some of the menu's impressive cocktail offerings.
Why not try a Zombie, for instance, featuring Havana Club Especial rum, Pusser's dark rum, pineapple juice, citrus juice, passion fruit, salted grapefruit cordial, pomegranate, clove and absinthe? Or perhaps a Bourbon Street - a mix of Benchmark bourbon, Chambord raspberry liqueur, cranberry and citrus juices.
How's the food?
A+. Tacos, burgers, loaded fries and truffle cheese fries are just some of the options that make up this perfect-for-day-drinking menu.
Order the halloumi fries with warm truffle and honey sauce… you heard it here first.
Is there a beer garden?
The whole bar is one big beer garden. The rooftop features views of the London Eye and all the sights that Waterloo has to offer, meaning whether you visit at day or night, you're in for a real treat.
Anything else to note?
Just a few things. There's a bottomless brunch and separate Super Sesh package – which offers "double the supper and double the sesh" with competitive bottomless prices – meaning your Saturdays and Sundays in London this summer are sorted.
The space also becomes a rooftop cinema almost every night of the week, with the likes of Shaun of the Dead, Iron Man and Mamma Mia scheduled to play in May and June.
When is Bar Elba open?
Monday – Sunday: 2pm till midnight
Rooftop Mercury House, 109-117 Waterloo Rd, London SE1 8UL; Bar Elba
Vaulty Towers
What's the beer selection like?
Varied. There's at least one of everything you'd expect - even a couple of each - and a couple of surprises too. Most notable is their infamous apple pie cider, which tends to get rave reviews. Whether you're a draught, can or bottle man, Vaulty Towers has you covered.
The cocktails are plentiful too, with a menu that boasts a classic Negroni and the not so classic Spicy Xmas Cock (Kraken spiced rum, gingerbread, ginger beer). Do with that name what you will.
How's the food?
Classic. It may not be fine dining, but it is supreme snacking. From loaded vegan fries though to sweet potato latkes and a damn fine buttermilk fried chicken burger, this menu aims to please when it comes to day drink cravings.
Is there a beer garden?
No, but in London's renowned "quirkiest drinking spot", you want to be right in the action.
Anything else to note?
We challenge you to find an activity that Vaulty Towers doesn't offer. Life drawing classes? Check. Sunday Blues sessions? Check. A weekly pub quiz? Check. The list goes on. Genuinely.
When is Vaulty Towers open?
Monday-Friday: 4 to 11pm
Saturday-Sunday: 12 to 11pm
34 Lower Marsh, SE1 7RG; Vaulty Towers
The Thirsty Bear

What's the beer selection like?
Really bloody good. The pub's much-loved "beer wall" – a self-serving display of beer taps – showcases the well-known, the much revered, and the never-heard-of, when it comes to beer. So you're in for a treat.
How's the food?
Lavish. How many pubs have you been to which have not only a huge menu which includes a good mix of meat and veggie options - but also a buffet? That's what we thought.
Welcome to the world of The Thirsty Bear.
Is there a beer garden?
No, but who cares? Indoors are open again, let's get back to doing what we Brits do best - spending the sunniest of days hauled up inside getting tipsy.
Anything else to note?
If you need more than a self-serving beer wall, you might as well leave this page now.
When is The Thirsty Bear open?
Sunday-Friday: 12 to 11pm
Saturday: 12pm to 1am
62 Stamford St, SE1 9LX; The Thirsty Bear