The Princess of Shoreditch is like that one mate who's unbelievably good at keeping secrets. You'd trust them with your life. Or, in the case of this fine-dining hideout above an unassuming boozer on East London's Paul Street, the enjoyment of your evening.
It is headed up by Ruth Hanson. A woman on a mission, who at the age of 25 already has a five-year stint at the Ritz and a place in the final of the Great British Menu under her belt. (Don't worry, you're not alone, we feel inadequate too.)
We'll talk more about her cooking soon but, for now, take us at our word when we say The Princess of Shoreditch is a one to book. Stat.
What to eat?
You're really here for one thing and one thing only: the seasonal eight-course tasting menu. And, sure, you could also slim down to five. But why spoil the fun? Hanson and co. love a bit of mischief and misdirection, and many a dish comes with an unexpected twist.
For example, at some point in the evening, you'll become acquainted with the concept of tomato and fennel ice cream, which – bewilderingly – tastes like sundried tomatoes on crack. But better. Much better.
The wastage from this intriguing number also goes into making our new love interest: tomato butter. Which is exactly what you think it is, except it's dressed up to look just like a Bull's Heart tomato and is so good, even your trusty pack of Lurpak will get a touch of the imposter syndrome.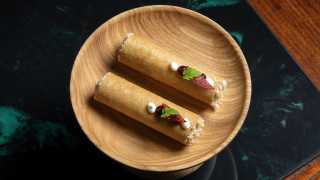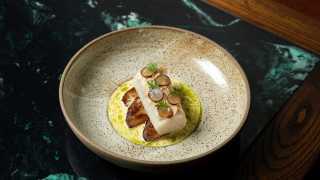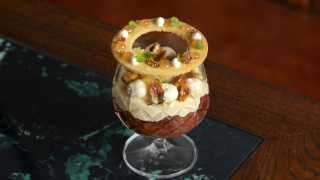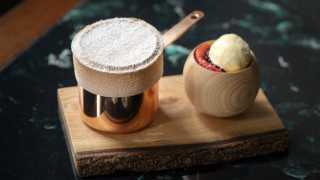 As for the 'gin and tonic'? Think again, it's actually cucumber balls with gin jelly, shavings of elderflower ice and a scattering of dill.
Meanwhile, if the British corn has you thinking of buttery BBQ goodness, then buckle up because you're about to jump lightyears ahead to some future-esque pairing of creamy charred corn, charcoal and hazelnut praline, pickled mushrooms and nectarine. It almost looks too pretty to eat. But eat it we did.
What to drink?
You're in for quite the journey so let the experts take control and pair you up with some fine glasses of small-batch wine.
A stand out for us was the Coates and Seely Britagne Brut Reserve, a bready English sparkling wine from Hampshire, and Selvapiana's Chianti Rufina, which is rich with cherry and hints of spice.
Will it bankrupt me?
This is not one for those on a budget. But at £52 for five courses or £69 for eight, not including wine, your wallet has seen worse.
Anything else to note?
The seasons, they are a-changing – and so too will the menu, so don't wait around.