Less than ten years ago, the words 'vegan' and 'pub' would likely have only been uttered together as some kind of punchline. It was an oxymoron: at the most stereotypical level, you have dreadlocked, peace-loving hippies on the one hand, and raucous beer bellied sports fans on the other. But in 2018 The Spread Eagle became London's first vegan pub and in its commitment to sustainability and zero waste, it runs a seasonal menu and continues to oversee centuries-old British tradition seamlessly coalesce with modern dining preferences.
The establishment stands boldly on Homerton High Street with all of the endearing characteristics of a quintessential British pub: an antiquated turret, a luring caramel aroma of malt and yeast, and promise of a beer garden out back.
Like every other Brit when the weather hits anything above the twenty mark, we enter bordering on heat stroke and desperate for a cooling tipple. All drinks on offer, you guessed it, are entirely vegan but changing your regular order need not be necessary as Guinness, Camden Hells, and Beavertown sit among the on-tap offerings.
To quench our thirst we turn to the list of specialty cocktails, opting for the Berry Gin Fizz (58 Gin, morello cherry puree, Crème de mure, lime, aquafaba, soda) and De'Peche Mode (Creme de Peche, Vodka, white grape & apricot soda), both to be consumed through a fully biodegradable (and don't worry, completely tasteless) wheat straw.
Drinks ordered, we settle on a table in prime people-watching position, peeking out onto the animated high street and enjoying a panoramic view of the deep blue interior lined with 100% sustainable furnishings.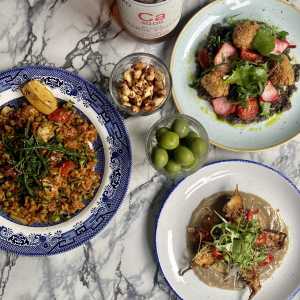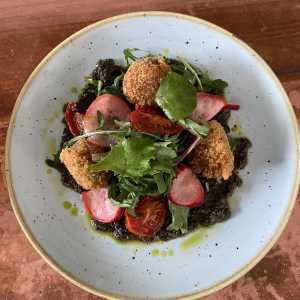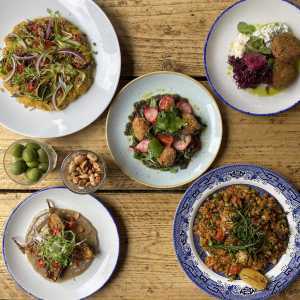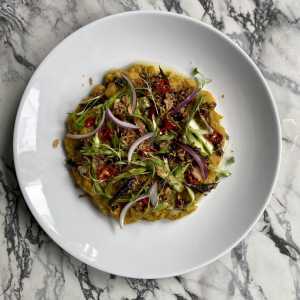 To start, we decide on the Persian omelette and the roast aubergine and sichuan pepper with chilli sauce and tahini, both exclusive to the summer menu. The former was an herby, eggless heaven, and the aubergine had the silkiest texture I've ever encountered. Partnered with the delicate nuttiness of the tahini and kick of the chilli, the dish was a creamy, melt-in-the mouth delight. "I actually don't hate it" was the genuinely glowing review from my dining companion who in any other context is staunchly anti-aubergine (not counting the emoji variety).
For the main, we both settle on two of the dishes served year round. The pie and mash, a Spread Eagle staple we are told, arrives under a vibrant green pool of parsley sauce. It is not trying to win any presentation points but the creamy potato and pastry filled with a lentil and walnut combo guarantees classic East London comfort. The Korean burger offers battered mushroom in place of chicken, a welcome fresh-tasting alternative to the plethora of stodgy mock meat burgers available elsewhere.
In true pub grub manner, by the end of our second course we are close to defeat. We waver over the dessert menu and agree that it is worth pushing through. We choose the rhubarb and white chocolate tart served with coconut-based vanilla ice cream: a sweet, perfect balance between firm and gooey slice of British summer. This was a return to their selection of seasonal features, however The Spread Eagle also offers everyone's favourite classic, sticky toffee pudding, year round.
It's clear why The Spread Eagle is so well loved. It's affordable and, vegan or not, customers are met with a warm familiarity and swift, sunny service. By the time we ready ourselves to leave, the place is teeming with old friends reuniting for a monthly catch up and pearl-clad regulars in genial conversation with the staff. Its vegan aspect is so clandestine that dedicated meat heads will forget that they had no other option but to choose plants.
224 Homerton High St, London E9 6AS; The Spread Eagle