Originally formed in 1908 as Earnest Woodford & Sons, Crown Northampton continues its historical traditions by combining tried and tested handmade methods of craftsmanship with the world's very best materials.
The result? The highest quality footwear – from shoes to sneakers, slippers to boots – that will forever be linked with the centuries-old Northampton shoe trade.
Crown Northampton design is timeless, with a progressive mindset. As a company and brand, it stands firmly by its mantra: 'Every Order - Made To Order'.
This means that all footwear is individually custom Made To Order in its Northampton, England factory, with a choice of sole colour, handwritten inscription, and the option of a Standard F fitting or wider G fitting – all delivered to your door within 10-25 working days with free shipping.
This unique business model is a throwback to traditional, customer-focused retailing and ensures that all processes from design to production remain in-house.
Crucially, when you deal with Crown Northampton, you are always dealing directly with the manufacturer.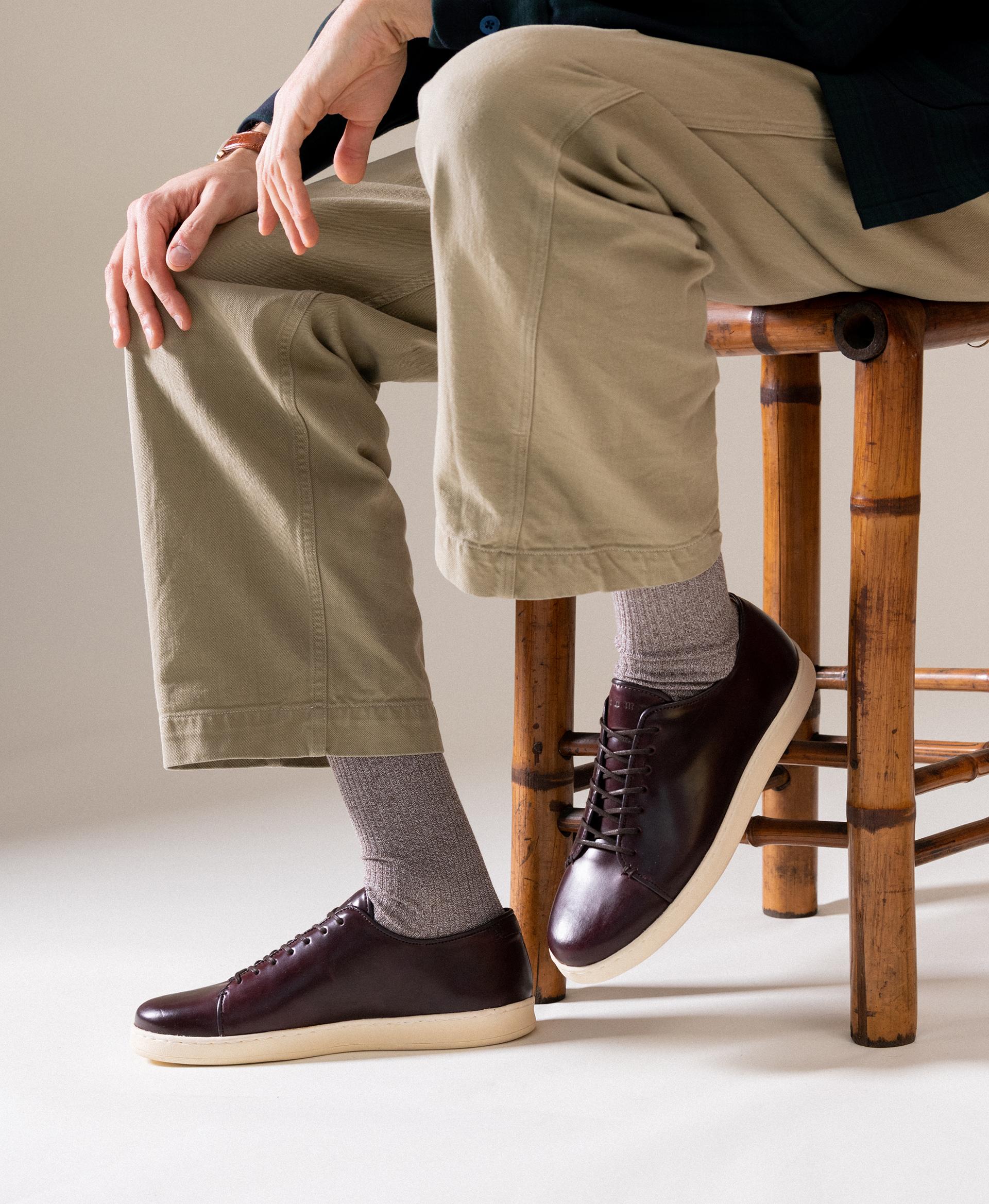 Continually pushing the boundaries of high-quality, casual-led footwear, Crown Northampton confidently produces what is now the ultimate handmade in England 'Dress Sneaker'.
Its latest Hand Stitch Collection is the pinnacle of luxury, handmade sneakers. Two years in the making, hand-finished construction and world-class materials have been specifically tailored and tweaked. The end result further elevates the Crown Northampton Sneaker range to the highest levels possible, delivered in a stylish low profile silhouette. This top-tier collection draws inspiration from bespoke, hand-welted dress shoes with more than a few nods of respect to time-honoured traditional processes.
Externally, the Harlestone Derby uses the finest pure veg tan calf, luxuriously soft Scottish deer, and what many class as the best leather in the world - Horween Shell Cordovan. The soles are made from virgin hevea milk which has been directly harvested from the Cao Su or 'Crying Wood' tree. These 'Lactae Hevea' sole units are soft, durable, fully sustainable, and offer a comfortable ride that only gets better with each wear.
The inner workings of the Hand Stitch Sneaker Collection are equally as impressive. Following the standards set with bespoke hand welted shoes, all of their Hand Stitch sneakers are cork filled by hand. Natural cork is mixed with latex then applied and left to set. The cork then forms a solid filler down the full spine of the sneaker that provides just enough movement to mould
to the wearers' feet, locking in comfort, aiding stability, and enabling breathable properties throughout the sneaker.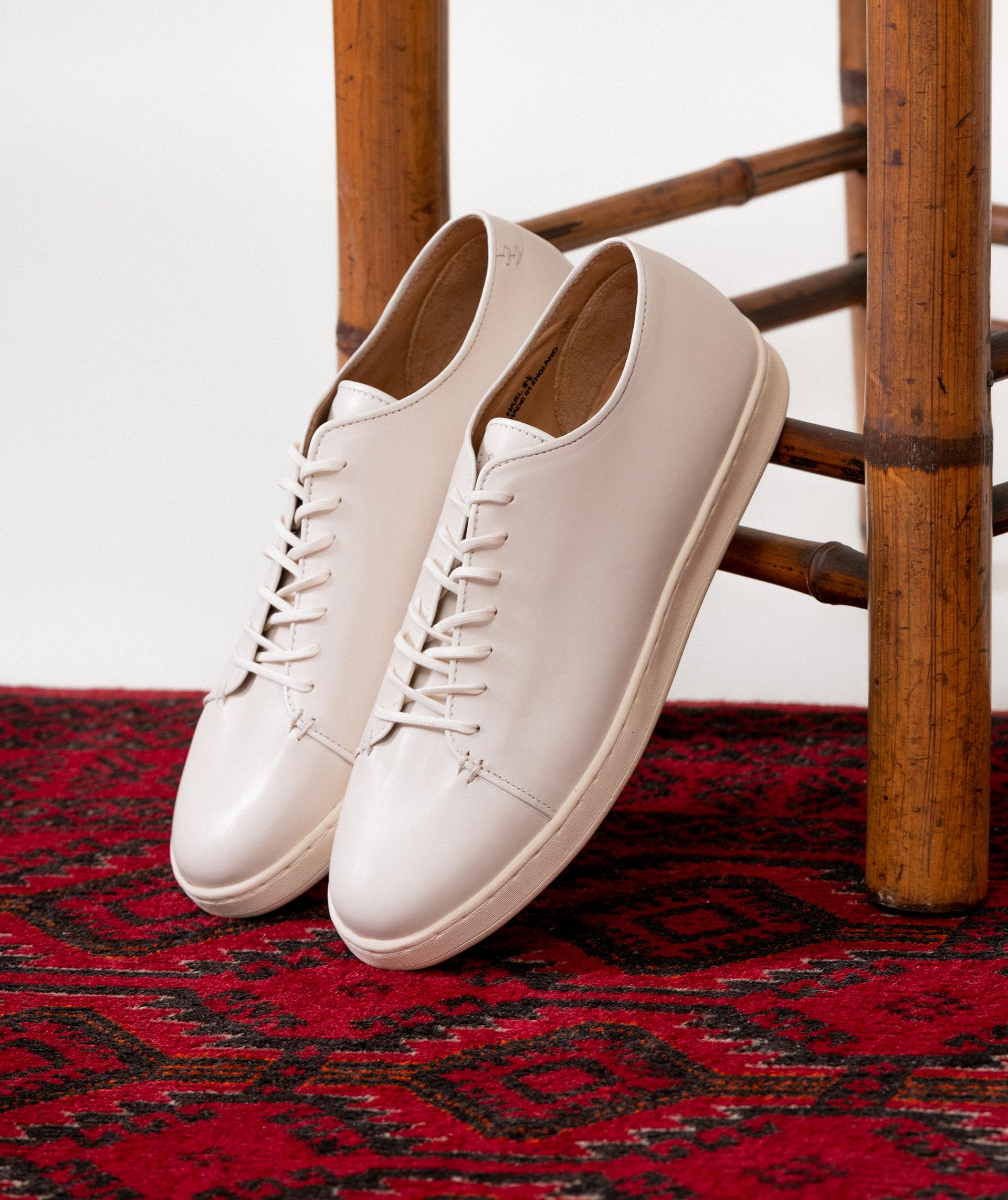 This age-old process requires skill and patience so is therefore deemed too slow and expensive by many brands and factories in the modern world. Not so at Crown Northampton. They embrace these artisanal skills and hold them dear to their traditional roots.
Strong and reliable oak bark leather is used for the counter and stiffener with a natural veg-tan crust shoulder used to form the foundations of the insole. Topped with soft, natural leather lining and french bound stitching around the outer edges, the end result of these combined classic techniques is a solid structure that offers superior strength and longevity.
See Crown Northampton's full collection here.