Klipper Kem wasn't born with a pair of scissors in his hands but the reality isn't far off. His mum owned a hair salon on Stoke Newington High Street. Kem was brought there as a child, learned to cut hair there as a teenager, and a few years ago he converted the place into a barbershop of his own – the rather brilliantly named Cuts & Bruises. When he calls the shop his life's work, the man means it more literally than most. 
He created Cuts & Bruises in his own image. Twenty years of barbering around the world, from Selfridges to Singapore, went into this space. It even looks a bit like him: rugged, handsome, heavily tattooed. There's a Nintendo 64 to entertain waiting customers; a massive BMX that Kem rides round the area; and downstairs a bar and music studio where he hosts private events. (Opening to the public this year, God and the council willing.) 
Perhaps you recognise Kem. Nine years ago, he collaborated with his friend Miguel Gutierrez on a video called The Perfect Shave. A sharply dressed Kem, then working in Hong Kong, cleancut, significantly less tattooed, gives Miguel a traditional wet shave while talking through his methods and techniques. The video was uploaded onto Miguel's YouTube channel The Nomad Barber, where at the time of writing it has 6.6m views. (Plus millions more on other platforms.) Comments swoon over Kem's looks, East London accent, and the way he pronounces "daily foaming cleanser". ("Clen-sah!")  
Basically, the dude is a perfect candidate to debut our new series Capital People – spotlighting London entrepreneurs and creatives from tailors to mixologists to, yes, barbers. Enjoy our chat with a master of his craft. He's a Klip off the old block… 
Square Mile: How did you become a barber in the first place? 
Klipper Kem: I started cutting hair when I was around 14, 15 years old in my mum's salon, which is where we're sitting right now. This is a bit of an institution, she had it for 37 years. My sister and I started working here on the weekends when we were kids, just washing hair, making teas and coffees. Neither of us had any desire to be in the industry, we were just here because it was a really fun environment and we liked being with our mum. And the girls here were like family at the time.  
I used to watch the girls literally destroy men's hair on a daily basis because it was a women's salon. And I picked up the clippers and started cutting my cousins and my friends, people who were my age. My mum complemented me once and that was it –I never put the clippers down after that. 
SM: You worked in Hong Kong for a bit? 
KK: Yeah, I moved to Hong Kong when I was 22. I started working for Gentlemen's Tonic in Selfridges. They're good guys, I learned a lot from them and they learned a lot from me. They sent me to Hong Kong to do some teaching and to train the staff because they'd just opened a big store there. Barbering in the West doesn't really exist in Hong Kong and Asia the way it does here. So they wanted me to go out and teach shaving, traditional wet shaving and modern Western barbering techniques. 
The manager there offered me a full-time job as an operations manager to come and run the team. So I ended up there for two years and then in Singapore for about three or four months, opening shops in Singapore for people that were starting to jump on the trend. Barbering had a bit of a boom and everyone was opening these really cool barber shops, but they didn't really know what they were doing out there.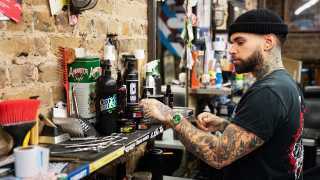 SM: Is there a qualification you need? Or some kind of test? 
KK: Not really. It's an unregulated trade, which is a good and a bad thing. It's all about experience and confidence and what you are doing. Someone could come in with a big CV and all of the qualifications but if they're shit behind the chair then they're shit. Like, it doesn't matter about what you've got on paper; it matters what you can do behind the chair. 
It's always a three-stage interview when you're barbering. Instagram is great, it's our LinkedIn for creatives. If I can't see an active Instagram with regular posts then I'll ask them to come in for a trade test. So they have to bring a model in, cut their hair in front of me. I time it, see how they interact, that sort of thing. Then you come in and do a day. Then there's a spoken interview just to vibe with the person, and then there's a probation period of about three months or however long you see fit. 
Barbershops really fall under subculture these days. This shop looks like a tattoo parlour. We play a certain type of music in here, we've got a nightclub downstairs. Another barbershop might be more minimal. A lot of barber shops these days are starting to look like florists, with plants everywhere and shit. So it really depends on who you are as a person as to where you want to work and where you want to set up shop and where you wanna make home. Because we stay, like, ten hours a day in here. 
SM: What makes a good barber? 
KK: Someone that cares. Someone that pays attention to their client and that cares about what they're doing. Someone that's not just there for the money. Because if you're here for the money, you've chosen the wrong job. The money will come if you love what you do. People will start to notice you.
I've taught in Russia four times, I've done fashion shows in Russia, in Singapore, in Hong Kong, in the UK, obviously. And that's all just come from my passion for the trade and my care for my clients. I have my Instagram and YouTube but even then, you're just watching me do what I do every day, I haven't put any bells or whistles on it. 

SM: Speaking of YouTube, how did the Perfect Shave video come about? 
KK: I was actually living in Hong Kong. My friend Miguel, aka the Nomad Barber, started this project of going to different barber shops all around the world and documenting them, showing how every barbershop is kind of the same but also different. Brilliant series. He did, like, two world tours and on his Hong Kong stint, Miguel and his cameraman Mike came and stayed with me for two weeks. They took a break because they were jumping every week from country to country. 
In that time we did the Hong Kong episode, which is more of an interview with me and some other barbers, and then the Perfect Shave video – which definitely was not meant to be what it turned into. It was just two mates, vibing. I've known Miguel for years. You can't control these things. They happen. Or they don't happen. 
SM: And people still visit your shop off the back of the video?  
KK: I've had someone come specifically from Leicester. I was like, 'oh, you've got friends in London that you're seeing, right?' He was like, 'no, I've come for this. If my friends are free, then they're free.' Which I thought was crazy – I've had loads of people come from Singapore, Hong Kong, America but they're fitting me into their trips.
SM: Does that add pressure to the haircut? 
KK: No, not at all! It's a huge compliment, a huge testament to what I'm doing. If people want to come and check me, I'll always welcome them as much as my regulars. 
SM: It's obvious loads of care has gone into this shop. Why the name? 
KK: Thank you, man. It just represents the struggle, the work that it took to get into where I am now, all the steps. The journey, really. Not that it was a violent journey or anything! But it took work and elbow grease and a few cuts and bruises along the way. 
SM: When you started up, is this how you visualised the shop? 
KK: No, not at all. I had a premise in Shoreditch before, with a completely different shape. When I came into this place, I wanted to do something different. I wanted to do me.I don't want to do what people expect from me; I want to do what I want to do. 
So the bespoke T-shaped sections for each chair, it sort of creates your own little booth while still being integrated into the whole shop – which is something that I took from loads of different places that I've worked. It's like an amalgamation of a few shops that I've worked in: Singapore, Gentlemen's Tonic. And the music and the club, that's all just me coming out. Me bleeding into a shop basically.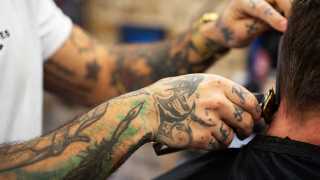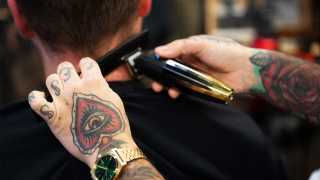 SM: Tell us about the club downstairs…
 KK: So the club opened in 2020. It was a tattoo parlour first – that ran for a year, didn't work out for a number of reasons. I turned it into the club because after art and tattooing, music is a huge passion of mine. I've got loads of friends in music – A & R managers, artists – and it just made sense. 
Before the club space was there, I was just throwing parties in the shop so it made sense to do a bit of a switch up, put a sound system in, build a stage and throw parties. Lockdown fucked us: we did one party, we got locked down for two years. Now they've started again. I've had like 14 parties down there, all private events, private hire.
SM: Any plans to make it public?
KK: Hopefully this year. I'm just waiting on licensing and stuff. 
SM: What's the next step after that? 
KK: I don't know – one step at a time, brother! I never make plans. I'm going forward and what comes, comes. 
SM: In London, every street seems to have a dozen barbers on it. Are there any giveaways for spotting a good one?  
KK: Obviously aesthetic is a huge part. You can see that I've taken time to make sure that I love the way that my shop looks and I love it every day I walk into it.
But you can't really know a good barber shop from a bad one until you sit in your chair. That's what you're there for. You're not there for the aesthetic: it helps that it looks nice but that doesn't give you a good haircut. 
You've gotta make sure that the barbers give a shit about what they're doing and they understand you and they're listening to you and they're taking their time, while still being quick. That's the art, man!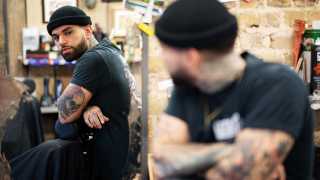 SM: What's a good time for a haircut? 
KK: You want to do it as quick as possible, right? Time is money. But yeah, the true art of barbering is taking your time quickly. 
SM: What are annoying customer habits? 
KK: People that don't sit still or interfere too much. The consultation is the most important: you ask any hair industry person, the consultation is the biggest part of any haircut. The best way to get what you want from a haircut is to show a photo. Don't try and describe it – a photo's the best way and your quickest consultation as well. 
But the most annoying thing is people that don't sit still or interfere too much during the process. People telling me, am I gonna cut the top before I've even got to the top. That kind of shit. 
SM: Showing a photo makes a lot of sense… 
KK: Doesn't even have to be you. Show your favourite celebrity, make sure they've got a similar hair type to you. Again, my Instagram is great for that. I always refer back to my own Instagram to show people what I think they're trying to describe. I'll show them photos and check, do you mean this?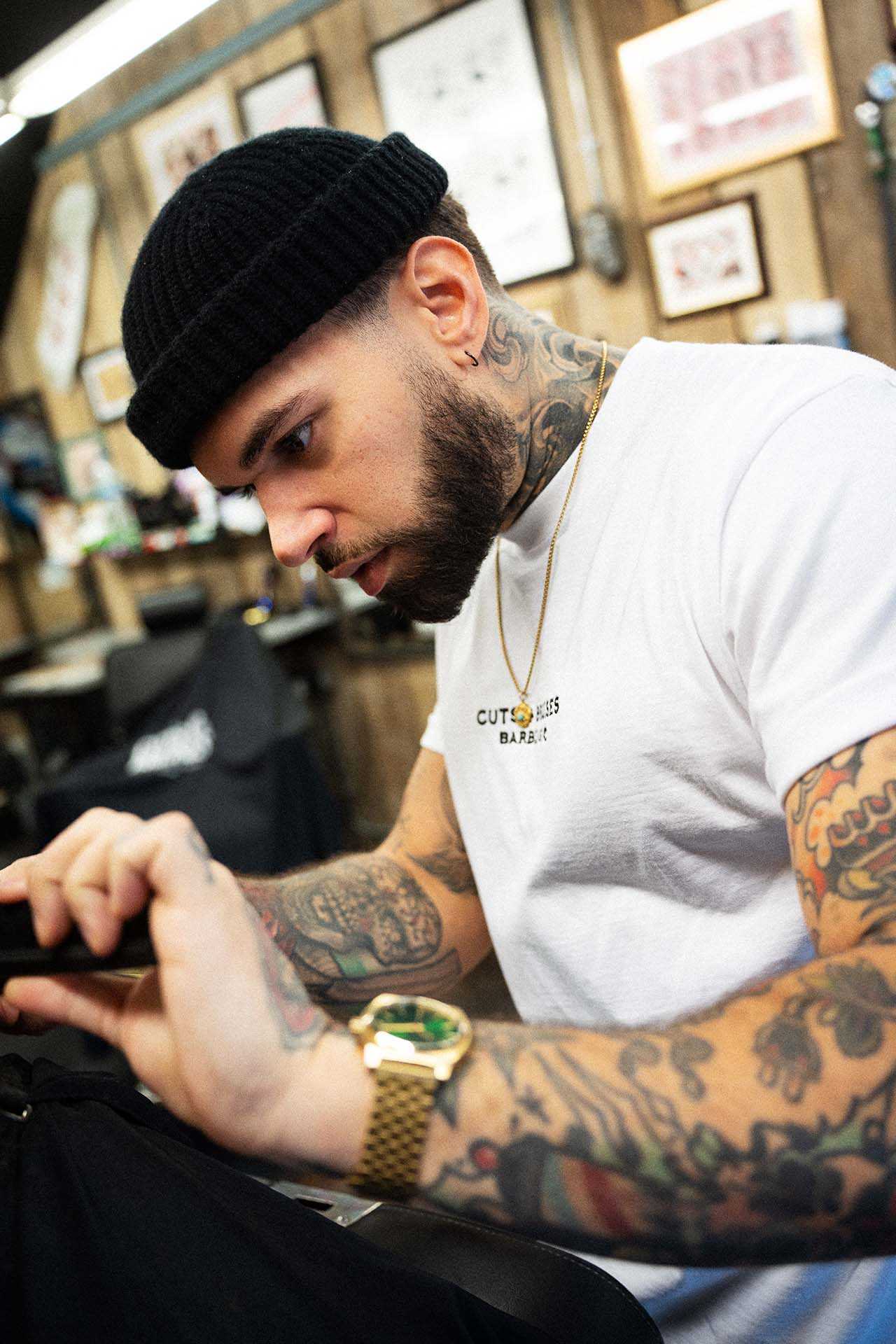 SM: Any particular memorable haircuts down the years? 
KK: Punky haircuts. Always punk. Like, completely shaped heads, just leaving fringes, that kind of shit. Mohawks. Real, wacky statement pieces. 
But to be honest, my favourite haircut to do is a skin fade. I think every skin fade you master is like a work of art. It's something that not a lot of people can do well.
SM: Is a skin fade the hardest haircut to master for a barber?  
KK: I'd say, yeah. It's what separates the barbers from the hairdressers.
SM: Finally, you've started your own Cuts & Bruises products for people to use at home. Can you talk us through a few of them? 
KK: We've got a matte paste, it's a creamier, more malleable product, good for long and short hairs. We've got a dry matte clay, which is very tough – when you want real textured, messy, it's good for shorter hair. 
We've got a styling powder, which is all the rage these days – it's super dry looking, doesn't look like there's anything in your hair but it creates loads of texture and adds volume.
You've got slick stuff, like a pomade – so that's like your gel but a water soluble and doesn't freeze too hard. Sea salt spray – again, you spray it in but then you've got to dry in, it creates texture and a beachy kind of look. But come and visit us as well! 
Cuts & Bruises, 57 Stoke Newington High St, N16 8EL