Over the past 160 years, Sunspel has strived to work with Britain's finest suppliers and craftspeople.
It uses the highest quality wools from around the world to ensure its knitwear is exceptionally comfortable and long-lasting too, making sure that each piece will remain an everyday wardrobe essential for many years to come.
This season, Sunspel is introducing its most unique jumper to date. This extraordinary piece has been farmed, scoured, spun and knitted entirely in Britain.
In fact, by working with several local specialists, the entire process from farm to finish took place within 150 miles of its factory in Long Eaton.
The journey begins in the green rolling hills of Lancashire, Northumberland and Yorkshire where the Bluefaced Leicester sheep are reared. This rare breed, which has the finest micron of all British sheep, is responsible for the incredible softness of the wool and their fleece is the most sought-after in the country.

Working closely with sustainable wool specialists Upland Yarns, Sunspel ensures its yarn is produced sustainably and with extraordinary care.
After the yarn is collected, the raw fleece travels to one of the oldest spinners in the country where it is carded, combed and spun.
For this jumper, Sunspel has preserved the natural tones of the wool, leaving the yarn completely undyed.
The final knitting stage then takes place in Leicester using a unique rib stitch, which allows the wool more room to breathe, emphasising its softness.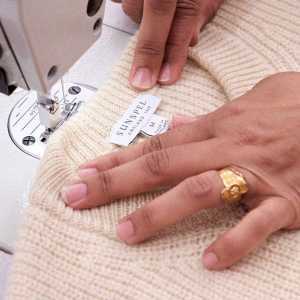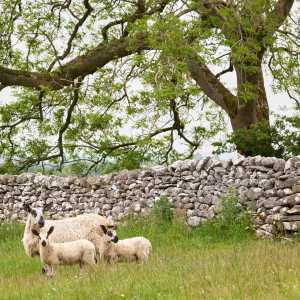 This particular jumper has a unique story that embodies Sunspel's values as a brand. However, these same values are instilled in all its knitwear. For example, its Merino wool is sourced from an Italian supplier, founded in 1817, that only uses ethically farmed, non-mulesed wool.
The yarn is knitted by Sunspel's partners in Portugal that use traditional British Bentley machines, which began their life in Loughborough not far from Sunspel's own factory. These give the knit an incredibly smooth and consistent finish. In addition, Merino wool is naturally breathable and its smooth fibres wick moisture away from the skin helping to regulate body temperature in both cool and warm weather.
Meanwhile, Sunspel's Lambswool offering is all crafted in Scotland, by partner Todd & Duncan, which has been spinning yarn on the banks of Loch Leven since 1897. Coming from the first shearing of the sheep, at the tender age of seven months, lambswool is the softest sheep's wool available. This softness is emphasised further by washing the wool in pure, natural spring water, which opens up the fibres and gives it a uniquely soft handle.
Cashmere is the most luxurious wool available. Todd & Duncan has more than 100 years of experience working with the precious wool and it sources all its yarn from the mountains of Inner Mongolia where it is sustainably farmed by traditional nomads. The finished garment is also washed in Scottish spring water and this, combined with the fact Cashmere has the finest micron count of all wools, means it is the softest of all Sunspel's knitwear.
Whichever you choose, all of Sunspel's knitwear is crafted by experts for exceptional comfort and warmth while its timeless designs and dedication to quality guarantee that these pieces will last. Whatever your tastes and preferences, Sunspel has the perfect offering for you.

For more information, see sunspel.com