Tell me what you want, what you really, really want. 
For Taj Atwal the answer is simple – her old Spice Girls magazines, foolishly thrown away in years past. 
"I had hundreds," says Atwal. "Every poster, every gadget. The Impulse body spray they released was the best smell ever!" 
With roles in Martin Campbell's Memory and upcoming BBC thriller The Control Room, Atwal mightn't have much time to track down some new ones – but at least she'll never give up on the good times.  
Life 
What upcoming project(s) are you most excited about?
My first lead in a feature film called 'Memory' is coming out across America on the 29th April. It was my second time working with director Martin Campbell and I got to play a no nonsense, straight taking, forward thinking veteran FBI agent alongside Guy Pearce and Liam Neeson.
I have a thriller coming out later in the year for the BBC which is a genre I had never played before. It's called The Control Room.
It's set in Glasgow and tells the story of Gabe (Iain De Caestecker), an ordinary man who works as an emergency call handler for the Scottish Ambulance Service in Glasgow. His world is turned upside down when he receives a desperate life-and-death call from a woman who appears to know him.
I play Leigh Cubbin, one of Gabe's love interests and manager.
What is your proudest professional accomplishment?
Being able to work consistently fills me with joy and gratitude as opposed to one single job. But if I had to pick the one that stands out, it is playing Linda in Memory.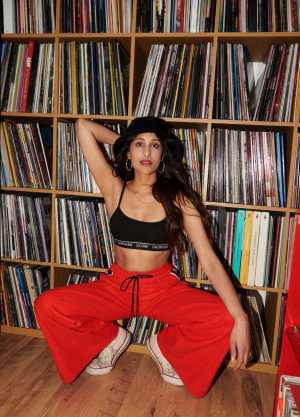 If you could change one thing about your career, what would it be? 
I'm happy with my lot so far. I get to play a really diverse set of characters from comedy to drama to action to thriller.
I'd like to film in America and perform on Broadway at some point, so there's that!
What do you hope to achieve that you haven't yet?
There's so many directors I'd love to work with, my list is ever growing. Bong Joon Ho is currently at the top alongside Andrea Arnold.
Outside of your family, who is / was your biggest inspiration? 
Kathy Burke! I mean she really has the range doesn't she!? From Valerie in Nil By Mouth to Linda in Gimme Gimme Gimme (my favourite comedy of all time) to that iconic performance of Perry in Kevin and Perry.
Tell us something nobody knows about you…
I love darts!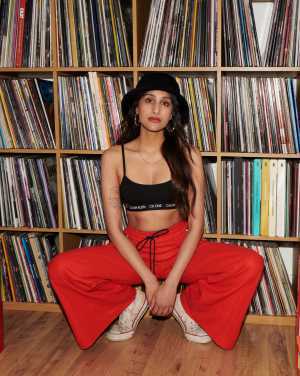 Style
What's your favourite item of clothing – and what does it mean to you?
I like to treat myself to something new every acting job I get and one year I bought a stunning tweed wool Max Mara Coat.
I feel very classy in it. I own a lot of big chunky boots so will always pair with that.
Favourite accessory – watch / jewellery / etc – and why is it special to you?
Again, something I bought on an acting job as a treat is a beautiful gold ring with real pearls and a pretty little peridot gem in the middle. But when you look at it from a certain angle it's like the shape of a crown on top.
I always feel luck is on my side when I wear it. Green is my favourite colour and I don't usually wear diamonds so the pearls are perfect.
What items do you take on holiday and why?
A book! Or most likely a script. I haven't actually been abroad that wasn't work related for over three years now, but I'm going on one in July and it'll be the first time I'm going to switch my phone off and completely 'switch off'.
Is there an item you threw away – or lost – that you really miss?
I wish I'd kept all my Spice Girls magazines! I had hundreds – every poster, every gadget. The Impulse body spray they released was the best smell ever!
What's next on your shopping list?
A new sink for my bathroom. I'm currently renovating my new home. I've even learnt how to change a toilet seat, which was the most disgusting thing I've ever done.
What would you buy if money was no object? 
I'm manifesting a Porsche.
Taj Atwal plays FBI agent Linda in Martin Campbell's Memory out in the US on 29th April and coming soon to cinemas in the UK