The first thing you need to know about South Place Hotel is also the first thing you'll notice: everywhere smells fantastic. From the atrium to the lift, the entire hotel is suffused with a delightful scent that, if you walked around with your eyes closed, would be enough to make you wonder whether you'd taken a wrong turn and wandered into a flower shop. (Wrong turns are quite common if you insist on walking around with your eyes closed.)
But the charms of South Place extend well beyond the aromatic. Situated bang smack in the beating heart of the City, South Place is the first hotel from restaurateurs D&D London – the team behind Quaglino's and Blue Bird Cafe to name but two of their 45 outlets – and its hospitality expertise is evident from check in. Especially if you check in on Friday, when there's a DJ set being held at the Secret Garden Bar on the first floor.
This is a hotel that welcomes you to one of the most vibrant areas in London and dares you never to head out. There are five bars, for God's sake! And two restaurants. You could have a debaucherous weekend for the ages without ever leaving the premises. Phenomenal. 
About those two restaurants: on the top floor, you will find the Michelin-starred Angler and its stunning rooftop terrace. If you're hankering for more hearty fare, head to the South Place Chop House on the ground. Here you'll find a range of classic British dishes guaranteed to put a song in your heart and your stomach.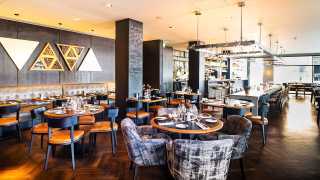 Obviously, as the name suggests, meat is very much on the menu. However there's plenty for vegetarians to enjoy – such as the grilled octopus with smoked cod's roe, a delightful, delicate dish that will have you cleaning your plate for free. The fillet of sea bream is another standout that involves zero visits to the farmyard (and if you don't eat seafood then opt for the pea and mint ravioli.)
For those of us who watch Babe and see bacon, options abound. I can vouch for the Angus Steak Tartare, a French classic that speaks with a Scottish accent and proves fairly irresistible. The grill offers everything from Ribeye to chateaubriand to a 45 day dry-aged Tomahawk for two. Choose according to taste: I went for the Sirloin and had no regrets. And shoutout to our server, the magnificent Mika who effortlessly guided us around the menu and wine list.
Once you've finished dinner, adjourn to the adjacent 3Bar and enjoy a few cocktails. Or if you're feeling more adventurous, the cocktail bars of Shoreditch are but a ten minute stroll away (and a 15 minute stagger back). Or head upstairs to the games room and enjoy a few games of pool – you will be many things at South Place (fed, relaxed, happy) but bored is never one of them.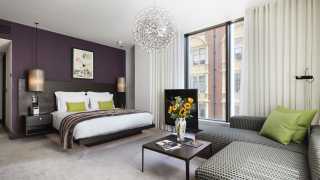 Those looking to unwind should pay a visit to the spa, complete with sauna and steam room – plus a masseur if you really want to treat yourself. Another alternative is simply to run a bath – the baths here are the size of swimming pools – and recline in splendid isolation, while listening to music played via bathroom speakers through the Bang & Olufsen TV. (The sound system may give you a bit of a shock the first time you encounter it.)
However, if you've had yourself a night on the tiles, South Place is offering a rather unique package. The hotel has partnered with IV vitamin brand Get A Drip to provide guests with the option of an in-room detox treatment the morning after the night before. A registered nurse will administer a 45-minute dose of vitamins via intravenous drip: you just need to lie back and think of England. Or maybe Las Vegas.
As someone who'd never experienced an IV drip before, I can't pretend I wasn't a little apprehensive. Would I suffer an allergic reaction? Or develop superpowers? Could go either way, this one. IV drips are becoming increasingly popular so I assumed risk was minimal (it's basically non-existent) but nonetheless, injections on hangovers always feel a little fraught.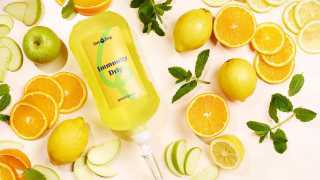 In fact, the process is remarkably simple. You choose your poison (that's a figure of speech) from vitamin combinations designed to hydrate, energise, detox or boost your immune system. The nurse douses your arm with a numbing spray (it's cold) and in goes the needle. That's it. Switch on the telly and chill.
What of the results? Well, we adjourned to a cocktail bar in Brick Lane so while the hangover lifted pretty quickly, it's hard to ascribe that result solely to the drip. However, a solid Saturday was enjoyed and I awoke on Sunday feeling absolutely fine – far better than anyone should feel after a weekend of fairly continuous merrymaking. So while Get A Drip may offer benefits as a restorative measure, it's arguably even better as a preventative one.
The partnership is running until the end of August so you better book quickly if you desire the in-room treatment. For those missing the window, fear not: Get A Drip has a clinic in Shoreditch, less than 15 minutes stroll from the hotel. Take a little exercise with your intravenous injection. And take a weekend staycation: you know the Place to go.
3 South Place, London, EC2M 2AF; South Place Hotel