There are few better things in life than finding the metaphorically hidden gem – other than finding a literal hidden gem, selling it and going off to live in the Caribbean. But that tends to take time and effort: finding a metaphorical gem simply requires you to visit a new venue or destination. Or read the right magazines.
Enter Hyatt Place London City East, a hotel significantly more elegant than its moniker. Admittedly, the early signs aren't promising: the hotel is situated on Whitechapel Road, a road even its own developers must struggle to love (and you hope they developed other roads, for their sake).There's a reason it's the cheapest property on the Monopoly board. ("But I am on the Monopoly board," says Whitechapel Road in its best Jack Sparrow voice, sneering at me languishing in South London.)
However. Once you enter Hyatt Place London City East – quite possibly at the second or third time of passing, it's an easy entrance to miss – you will find yourself in a veritable oasis. An oasis that contains several formerly hidden gems – from cocktail bar to restaurant to the very rooms themselves.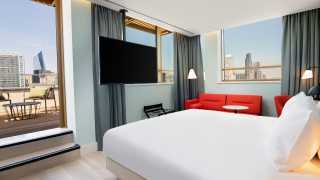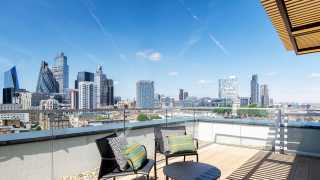 Let's start at the top with PocketSquare. Situated on the hotel's rooftop, the cocktail bar offers predictably stunning views over the city skyline, especially if you time your visit for the golden hour and sunset. The view inside isn't too shabby, either: PocketSquare is decorated with work from local and international artists, as well as plenty of foliage to add to the tropical vibe.
Needless to say, the drinks do not disappoint. Each of the eight signature cocktails has its own origin story that harks back to the surrounding area. So '32' (Appleton 12yr, Ron Miel, bitter, mango & chilli marmalade) is named after Dock 32, now Canary Wharf, the destination for overseas fruit deliveries in the 1880s.
The Mixtape (Macallan 12yr, cherry & pistachio puree, blackcurrant liquor) pays homage to East London's thriving grime scene – although as Pocket Square has live DJs playing on the weekends, you can also experience the real thing. Each cocktail has a suggested food pairing, encapsulating everything from classic small plates (prawn dumplings, tempura fried chicken) to slightly more luxury offerings (slowcooked oxtail slider, quail scotch egg nest).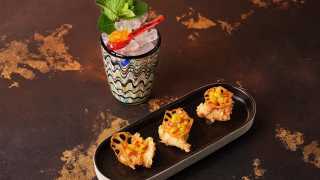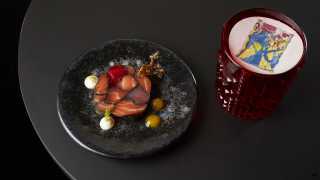 Feeling really hungry? Then pay a visit to Zoom East, the hotel's in-house restaurant on the ground floor. Here you'll enjoy delicious Sicilian cuisine in a light and colourful setting. Bag yourself a seat in the courtyard on a sunny day! There's even a private dining orangery – it's hard to believe Whitechapel Road is a mere 30 seconds away.
Chef Vittorio Meli's menu is a winner. Gorge yourself on Arancini, beef meatballs, wild boar ragu and grilled octopus. This is good food, comfort food: some dishes are made from Chef Meli's family recipes with the fish and seafood sourced from the nearby Billingsgate Market and other local suppliers. Return the following morning for a very solid breakfast buffet.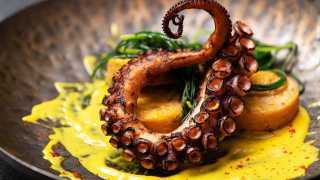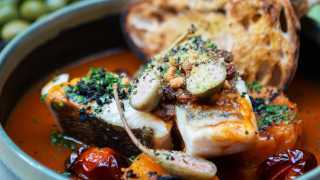 If you plan on sleeping over, the rooms are stylish and comfortable with all the requisite amenities (the TVs are huge!). Try and bag one with a balcony – I say balcony, it's basically the size of a small courtyard. Sipping on espresso overlooking the city of a morning, it's hard not to feel quite 'master of the universe'.
And why shouldn't you feel master of the universe? You've discovered one of the most charming hotels in London, you utter diamond you.
45 Whitechapel Rd, London E1 1DU; Hyatt Place London City East