I may not be going grey yet, but I'm at least old enough to remember the rise of the video game. I wasn't quite in time for their inception in the arcades of the 1970s and 1980s, but their explosion in popularity in the middle of the decade after imprinted itself on my childhood, from NES to SNES to the original PlayStation, as me and millions like me sat wide-eyed in wonder on bedroom floors around the world and marvelled at this new form of narrative experience – one that was more interactive than any film could be, and which was evolving and being reinvented constantly and in real time.
These days, gaming is by no means a niche hobby, or one people leave behind in their teenage years. In fact, a recent Deloitte study found that half of all UK households own a console of some sort, and by many metrics, Grand Theft Auto V, from 2013, is estimated to be the highest-grossing entertainment product of all time – beating any film ever released. So it figures that, with product placement happily accepted by consumers for generations, we'd see tie-ins for products incorporated into the world of gaming. And now watches are getting in on the action.
Hamilton X Far Cry 6
Khaki Field Automatic Titanium Far Cry 6 Limited Edition
Though it can trace its roots back to 1892, Hamilton has long been a watchmaker with one foot in the future. It actually developed the world's first digital watch, the Pulsar, in the 1970s, and its pieces have also appeared in more than 500 films and TV shows to date. So it follows on that the world of gaming, where so many consumers spend so much of their time, would be in its sights.
Far Cry 6 will see millions of people checking their wrist and seeing the watch
Now, the brand has become the first to develop a real-world watch worn in a game by a playable character. The person in question is guerilla soldier Dani Rojas (a man as pictured here, but the player gets to assign their preferred gender at the beginning of the story); the game is Far Cry 6; and the watch is the Hamilton Khaki Field Titanium Automatic.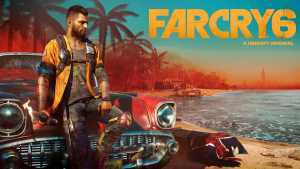 And it makes sense: the watch borrows the aesthetics of the brand's existing Khaki Field Auto, a historic collection originally created for use by soldiers in the First World War, and one prized for its easy legibility and durability (especially in its titanium form here), so it's a good fit for a first-person shooter.
At 42mm, it's nice and big, with its red second hand specific to the game's tie-in version, along with the lightly shaded versions of the numerals around the dial. Releases in the Far Cry series tend to be critical and commercial hits, and while the Titanium Automatic is a limited run, the game will nonetheless see tens of millions looking at their wrist and seeing that bright red second hand looking back at them – in the virtual world, if not the real one.
£1,000; hamiltonwatch.com