REC Watches is one of the most unique and interesting watch brands on the planet. Founded in 2014 by Jonathan Kamstrup and Christian Mygh, its principles of recovery, recycling and reclaim (it isn't called REC for nothing), are all-too important in a world that is too brazen about waste.
REC doesn't just draw inspiration from iconic vehicles of the past, it salvages excess material from them that can't be re-used in any restoration process and creates something beautiful. Whether it be a Spitfire plane, a Land Rover, or a Triumph motorcycle, REC pays tribute to the source material by placing the vehicle at the heart of the design.
It's a neat concept. Watchmaking is well known for turning to the past in search of inspiration but, here, REC turns the past into watches. It's a powerful message – and one that always leaves us wondering what REC will pull out its sleeve next.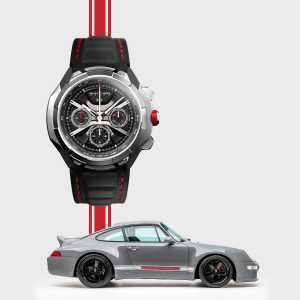 The Porsche 993 reborn
True to its founding philosophy, REC has dug deep into the salvage yard for its latest creation, this time getting its hands on recycled carbon fibre from two iconic Porsche 993s.
In fact on this occasion the salvage yard has come to them in the shape of Porsche customisers Gunther Werks. The California-based outfit transforms some of the most iconic 911 models into modern day masterpieces with improved performance, modern engineering, and luxury interiors – all the while retaining the driving experience that made the original car so special. In other words, REC couldn't ask for a better collaborator.
The fourth generation of the Porsche 911 and the last of the air-cooled era, the Type 993 is one of the most desirable iterations in the history of this iconic sports car. Its lightweight aluminium LSA chassis brought with it the stability and agility for which the 911 is still renowned for to this day.
REC Watches 901 GW Chronograph
For REC Watches's part, it's introducing two limited-edition watches – the 901 GW Exoskeleton, and the 901 Chelsea – that utilise the carbon fibre from the original Gunther Werks Porsche models. REC granulated and reforged the carbon fibre and infused it into the contemporary six-piece watch case, designed and created entirely in house.
Add to that the Sellita SW 510 B automatic chronograph movement, with a newly increased power reserve of 62 hours, alongside two eye-catching paint jobs (naturally inspired by the Gunther Werks 993) and you're looking at one of the finest motoring timepieces on the market.
The project took two years to come to fruition, but suffice it to say the hard work has paid off. This is a dutiful homage to the 993 – and to the stunning work carried out by Gunther Werks.
The 901 GW Exoskeleton and Chelsea will be limited to just 188 and 232 pieces, and cost £1,871. For more information, see recwatches.com