Watchmaking isn't what you would call 'original' these days. Many of the most lauded designs around were created more than 50 years ago and have changed remarkably little in the intervening years. There's limited-edition reissues, vintage-inspired watches, and sometimes pieces that are more than a little derivative of another brand's famous design.
The word 'icon' is thrown around like confetti to help build the narrative that these watches are all historically significant, that we must pay homage to the great designs of yesteryear to honour their brilliant creators. It's a battle for legitimacy between the powerhouses of the industry; who is the oldest, the most influential, the most important?
New watches are not so much timepieces as time machines: a window into the glory days of micro-engineering, before smartphones ruined everything, back when they were inherently useful devices rather than shiny ornaments we wear today to say something about ourselves.
If you were feeling cynical, you could say that the watch world has lost much of its pioneering creativity – a world that once created marvels that told the time in the depths of the ocean, that worked at the top of the highest mountain, or even in outer space – so consumed has it become with telling the same story over and over ad infinitum. When you've been writing about watches for a while, or indeed follow new launches religiously, you'd be forgiven for thinking the story gets a little stale at times.
In these moments of cynicism, I find myself gravitating towards a shining beacon of light, proof that horology still has wit and flair up its sleeve. I turn to Tudor and its brilliant Black Bay collection.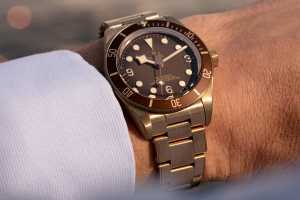 As I learned on a visit to Tudor's Geneva watchmaking facility, lead designer Ander Ugarte sketched the original design having pored over Tudor's old diving watch collections for days. Crucially, though, he didn't set about trying to revive an old classic – given the vintage market's predilection for the Tudor Submariner, it would have been an easy sell – but instead created something new. The Black Bay is in many ways an amalgamation of Tudor's rich dive watch history seen through a modern lens. Not an homage or a reissue, but the next evolutionary step. And it sold like hotcakes.
Rather than settle, however, in the decade since the Black Bay first launched in 2012, Tudor has continued to redefine its flagship watch. It launched the Black Bay Bronze in 2016, teamed up with Breitling to create an accessibly priced movement for its Black Bay Chrono in 2017, and left vintage watch fans in raptures thanks to the Black Bay Fifty-Eight of 2018.
This year, we've already seen more of the same: the Black Bay Ceramic is Tudor's first fully ceramic watch, and impressively boasts a certificate from Metas – AKA the Swiss Federal Institute of Metrology – as a master chronometer. And then there's the Black Bay Fifty-Eight 925, with its alluring silver alloy case. It's quite unlike anything else on the market, and is certain to spawn a host of silver-cased watches from brands jumping on the bandwagon.
You'd think Tudor would be content to leave things there, but no. It might have left the best until last… meet the Black Bay Fifty-Eight Bronze.
Tudor Black Bay Fifty-Eight Bronze
It would be easy to direct you towards the accompanying pictures and leave it at that – this watch is a stunner, if ever there was one – but for the sake of record, I'll give you just a little more information beyond that.
The big story here is Tudor is offering a bronze bracelet with a brand-new clasp for the first time but in many ways this timepiece is an organic progression from the watchmaker's recent smash hits: a beautiful lovechild of the Black Bay Bronze and the Black Bay Fifty-Eight.
Traditionally a mixture of copper and tin, bronze has been a metal of choice for many instruments across the ages, but its modern application in watchmaking can be largely attributed to Tudor. Yes, the great Gerald Genta was working with the material as long ago as 1998 and, sure, the Panerai Luminor Submersible 1950 Bronzo debuted in 2011 five years before Tudor's Black Bay Bronze was the talk of the town, but the latter popularised bronze in a way we had never seen before.
The idea that a watch case could patinate, sometimes rather quickly, would have previously struck fear into the hearts of any right-minded watchmaker and collector alike, but Tudor flipped the script on this notion, highlighting that every watch would therefore be unique to its owner – a potted history of where each wearer had travelled with their watch. It was a compelling notion that has since seen the likes of Oris, Zenith, Montblanc, and more utilise the material in their own collections.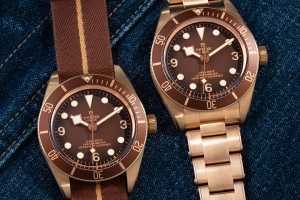 Tudor has used the same aluminium bronze alloy that it's worked with for more than five years to create both the case and the bracelet of the new Black Bay Fifty-Eight Bronze, and it's difficult to stress just how good it looks in the metal.
Not settling for merely great aesthetics, Tudor has designed the T-fit rapid adjustment system, which allows the user to quickly adjust the bracelet to five different positions (approximately 8mm of slack, essentially) without the need for any tools, just a quick push-button change. It's a welcome upgrade from the steel bracelet we've seen on previous BB58 models, and one I imagine will be implemented as standard across future models.
Complementing the all-bronze affair is a very fetching matte-brown dial with a matching brown anodised-aluminium bezel. I'll be honest and say I was initially a little disappointed not to see the black dial of the current Black Bay Bronze on offer here (brown not being my favourite colour to match with clothing), but the warm chocolatey tones have grown on me over time. I also have a hunch that as the bronze patinates it will become an even better match for the dial, though time will tell in that regard.
It's a beautiful lovechild of the Black Bay Bronze and the Black Bay Fifty-Eight
Underneath its charming facade, Tudor's automatic MT5400 is putting in the hard yards. We've seen it before but with 70 hours of power reserve and chronometer certified by COSC it never fails to impress me just how much watchmaking oomph you're getting at this price point.
If that wasn't enough, Tudor is also throwing in one of its loom-woven watch straps created by Julien Faure – a French ribbon maker who has become the go-to NATO strap maker in Europe – completely free of charge. Or rather, it's already woven into that incredible RRP. The chocolate-brown strap really is a change-up to the bronze bracelet and a welcome addition.
The Black Bay isn't just any other watch collection. It's the leading light in an industry where too often watch brands play it safe. Tudor deserves a great deal of credit for throwing caution to the wind, and in the Black Bay Fifty-Eight Bronze it has a timepiece that proves you reap what you sow.
In my opinion, this is the best Black Bay yet – so much so I might have to put my hand in my pocket to buy one. Watch this space.
£3,390; tudorwatch.com