'The Persistence of Memory': not only the title of Salvador Dali's famous work featuring watches, but a phrase that sums up the general mood of the watch industry right now.
Far from being a passing phase, reaching back into corporate archives to find inspiration for the next year's releases has become the new normal.
Critics may decry the lack of innovation, but for some of these pieces a vintage façade hides some serious modern technology, and as for the rest… if the design ain't broke, don't fix it.
Below are five of the latest recreations clamouring for our wrists.
Rolex GMT Master II 126711CHNR
Rolex has the benefit of a tight group of hero models that patiently wait in line to be tweaked and updated. The latest upgrade – two-colour ceramic bezels – has been slowly introduced to the GMT line. While the press went mad in March for the steel 'pepsi' version, saving a cool £20k compared to the 18k gold version, it becomes a starkly modern-looking watch in this guise.
For a vintage vibe you have to turn to the steel and rose gold, with the muted tones of black and brown. True, there is no red-brown dial or heaven forbid 'nipple' markers, but this two-tone piece just begs to be teamed with something wide in crushed velvet.
For more information, see rolex.com
Cartier Santos
For more than 100 years, the Santos has been a mainstay in Cartier's watch story initially as a one-off historic piece created for it's namesake Alberto Santos-Dumont but later in 1978 as a byword for elegant, sporty luxury. We've had flat ones, curved 'galbée' ones and, in 2004, the oversize Santos 100 launched alongside the more slimline Santos Dumont model.
This year Cartier cleared the decks and brought back the 1970s version, albeit a little larger. This familiar face hides some impressive enhancements, the in-house 1847 MC automatic calibre with anti-magnetic properties and a clever bracelet mechanism that allows swapping strap for bracelet or removing links all without the aid of a tool. Its seems there are plenty of tricks in this stylish old dog yet.
For more information, see cartier.co.uk
Seiko SLA025, 6159-7000 50th Anniversary
Seiko has been garnering inspiration from the past with its 'recraft' collection for years, but faithful reissues are a new phenomena for the brand. Last year we had the 62MAS relaunched for its 50th anniversary and as the 50-year period ticks forward it is only right that the 6159 gets the same treatment.
The original model was a great step forward in dive watch manufacture, featuring a hi-beat movement and a single-piece steel case. This was the first dive watch by Seiko to be given the epithet 'professional'. 2018's SLA025 also gets a special movement, the hi-beat calibre 8L55 which is as close as you can get to a Grand Seiko movement without it being Grand Seiko.
As this is as much a tribute as a tool watch the SLA025 gets the Zaratsu polishing treatment to ensure the case sides and lugs look sharp enough to impress its forebears.
For more information, see seiko.co.uk
Bulova Devil Oceanographer Snorkel 666ft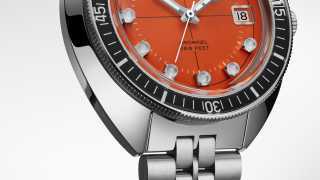 Converting from metric to imperial units is often problematic, especially when the answer isn't neat. This is demonstrated on dive watch dials while multiple decimal places are never a good look. When rating a watch for 200m, Rolex chose to round up to 660ft, a difference of 3.832ft, Bulova chose to push that extra 6ft and in doing so created a (pardon the pun) cult classic – the 666ft 'Devil Diver'.
The Oceanographer Snorkel 666ft from the early 1970s was selected by a fan vote to be the next Bulova relaunch, and the limited-edition stays true to the original case size of 40mm (the non-LE is 44mm).
The new version also keeps the distinctive box crystal and curious round lume markers but changes up the colour scheme with an orange dial with black and white bezel. Naturally for a watch named after the Devil, the issue is limited to 666 pieces, but purchasing one of these is certainly no sin.
For more information, see bulova.com