For too long, sculpture was in danger of losing its prominence as a major art form. The classical tradition, celebrated at London's British Museum by the Athenian marble carvings from Lord Elgin's collection, became regarded as a stifling exemplar of academic predictability.
At the beginning of the 20th century, rebellious young modernists wanted to escape from the hallowed world of dignified, anatomically idealised figures posing on plinths or embellishing grandiose buildings. Sculpture was overshadowed by experimental painting, though artists as audacious as Henri Matisse and Pablo Picasso sometimes explored the potential of three-dimensional forms while pursuing their primary commitment to mark-making on canvas.
So did Marcel Duchamp. His defiant exploration of ready-made objects – a bicycle wheel, a bottle rack, the highly provocative urinal – opened up immense new possibilities for radical sculptors. By the end of the 20th century, sculptors felt free to deploy an extraordinarily wide, unpredictable range of materials in their work. And now, the sculptors of tomorrow refuse to be constrained in any way by traditional approaches. The old idea that bronze is the ideal medium no longer plays any part in their thinking. Instead, they are not afraid to use alternatives as fragile as glass.
Sculpture used to be considered a fundamentally 'tough' activity, lauding bodily perfection. But practitioners in the 21st century are increasingly preoccupied with vulnerability. Damaged or shattered images play a central role in sculpture now. Even at its most monumental, poignant notions of fragility and loss often lurk inside a work, vividly reflecting the widespread instability and unpredictable violence threatening the world we inhabit today.
There are an astonishing array of possibilities now playing a part in sculpture
Nor is sculpture still regarded as an exclusively male activity. During the 20th century, the likes of Barbara Hepworth and Louise Bourgeois broke through this sexist barrier and proved that outstanding, adventurous three-dimensional pieces could be created by women. They fought the dismissive hostility of indignant defenders of sculpture as a manly pursuit, and today such prejudice is regarded as an aberration of the past. Indeed, female practitioners play a crucial role in widening the possibilities of present-day sculpture.
Restrictive national boundaries have likewise been torn down. Plenty of artists now live and work in locations far removed from the countries where they grew up. Their determination to roam around enriches the work they produce and increases the stimulating dialogue between sculptors across the world.
There are an astonishing array of possibilities now playing a part in sculpture – far from being confined by narrow, defensive and pedantic rules, its potential seems limitless, and certain to play a continually challenging role in the art of the future. The following are some of the most exciting talents in sculpture today.
ROBIN ANTAR
What constitutes culture? At what point does a mere 'observer' become a political activist? At what point does responsibility befall the viewer; at what point do one's projections and assumptions about a piece form the basis for its meaning?
American sculptor Robin Antar tends to shy away from the label of political activist. She states quite simply that her passion is to create, to cull visual records from the blocks of marble, travertine, onyx, calcite, limestone and alabaster which she sources, dyes and carves herself in a complex process refined over 30 years. The resulting works are humorous-but-solemn monuments to modern American life: a jar of Hellman's mayonnaise, a hamburger with fries, a giant hot dog, Milano cookies, a cowboy hat and boots, a pair of jeans. Antar commemorated the 11 September 2001 attack on New York City's Twin Towers by carving a half-ton marble block into a crumpled white bag, with M&M's spilling out of the top.
In its politicised context it is a powerful piece, a sombre statement on tragedy – despite seeming no less innocuous than, say, her one-metre hot dog with a proud bite taken from one end.
The New York Daily News once referred to Antar as Brooklyn's answer to Andy Warhol; other comparisons might be made with Claes Oldenburg or Jeff Koons. The answer to culture isn't lurking in a high-art, theoretically burdened manifesto, but rather in the simple, often silly, everyday articulations that come to act as metonym for an entire nation, society or ideology. At the time of writing, Antar's marble baseball cap, Make America Great Again (2017), has been removed from her website for instigating too much controversy. If that is not powerful political commentary, then precisely what is?
b. 1957, New Jersey, NJ, USA; Lives and works in Brooklyn, NY, USA; Studied BFA, School of Visual Arts, New York, NY, USA; rantar.com
RACHEL ARA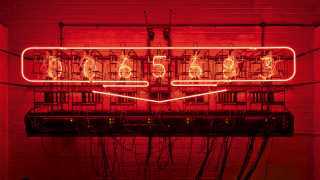 "My background spans the tech industry, forestry and fine art [and] my tools might be a chainsaw or an algorithm. I […] employ a unique range of skills and combine coding with exquisite craftsmanship, electronics and sculptural techniques. Always driven by the concept, I will embrace whatever materials and techniques are required and learn new ones when needed to realise my vision," says Rachel Ara.
Ara uses her frustration with the hidden issues and agendas of the modern world to disclose, confront and create dialogues around misinformation, conspiracies of silence, the normalisation of violence, injustice and the economy. Multifaceted and highly idiosyncratic, it is perhaps best to allow Ara's work to speak for itself.
In This Much I'm Worth [The Self-Evaluating Artwork] (2017), the artist's varied background and approaches interact: it probes the value of neon and its use in the sex trade; questions the presence of the work itself on social media, pricing sites and other online resources through the use of hashtags such as #thismuchimworth #rachelara; and even documents audience behaviour towards the work, as monitored by IP cameras which collate data and feed it back to, well, itself. The work, which looms overhead like a menacing Doomsday Clock, is emblematic of Ara's defiant, no-holds-barred attitude towards art and politics.
The artist's entire practice is a self-fulfilling, self-criticising, and self-consuming series of complex algorithms that continue to critique the art world, the inequalities faced by women and the normalisation of (mis/dis)information; a non-conformist economic and artistic ouroboros. Many of her pieces resemble hypermechanical offshoots, Blade Runner or Matrix-esque props with xenomorphic cords dangling like limbs or tentacles. The artist and her works seem poised to confront and confound our technological fears – or at least to poke fun at us for feeling afraid. "My work often explores gender, technology and systems of power from a feminist perspective," she says. "Basically, it's my voice trying to make sense of the shit going on around me."
b. 1965, Jersey, Channel Islands, UK; Lives and works in London, UK; Studied BA Fine Art, Goldsmiths College, London, UK; 2ra.co/
JERRY KOWALSKY
Dutch artist Jerry Kowalsky – a pseudonym – is something of a scavenger: firstly of materials, scouring his environment for discarded cardboard packaging, and secondly of inspiration, the absurd and the extraordinary, from voodoo to science fiction to urban mythology. Working primarily in cardboard has provided the artist with a recognisable, firm but flexible material, one that is ubiquitous in our daily surroundings yet relatively scarce as an artistic medium. "I feel attracted to it, fascinated, it makes me curious, makes me want to explore," he says. It is also impermanent and banal – qualities the artist says come "closer to being human".
Cardboard is also shell-like: it is the hull, a housing for another more valuable or valued object. As such, it retains a certain ghostliness – Kowalsky says, "My work is a little bit like the house in the story of Hansel and Gretel; all candy and sweets on the outside but inside there is something dark." The artist's work displays a kind of perverse humanity, courting fantasy, fairy tale and absurdity; many pieces present human-animal hybrids. This reverence for storytelling – and for crude materiality – is also to be found in the work of another Dutch artist, Folkert de Jong.
Kowalsky, like de Jong, presents a theatrical, vaudevillian vision of humanity. One particular work, The Straw That Broke the Camel's Back (2017), sees a grown man plagued by a Pinocchio-like curse, his elongated nose stretched to a definitive point. The title suggests a tragic tale, and in some instances the figure has been displayed encased in a wooden 'prison'. Kowalsky says, "It is about alienation, loneliness, fear, vulnerability and danger that is close, a darkness that is close. The idea that there is always a certain danger and darkness close to [each of us].
"Cardboard might seem an odd choice of material for a sculpture – while most art desperately clings to the idea of value and eternity. It is presumptuous to think that something will last forever."
b. 1972, Reuver, The Netherlands; Lives and works in Berlin, Germany; Studied MA Sculpture, Maastricht Academy of Fine Arts and Design, Maastricht, The Netherlands; jerrykowalsky.com
BEILI LIU
Beili Liu's large-scale sculptures, site-specific installations and performances explore materiality, space, time, labour and feminism. Building on her personal experiences growing up in China and resettling in the USA, her works often confront the complexities of cultural difference and make use of Asian folklore traditions.
Commonplace, ephemeral materials such as wax, clay and thread characterise Liu's work. Often their use comes to signify the passage of time, a concern echoed in the locations and processes involved: the motion of a lake's water, or the act of stitching swatches of fabric together. Liu's pieces also depend heavily on the artistic commentary around them. The Mending Project (2011) saw the artist sitting at a table, 'mending', with hundreds of pairs of scissors suspended above her head. As she stitched together swatches of fabric, the looming threat of the hovering blades threatened to undo her efforts as well as cause physical harm – a poignant metaphor for the impending threat of violence. 
In THIRST (2013), a large, native cedar elm tree was stripped of its leaves, painted white and suspended above Lady Bird Lake in Austin, Texas. The tree's desaturated visage had the appearance of a ghost – a breathtaking sight when seen hovering above the water. The project was created in response to a drought in the area that caused the death of 300 million trees.
Both pieces speak of Liu's fascination with dichotomies: chaos and order, life and death, comfort and threat. They also allude to her ongoing interest in the transience and changeability of nature, the 'dripping water [that] eventually penetrates stone': "I am interested in illustrating a balance that brings together the alien and the familiar, uncertainty and hope, aggression and stillness: the yielding resilience that I see as the feminine strength overcoming great obstacles, like dripping water eventually penetrates stone," she says.
b. 1974, Jilin, China; Lives and works in Austin, TX, USA; Studied MFA Mixed Media/Sculpture/Installation, University of Michigan, Ann Arbor, MI, USA; beililiu.com
NATHAN MABRY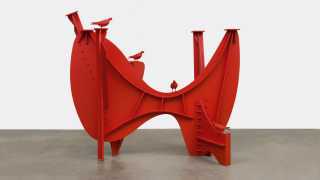 Courtesy the artist and Philip Martin Gallery, Los Angeles. Photo Jeff McLane
Nathan Mabry combines references to ethnographic art, particularly from the pre-Columbian era, with pop culture and modern artistic movements such as minimalism. The result is work which seeks out recurring themes in art history across direct temporal or cultural continuums. Mabry's sculptures are often presented as though they might be historical artefacts, the sculptural remnants of an alternative history wherein differing cultures' distinct aesthetic languages are curiously, provocatively amalgamated. His work explores the dualities, dichotomies and juxtapositions that arise through these combinations.
Shape-shift (Eagle) (2013) is a terracotta sculpture of a large head, based on the stone Tenon heads created by the Chavín culture of Peru; the aluminium plinth on which it sits is based on Donald Judd's minimalist sculptures. The head depicts a man mid-transformation into an eagle. Viewed in conjunction with one another, the concept of transformation takes on new meaning: the art of the Chavín culture, through the evolution of its stylistic and aesthetic features, transforms into the kind of minimalist work made by Judd. Both elements begin to take on a new visual language – the stark, bold lines of the head work in relation to those of the minimalist plinth.
In keeping with the myriad art-historical references that Mabry uses as his basis, his materials are similarly wide-ranging: aluminium, bronze, steel and terracotta all make appearances. The chosen materials often correspond to the original sculpture that Mabry is referencing, but at other times they work in direct opposition to it, creating an uncanny sense of recognition that is always just outside the viewer's grasp. He comments, "I've always been fascinated by anthropology and archaeology – ritualistic associations within objects both old and new – everything they represent about human culture and human endeavour; and how this affects past, present and future." 
b. 1978, Durango, CO, USA; Lives and works in Los Angeles, CA, USA; Studied MFA, University of California Los Angeles, Los Angeles, CA, USA; saatchigallery.com
100 Sculptors of Tomorrow by Kurt Beers (£39.95, Thames & Hudson), is out now.