"It's all part of my morning ritual: an iced cappuccino and an hour of piano practice," says the American architect and designer David Rockwell. "My dad played piano too and I learned early to sight read. I played through college but architecture just became all consuming. But in the back of my head was always the idea that 'one day I'll really learn to play this thing'…"
Rockwell is getting there too, taking a weekly lesson with nonagenarian maestro Seymour Bernstein, working on a single piece for anywhere between four months and a year.
"But at some point all that preparation goes away and you actually have to play the music," Rockwell chuckles. "I think that's given some insight into my design process, too. What's critical for me is to do as much research as I can. But at some point you have to conjure a solution."
That choice of word isn't, one imagines, an accident. Rockwell collects kaleidoscopes and vintage illustrations explaining magic tricks, though concedes he's not so good at them himself: "I used to do really terrible tricks for my children when they were young and I'd say 'I'm not going to tell you how that was done', and they'd say 'we don't care anyway, the trick was so bad'…"
Add in the piano and the fact that his mother was a vaudeville dancer and choreographer, and the idea of the spectacular, the illusory, the theatrical, inevitably seems to play out in his work – and not just his set designs.
I look at buildings through the prism of theatre. If there's no audience, there's no drama
Rockwell was well-established as an architect – he's behind the series of dramatic entrances, tunnels and skywalks of the Vidanta Los Cabos resort in Baja California Sur, or the restoration of toy heaven FAO Schwarz, as well as multiple hotels and restaurants, including all chef Nobu's.
But he later found a second string when, at the turn of the millennium, he turned to creating the stage look for shows the likes of The Rocky Horror Picture Show, Tootsie, Kinky Boots and Hairspray, plays for Nora Ephron and Michael Moore, as well as the Academy Awards, including this year's more stripped-back take.
Along the way he's picked up a Presidential Design Award, for his renovation of Grand Central Station, A National Design Award from the Cooper Hewitt National Design Museum, two of the most prestigious gongs in his line of work, but also a Tony Award as well as a clutch of nominations.
"The Tony Awards are a more fun event," he laughs, "and of course after years of going to the theatre, they have a kind of mythic quality to me."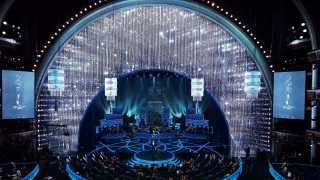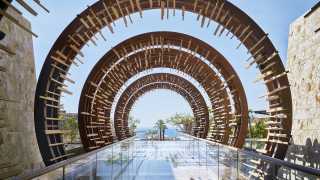 Permission granted by Hakkasan Group 
Small wonder that he recalls being taken, aged 12, to see a production of Fiddler on the Roof as a "foundational experience". Or that it's the idea of the theatrical in his work that's recently been celebrated in a new Phaidon book called Drama.
"I think at the core of all of our work," adds Rockwell – referring to his Rockwell Group studio, established back in 1984, now employing more than 250 creatives across just about every discipline you can think of, and of which he refers to himself, inevitably, as the director – "is the idea of the audience, and looking at buildings through the prism of theatre. If there's no audience, there's no drama. And the idea of the ensemble too, for example, that [successful architecture, as in set-design] takes people of all different expertise coming together."
Like actors coming onto the stage, architecture, he says, is about how we move through its doors and spaces – take away the people and the architecture is dead. Rockwell once joked – kind of – that there's a school of architect who somewhat prefers their buildings to be free of people cluttering them up.
That idea in architecture of things being permanent can get in the way
Not him. He's likewise unusual among architects in being at ease with the idea of impermanence, a product – to psycho-analyse perhaps, though this is his notion – of the fact that his parents moved his family around a lot, from Chicago, to the Jersey Shore, to Mexico; that his dad died when he was three. Rockwell was the youngest of five brothers, so the fight for attention must have been strong, too.
"As much as we'd like the buildings we design at the studio to last for centuries, I think that idea in architecture of things being permanent can get in the way. That notion of the ephemeral that's so powerful in the theatre is important to me, of how impermanence leads to adaptability," says Rockwell. 
In this vein, he has designed the likes of the TED Theatre's pop-up stage, and a mobile cookery school for Jamie Oliver, and who helped create the Dine Out project that got New York's restaurants opening outside and back in business last year.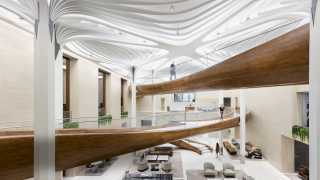 (Waterline) by Scott Frances / Permission granted by GID Management;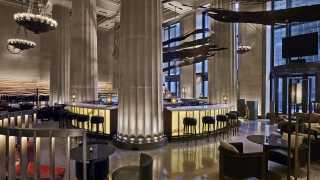 Indeed, providing he can get the time and space to research a new category of design to the depth he requires – he had meetings with multiple directors for four years before he finally committed to design a stage set, learnt a lot about Japanese food and lived in Japan for a while before designing for Nobu – Rockwell is also unusual in being keen to turn his eye to just about anything.
Yes, there's the sensational – the almost 6,000kg, eight-ring LED kinetic chandelier that DJs manipulate at the Omnia nightclub at Caesars Palace in Las Vegas, for example – an exercise, says Rockwell, in "how lighting and space could impact the energy of a crowded dance floor".
And the sober – the likes of the National Center for Civil and Human Rights in Atlanta, or the forthcoming project to mark the 175th anniversary of The Smithsonian.
Airport or playground, they're of equal importance to me
There's the necessarily very precise – Newark's New United airport terminal. And yet, it might seem, also the trivial – a children's playground, of the kind he devised in 2005, after several years of research of course, replacing traditional set fixtures with lightweight, changeable pieces, that, among other benefits, encourage kids to work together. Unsurprisingly, it's not remotely trivial to Rockwell. Play and theatre – they're on the same spectrum, after all.
"Airport or playground, they're of equal importance to me," he says. "Of course an airport building is one of the most complex kinds of projects, for sure, but a playground is, as much as an airport, an opportunity to explore how design can make our day to day experience better. That project kind of grew out of 9/11 and thinking about what wasn't being represented [in design at the time] and that was creative play."
Besides, why, he asks, turn away from the chance to bring design to an overlooked place? "When we started out designing restaurants they didn't seem such an interesting opportunity for design as they do now. Now the whole idea of the restaurant has changed, with the importance and visibility of chefs [in our culture]," he notes.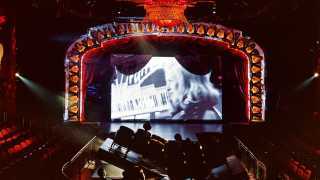 Jordan Roth Productions' The Rocky Horror Show (2000)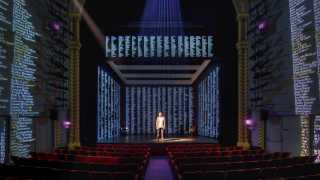 In being willing to take on what might at first seem unfashionable projects, Rockwell has over time come to be considered the go-to expert in them now they're considered very cool indeed.
It's why, while he's worked on a children's hospital in the South Bronx before, he's enthusiastic to work on hospitals again, "because that's a building type that's ripe for another look too now, to explore the ideas of adaptable healthcare, and how the buildings themselves can be designed to help produce a feeling of being emotionally safe," he explains.
He'd also, he riffs, like to create a Covid memorial, or perhaps a series of memorials around the world, all connected in some way. "But then I'd also like to do an opera house, and to do a great market, a park…"
But, first things first, iced cappuccino done, it's time to hit the Steinway before getting down to the day's work. He notes that he once went through a bit of a Springsteen period, "that my friends tolerated", he grimaces, and he still learns the score of any musical he might work on.
But these days he's more a classical man; his aim, he says, is to be able to "play a Chopin prelude and understand what Chopin had in mind, and not just play 75% of the notes." And, as the diversity and exuberance of his design output over the decades attests to, Rockwell knows more than many how you get to Carnegie Hall.
Drama King: Drama by David Rockwell with Bruce Mau and edited by Sam Lubell is published by Phaidon, £39.95. phaidon.com