Make no mistake, we're living in the age of the a YouTuber. 
The likes of Logan Paul and KSI are famous around the world, not merely their vlogs but their refusal to stay in one lane – their 2019 boxing match being a perfect example and one of the most talked-about sporting events of the year. 
Kristen Hanby is a prime example of industry-hopping ambition, releasing new single Good Girl while still uploading the wildly popular prank videos that earned him 3m YouTube subscribers and 8m followers on Instagram.
"I want to get out of the box of being nothing but a YouTuber," Hanby tells us. "I don't wanna be 'that YouTube guy.'"
He's already well on his way. 
How did you get into the music scene?
I've always loved my music. I was always that kid who loved rapping; the drunk kid who rapped in my friendship group: "Oh here we go, Hanby's rapping again", you know, it was one of those. So I've always wanted to make music and I used to try to with my friends. When I listen back, they were bad. I still listen on my own just for a laugh.
I was out in L.A, and this was the first time we got it done properly. I was meant to meet someone to record, but it kind of fell through so I gave up for a bit. And then I happened to meet my current producer Lex Nour Beatz through one of my friends. We literally caught a vibe straight away, I was like "Yo let's try make a song when you have the house free; something crazy". And that ended up being my first single 'Got a Plan' in 2018.
Tell me about your new single, 'Good Girl', with YBN Nahmir...
Yeah, well it's gonna be pretty good man. My favourite style of music is sing-y, autotune and chill rap, so this is kind of like a creative flex for me. Nahmir's song with 21 Savage is pretty crazy so having him on it is gonna benefit this song, too.
Your last single was 'Talk Shit'. What was it like working with BlocBoy JB? How did you meet?
I was in L.A with my friend, Sour Matt, and he asked me to come to one of his studios after we'd just been at a club. BlocBoy was there, so we were chilling for a bit; I thought, it would be sick to make a song with him. So I made a load of songs with Lex. We had some songs we were sitting on.
Me and Sour Matt were chilling with BlocBoy again and he asked me if I had a song I would jump on. He told me that Talk Shit for sure was the one. I was sitting on it for a year before I dropped it, just because I was hesitant about getting into rap music. It was never my favourite genre. I love listening to it, but making it is a different ballgame. Like I said, I much prefer the vibe-y, late-night drive kinda music.
But in the end the song was a big look, so it was a cool experience.
Which is more personally rewarding - the music or the prank videos?
Well, I love making the videos because I don't think I'm different in them to how I am in real life. You see a lot of people who aren't like that. They change a lot. The crazy, full-of-energy kid in the videos is the exact same in real life. So the videos are super natural and rewarding, but obviously I do still get a lot of hate. You should see the DM's I get…. but in terms of the percentage of love-hate, love definitely outweighs.
The music is more effortful; my videos are daily. The music is different because it's an opportunity to prove people wrong about what I'm capable of. There's a real hunger connected to it, you know. If I had a song that blew up now, like I had two million streams or something crazy, I'd be like "ohhh shit". It's a big deal. But a video on Facebook that gets 100 million views is cool, but it's nowhere near the same thing.
Music is the bigger buzz, for sure. I want to get out of the box of being nothing but a YouTuber. I don't wanna be "that YouTube guy".
I love being in a position where a lot of people doubt me. Even when I put music on my Instagram stories, you know, people are like "ugh, stop making music". I want to show people that I can do more.
Is it stressful uploading content every day?
Not at all. Like i said, it comes really naturally to me. So, if anything it's more stressful when I don't make videos. It keeps me creative. As weird as it is. But, it's complacency. People put a date on you, but I've been going for a while now and it's been the same.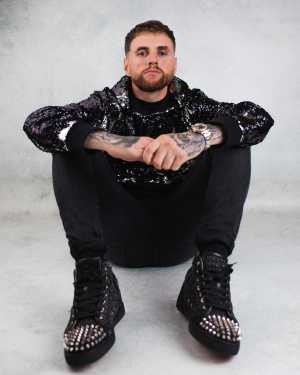 What are the dark sides of internet fame?
It's different for me, because I tend not to take hate to heart. A lot of my influencer friends say that they can't take it. Obviously you're putting yourself in a vulnerable position; everyone can see you. I think I'm good at handling the dark side of negative criticism. You have to learn to not give a fuck.
When it first started I was the same. I was a labourer on construction sites and stuff, so the reason why I can take shit is because of the resilience those jobs taught me. I get a thrill from the hate, to be honest. If everyone loves you, then what's the point?
Logan Paul speaks about there being two personas – online and real-life. You've already said that you're pretty much the same, but is there any part of this that still rings true?
Obviously around certain strangers I might be a bit cautious, but around friends and family I'm the same. In terms of mental health, but the bigger i'm getting I've realised that my anxiety is increasing. Just in some situations i feel weird and vulnerable. In town I throw up my hood when I'm out on walks and it's something I can't control all the time.
It's growing on me, even a couple of years ago I never got this feeling. It's grown with the fame. I feel like people are pointing and talking about me, and it just makes me feel out of control of the situation, you know. But generally it's all good, to be honest. 
Is it weird when total strangers know things about your personal life - i.e when people ask you how your nan is? I bet you get that a lot.
Yep, it's unbelievable. My nan is the one thing I get all the time. Daily. Wherever I go. But it's not weird, it proves that people like my stuff. At first I thought it was so weird when people asked me for photos.
I have a cool story about that actually. I was at Jesse Lingard's clothing launch about a year ago. And David De Gea was the with Juan Mata. I asked De Gea for a photo and he was like "No! I want a photo with YOU". I thought that was crazy.
How did you become friends with footballers like Lingard?
Lingard's PA asked me to do a bit of merch promotion, so they sent me some out. And then I went to his clothing launch in Manchester. I met Jesse and Rashford and more. But Jesse's the one who was the friendliest to me.
I'm a big Man U fan so it's surreal being invited to all their games and meeting all the players.
Why do your prank videos stand out?
Consistency is the word for that. The slower you come up the more you start to come down. But I never stopped climbing. That's why I don't want to take a break. I don't want to be in that frame of mind of "oh damn, I could get used to this."
Having the right people around you is important. I'm in a position now where I can hire my entire family. My sister works for me full time now. Everyone can then be around each other more.
Has lockdown helped or hindered your creative process?
Helped, so much. All I could do was work out and make videos. It's obviously sad what's happening in the world in the pandemic, but I can't deny that it's the best my videos have ever been.
And I guess your views went up, because people were sat around on YouTube all day?
Honestly I was getting 500 million views a month on my Facebook videos. Mad, you know. But a lot of people appreciated it, I think. I was getting messages daily thanking me for helping them get through stuff and it was really nice to hear.
Who are your biggest inspirations?
Initially it was YouTube influencers. But in terms of everything else, I don't think I want to be like anyone else, or aspire to be anyone else. It's healthiest to want to be the best version of you. Focus on your own path.
Where do you want to be in ten years? Or do you prefer to just go with the flow?
I have some ideas, but generally go with the flow. I want to set up a Hanby Family Show. It would be so easy, I think to get my whole family big now, and I'd love to benefit them in that way.
In terms of the music, I don't mind if it doesn't blow up. It's like a hobby. If it doesn't blow up I just want to have a good time.
What is your proudest achievement so far?
My first ever show in Balì. 1800 people turned up. I had to drink a ton of water to balance out how drunk I was. But it was so cool in the end to have all these people watching me.