Every team meeting at restaurant Mirazur starts in the same vein: "Stop. Look around you at this beautiful place. Never forget how lucky we are to share this with our guests." The feeling couldn't be more mutual.
From its hilltop viewpoint above the French town of Menton, the glass-fronted dining room boasts one of the world's truly iconic tableside vistas. As the Cote d'Azur reaches out into the distance, the sea melting into the blue of the sky, being at Mirazur feels like a privilege – and that's before you come to the small matter of Mauro Colagreco's two Michelin-starred cuisine.
Prior to opening his own restaurant in 2006, Buenos Aires-born Colagreco plied his trade in some of the finest kitchens in France (Bernard Loiseau, l'Arpège and Alain Ducasse at the Plaza Athénée all feature on the highlights reel) but with a ranking of sixth in the World's 50 Best Restaurants 2016 and critical acclaim all of its own, Mirazur now shares the prestige of its esteemed peers. Not bad going for a foreign chef in one of the most staunchly traditional foodie destinations on the planet.
"I was 29 years of age when I opened here with a €25,000 loan from my father-in-law," Colagreco tells me after service, "I wanted to stay here for maybe three or four years and move back to Argentina to make a name for myself. But the way of life, the people, it changed my mind, and France repaid me by recognising my hard work."
Mirazur's glass-fronted dining room boasts one of the world's truly iconic tableside vistas
The Argentinian's culinary efforts, like the aromatic lemon trees for which Menton is famous, have borne excellent fruit: a fat Gillardeau oyster is accompanied by pear (raw, juice and jelly) and a shallot crème; delicate thin ribbons of squid are grilled on the plancha and served with a sherry sauce, artichoke and deep-fried artichoke skin; three types of haricot vert, courgette and tiny slithers of red onion are plucked from the ground 500m away, and simply dressed with pistachio oil. I'll spoil the surprise and say it's all bloody delicious.
The restaurant champions Mediterranean terroir but handles it deftly, and without the pomp you might encounter a few miles up the coast in Monte Carlo. From his own gardens, coupled with the bounty of trusted local suppliers, Colagreco crafts deceptively simple dishes into expressions of the natural environment within which Mirazur is located. It is modern, thoughtful cooking – and it's incredibly exciting to eat.
Colagreco is a master of deceptively simple dishes that pack of powerful flavour punch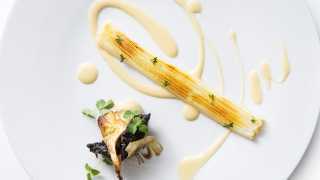 "We try to make each plate an experience of our love for this amazing area: the mountain, the sea, the incredible produce. There aren't many places in the world where there is such harmony with nature," chef explains.
On the day of my visit, the sun is warm, the sky is cloudless and the windows to the restaurant are open wide. In the distance you can see Cape Martin, which hides the bay of Monaco – so often the destination of choice for luxury hospitality – behind its landmass. But here in Menton there is something special going on, even without the celebrity appeal of its neighbour – and Colagreco knows it: "I'm a lucky man," he admits. "This place allows me to lose my ego and enjoy the beauty of nature. Every morning, I can say: 'Wow, I came from nothing and now I have this'."
Mirazur marks its ten-year anniversary this year by inviting ten of the world's best chefs to each take command of the restaurant for a special dinner. It's testament to Colagreco that the likes of David Kinch of San Francisco's three-Michelin-starred Manresa; Massimo Bottura of Osteria Francescana in Modena, currently number one in the World's 50 Best Restaurant; and René Redzepi of Noma in Copenhagen, largely considered one of the most influential restaurants of the 21st century, were happy to give up their time for Mirazur.
As Redzepi says, that's what friends are for: "Back when Mauro and I met, we were nobodies. There were all these great chefs and then there was us, these young guys just trying to do something new. We're a kind of family: we opened restaurants at the same time, we've travelled a lot together, we inspire each other all the time. We're in this together, man."
The burgeoning success of the restaurant has breathed life into the sleepy town of Menton
A little closer to home, Mirazur's burgeoning success has breathed life into Menton. Despite its picture-perfect Medieval quarter rising up from the harbour side, the sleepy town has remained in relative obscurity perched on the Italian border.
As gastrotourists continue to make the pilgrimage to its famed restaurant, however, Menton has flourished as a food destination in its own right. Colagreco tells me about La Spiaggetta Dei Balzi Rossi, a little beach club hidden inside a cove just outside of town. Ultra-fresh seafood is served in between dips into the cool Mediterranean. It sounds awful…
Whatever you say about the Cote d'Azur, it certainly has its share of paradisal locations; my accommodation is no different. A beach club-cum-hotel with a distinctly luxurious bent, I couldn't resist Monte Carlo Beach. Despite its name, it's located between Menton and Monte Carlo in the affluent (a relative term by this area's standards) Roquebrune-Cap-Martin.
Monte Carlo Beach is one of the best-situated hotels in the French Riviera
The semi-circular building is perfectly suited to make the most of its stunning bay-side setting with airy rooms, all nautical blues and whites, and balconies that back out onto the ocean. The hotel offers plenty of aquatic activities, an Olympic-sized salt-water swimming pool for when you're sick of the sloshing waves, and a chauffeur-driven Maserati, should you need suitably stylish transport to one of the city's hotspots.
It's glorious and glamorous in equal measure: a statement that epitomises all that Monte Carlo does best. But, in truth, it's Mirazur that has captured my heart. The French Riviera isn't short on bling but Menton's finest is the jewel in its crown.
For reservations at Mirazur's ten-year anniversary dinners; mirazur.fr. Monte Carlo Beach rooms are priced from £152; monte-carlo-beach.com