Beneath the foggy haze of pollution, gleaming skyscrapers compete for land with low-lying temples several hundred years their senior. Walls of traffic blur past in every direction as street vendors spin skewers of satay chicken and griddle octopus mere metres away. It's hot and sticky (humidity bubbles around 80% here, ensuring clothing clings to bodies with sweat), but it only serves to amplify the balletic frenzy of a thousand faces carrying out a thousand tasks. This is a metropolis with a capital 'M', brimming with red-hot food, culture, and life. It's terrifying, disorientating, pulse raising – and thoroughly intoxicating. Ohhh yes, you know when you're in Bangkok, alright.
In this city of dualities – the ancient and the modern, piety and depravity, tumult and meditation – it is no surprise that luxury should have made itself at home. Bangkok has long been a gateway for tourists to explore the Land of Smiles, and downtown you'll encounter all the usual hotel suspects. The monolithic five-star residences of Shangri-La and the Mandarin Oriental stand watch over the Chao Phraya River, while further inland towards Lumpini Park you'll come across the all-glass W Hotel and the idiosyncratic Banyan Tree Hotel. What you won't find in this part of town, however, is Bangkok's finest boutique hotel and one of the newest choices of accommodation in town. For that, you'll have to travel 30 minutes upstream to the historic heart of the city. Here, the art deco architecture of The Siam Hotel stands apart from the hotchpotch of its neighbouring buildings – and it's within these tranquil confines that you'll enjoy one of the most sophisticated stays in Southeast Asia.
The Siam's unique charm stems from its two main creators: Thai-American Krissada 'Noi' Sukosol Clapp, best known in his native country as an MTV Asia Award-winning pop singer, and esteemed hotel designer Bill Bensley. The latter has focused his attentions on the colonial-style interiors, where airy hallways clad in monochromatic marble give way to 39 individual suites each slightly different to one another. Brimming with vintage opulence, the emphasis is on light-filled rooms, and a quiet elegance that subtly references its Thai roots. Art director Sukosol Clapp, himself an avid collector of antiquities, has in turn furnished these grand spaces with an eclectic array of paraphernalia, from the old-school barber's chair in one of the hotel's hallways to the ancient restaurant photographs and menus that pepper the noodle house-themed suite in which we stay during our trip. Were there not a vast city to explore, it would be no hardship to wile away a couple of hours exploring this marvellous blend of antique shop and luxury resort.
With so few rooms, privacy and a personalised service are among the most valued parts of The Siam's ethos – a direct contrast to the slick corporate operation you may experience at one of the downtown establishments. Mobile phones loaded with a plethora of handy information on restaurants, bars and attractions are found in the rooms; an on-site Muay Thai boxing ring offers a local alternative to the wellness gyms of elsewhere; while unlimited usage of the hotel's two river boats ensure guests needn't worry about the bumper-to-bumper traffic that makes travelling through this city such a trial. Should this appear as insufficient pampering, each guest also has a butler to take care of menial tasks like directions and restaurant recommendations all the way through to planning full-day itineraries.
All of Bangkok's museums and attractions – from the golden Grand Palace to the majestic Buddhist temple of Wat Arun on the west bank – are within easy reach of the hotel. The river boat will leisurely carry you to the closest dock and pick you up when you're finished. Better yet, mind, travel down the Chao Phraya at sunset with a cocktail, and watch the light fade over one of the most varied skylines on the planet.
True to its reputation, Bangkok is a city that grabs you by the lapels and spins you around at breakneck speed. It's a city where all too often visitors are chewed up and spat back out into the real world none the wiser. Suffice to say, the old-world charm of The Siam couldn't offer a more stark contrast…
Bangkok City Guide
Where to eat, drink, and visit...
Restaurants
In a city bursting at the seams with an incredibly rich food culture, the task of finding somewhere to eat can be a daunting one.
Start with lunch at Prachak (1415 Charoen Krung, Bangrak, Bangkok 10500), one of Bangkok's oldest restaurants. It's been serving locals the same Cantonese-style roast duck since 1897 – and the heady combination of perfectly cooked bird and boiled rice tastes as wholesome today as it did back then. It's no wonder this hole-in-the-wall space is crammed with office workers at this time in the day.
Any self-respecting guide would be remiss to omit Australian David Thompson's iconic restaurant, Nahm (27 South Sathorn Road, Sathorn, Bangkok 10120). Located in the COMO Metropolitan, its particular brand of searingly hot regional Thai dishes is given a fine-dining twist that has seen it named at No 5 in Asia's 50 Best Restaurants. Dinner here is an exciting harmony of palate-expanding flavours, with an elegant room and slick service to match.
Located inside an old colonial house, Gaggan (68/1 Soi Langsuan, Lumpini, Bangkok 10330) is the antithesis of your average Bangkok restaurant. For one, it doesn't serve Thai cuisine. Visionary chef Gaggan Anand has created a tasting menu of the most daring Indian cuisine you'll find anywhere on the planet right here in Bangkok. From interning at El Bulli in 2010, Anand is now the leader of his own flock of acolytes who wish to learn from this iconic boundary-pushing chef.
Bars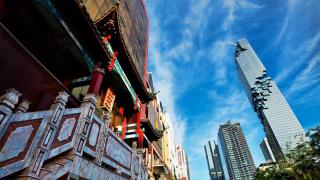 Education Images / UIG via Getty Images
Beyond the lager-swilling proprietors of Bangkok's street food stalls, the city is waking up to the joys of European craft beer, as well as a few upstart Thai craft breweries. It can be found in great numbers in Thong Lor (Bangkok's answer to Shoreditch) where young locals come in great numbers to drink half-pints and eat American-inspired junk food. Our favourite, however, is Mash (Silom, Bangrak, Bangkok 10500) a sleek industrial-styled beer bar straight out of the London handbook.
Elsewhere, cocktail bars like Havana Social (Sukhumvit Soi 11, Khlong Toei Nuea, Bangkok 10110) grounded in a pre-revolution Cuba aesthetic and a rum-centric menu, and the gorgeous and whisky-heavy Rabbit Hole (125 Thonglor Sukhumvit 55, Klong Tan Nuea, Bangkok) prove that Bangkok is an up-and-coming cocktail destination in its own right.
Attractions
A short boat ride from The Siam Hotel, Wat Arun – the Temple of Dawn – is the most picturesque of Bangkok's Buddhist temples, thanks to its location on the river. Similarly, The Grand Palace is a spectacular sight if for no other reason than to gawk at the complex series of buildings that make up the official residence of the King of Siam. Downtown is an ideal blend of retail and restaurants, while the finest street markets can be found at night in Chinatown.
Rates for The Siam Hotel start at £492 for the Siam Suite, for more information, see thesiamhotel.com