Is there such a thing as the perfect murder? Sherlock Holmes would say not; Professor Moriarty might argue otherwise.
But let's say, hypothetically, you're considering committing one – what would be your weapon of choice? An exotic poison? A lethal virus? A homemade gun that you could dismantle and scatter in various locations?
"What about a sharp, solid icicle?" says Nick Hendrix. "Once the damage is done, it would just melt away." Well, I'll be damned – particularly if I ever find myself alone with the actor in Lapland – but I think he's hit the nail on the head. (Or should that be the icicle?) To prosecute successfully you need hard evidence, and who better to know that than Midsomer Murders Detective Sergeant Jamie Winter.
Though born and raised in Eton, Hendrix calls Fulham home. He's speaking to me from a nearby workspace, in what I can only describe as a funky sci-fi-looking soundbooth with futuristic grooves on the wall. (Fitting, considering we're living in otherworldly times). Our conversation inevitably takes place over Zoom with a less-than-stellar connection. Damn you, Covid.
As it happens, we're speaking the day after Prince Harry and Meghan's appearance on Oprah Winfrey. Having grown up within eyesight of Windsor Castle, Hendrix counts himself something of a royalist.
"Dare I say it, I've always quite liked the Royal Family," he admits. "I've always felt a strange affiliation with the two lads: Harry being my age and William my older brother's, we'd often play against them at football and other school sports. I always feel like him and his brother are like me and mine, so it's a shame it's all just falling apart."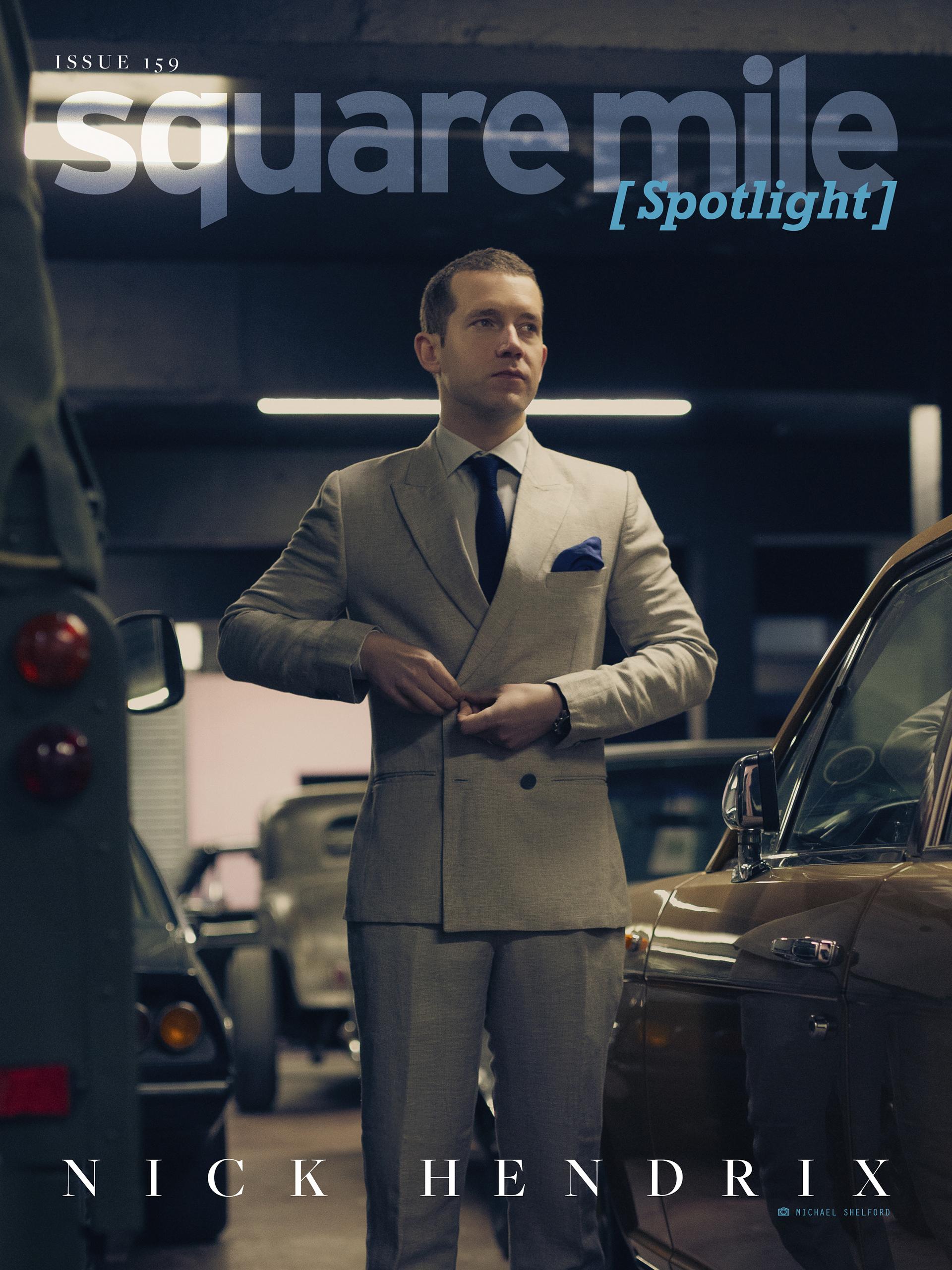 My immediate thoughts are these: Hendrix is someone you're sure you can trust – calm, collected, down-to-earth, creatively energised, ambitious. You'd lend him a tenner, happily neck a round of Jägerbombs with him, and leave him to babysit (although preferably not in that order). He definitely seems better suited to busting the bad guys than being one.
The bastion of British TV that is Midsomer Murders is currently filming its 22nd season and airs in more than 200 countries. (Those are some die-hard fans). The county of Midsomer has been the site of more than 395 murders, with a mortality rate estimated at 32 per million. Surely a world record? However, Hendrix assures us that extrapolated over 126 episodes these statistics are fairly mundane. If you say so, Mr Icicle.
"It's like starting a new job every four weeks," says Hendrix. "All I know is it's going to be set in a small village somewhere, there's going to be lots of beautiful scenery and a whole bunch of people are going to get killed." Not a bad premise to work with I should think.
Hendrix attributes the show's popularity to its mixture of light-hearted whimsy and dark humour. "Midsomer isn't as heavy or dangerous like so many of them," he says. "Sometimes people want the crime thriller factor without having to worry about it afterwards."
In this respect, the show mimics a somewhat-softened Agatha Christie approach: we love her books because the murders are always clean, the crimes are always solved, and she makes us feel like we inhabit a moral and comprehensible world. Likewise, Midsomer Murders always reveals whodunnit and why. Plus, we have the ingenious, almost comically over-the-top methods of death – crushed by cheese, anyone? – and the snappy interplay between Hendrix and his co-star Neil Dudgeon, aka DCI John Barnaby.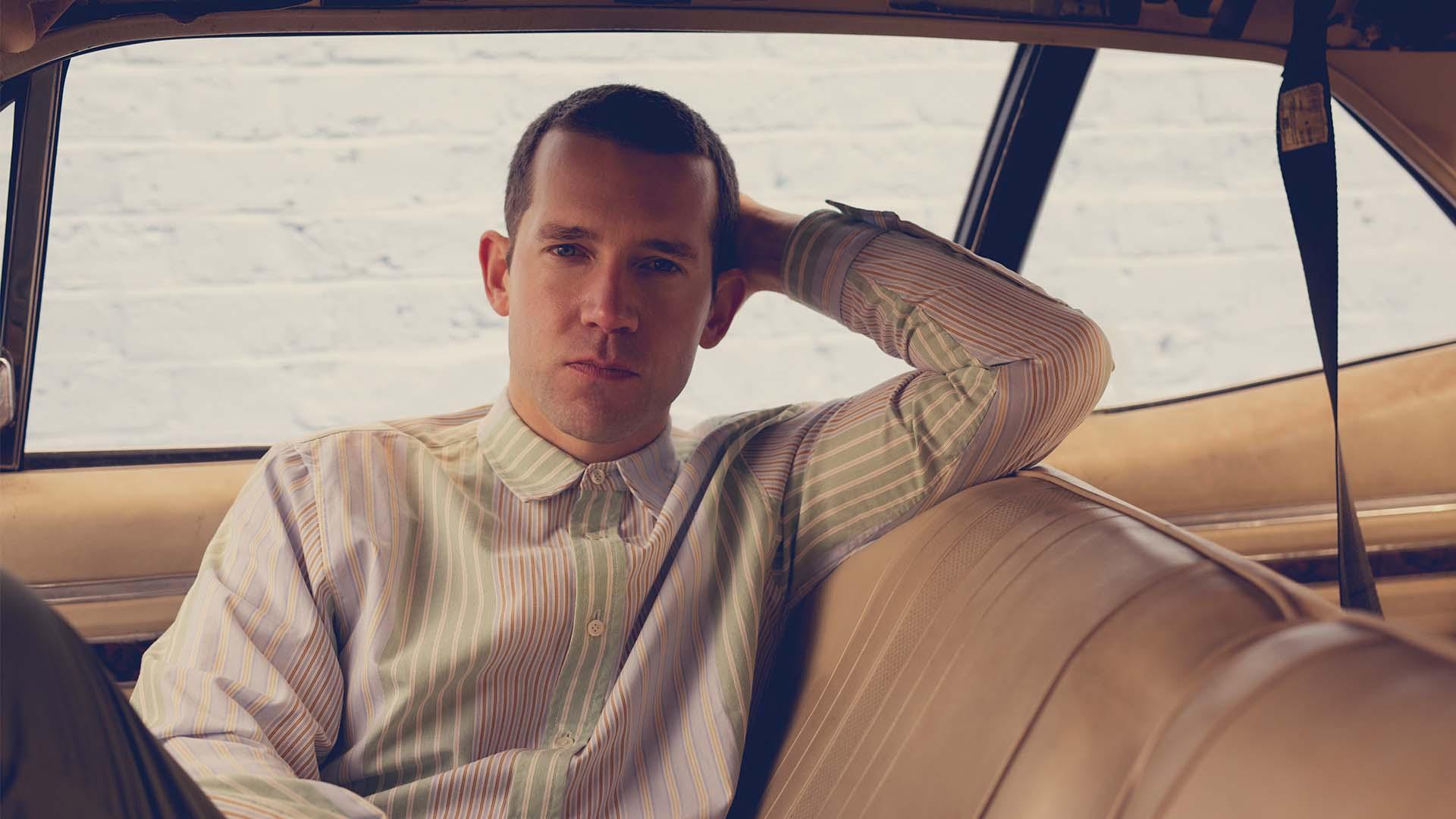 Hendrix approached Midsomer Murders like any other role. "The audition came about quite innocuously, and, not to put the show down, I went into it like, ah yeah, I'll give that a go!"
Four years later he's still on our screens and an integral part of the detective duo. In fact, Hendrix has turned into something of the show's poster boy: unsurprising considering his smart and sassy onscreen persona, not to mention those figure-hugging suits which must take up a fair chunk of the wardrobe budget.
However, the suits may be a welcome change from his university days when Hendrix wore considerably less as a Butler in the Buff. Yes, that's right, Nick Hendrix donned the bow tie, collar and cuffs.
He confirms it was long before the company turned into Towie wannabes and giant bodybuilders with lots of ego. "When I did it, it was run by these two young posh lads in Bristol who wanted people that were fairly chatty and, well, not overweight," he laughs. Ironically, his mum put him forward: "In hindsight, it was a pretty weird suggestion, but I think she was just trying to play to my strengths."
Credit where it's due: there is no greater test of character than being thrown into some hired farmhouse in the middle of nowhere with a gaggle of pissed-up women trying to grope you. "They could've murdered me quite easily and nobody would have known!"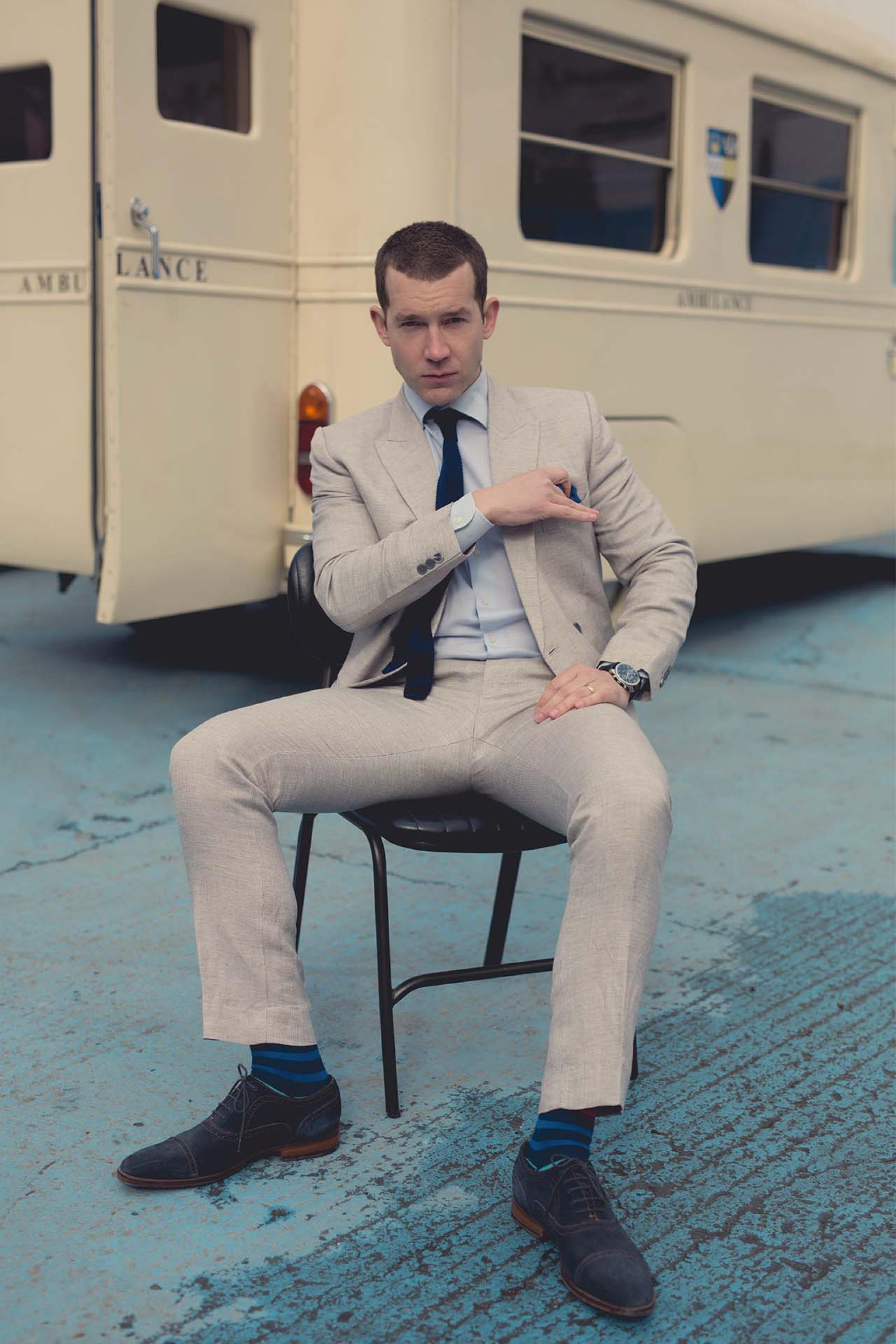 Thankfully, his clients were fairly tame. "It wasn't that crazy and I wasn't propositioned too many times." (Damn, I was hoping for some rather more cheeky confessions like confronting an angry groom, or enduring an interesting game of Twister.)
All jokes aside, what a genius student occupation – Hendrix would return home having earned double than the average restaurant shift. If you've got it, go for it. Although he assures me he's now far more expensive to hire…
He studied drama against the advice of his parents. "They didn't really want me to do it. Not in a mean way, but they just thought I should do a normal, 'proper' degree and do my acting on the side." Thankfully, he managed to convince them otherwise and rocked several side jobs such as delivering pizza "Which basically included stealing it and giving it to my friends – I was pretty popular for that!" 
Post-RADA, Hendrix worked plenty of other part-time jobs to fund his acting career. Children's parties was one: "We'd get the big parashoot out and play tug of war. It was always at weekends so it didn't affect auditions or anything like that. I also ran photobooths at weddings and other corporate events, which was pretty horrendous – loads of pissed PR execs falling over in the pictures. I've done a fair few of those things to keep myself fed and watered."
His first experience on a film set was Captain America: The First Avenger. "I was still training at RADA and had to go and pretend to be an American GI. I mean blink and you'll miss me, but still, it was outrageous! I even had to request time off, which made me feel like a total rockstar!"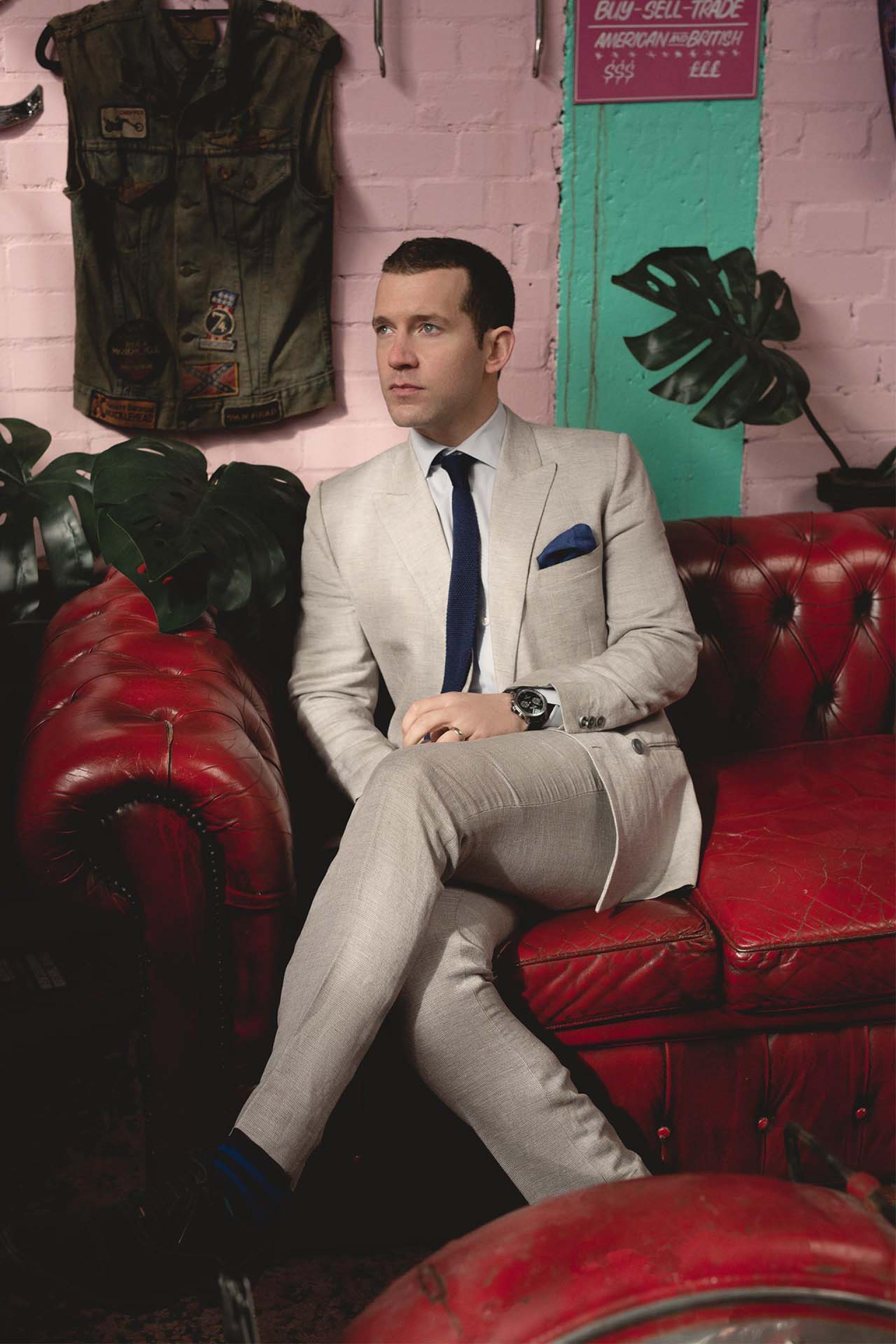 From there, Hendrix hasn't exactly struggled for work: his CV reads like a Netflix 'Most Watched' list: Black Mirror, Call the Midwife, Marcella, Foyle's War and even The Crown. You name it, our boy got around. He even acted alongside Tom Hardy in the 2015 film Legend, depicting the rise and fall of the Kray Twins.
"As Hardy was playing two very different characters, I'd often get one version of him or the other," explains Hendrix of the famous method actor. "I remember sitting down opposite him making small talk and he was so intensely silent, I thought, this guy's going to murder me! Then other times he'd kind of grab me and kiss me on the cheek! Super bubbly and friendly. It was so bizarre!" Hendrix is a huge fan of Hardy's and, appropriately, describes him as a total "legend".
Far from being one of these actors who screams, "I just want to play Hamlet and I went to RADA!" – his words not mine – Hendrix has plenty of other talents. He got into acting thanks to his natural ability as a singer and hopes to one day appear in a musical or biopic.
"I'd love to play a real person. There's been a real amazing slew of biopic movies over the past five years or so, and I think people love them because they can figure out exactly how well you've played the role. The Crown is such a great one for playing historic characters – I could put myself forward for Tony Blair. He could be a great character."
He'd be a fine Blair – but the thought also strikes me that Hendrix could make a brilliant Bond. If you couldn't tell from the photoshoot, he's tall, he's handsome and he scrubs up exceedingly well in a suit. Better yet, he sits comfortably within the desired early-to-mid 30s bracket and, with all due respect, has a relatively low profile: no previous Bond was a megastar at the time of his casting. And then there's the cars…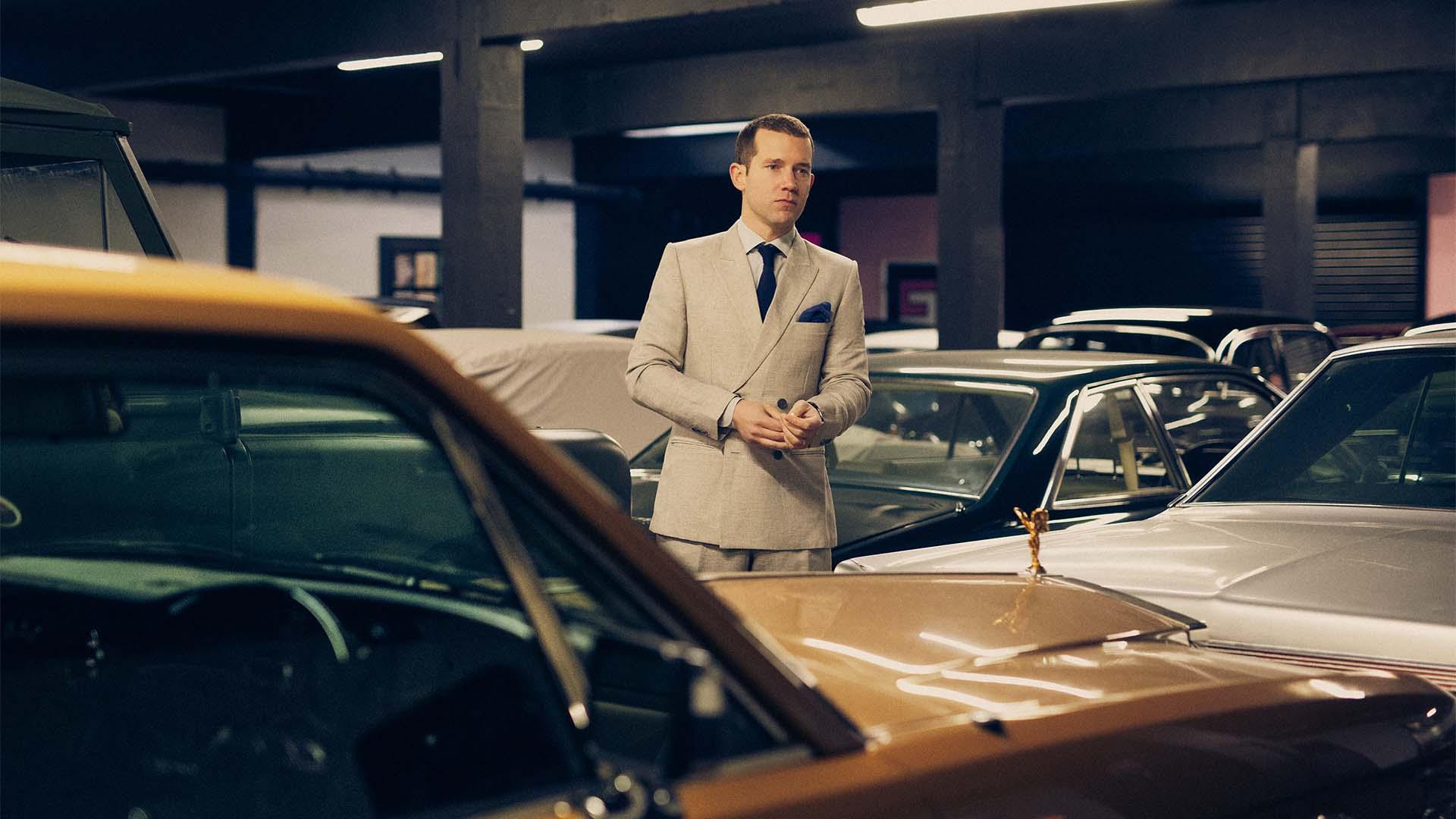 Hendrix is one of those irritatingly impressive people who made productive use of their lockdown. Rather than perfect his banana bread or construct a toilet roll fort, he got his head down and knocked out new passion project Driven: an automotive and travel journalism side hustle with his photographer best friend Michael Shelford, who also shot this feature for us.
Hendrix takes inspiration from Dwayne Johnson. "He runs this massive production company, he's started his own tequila brand and now an energy drink, he also does all this stuff with Under Armour and American war veterans. He's like an industry! I find that amazing, people who don't stop at 'ah well I've got a job now, that's cool…' It's like, 'no, I need another job!'"
Hence Driven. "Setting up Driven is my little way of thinking, 'right what other stuff can I create? What can I do for myself?'" he says. And the premise is simple: the pair burn around the English countryside in supercars, take a few nice pictures, drink a few nice cocktails, stay in several hotels and "sort of not pay for any of it". Erm, we're not jealous. No, not in the slightest.
"It's outrageous," Hendrix admits, "but I feel very proud of it as we've created it from literally nothing!" I learned his first PR contact was, erm, Ferrari – I know, insufferable to start right at the top. "Ferrari is obviously the most famous car brand in the world, then Mike's photography is amazing and I can write a little bit…"
(Modest – he's a fine writer, as you may know from reading his articles for Square Mile.) "Put those things together and I felt I could pitch to any car company in the world, more or less, and they'd be like, 'ah yeah, go on then!'"
As soon as lockdown lifts, the jammy duo are hoping to complete The Three Peaks Challenge – not on foot, you understand, but in a Rolls-Royce Cullinan. Then there's a planned Tuscan road trip, and a classic car rally in Switzerland later on this year.
Perhaps there might be a Top Gear-esque Netflix special in the future – although careful, Michael, Switzerland can dip well below freezing. Don't piss off the butler. 
Midsomer Murders is available on ITV Hub