Crashing, sixty-feet waves. Excruciatingly cold winds one day; burning heat the next, and around 80 days of devastating, all-consuming loneliness. These are some of the challenges Alex Thomson will face when he sails solo around the world next year – and he can't wait. Completing the 26,000-mile Vendée Globe – the only single-handed, non-stop, round-the-world race, dubbed the 'Everest of sailing' – is a feat that only 100 people have ever been able to achieve.
Thomson is one of the privileged few: he came third in the race in 2013, and is the fastest and youngest Briton ever to have completed the distance. "The challenges that we face day-to-day are quite big," Thomson tells me breezily. "We're used to dealing with large amounts of grief or problems and it kind of becomes a bit normal, really. You just have to pick yourself up, dust yourself off – and keep your chin up."
To say ocean racing is dangerous is an understatement, and Thomson is no stranger to the sport's highs and lows. In 2006, during around-the-world chase Oceans Race, the keel of his Hugo Boss racing yacht broke halfway between Africa and Antarctica, forcing him to abandon the race and be rescued by a rival. Disaster also struck earlier this year, when Thomson and his co-skipper Guillermo Altadill were airlifted to safety after their boat was capsized by a rogue wave during the Transat Jacques Vabre. The race was meant to prepare Thomson for the Vendée Globe, but that's not going to put him off. Thomson still wants to compete. And he wants to win. "That's the mission; that's what's important," he tells me.
During the VG, Thomson must grab sleep when he can, "cat-napping" for 20 minutes every two-to-four hours. It sounds horrific, but Thomson chirpily reassures me that although it's painful at first, it gets easier. "Once your body learns and adapts you can get REM sleep very quickly. If you allow yourself to go to sleep for five or six hours, you wake up and the winds have changed and your sails are flapping. It's kind of a discipline sport in my eyes. We're operating right on the edge of severe sleep deprivation, and recognising when you need to sleep and managing that side of it is one of the critical components for making rational decisions."
As well as coping with constant exhaustion, Thomson must face the intense loneliness that comes with spending three months alone, without his wife and two young children. "With the VG you don't have that security of somebody else being around. You don't have someone to share the low moments and the highs with, so mentally it's a tough race.
"Being away from my family, it's one of the hardest things. Everyone asks how hard my job is, but it's harder for my wife. She has to deal with the stress and the worry, and I'm on the boat in control of my own destiny and, generally, I don't feel very worried or too scared. As the kids get older they understand what's going on, and they'd prefer their dad to be at home, rather than racing around the world. So it does make it pretty hard."
Preparing for the race is a mental feat in itself. Thomson has worked with sports psychologist Ken Way, whom he has known since he started sailing as a teenager. "I can tell him about the challenges I face, and he comes up with an idea for how to combat those things and make it easier for me. It's difficult being in the Southern Ocean 2,000 miles away from anybody at my age [41], travelling at 34 knots in the middle of the night, and you're trying to sleep but your brain's screaming at you that you're going to die. I've worked with him to understand how to get my body to relax and how to feel OK about it."
You're trying to sleep but your brain's screaming at you that you're going to die
Though the mental strength required is almost unfathomable, the training – and the race – are tough physically, too. "Fitness-wise the main priority is not getting injured, so we make sure that doesn't happen. There's a cardio element, a strength element and a flexibility element. There's plenty of exercise."
Once on board, it's crucial that Thomson stays well-fuelled to keep his brain alert. "Ninety percent of [the food] is freeze-dried, so it's stuff like energy bars, peanuts, noodles, teas and coffees." Hardly the food of dreams, and tucking into a proper meal is top of the list for Thomson when he returns home from a race. On board the boat, though, it's what his body needs. "The body quite likes the boring food. It doesn't particularly like the step back to land again," he admits. I ask how much of a struggle it is to adapt to a conventional life after long stints at sea. "I'm so used to [the sea], it doesn't feel scary to me. It feels normal. Last time I finished the VG, it was more normal to be at sea than it was to be on land. It took weeks to get back to normal after that."
Last time I finished the Vendée Globe, it felt more normal to be at sea than it did to be on land
Thomson's love for the sea is all-embracing. Even when he's not racing, he spends a lot of his time on the water, kite surfing or sailing with his family – the Caribbean and the archipelago near Sweden's Gothenburg are his favourites. What drives his obsession? "I always feel when you get on a boat – it doesn't actually matter how big it is, it could be a great big ship – once you get out onto the ocean and leave sight of land, it gives you a real understanding of how small we are as human beings. I find that a very humbling experience." For Thomson, it seems the sea offers a sense of tranquillity he can't find on dry land, even when the waves are raging. People say you should do one thing every day that scares you. Alex Thomson just likes to take things to extremes.
HUGO BOSS – The boat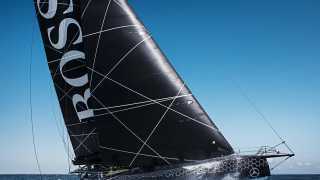 HUGO BOSS has been created with absolute precision in mind, the same techniques and technologies used in Formula One employed when considering the boat build, to ensure she is as light and fast as possible, whilst staying reliable. The yacht is designed by VPLP/Verdier alongside the inhouse design team and world renowned industrial designer, Konstantin Grcic, also designed the aesthetic look of the boat. They decided on a bold, black colour scheme that is not like anything ever seen before. Normally the boats are predominantly white because of the heat reflecting properties of white paint, but the HUGO BOSS yacht is black. This has been achieved by using a specially crafted black paint that reflects heat rather than absorbing it. The attention to detail that has gone in to every stage of the design and build is incredible and gives Alex incredible confidence in HUGO BOSS's speed and capabilities.

HUGO BOSS – Regatta watch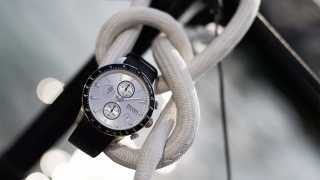 This BOSS chronograph with a blackened stainless steel casing pays homage to the sport of sailing. The honeycomb texture of the dial and the colour palette are oriented to the design of the HUGO BOSS yacht and underscore the sporty character of the watch. The countdown function can be set to up to 10 minutes according to the event, and the flexible silicone strap wraps comfortably around the wrist guaranteeing cool branding with its large logo lettering in a contrasting colour. A distinctive men's accessory that looks just as persuasive on dry land as it does on the high seas. The Regatta Watch was specifically designed for Alex and his team and pays homage to their new IMOCA 60 boat. The honeycomb detailing on the face links to the graphic's designed by Konstantin Gricic and reflects the construction of the racing yacht. On the back face is an image of the racing boat.
The Vendée Globe begins on 6 November 2016. For more info, visit vendeeglobe.org