Job security isn't something you are afforded when signing on as a Formula One racing driver. Yes, you are handed the keys to one of the most advanced vehicles ever engineered, you'll be handsomely remunerated for your efforts, and for an all-too fleeting moment live out the childhood dream of every boy racer on the planet. But fail to make the grade when it matters? It's back to go karts for you, kiddo. No second chances. No restart button.
The pinnacle of motor racing demands you kill or be killed: you either assert yourself in one of only 20 seats available on the starting grid, or the axe falls. As the Netflix F1 documentary likes to remind us, you've got to "drive to survive" – with the slight addendum being your life is made considerably easier if a) Daddy owns the racing team, or b) you are backed by a considerably wealthy benefactor. But let's park that for now.
It doesn't even matter who you are or what you've achieved, you can still have your throat cut when the results turn – just ask Sebastian Vettel, the third winning-most driver of all time, who leaves Ferrari at the end of the 2020 season by way of mutual discontent.
The person left holding the knife in this instance is Carlos Sainz Jr who has inherited the German's vacated seat after his progressive rise through the Formula One ranks, first at Toro Rosso, then at Renault, and lately McLaren. Having followed in the footsteps of Spanish compatriot and idol Fernando Alonso – not to mention being the son of two-time World Rally champion Carlos Sainz Sr – the weight of expectation both at home and abroad would be a forgivable cause for shrinking in the limelight, but as each season passes the Madrid native has grown in stature both on and off the racetrack.
His final audition for Ferrari would appear to be a freakish performance in Brazil last year where he not only delivered McLaren's first podium in five years (and his maiden top-three finish to boot) but did so from plum last on the grid. It's the perfect canvas on which to view Sainz's personal brand of fierce determination tempered by a disciplined race strategy that often sees him outwit his closest competitors; a real chess player. It was exactly that kind of energy Ferrari team principal, Mattia Binotto, wanted to instil in the Prancing Horse's new-look lineup.
As each season passes, Carlos Sainz Jr grows in stature both on and off the racetrack
The backing of a Formula One superpower is, of course, an attractive offer for any would-be world champion, but Sainz joins a Ferrari currently experiencing a downward slump. Whether it's the car, the pandemic, or the increasingly toxic team environment surrounding the Vettel fallout, the Spaniard has taken a leap of faith joining Ferrari from a resurgent McLaren team that appears to be going from strength to strength.
Binotto has spoken about beginning a "long cycle" with Sainz and Ferrari Driver Academy graduate Charles Leclerc – "creating solid foundations around a young team" (the youngest in Ferrari's F1 history, to be exact), and drawing inspiration from the iconic manufacturer's glory days. Whether Sainz will be the Rubens Barrichello to Leclerc's Michael Schumacher remains to be seen, but it wouldn't suit the Spaniard to sit back and play second fiddle. They say the air gets thinner the higher up the mountain you climb, but Sainz seems equipped with all of the apparatus to reach the summit.
Inadvertently, Sainz's Ferrari move has set off an explosive chain reaction throughout the rest of the starting grid, with an expensive game of musical chairs seeing drivers exchanged like trading cards. Daniel Ricciardo has replaced Sainz at McLaren, while none other than Fernando Alonso steps in to pick up the Renault drive from the Australian. Vettel joins Aston Martin for 2021 (rebranded from the existing Racing Point team), displacing Sergio Perez who finds himself currently staring at the exit door unless a position should become available elsewhere. If the rumour mill is to be believed, there might be such an opportunity, should Red Bull decide to replace current number two driver Alex Albon.
Confused? We sit down with Carlos Sainz to make sense of it all. In a broad-ranging conversation, we talk about the difficult decision in leaving McLaren, why Formula One's thorny politics doesn't always promote the best drivers, and why he's confident that he'll make a success of his bold move to Ferrari.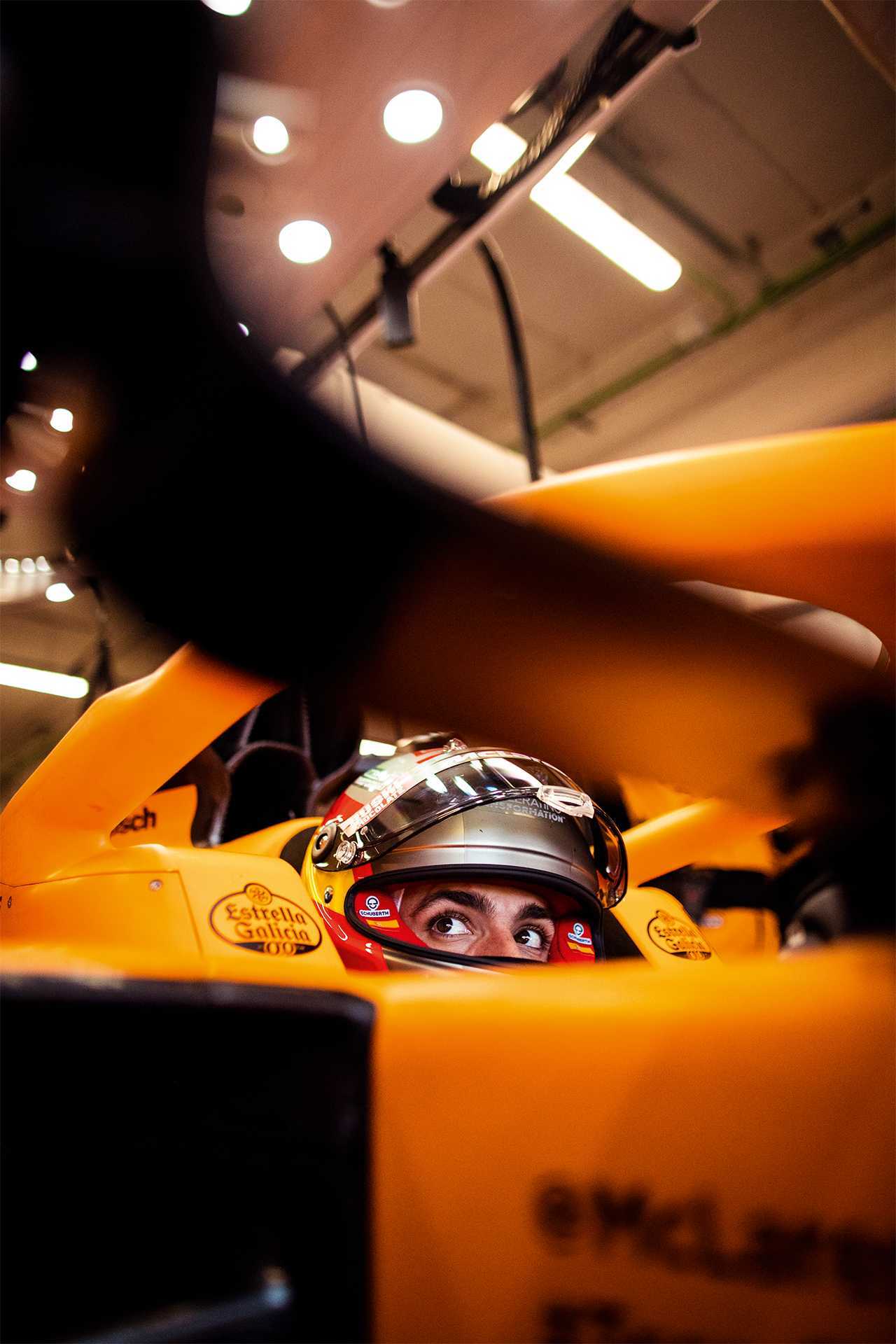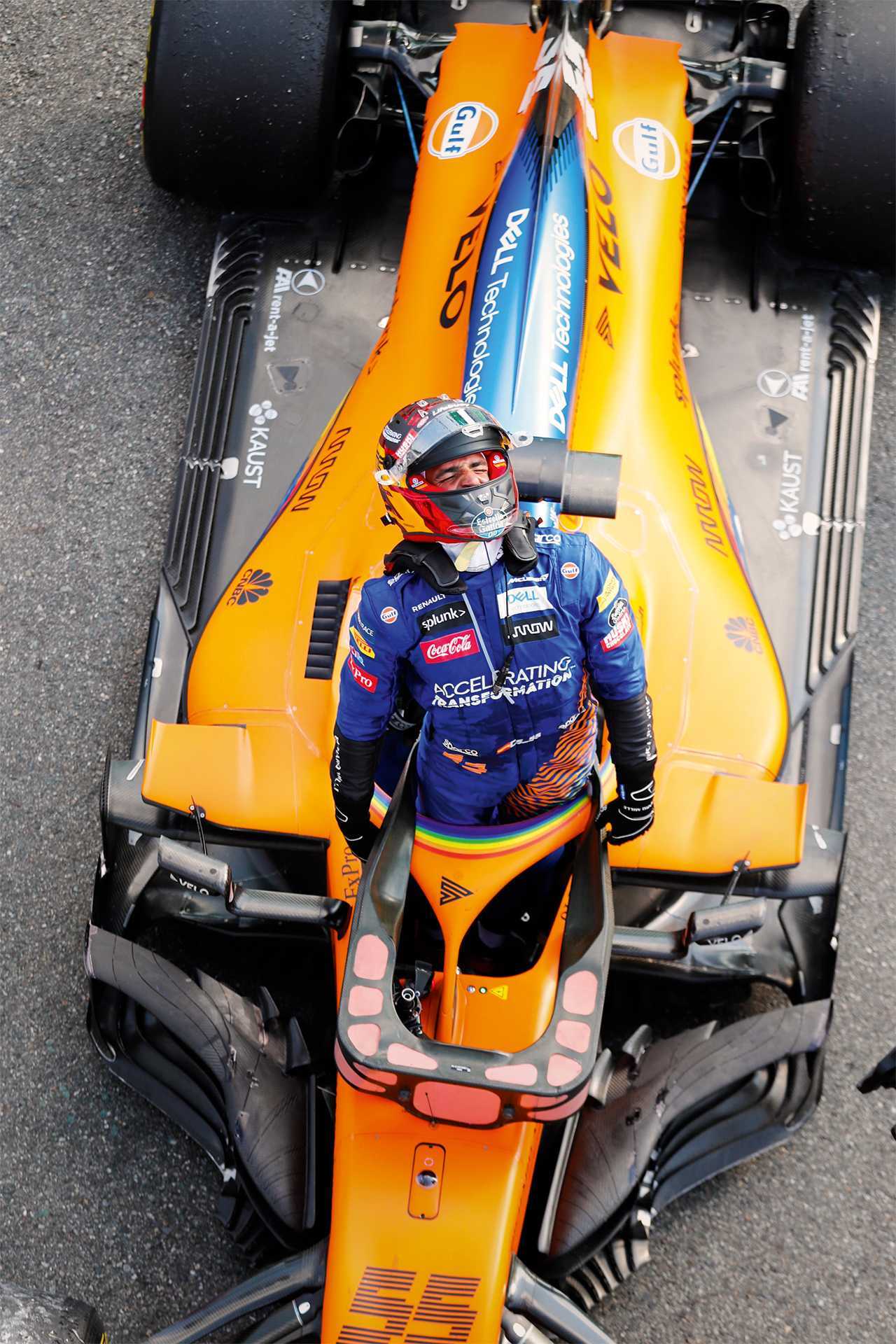 Photo by Steven Tee / Motorsport Images
You came so close to your first victory in September when just touched off by Pierre Gasly at Monza. Has that just made you hungrier going forward?
Yeah, exactly. I had the win so close to me for the first time that it has made me want to win even more. I've been in Formula One six years and I've never tasted victory, because of how the sport works – you know, we are all very good drivers but in the end we depend on the machinery and what car you have underneath you.
Lewis [Hamilton] has dominated the last few years with Mercedes, and it's very difficult to match them because they're just such a great team at the moment. But the fact that I caught my first chance of winning a Formula One race and I nearly made it happen has made me realise how much I miss winning and how much I miss fighting for wins, compared to my younger junior series victories before arriving in Formula One. It's something I look forward to in the future.
Does it give you a different perspective with podiums and victories on the line?
Definitely. Every driver in the sport has won in pretty much every category before Formula One: F2, F3, F4, we've all been winners before getting here, so we're the best of the best. But in Formula One sometimes you just never get the chance to win and that has been my case over the last few years.
That podium in Monza made me realise how much I really want it to happen. Hopefully the future brings more opportunities and I can win my first race soon.
You talk about needing the right car and the right team to be competitive on Grand Prix day. It feels like McLaren is really going in the right direction now after a few years in the mid-tier.
McLaren has definitely followed the right steps and over the last few years we've generated a very good base for the future growth of the team. There's still a long way to bridge the gap with Mercedes – they're still very far ahead in terms of resources and car performance, but the new 2022 regulations are meant to level up the field, bring everyone a little closer together, so it'll be a good chance for teams like McLaren, Renault, Ferrari or Red Bull that should be normally fighting for wins should have another chance – and we'll see who capitalises on that opportunity.
Are you excited about the changes? Does it feel like it needed to happen?
I think so. The budget cut is particularly good news. It's still a lot of money for teams to use, but it should level up the whole field and I think it's going to generate new opportunities for the teams that are not at Mercedes' level. Let's see, I'm very curious. Unfortunately, we still have another year before the changes come into play, but I do think the 2022 regulations are a step in the right direction and it should lead to better racing and equal opportunities for smaller teams.
I think they [Formula One and the FIA] have done the right thing. You don't want to upset too many teams by coming in with completely different Formula One regulations. I think they've done as much as they could do.
Everyone, especially during the Covid-19 crisis, realised how far the sport had gone with resource spending – some teams spending more than £300m on creating very fast cars – it's an incredible amount of money. I think the pandemic made the whole of Formula One realise that we don't need to spend that much money to generate a good show and to remain the pinnacle of motor sport.
Making the sport a bit more sustainable and a little more friendly for the smaller teams should hopefully level the playing field, and give everyone a chance of winning.
As a casual fan, we want to see different faces on the podium and more drivers in with a chance of victory. It's more exciting.
I think if you use the Monza race as an example, that's my normal race most weekends – I'm fighting Pierre [Gasly], I'm fighting Lando [Norris], [Sergio] Perez, I'm fighting the Renaults pretty much to the last tenth. We are four or five teams within two-tenths of second. The races in the mid-field are incredibly exciting it's just that in Monza because we were actually fighting for the win, people realised how fun Formula One can be when we all get a chance.
It's quite exciting to see the reaction of the fans to the race, because they loved it and said it's one of the most exciting races of the last few years in the sport. I'm here to tell them that that's pretty much how my races have been for the last few years, the only difference being I was competing for P6 or P7, so you didn't get to see it on TV. I'm hoping the 2022 season is going to see more races like that one. It was great fun.
The races in the mid-field are incredibly exciting it's just that in Monza we were actually fighting for the win
One of the things that sticks out for me in the new changes is the aerodynamic innovations – more downforce when travelling in dirty air. It should make it easier to overtake, right?
Yeah, so to explain it to your readers: it's very complicated to follow the car in front of you. A lot of Formula One racing hinges on aerodynamics, aerodynamics relying on good clean air coming through the wings and sticking the car to the ground in the corners. But when you have a car in front, those aerodynamics lose their efficiency and don't work as well. It means that it's impossible to be faster than the car in front, and therefore very difficult to overtake.
Hopefully the 2022 changes will make the cars more friendly to the so-called 'dirty air'. But up until that point it's harder for us to generate a good show because of those aerodynamics. Even when we do have those problems, though, you can still create a good race when those teams are evenly matched. Bringing all the teams closer together and then making it hopefully easier to overtake. All of a sudden, I think you have the most exciting sport in the world.
Yourself and fellow McLaren driver Lando Norris have been a dream team this year – you've dovetailed really nicely. Do you enjoy that team dynamic? It feels like McLaren has got it just right at the moment where there's no number one / number two driver; it's just two drivers putting it together on the day.
I think we have a very good balance in this team. The respect between Lando and I, and the good relationship between us just makes the team atmosphere very strong, and makes everyone row in the same direction, which is pretty much the team spirit that you want to have.
I enjoy racing and travelling with Lando, but we are still competitors and trust me we want to beat each other as much as any other team mates on the grid; it's just we do it with a smile on our faces when the other one beats us. We're mature enough to be happy for them and shake their hand when the other one gets it right and you don't. I think that's worked really well.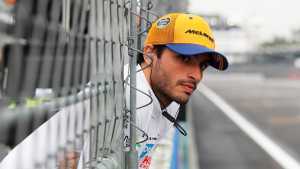 Photo by Steven Tee / Motorsport Images
It's not like that all the way across the grid, of course. It's well documented that the atmosphere in the Ferrari garage at the moment isn't as healthy as it is at McLaren. Are you in any way concerned that you might lose that smile on your face when you go there?
No not at all. I mean, you would expect Ferrari to be competing for wins in every race and at the moment they're going through a very tough period where they've had problems. But that shouldn't change the spirit of the team behind closed doors. I'm sure that when I go there, I'll have the best possible working environment with my engineers and my teammates. Once you have that chemistry and you try to make the car faster, everything comes naturally.
I personally feel confident about the move. I don't feel the extra pressure that comes with being a Ferrari driver should change my approach to racing and generating a good team atmosphere. And, yeah, there's always going to be a lot of talk in the media because they expect to see them winning, but then that's why I'm moving to Ferrari also – I know they're a winning team and I want them to win with me.
I like that pressure, and I'm convinced Ferrari are going to turn things around and follow the right path to winning races.
The good news is that Mattia Binotto is clearly invested in both you and Charles Leclerc as a long-term project – he's said as much to the media already. It must be exciting to know that, whatever the problems at Ferrari right now, you're joining a team that is looking forward.
Exactly. I know Mattia says these things in the media, but I already knew this from my contract discussions with him. I wouldn't sound as confident if I didn't know he believes so strongly in building a strong foundation for the future. Ferrari is definitely in good hands with Mattia. He has very clear targets in mind and that's where I come in – it's my job to try and improve things on that route. I'm taking it as a natural step, with a view to continuing to enjoy Formula One, only this time wearing red and being a Ferrari driver.
How did you get the Ferrari call? What was that process like? I'm presuming it wasn't like your normal job interview…
Well, I don't like to go into too much detail about private conversations, but I can tell you that in the middle of the Covid-19 crisis I was at home in lockdown and all of the negotiations took place via Zoom and phone calls. It was quite a weird discussion but at the same time it's something that I'll never forget – think about in 20 years time, I'll be saying I had signed my Ferrari contract in the middle of a global pandemic. It's quite different to how I expected things would go. But thank god everything turned out to be good, and I can enjoy the future from now on.
I don't feel the extra pressure that comes with being a Ferrari driver should change my approach to racing
On the subject of Covid-19, this season is not a normal season – we all know that – but what's it felt like to you? Has it felt like more of a procession than other years?
It's definitely less exciting. Normally when you travel in Formula One, you get to enjoy the host cities, you take in a bit more of the surroundings and the atmosphere whereas at the moment it feels like you're coming to the circuit to do a job and deliver the result, and put on a show for TV.
It's a bit different and not as much fun without the fans, but at the same time we're living in such strange times and we need to be conscious of the fact that we've kept our jobs, which is not easy nowadays. I think Formula One has found kept everyone super safe with the tests that we do every three days to keep protect the paddock and the cities we go to from Covid-19. It's a sport that is succeeding in uncertain times.
Sport is also in the entertainment business, so it's good to provide a welcome distraction.
I've read a lot of messages from fans during lockdown saying how much they missed having something to watch on a Sunday, and that being Formula One. It also makes you feel proud of the show that we put on, apart from being obviously a very good sport for engineering and driving, it's also entertaining. It was nice to hear people missed it as much as I did during lockdown.
As a driver, you've witnessed the at-times brutal nature of Formula One, with its political side and the moving of drivers between teams. Is it possible to ever feel safe in a seat? I know you're friends with Sergio Perez – it would appear he has been particularly hard done by with the recent round of seat swapping.
You know how Formula One works. It's impossible to feel safe, but at the same time one of the things I've learnt over the last couple of years is how much security having a two-year contract gives you as a driver and how much those one-year contracts often put you under extra pressure to perform.
It's nice to build a relationship with your team in a medium to long term period – that gives the drivers and the team the ability to work together towards the future while teams that sign one-year contracts and keep playing musical chairs with their drivers it tends to backfire for them because they don't get the regular input to develop the car balance and performance for future seasons. It's impossible to feel safe, but when you perform well normally teams are looking to give you that medium-to-long term opportunity.
As for Perez, he's been doing great, but for things outside of his control, it looks like he's out of Formula One for the moment. It's just how the sport works. You know, Lance [Stroll, the other Racing Point driver] is having a very strong season, so the team is entitled to keep him on instead of Perez. But sometimes in Formula One you don't get what you deserve.
You've been vocal about your desire for more challenging 'risk-reward' circuits in Formula One. Is that something you're still pushing for?
Yeah, definitely. Don't get me wrong, I think Formula One has done a great job at ensuring the lives of the drivers are super safe – and that's certainly the right direction to go in.
I think Formula One and the FIA have and will continue to save a lot of lives with new devices like the Halo, the HANS (hand and neck safety) device, making the circuits as safe as possible. But I do feel that at some tracks we've gone too far in places by having these tarmac runoff areas where it doesn't penalise the driver for making a mistake. That means drivers can fight the limit as much as possible, go off the track, go into a tarmac runoff area parking lot, and don't damage the car or lose any lap time.
I think that's one area where Formula One has got it wrong and I think it's where we have a lot of potential to reintroduce some gravel or grass back to the racetrack to make sure that we penalise the driver for going too far over the limit.
If you look at the positive driver comments about the Tuscan Grand Prix this year, you can see that we miss the challenge. We miss the threat of making a mistake and being penalised for it. We miss going into a high-speed corner knowing that if you keep it flat, you might go in the gravel, instead of opening the steering wheel and going into a runoff area.
We miss the adrenaline that fuels you in a risk-reward situation – when lifting at turn nine might be the right thing to do to avoid going in the gravel, but the reward of going in flat is a faster lap time. Without that risk, there's nothing to lose and so everyone goes into that turn flat every time. For me, it takes away some of the excitement from the last laps of qualifying and the race itself.
Racing is a craft after all…
Of course, people can't forget that we're doing over 200mph in a lot of corners – not only on the straights – and we're arriving at every braking zone at those speeds. It means for the human eye to keep up with the speeds of a Formula One car, to keep up with the G-force, is not easy. That's what makes drivers so special. But to differentiate between the great Formula One drivers and the best you need to race around the circuits that penalise the driver that is not as brave or not as skilful. It's why I believe risk-reward is such an important component of a good circuit.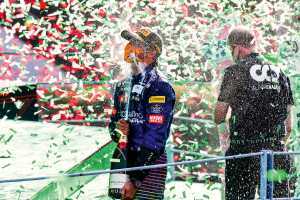 Photo by Steven Tee / Motorsport Images
Thinking about the future, what would constitute success for you?
It's difficult to know. I mean, everyone knows that my target is to be a Formula One world champion one day. For that you need wins and you need podiums, so it comes with the territory.
In Formula One it's very tricky, you need to be in the right car at the right time in the right year, so I cannot say that if I'm not Formula One champion in five years I'll be disappointed because I might have driven very well during that period but for one reason or another I haven't won the championship. Equally, I might be very angry if I haven't because I should I have.
As a driver, the future is a very difficult topic to discuss because you just don't know what way it's going to go. For now, I just want to carry my momentum here at McLaren into my first season at Ferrari and keep performing at a very high level. If the opportunity to win a world championship arrives, I will try and do my best to make the most of it.
From the moment I shook Fernando Alonso's hand, I realised that Formula One was my dream
The Sainz family obviously has a great pedigree in rally driving. What brought you to Formula One in the first place and could you see yourself ever switching codes?
I love rallying, and I've actually been doing it a lot recently, but I practice it more as a hobby than a profession. I think I'm pretty good at Formula One so I don't want to change that all of a sudden.
What got me into Formula One was I had a passion for go karting. When I was nine years old I watched Fernando Alonso winning the World Championship with Renault.
I actually got to meet him during the 2005 season at the Spanish Grand Prix. From the moment I shook his hand and got a closer look at the world of Formula One, I realised that was my dream. Thank god that dream has since come true. Now I'm working on my next dream of becoming world champion.