"Education is not the filling of a pail, but the lighting of a fire."
The words of the great Irish poet William Butler Yeats remain as true today as they ever were. It's impossible to overstate the impact a good education can have on a child's life. Yet securing one isn't easy: you want your children to enjoy their learning rather merely endure it. Light the fire, not fill the pail. 
Enter La Nouvelle Ecole. The school has outposts in both Paris and Geneva. It takes a holistic approach to education, ensuring the pupils not only receiving expert tutoring but also enjoy healthy school meals, a range of after-school activities, and beautiful classrooms built with natural materials.   
Children are taught in both English and French – an invaluable gift in the modern world. As the school co-founder Aviv Pode notes: "Being bilingual or trilingual is a gift that I, as a parent, can give my daughters for life." 
We spoke to Pode about the story and philosophy of La Nouvelle Ecole the benefits offered by the school, and its humanitarian work offered in developing countries. 
What inspired you to form La Nouvelle Ecole?
As parents, we all aspire to provide the best we can for our children. For them to grow and develop in a safe, warm and loving environment.
We want to fuel their curiosity and creativity, to challenge and encourage them and build their self confidence. On a global level, we want to build a better, safer world for them.
The school is founded on Montessori philosophy. Could you briefly explain the philosophy and its benefits?
The Montessori philosophy encompasses different ideas, such as the use of natural materials to engage learning in a more organic way, and a more adaptive approach to guiding a child's learning.
Each child in our school will achieve their daily learning goals, and be challenged to excel, but in a more adaptive and kind approach, compared to an ordinary school.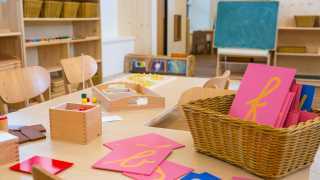 It seems like the school takes a very holistic approach to education, is that fair to say?
Exactly! We combine the Swiss curriculum with Montessori concepts, in a very child-centred inquiry-based learning approach. We partner with learning institutions to enrich our programs and gently expose the children to the richness of this world.
I wish I'd learned a language as a child – the benefits are endless. How much does the bilingual environment help in that regard?
Our school is fully bilingual, our teachers are all highly certified and experienced English and French speakers. My daughters, thanks to the school, speak perfect Parisian French, and British English. I am a very proud father.
As I see it, being bilingual or trilingual is a gift that I, as a parent, can give my daughters for life.
There's an impressive range of after-school activities as well – yoga, book clubs, music and dance. Presumably these are very popular with both children (and parents!)?
Absolutely! Parents can choose which different after-school activity their child will enjoy every day. From Yoga to Science, music with a private piano or singing teacher.
Imagine your daughter dancing classical Ballet at school, performing science experiments, planting vegetables or learning piano.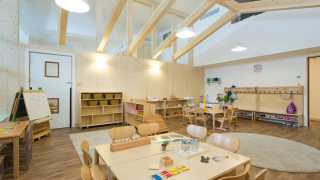 Looking at the website, I was struck by the beauty of the classrooms – very clean and minimalist! How important is the surrounding environment to a child's learning?
We believe in the importance of a beautifully designed space; comprising of natural materials, natural light, with as few distractions as possible, creates a more ideal environment to harness learning.
We designed the school to be unlike any ordinary school. Instead of identical square classrooms, we have different spaces, for different purposes. A quiet reading area, a motricité and sports area, vegetable planting, tables for small-group learning, and more.
And everything is eco-friendly, right? Tables manufactured from sustainably sourced wood, etc?
Yes, It is important for us as founders to create a school that has only a positive impact on our community and the planet. Our furniture, toys and learning materials are eco-friendly and LEED (Leadership in Energy and Environmental Design) certified.
The school meals are all local and mostly organic produce – could you share an example of a typical menu?
Yum! The daily menu changes, to expose children to diverse and child-friendly dishes and enable them to enjoy and develop different tastes. Very importantly, we believe children's nutrition is critical not only for their health, but a cornerstone of optimised ideal learning.
That's why our meals are delicious for kids, simple and healthy, with minimal sugar and no artificial or industrial components. A typical dish can be a filet of fish or chicken, steamed vegetables, raw vegetables and fruit.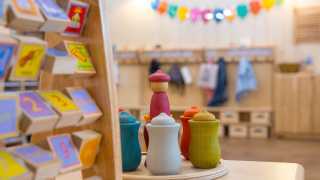 Could you tell us a bit about the school's humanitarian work? I know it's an issue close to your heart…
The school aspires not only to contribute to our local community of families, but also to create a positive impact on global issues and help remote struggling communities.
With the school's resources, we have built three public schools in developing countries, we planted over 5,000 trees in Africa and Australia in cooperation with One-Tree-Planted, we provide clean water solutions for schools and communities in Africa and India with Water-For-People, and assist children in conflict areas and child refugees with Save-the-Children.
Our school is an official partner with all three non-governmental organizations, and we are looking to grow our humanitarian efforts further in the future.
Finally, you also do holiday programs! Tell us a little about those – are they open only to students or can anyone apply?
Our holiday programs open the school during most holiday and school vacations. Every week we have a different theme, from "Little Inventors" to "History week", "Earth week", "Famous artists" and much more.
While our priority in enrolling for the holiday programs is reserved to our students first, our holiday programs are open to any child between 3 and 7 years old.
Our little learners always enjoy meeting and making friends with new children during our holiday programs.
For more info, see La Nouvelle Ecole