There are few truer indications that eCommerce is the future of all our commercial needs than watchmaking, surely the stereotypical boutique commodity, shifting its approach towards this once vehement adversary.
Over the last decade, more big-name brands have reviewed their position as a purely store-centric business and chosen to balance their offering with a simpler, more efficient online purchasing process – 'add to bag', punch in your card details, and you could have a shining piece of haute horology speeding its way towards you in a couple of business days.
Yes, it's not quite the same memorable, champagne-chinking experience as buying a new timepiece in store, but having both as an option is no bad thing.
It's not all that surprising that any effective brand, whether it be fashion, automotive or horological, has had to rise its online presence to meet the unmistakable dominance of the digital medium, but for watchmaking it was also a necessity to keep up with excellent online-only stores that offered an ergonomic answer to the watch buying process.
Below we've rounded up a few of our favourite watchmakers, online retailers, and value alternatives you should consider looking at when choosing to buy online.
What could be a better use of #LockdownLife than investing in a new watch?
Take a look at our list below…
The Watchmakers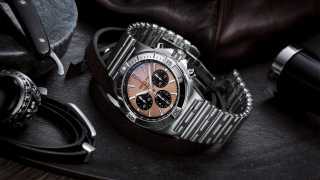 Patek Philippe
No, your eyes are not deceiving you: the great monolith of haute horlogerie is finally offering its heralded timepieces through its authorized dealers in the UK – it's just taken a worldwide pandemic for it to happen.
The truth is we don't really know whether this is a permanent move from the Swiss giant, or if this is a move to protect its coveted dealers – for whom Patek has a strong reputation for treating like family – in this time of great uncertainty.
Either way, right now the likes of Watches of Switzerland, Berry's Jewellers and Laings have introduced an 'add to bag' facility on several of its glittering Patek Philippe models, and that's certainly cause for excitement.
Now, just to set your expectations, this isn't going to help you cut the line in bagging a Nautilus or Aquanaut (Seriously? Did you think it would be that easy?) but there are some mouthwatering watches on offer.
Our Selection: Patek Philippe Ref.5396 Annual Calendar Moon Phase £38,110

This is kid in a candy store stuff, but if push came to shove I'd go for a piece that balanced Patek's historical position at the forefront of watchmaking, its classic aesthetic, and eye for detail. To me, that looks a little something like the Reference 5396.
Patek patented its annual calendar mechanism on 1 March 1996 – basically a less complicated perpetual calendar that requires yearly adjustment in February – and 21 models later it gave us this absolute beauty.
The 38.5mm round Calatrava case is a nice nod to countless historical timepieces, while the layout manages to sneak a 24-hour hand onto its subdial, along with three separate apertures for day, date, and month. It's contemporary but classic, visually simple but has plenty going on underneath the dial. It's a stunner.
Breitling
I think it would be fair to say Breitling is one of the most digitally savvy companies in watchmaking – and its seamless eCommerce product gives plenty of indication as to why.
Better yet, the brand is knocking it out the park at the moment with watch after watch, so any purchase feels like a wise investment at the moment.
Our Selection: Breitling Chronomat B01 42, £6,650

Picking just one of Breitling's 2020 line-up was not easy. On the one hand, I absolutely adore the vintage looks of the Top Time Limited Edition, but the new-look Chronomat really knocked me sideways when it launched in April.
The steel sports watch is an evergreen trend that shows no signs of slowing, but more than that Breitling has managed to tweak the previously awkward Chronomat aesthetic (honestly, I was not a fan before now, to put it mildly) and create a more universally appealing look that seems stylish, utilitarian and sporty all in one go; Breitling at its best, you might say. That Rouleaux bracelet might be one of the prettiest around, too.
IWC
Square Mile's editor Mark Hedley is a big fan of IWC, with his Portofino taking the top spot as the favourite watch in his collection.
The Schaffhausen brand is a fine purveyor of sleek tool watches with a minimalist edge – none too surprising given its factory's proximity to Germany. There's also the added bonus of its timepieces coming with an added six-year warranty when you sign up for 'My IWC'. None too shabby.
Our Selection: IWC Portugieser Chronograph, £7,050

Sorry Mark, I've sidestepped the Portofino in favour of the Portugieser collection simply because the sharper lines and slightly more contemporary aesthetic is to my taste. I'd call this a 'sporty' dress watch, which is also a sweetspot of mine.
The latest Portugieser Chronograph comes with the IWC calibre 69355: a column-wheel chronograph movement manufactured completely in-house – a vast improvement on the Sellita movement used on previous models. The blued hands and numerals on the model above are particularly appealing, too.
Chopard
Chopard took home the Best Independent Watchmaker gong at the Square Mile Watch Awards 2019, thanks in no small part to its continual output of bloody good watches. It's really that simple: this is a brand that rarely releases something that leaves us cold.
One particularly nice touch about Chopard's eShop is that it asks buyers for their wrist size and fit preference – it even has a size guide – to truly ascertain how many links you'll need on your bracelet. You've got to respect brands going the extra mile to look after its clients, even digitally.
Our Selection: Chopard Alpine Eagle Large, £11,200

Speaking of steel sports watches, this one is just gorgeous – the kind of watch that's going to have horophiles giving you the double-take on the Tube.
Loosely inspired by the St Moritz, the first watch created in 1980 by now Chopard co-president Karl-Friedrich Scheufele, the Alpine Eagle collection very much follows in the footsteps of Gerald Genta's Royal Oak and Nautilus designs – which given both of their continued popularity can hardly be called a bad thing.
Particularly noticeable on first view is 1) the dial has real wow-factor, and 2) the bracelet, while not as showy as the dial, is both stylish and comfortable on the wrist.
Back to that dial, though: to my knowledge, it's totally unique in the sports watch sector, featuring a mesmerising textured radial effect. It's beautiful.
What you don't realise until you look at the accompanying spec sheet is that there's also an in-house movement under the hood and the watch is partially constructed of a new proprietary alloy of stainless steel called Lucent Steel A223, which is composed partially of recycled stainless steel.
This is a lot of watch; say no more.
Grand Seiko
Grand Seiko may have finally found its way onto the radar of the everyday punter, but it still holds its title as a 'cult watch brand' for a reason: at this price, you're unlikely to find higher quality watchmaking anywhere else.
That, of course, is to do with the fact that Seiko boasts a fully vertically integrated manufacturing process – only Rolex can match this claim in horology – and that trademark Japanese craftsmanship, which really is a mark above. 
Its online boutique is full of absolute steals, but one watch has always featured highly on my must-have list.
Our Selection: Grand Seiko 'Snowflake' Spring Drive Titanium, £5,400

Full disclosure: I am madly in love with this watch. In my constantly rotating list of grail pieces, this watch rarely swaps out of the top five (usually only to be replaced by another Grand Seiko).
Maybe it's the price point – just within touching distance – or it could be that ethereal dial, or the genius movement that draws me in. (The Spring Drive combines an electronic regulator with a conventional watch mainspring to deliver a level of precision that no mechanical watch can match – it's a really cool piece of watch tech.) Any way you slice it, this watch is everything I'm after.
Value Watch Brands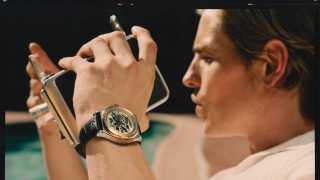 Delma
It always surprises me that brands like Delma, a watchmaker that has been in continuous operation since 1924, don't get the same recognition as their peers. It may not have the same marketing presence as more notable names, but Delma succeeds at creating rugged, highly functional tool watches at an accessible price.
If you're looking to find something off the beaten track, or perhaps a little bit more value than other prestigious brands, this is a watchmaker well worth a second look.
Our Selection: Delma Oceanmaster Antarctica, £1,190

The Oceanmaster Antarctica is the latest in a long stream of tough-as-teak Delma dive watches, with a couple of notable embellishments. Firstly, its frozen inspirations are made clear by the unique dégradé pattern on the dial – softly gliding from an icy blue to a rich ocean-like navy, much like an expedition vessel through the freezing waters of Antarctica.
More interesting, however, is replacing the customary dive watch insert on the bezel with a compass, which includes an unusual set of red and blue markers at 10:30, 1:30, 4:30, 7:30, and 6:00. These are, in fact, points of sail indicators that are used to help a ship find the optimal tacking direction during long distance sailing. Are you going to use it? Highly unlikely. But all the same it's a charming homage to the intrepid explorers who discovered Antarctica a little more than 200 years ago.
Good looks and an interesting story make this technical Delma dive watch an excellent curveball for your collection.
Bamford
George Bamford might have made a healthy living customising and modifying watches over the last 15 years, but in recent times his London-based Bamford outfit has focused on creating a series of increasingly impressive designs under its own brand.
The best bit of the Bamford website? Mucking around on the customiser page – coming up with your own colour combination for the Bamford Mayfair automatic watch. 
Our Selection: Bamford London GMT, £1,100

The London GMT, for my money, is the best Bamford yet. It features a lesser-spotted internal rotating bezel reminiscent of dive watches of the late 1960s within a cushion case – retro stylings that are offset by plenty of contemporary colour variations, including the slick combo of a gunmetal case and vertically brushed steel dial above.
Operated by an independent crown, the bezel is designed to be immune to any underwater knocks that might land a diver in a spot of bother, though in modern application this just makes for a particularly clean design.
That George Bamford's watches should have a keen eye for watch design should hardly be a surprise. As a passionate watch collector himself, he is forging a reputation for moulding Swiss watchmaking DNA into a value proposition. The London GMT is a perfect case in point.
Marloe Watch Co
There's a lot to like about young British brand Marloe Watch Co. 
For one, the brand's promise of creating "well-made, accessibly priced mechanical watches" is something that it has stuck to since it raised £179,194 on Kickstarter five years ago.
Inspired by a particularly British sense of adventure – soggy hikes through the moors and wind-buffeted days by the coast, you know the drill – Marloe's watches bring a hardy, masculine aesthetic to the, er, hardy and masculine man.
More than that, though, these are well-presented pieces at a great price point.
Our Selection: Marloe Morar Emerald, £449

For me, the Morar really tells Marloe's story perfectly. Drawing its influence from its namesake, Loch Morar, this robust dive watch features a charming bronze case and a sandy textured sea-green dial. I really see a vintage nautical theme here – eliciting images of rusty anchors, beaten-up fishing boats, and tankards of ale in the pub.
There's the pleasing presence of a bright lume – as you would expect on any half-decent diver – as well as a workhorse Miyota movement beating away under the hood. For less than £500, there's plenty here to like.
Ingersoll
Ingersoll might not be a household name, but it's a brand well worth putting on your radar. For one, it is one of the oldest American watchmakers, with a history that stretches further back than Rolex, and two it still makes super value watches today.
When Robert H Ingersoll and his brother Charles founded the Ingersoll Watch Company in 1892, the pair were considered pioneers of industry and invention in the field of watchmaking.
Originally based in New York City, each watch was initially produced by hand, but a chance meeting with Henry Ford led to Ingersoll developing one of the first production lines for pocket watches and wristwatches in the industry.
Much like Ford, the Ingersoll brothers followed a simple yet ambitious mission statement to create affordable watches for the public, without compromising on the quality of the product. Given the brand has been in continuous production since the company's inception, you'd have to say they've succeeded.
Our Selection: Ingersoll The Orville, £430

This eye-catching piece combines a two-tone 46mm case, with a contemporary skeleton dial to create something altogether different at this price point in the market.
The angular bezel and fluted crown protector lend a certain sportiness to this reassuringly chunky timepiece, while the slim hands and indices place all the attention on that showcase skeleton dial.
Ingersoll may have been creating watches for more than 200 years but you'd have to say it's still right there with the current trends.
This is a sports watch that's happy to stand out from the crowd.
Louis Erard
Louis Erard is one of the few Swiss watchmakers to focus its attentions on the value portion of the market.
Its timepieces come with all the watchmaking knowhow of a company that has existed since 1929 – usually in the guise of a particularly handsome classic design, ever-so slightly touched up for the modern wearer.
Better still, at the moment 15% of all Louis Erard online sales will be donated to the COVID-19 Solidarity Response Fund for the World Health Organization. So any new purchase will feel like you're going above and beyond during this nasty pandemic.
Our Selection: Louis Erard La Sportive

When I think of Louis Erard, I think of elegant dressy pieces – probably with a pearly white dial and blue hands. It's an aesthetic that has stood the test of time. What I don't necessarily think of is a sporty vintage chronograph with vibrant dial. But here we are: La Sportive.
There's plenty here to applaud – especially how the watchmaker has squeezed a ceramic bezel, titanium case and a particularly charming smoked dial (so called due to the graduated change of colour from the centre of the dial) onto a piece at this price point.
The ETA 7750 Valjoux automatic chronograph is renowned as being one of the most resilient calibres around, while also saving Louis Erard a few pennies on in-house movement production – a saving they can then pass onto you.
I wasn't expecting this launch from Louis Erard, but the more I study the collection the more I approve.
Braun
Braun is something of a curveball inclusion on this list, but it really shouldn't be: of course the German consumer product company makes good-looking watches. And it shouldn't be any surprise as to why.
One of the modern godfathers of minimalist design, Dieter Rams – he literally wrote the book on good design, entitled Ten Principles for Good Design – spent 40 years as the company's design director and in doing so made the company a household name.
Watches like the no-nonsense AW10 and AW50 were and still are (they've recently been reissued) the perfect tonic to some of the more fussy and intricate Swiss horology that we often feature on Square Mile's pages.
If you're looking for clean, functional and low profile in your timekeeping companion, you're probably looking for a Braun.
Our Selection: Braun The Classic Chronograph, £275

When you think 'less is more', you don't often think of a chronograph design. There's a reason for this: chronos usually carry with them the baggage of tradition, like a tachymeter used in motor racing to measure speed (less so these days…). The resulting watches sometimes feel needlessly cluttered on the dial, and generally speaking just not intuitive to use; heritage over substance, you might say.
In this case, I'd be inclined to agree with Braun's ethos that 'Less Is Better'. Its Classic Chronograph, which bagged the prestigious iF Design Award in 2019, is as clean as you're likely to ever see a chrono design.
I love that concave dial with the matte steel finish, especially alongside the banana-yellow chronograph hands. It feels every bit as industrial and stripped-back as you'd expect from Braun.
I also have a particular soft spot for the dinky red chevron date indicator – simply because it looks kind of like an analog version of the Calendar app on my phone.
Best of all, though, this is the kind of piece that you can imagine getting begrudged respect for wearing from design graduates in Shoreditch. Not that they'd tell you. They're too cool for that.