Choosing your next watch is far from an easy process. For starters, the choice can be overwhelming at times – and not just in terms of watchmaker, but the colour, the complication, the style… it's the most expensive sweetshop you've ever visited.
Then there's the small matter of what's actually beating at the heart of your new timepiece. Does a longer power reserve matter? (Not exactly, it's just handy.) Why are some watches so much more expensive than others? (Good rule of thumb: time is money. The longer a watchmaker has spent on a singular piece, the higher the intrinsic value.) Are they always worth the money? (Honestly, that's for you to decide.)
At Square Mile, we can't promise to make the decision any easier, but at the very least we can arm you with everything you need to know about this year's latest releases.
Better yet, we've divided the watches into the kind of categories you're likely to be interested in:
Without further ado, enjoy the best watches of 2020…
Heritage
"The heritage of the past is the seed that brings forth the harvest of the future" – reads the statue guarding the National Archives in Washington DC. It's not just a thoughtful quote, however, it's also a bang-on estimation for the longest-standing trend in horology.
The past continues to bear an abundance of fruit where new watch launches are concerned, and it shows little sign of slowing down. We're certainly not complaining.
Year on year, our favourite brands dig deep into their archives to breathe fresh life into iconic designs. For some, it offers clients a chance to get their hands on a legendary reference – one whose originals are well out of the reach of all but the deepest-pocketed collectors – for others, it's a chance to shine a light on a piece of history.
Get swept away in the romance of this year's latest forays back in time…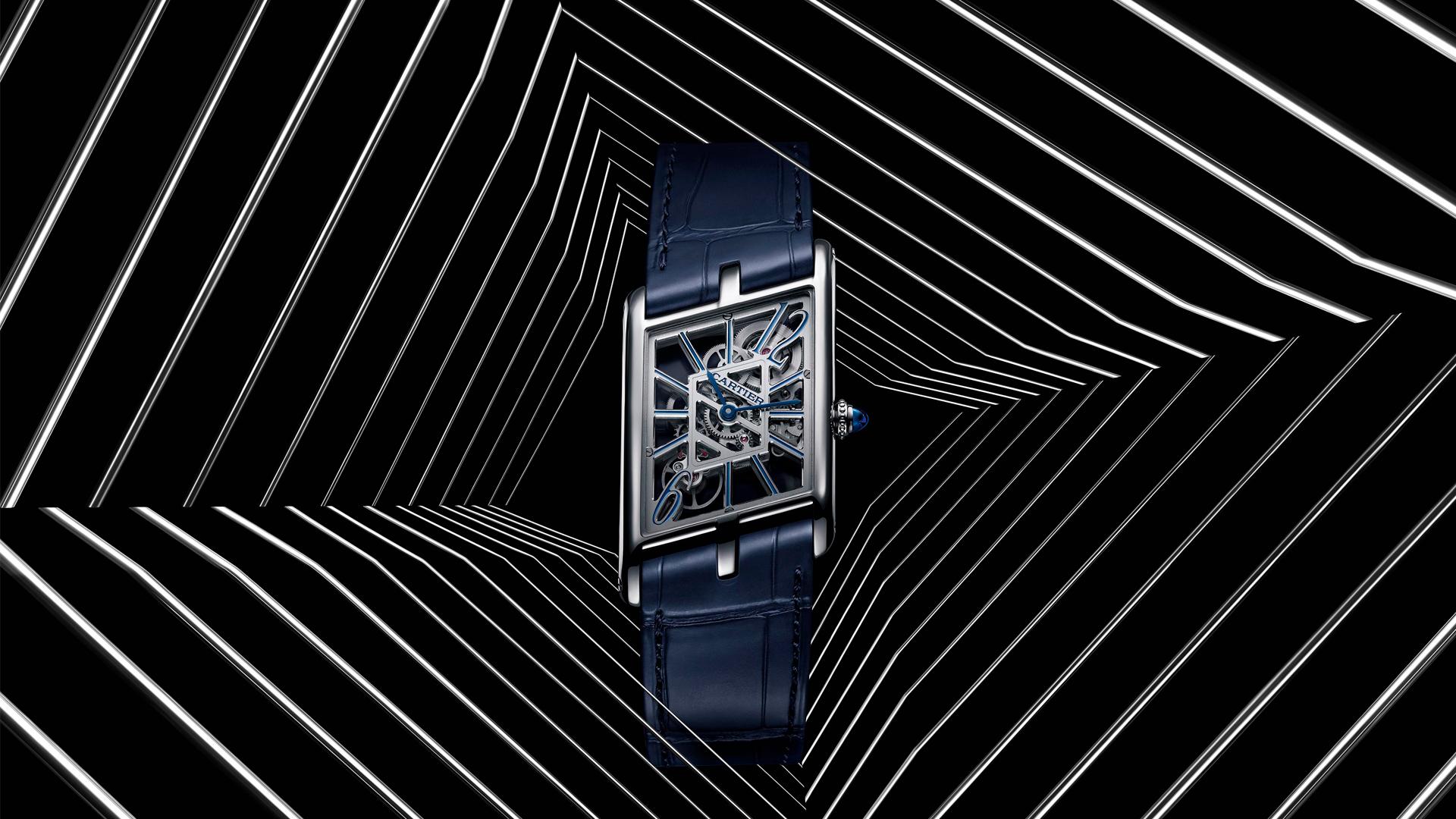 Cartier
Privé Tank Asymétrique Skeleton, CHF 68,500
Cartier has never been afraid to wander from the conventions of classic watchmaking. Maybe its status as a watchmaker-jeweller (or vice versa, depending on who you ask) brings with it a differing appreciation for aesthetics or perhaps it's a typically French devil-may-care attitude. But whatever the reason, its collection of timepieces is among the most eclectic and unusual in horology.
Whether it's the cushion-shaped Drive, the rectangular Tank, or the Dali-inspired Crash, Cartier is renowned for framing time in its own unique guise.
The Privé Collection sees Cartier showcase its most regarded designs in a series of limited-edition runs, and this year it has plucked the 1936 Tank Asymétrique from its substantial archives.
This cult classic features a rhombus-shaped case doubled up with a tilted dial – which looks especially striking on the skeletonised version [pictured]. Doubling up the movement bridges as indexes to read the time is a charming addition to this unorthodox classic.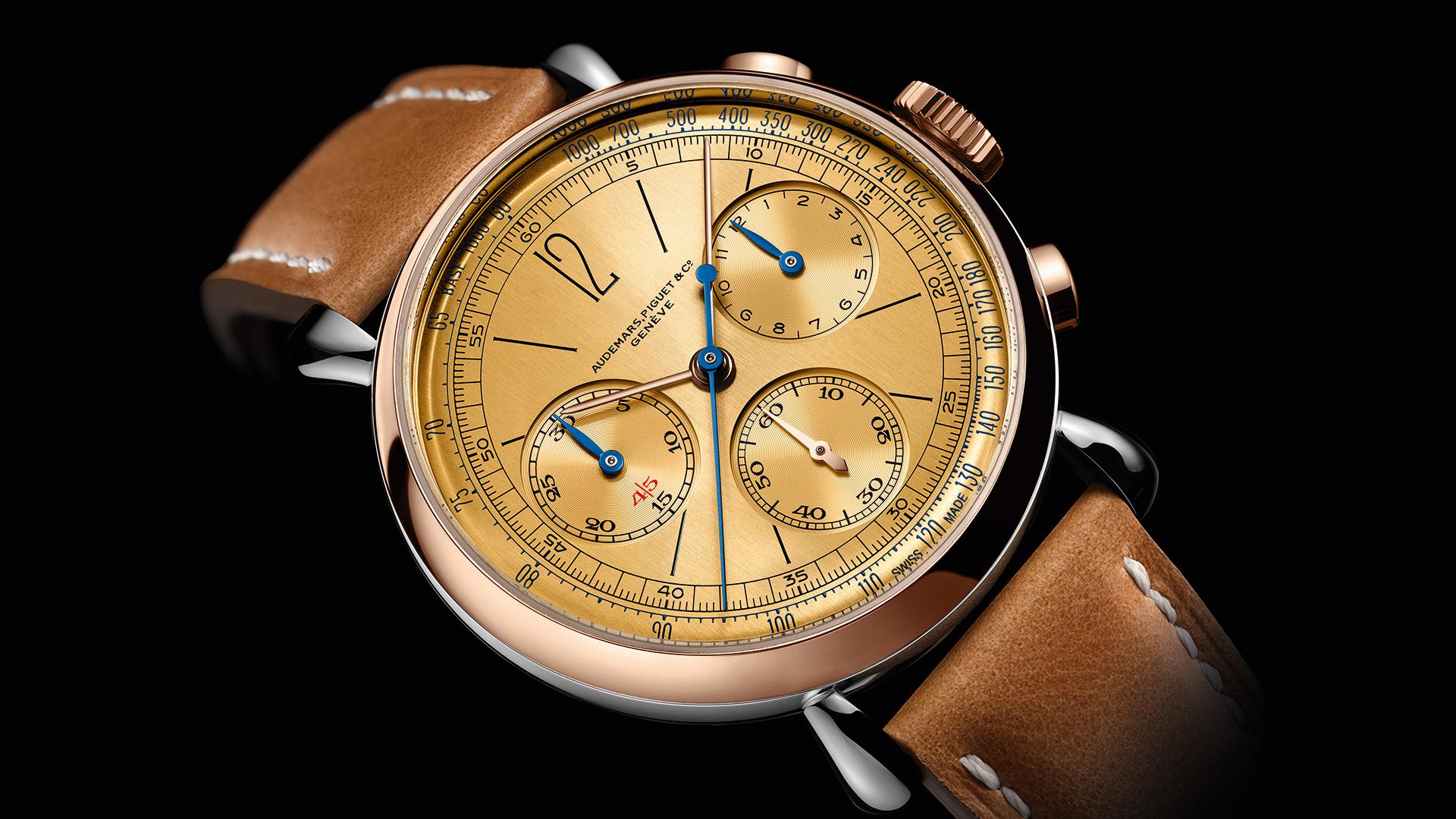 Audemars Piguet
[Re]master01, £51,800
Most watch people are plenty aware of the impact of Gerald Genta's game-changing 1972 Royal Oak design on the world of watches. But Audemars Piguet before its most famous creation? That's a story frequently neglected.
The brand has certainly brought that to our attention with the [Re]master01 – an homage to one of its classic chronographs from 1943.
Back then, the company was famed as a dress watch maker, specialising in haute horlogerie. In fact, until 1951 all Audemars Piguet watches were manufactured only on request. The [Re]master01 takes us back to those heady days with this feast of technical detail and aesthetic beauty.
The case shape is a voluptuous duo of that pebble-like rounded case and the teardrop lugs, characteristic of timepieces of the 1940s. The most exciting detail if you're a proper nerd? The old-school 'Audemars, Piguet & Co / Genève' logo. It's vintage with a capital V.
As AP's head of complications Michael Friedman explains, "This is not a historic reissue – it is a contemporary remastering of one of our past creations."
It's limited to just 500 pieces – still, better than only one.
Got a minute? Read our full review here.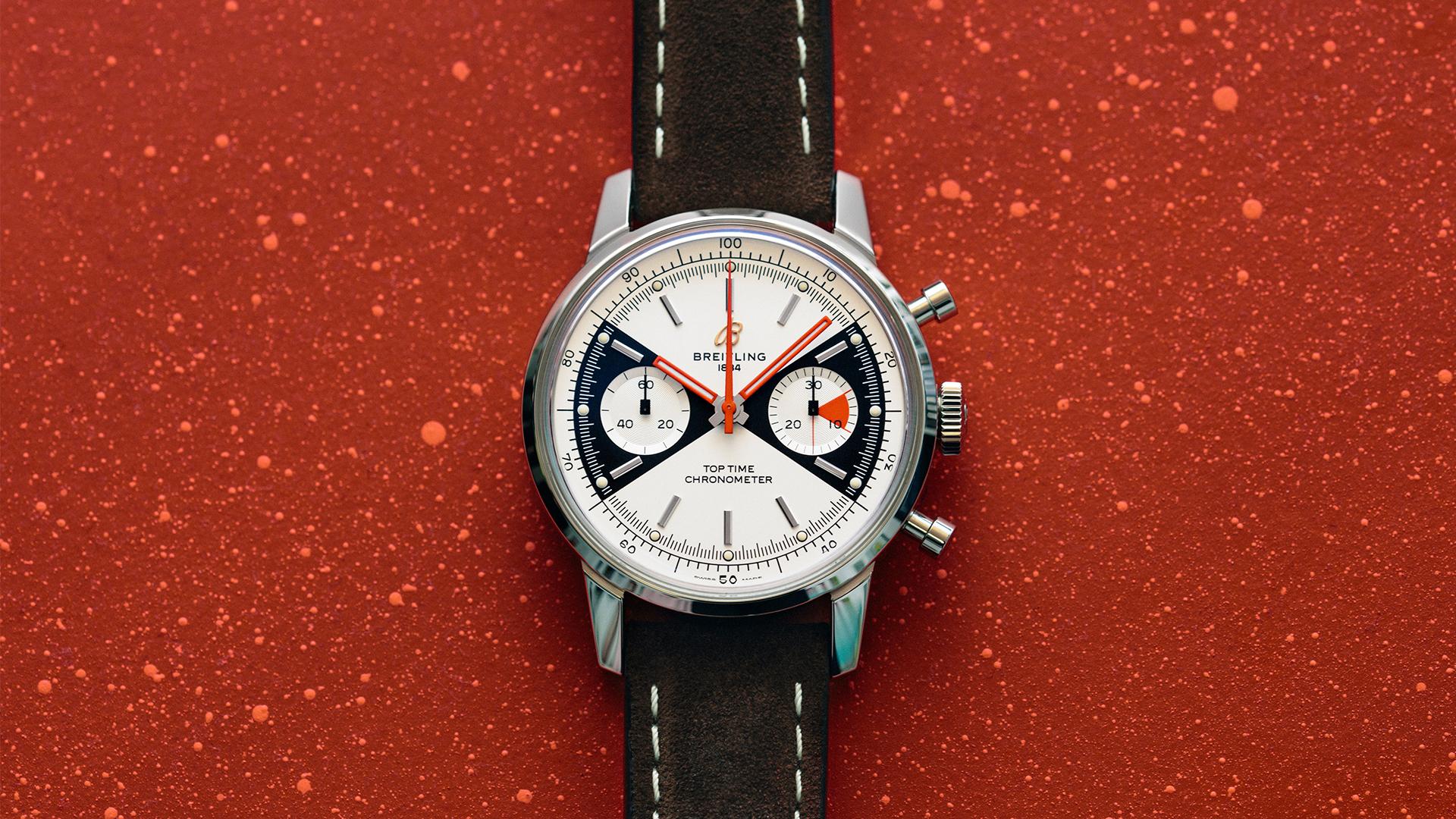 Breitling
Top Time, £4,100
The original Top Time was released in 1964 – 12 years after the world was introduced to Breitling's first Navitimer – as a tactical sidestep away from utilitarian pilot's timepieces towards a more broadly appealing watch style.
At the launch, Willy Breitling (grandson of the brand's founder, Léon Breitling) announced with great excitement that the Top Time was an "ultramodern chronograph… particularly suited to the needs of young and active professionals" – a view that was later cemented when an early model found its way onto the wrist of James Bond in Thunderball.
Owners may not have enjoyed the geiger counter secretly hidden in 007's version, but they did have access to a clean and sporty two-register chronograph. Affectionately known as either the "Zorro" dial or the "bowtie", it is this version of the Top Time that Breitling has brought back to life.
In the new version, the tachymetre scale around the outer chapter ring has been replaced with a decimal scale. This was an inspired move as it declutters the dial, while still offering a welcome nod to vintage chronographs.
Hats off, Breitling, you've done it again.
Got a minute? Read our full review here.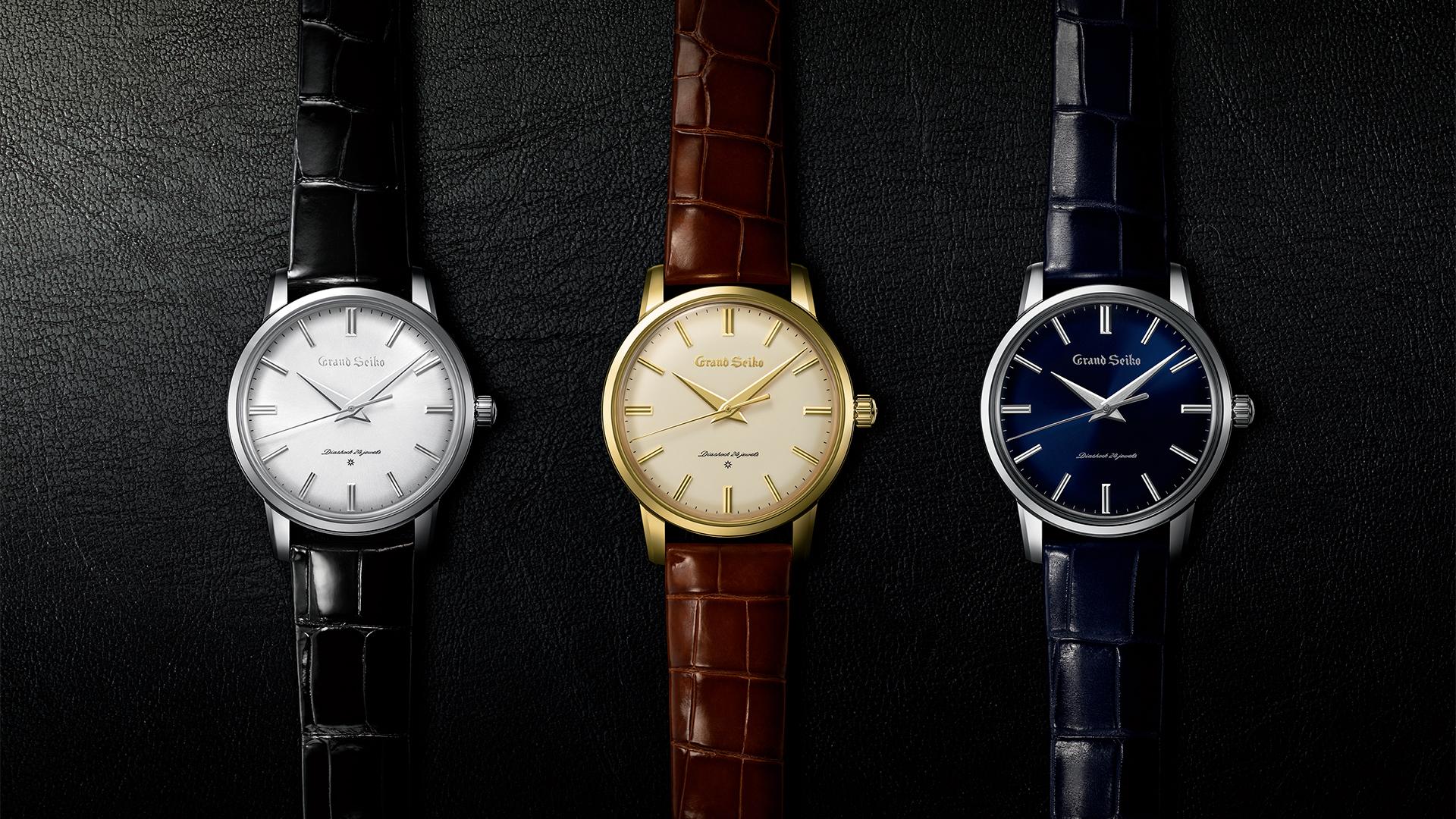 Grand Seiko
Elegance 1960, from £7,150
Grand Seiko may have finally found its way onto the radar of the everyday watch enthusiast, but it still holds its title as a cult watchmaker for a reason: at this price point, you're unlikely to get higher quality horology anywhere else.
Sixty years ago, the first GS timepieces found their way onto wrists as a subdivision of the great Seiko monolith – its purpose being to craft superior watches using the very best skill and knowhow. Much has changed since those days, not least Grand Seiko splintering into a fully fledged brand in 2017, but the watches have continued to deliver the same austere elegance and immaculate attention to detail.
In the year of its big 60th birthday, Grand Seiko has released a trio of drool-worthy timepieces (in platinum, yellow gold, and steel) inspired by the brand's early watches. They are, in a shock to no one, an absolute treat.
The purist design added with a hand-wound Grand Seiko movement is about as much as we could ask for – especially finished in classic yellow gold.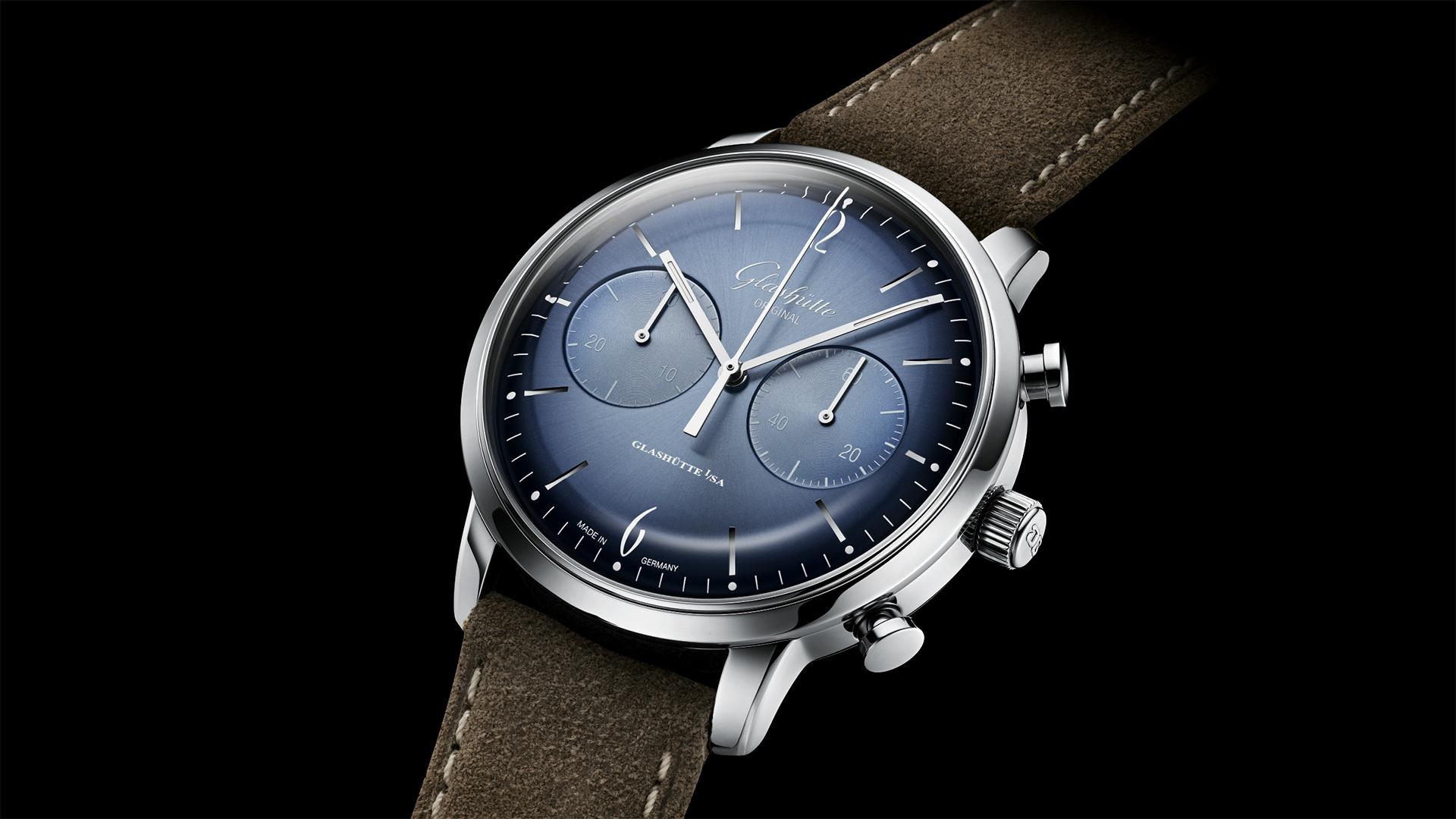 Glashütte Original
Sixties Chronograph, £7,000
German manufacturer Glashütte Original is a serious watch brand – in the same way that a black suit, or a Volvo, or a mortgage is serious. Its timepieces are truly fantastic examples of precise watchmaking and immensely practical designs, but they are very much grown-up watches, for grown ups. Now tuck your shirt in, junior.
It's for this reason that its Sixties collection puts a broad smile on our face – these splashes of vibrant colour, inspired by its 1960s watch designs, feel like the Saxon brand's moment to kick off its shoes and let loose a little.
The bold colours are created in Glashütte's own dial factory in Pforzheim where first a sunray pattern is embossed on the dial and then pressed into its domed shape, before two separate coats of lacquer are applied to create the graduating colour effect.
This year's cool shade of glacier blue is one of the strongest colourways yet – especially when combined with the brand's underrated chronograph design.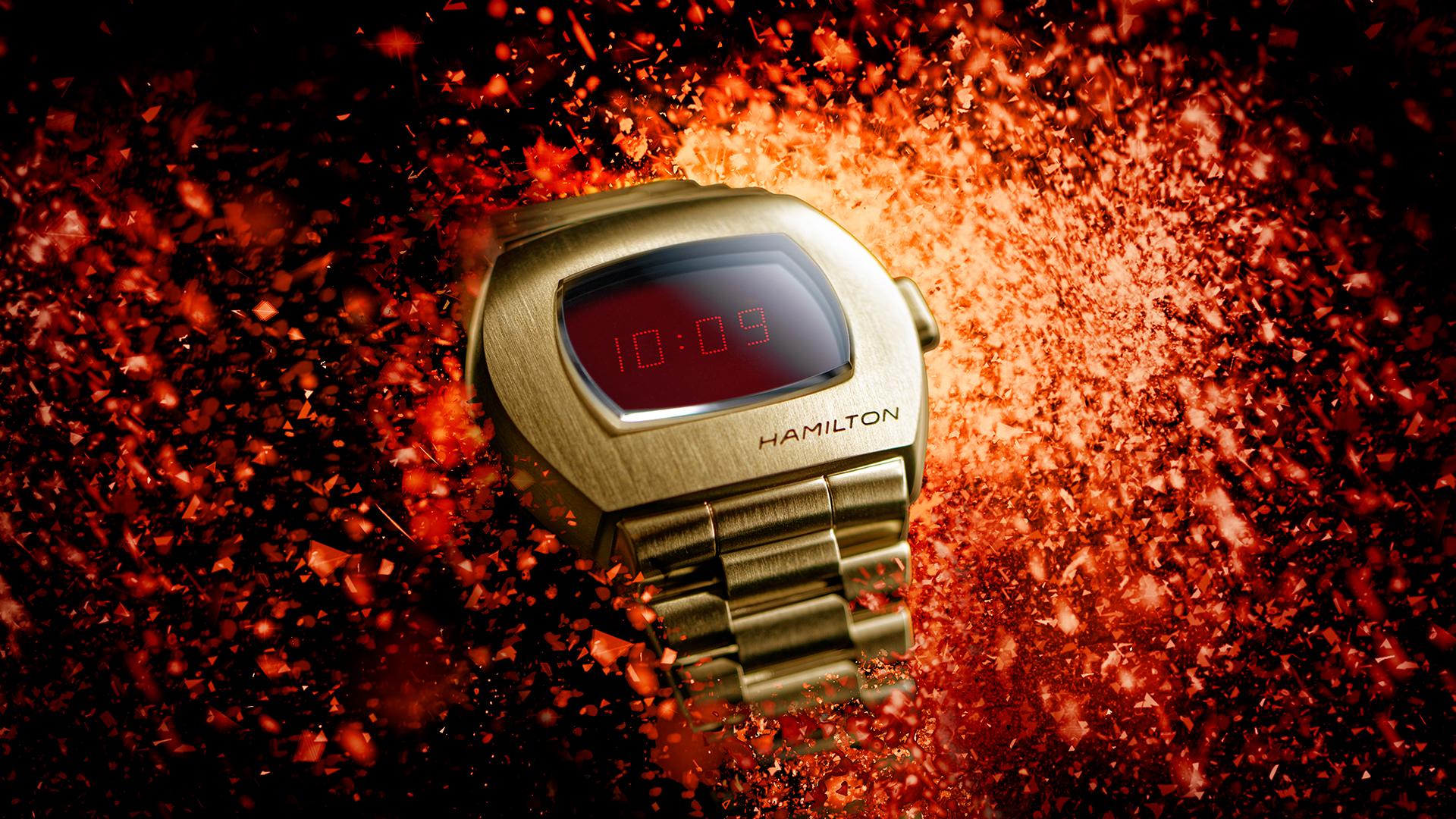 Hamilton
PSR, from £675
You may be aware of the Hamilton Pulsar Time Computer for one of several reasons. First created in 1970, it was the world's first electronic digital watch – and the first timepiece to employ an LED display.
More than being just revolutionary, it was also eye-wateringly expensive; retailing at a higher price than a Rolex.
It also found its cinematic debut on Bond's wrist in Live And Let Die.
The new PSR makes a few modern concessions, rather than staying wholly true to the original. Unlike the Pulsar, it boasts a hybrid display: reflective LCDs ensure the dial remains readable during daylight hours, while operating the push button activates an OLED display that is the spitting image of the iconic scarlet pop of red on the original.
There's also a new anti reflective-coated sapphire crystal, and a 100m water-resistance rating for further convenience.
It's limited to 1,970 pieces in yellow-gold PVD for £900 or non-limited steel for £675.
Got a minute? Read our full review here.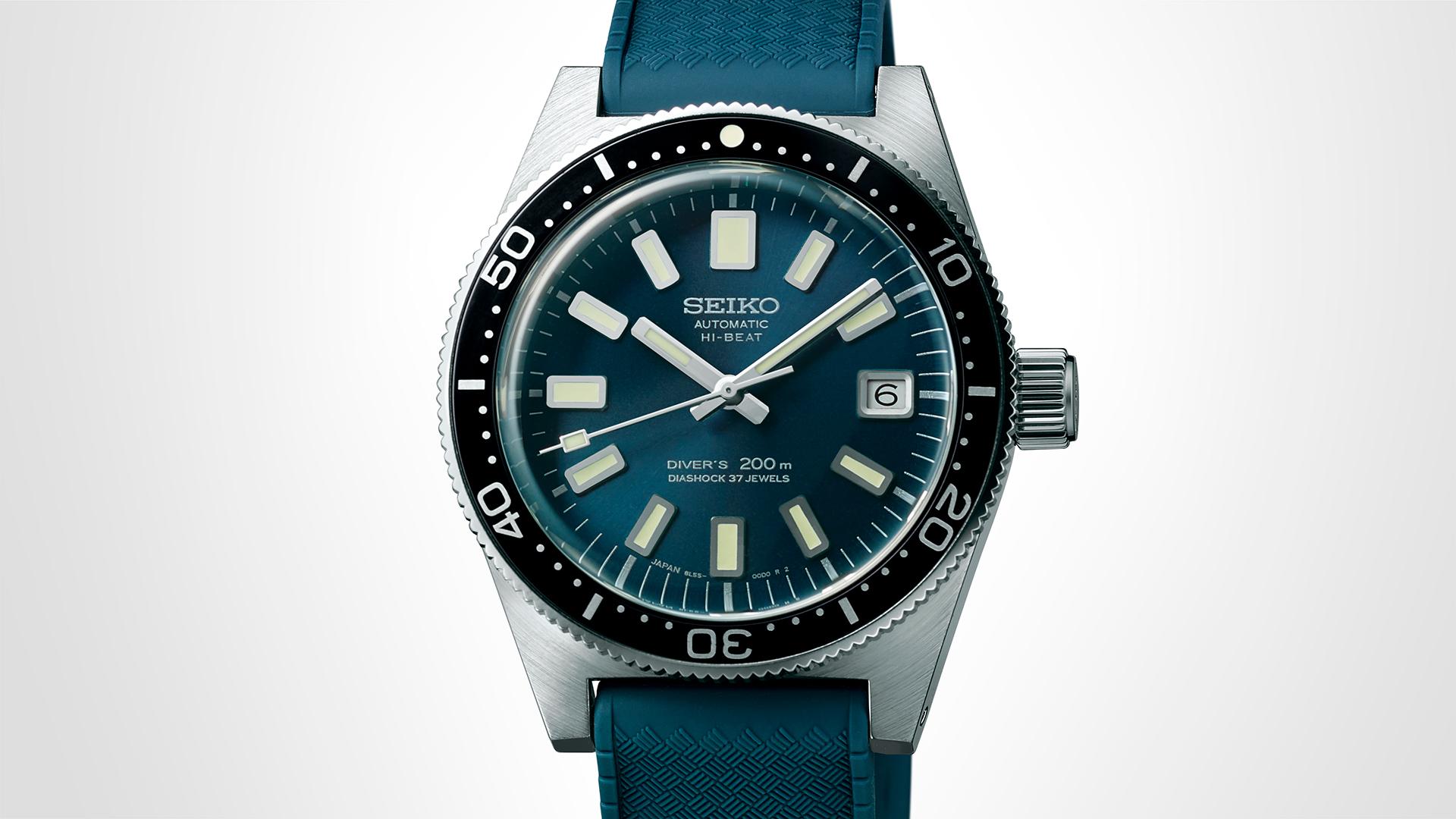 Seiko
The 1965 Diver's Re-creation, £5,600
Seiko and diving go together like good food and wine; one is slightly diminished in the other's absence. The brand's marine association stretches back 55 years to 1965 when Seiko gave Japan its first dive watch.
Then, as is the case now, its divers excelled at simply doing the job without frills and more importantly without a substantial price tag: who'd have thought such a simple ethos would catch on?
To celebrate this rich history, Seiko is introducing three commemorative models – each featuring a gorgeous ocean-blue dial – that represent an important evolutionary step in its dive watch collection. That includes the distinguishable 'Tuna Can' of 1975 and the technical 1968 reference 6159-7001 (not as catchy, but memorable for being Seiko's first professional-grade diver), as well as the original Seiko dive watch and our personal favourite, the 1965 '62MAS', pictured here.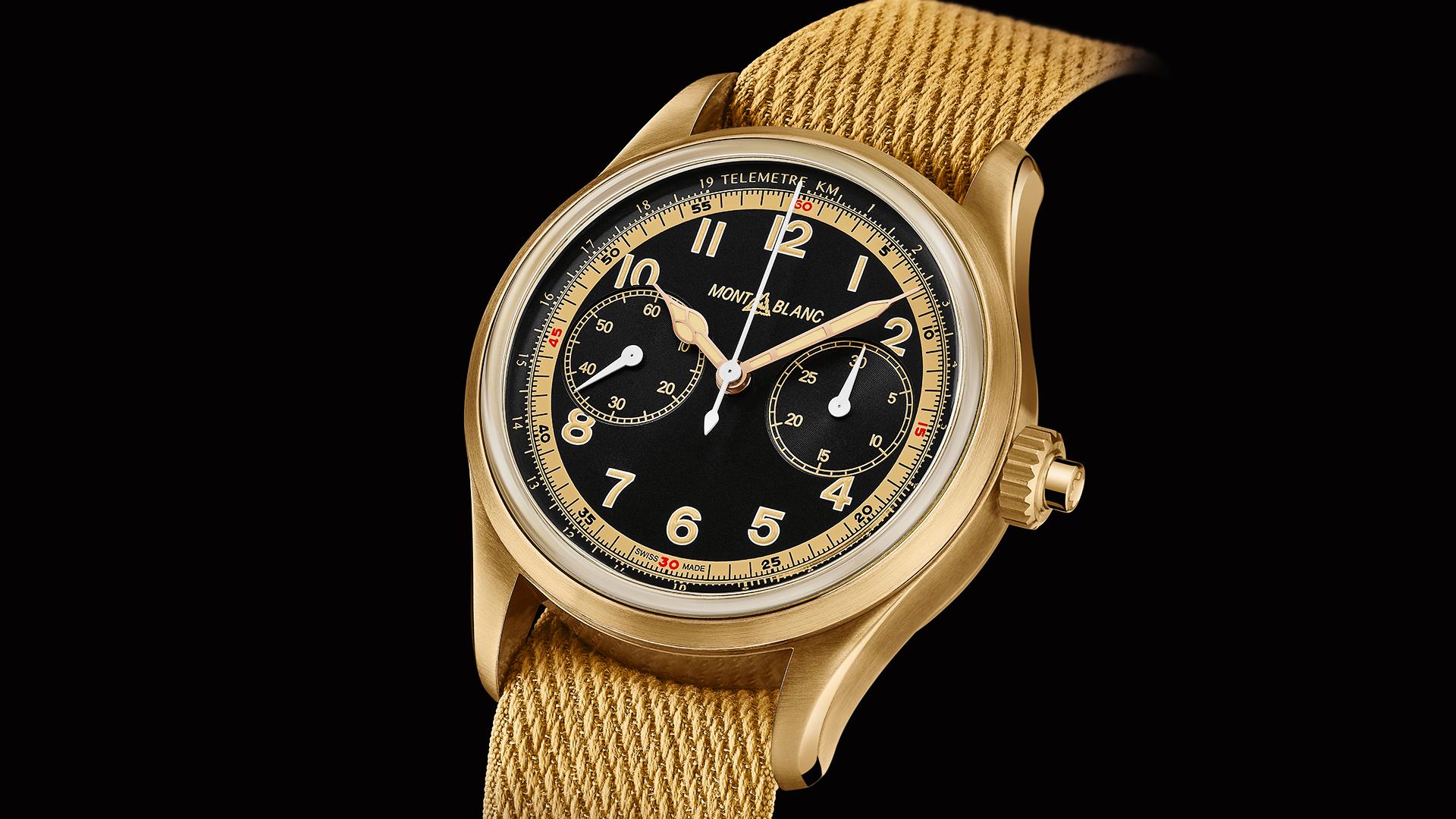 Montblanc
1858 Monopusher Chronograph, from £4,200
Back in 2017, Montblanc first introduced its 1858 collection – inspired by chronograph specialists Minerva whom it acquired in 2007 – with the limited-edition Montblanc 1858 Chronograph Tachymetre. This bronze-hued monopusher was dripping in vintage charm, but its £25k+ price point was less appealing to most.
Fast forward a few years and it appears the brand has answered our calls with a much more accessible monopusher that shares plenty with its forebear. There's the cathedral hands, sepia-tinged stylings, and the monopusher formatting; it really is a pretty thing.
Why so much cheaper? The 2017 model featured a sumptuous but costly manual-wind column-wheel chronograph movement created by Minerva, while this new watch uses the workhorse Sellita SW500. It's a worthy compromise to get our hands on this old-school beauty.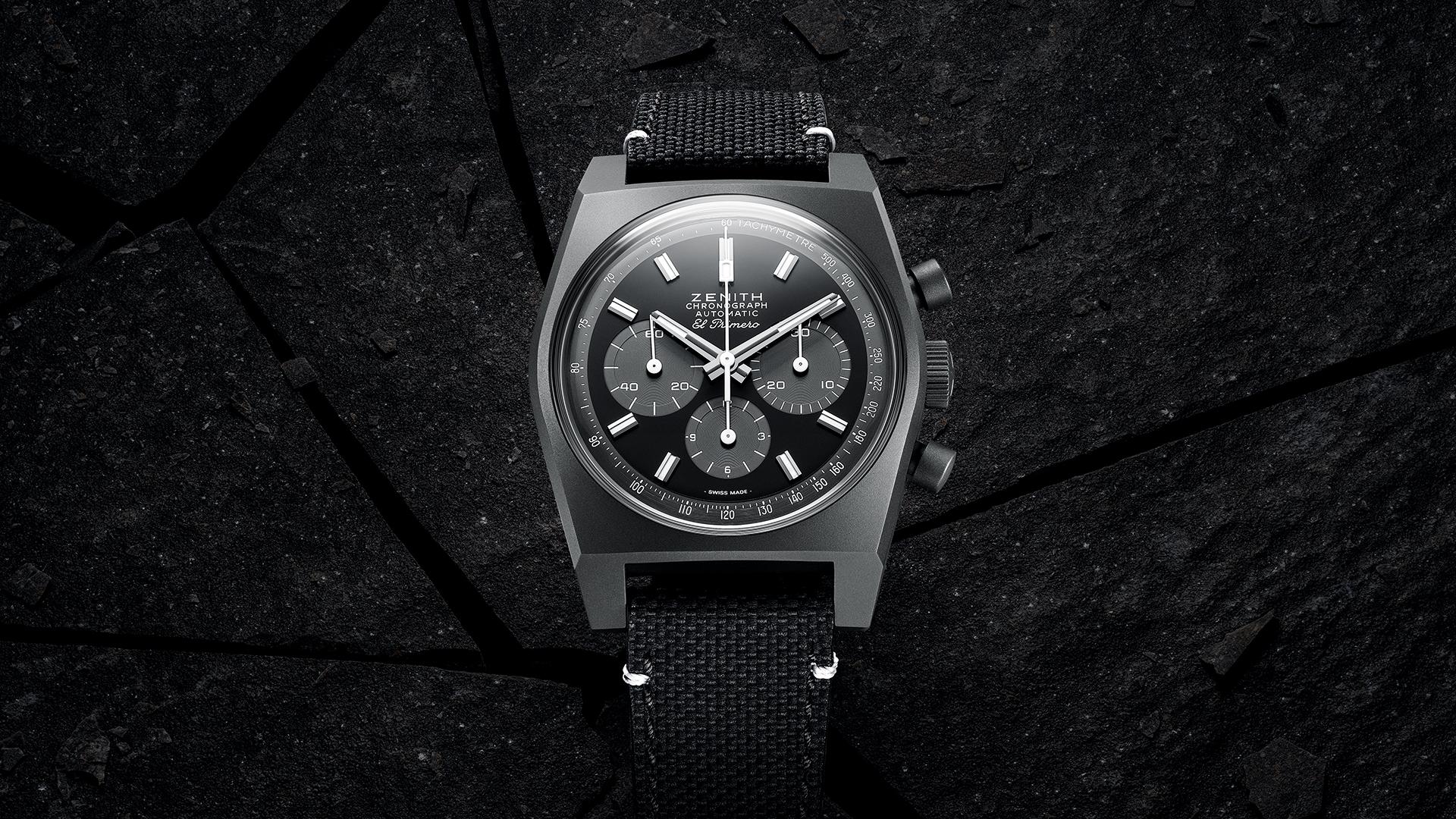 Zenith
Chronomaster Revival Shadow, £6,900 
Shadow is a great name. Shadow is the long-haired biker dude you've always feared would knock on your door to take your first born on a date. He's got tattoos, a brooding disposition, and a massive… Samurai sword collection. You hate Shadow, but a part of you has always wanted to be Shadow. Well, now's your chance. Strap on this murdered-out version of Zenith's A384 El Primero chronograph and you'll jump several steps higher up the 'cool' scale.
Secretly, you can also be proud of the watchmaking history now on your wrist: back in 1969, the A384 was one of a trilogy of watches to first utilise one of the best and most accurate chronograph movements ever made, the El Primero.
This stealthy monochrome version is actually inspired by a blackened steel prototype that never made it into commercial production.
Just don't go all watch geek on your date, dweeb. Play it cool – can you do that, Shadow?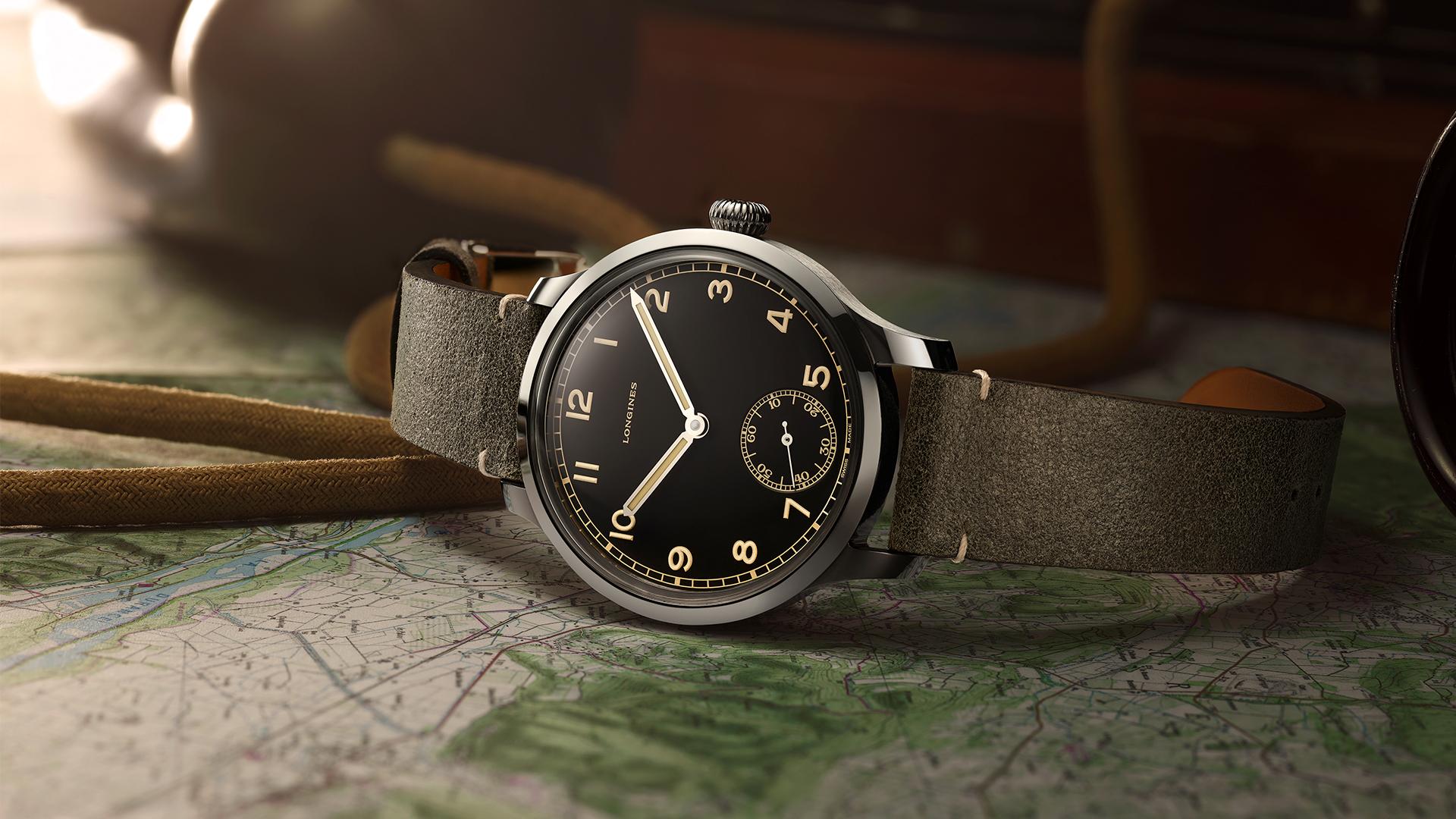 Longines
Heritage Military 1938, £2,020
It shouldn't be any surprise that one of the world's oldest registered watch brands is also one of the best at shining a light on its illustrious history. Founded in 1832, Longines has lived through more watchmaking eras than most – including World War II.
The Heritage Military 1938 is a typical wartime watch in its design: large lume-coated numerals contrast against the sparse black dial, while a small seconds counter and railroad track chapter ring create maximum legibility in the trenches.
This is a practical beater that was designed to withstand even the roughest of environments. Indeed, by 1945 the Ministry of Defence had issued British army personnel with a very similar watch created by one of 12 partner Swiss watchmakers (Longines included) now known as the Dirty Dozen.
Though the design is from 1938, modern concessions including a sapphire crystal, a dapper NATO strap (first created in the 70s, but perfectly suited to the military style), and a Longines-modified ETA movement with a 53-hour power reserve bring this watch into the present day.
If it's good enough for the army, it'll get you to work on time, private.
Grail
The Holy Grail has existed as an elusive object of alluring mystical properties since long before the first wristwatch was invented, yet even in modern culture it's a persistent symbol for something desired above all else – along with the quest to find it.
What constitutes a grail watch differs from person to person: it might simply be a timepiece out of your wallet's reach, or a rare vintage that appears mirage-like on auction lists only to disappear in an instant, or an improbably complicated watch capable of stopping time itself (maybe…). What matters is that it stirs something in you that precious else does.
Here are three stunning grail picks from this year's new releases.
Read 'em and weep.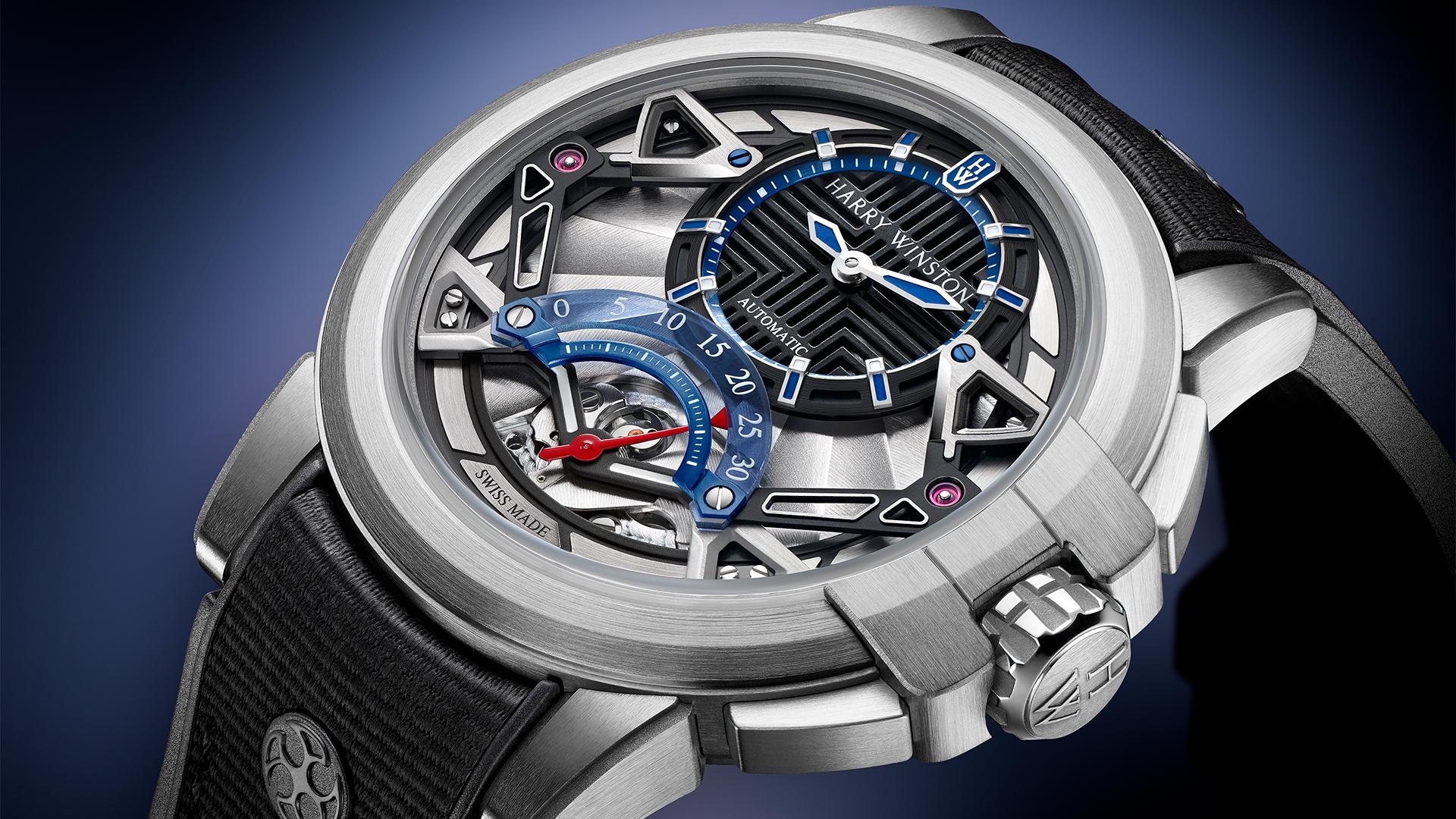 Harry Winston
Project Z14, £POA
Harry Winston is not a brand that releases its men's watches with the prolific regularity of some rival manufacturers, but its ethos of quality over quantity means that it's always worth keeping an eye out for its next timepiece.
It should come as no surprise, then, that the brand's latest watch, the new Project Z14, means business. Harry Winston's Project Z has created a number of unique ways of displaying popular watch complications since the collection's debut in 2004. We've seen alarm, chronograph, big date, and moonphase complications all presented in an avantgarde, steampunk-like design quite unlike anything else on the market.
The Z14 features an old-school retrograde seconds complication in addition to this unusual three-dimensional structured dial. The finally piece of the jigsaw? The watch case is constructed of the super-durable zirconium-aluminium alloy Zalium – the 'Z' in Project Z.
The confluence of old-school horology and modern presentation has always been the trademark of Project Z; the Z14 is no different.
Got a minute? Read our full review here.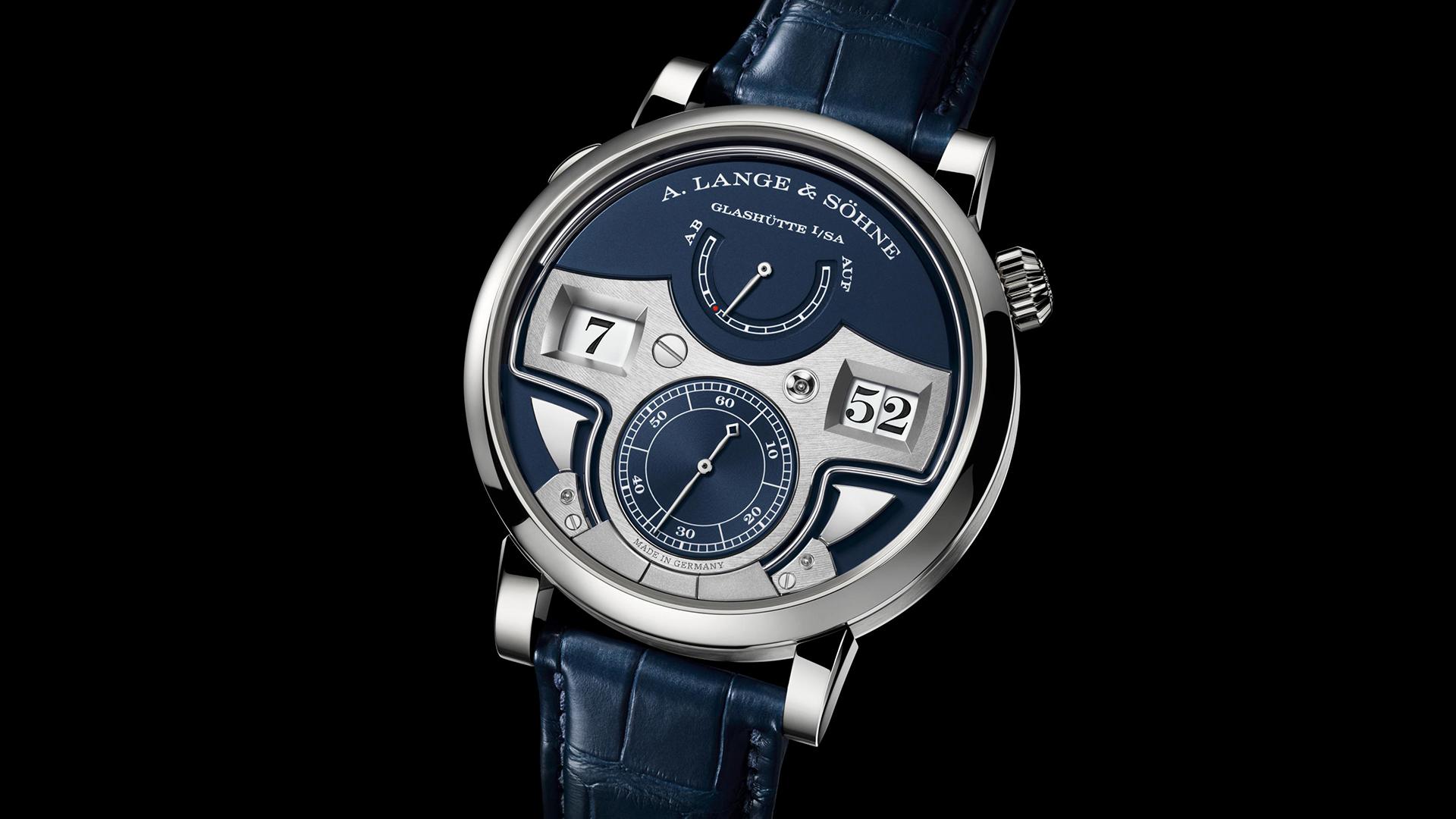 A lange & Söhne
Zeitwerk Minute Repeater, €449,000
The 2009 release of the Zeitwerk was a watershed moment for A Lange & Söhne. The watchmaker had always been respected for its selection of wonderfully dressed yet rigidly Germanic timepieces, but this departure from Lange's usual design blueprint opened it up to a completely new customer base.
The Zeitwerk is a mechanical digital watch that displays the jumping hour and minutes display in a particularly slick guise. Both the two apertures and additional seconds register are housed within a 'time bridge', which creates a pleasingly architectural aesthetic that is much more contemporary in comparison to other Lange watches. Honestly, forget the technical ingenuity for a moment, this is just a cool-looking watch.
This year's edition goes one step further by featuring a minute repeater complication. Unlike other striking watches, it chimes out hours, ten minute increments, and then minutes instead of the usual quarter-hours in the middle. Swoon.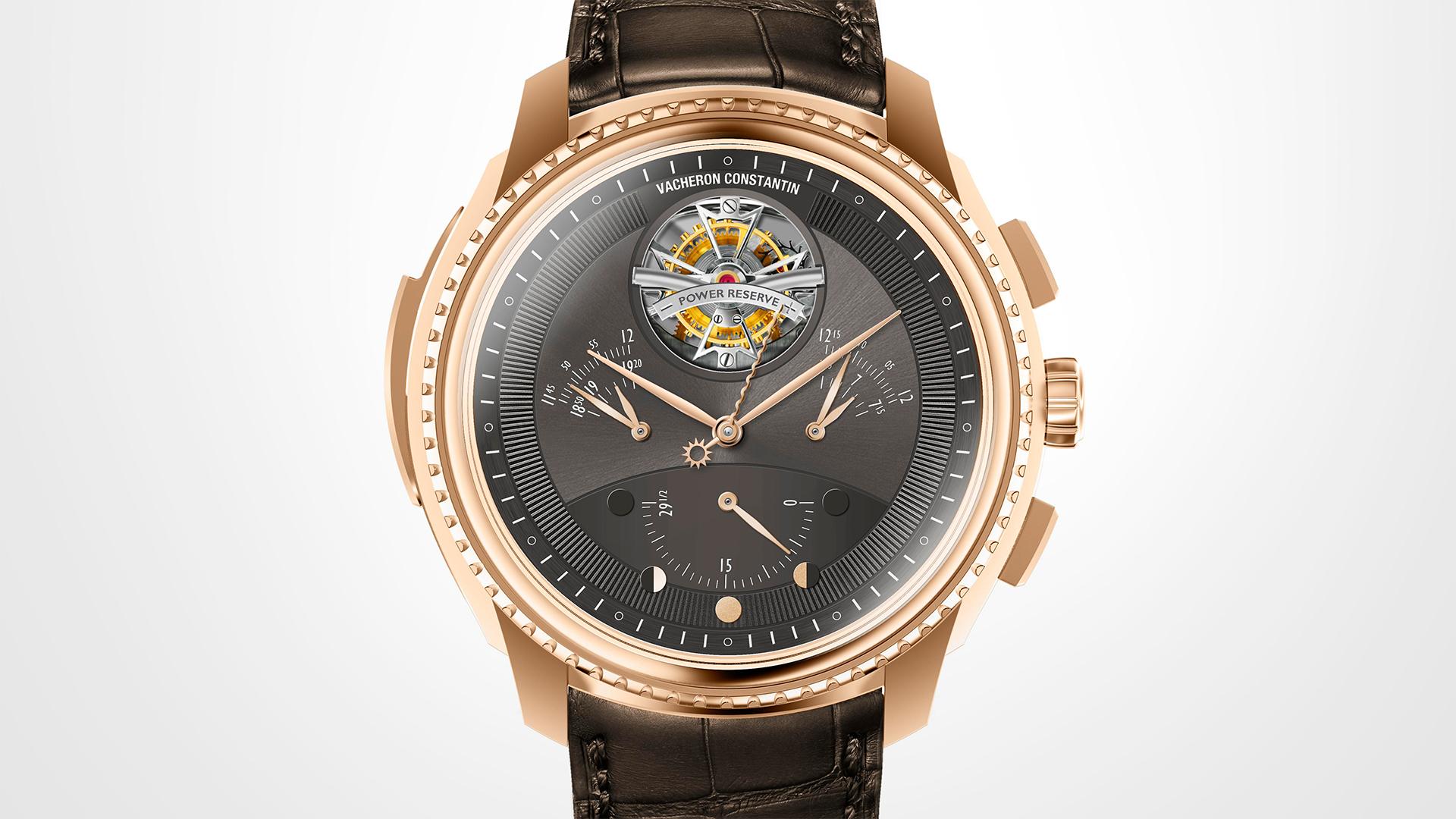 Vacheron Constantin
Les Cabinotiers Grand Complication Split-Seconds Chronograph Tempo, £POA  
All of Vacheron's Les Cabinotiers watches are bespoke grand complications.
This latest example is the horological equivalent of someone looking at an a la carte menu and saying, "Yes, I think I'll have the lot."
If it didn't sound so Homebase, we'd term this "kitchen sink" horology, insofar as this watch has the lot, plus the bells and whistles.
The watch is double sided in order to display its total of 24 complications. The potted highlights include: a perpetual calendar, split-seconds chronograph, tourbillon regulator, astronomical indications, and a minute repeater. Gulp.
The watch is a hefty 50mm x 21mm in terms of size and depth, but nobody buying this watch is doing so for its immense wearability.
Our favourite touch? The Tempo (for short) is fitted with a quick strap system that allows you to efficiently switch which dial is on display.
This might just be our new favourite piece of maximalist luxury.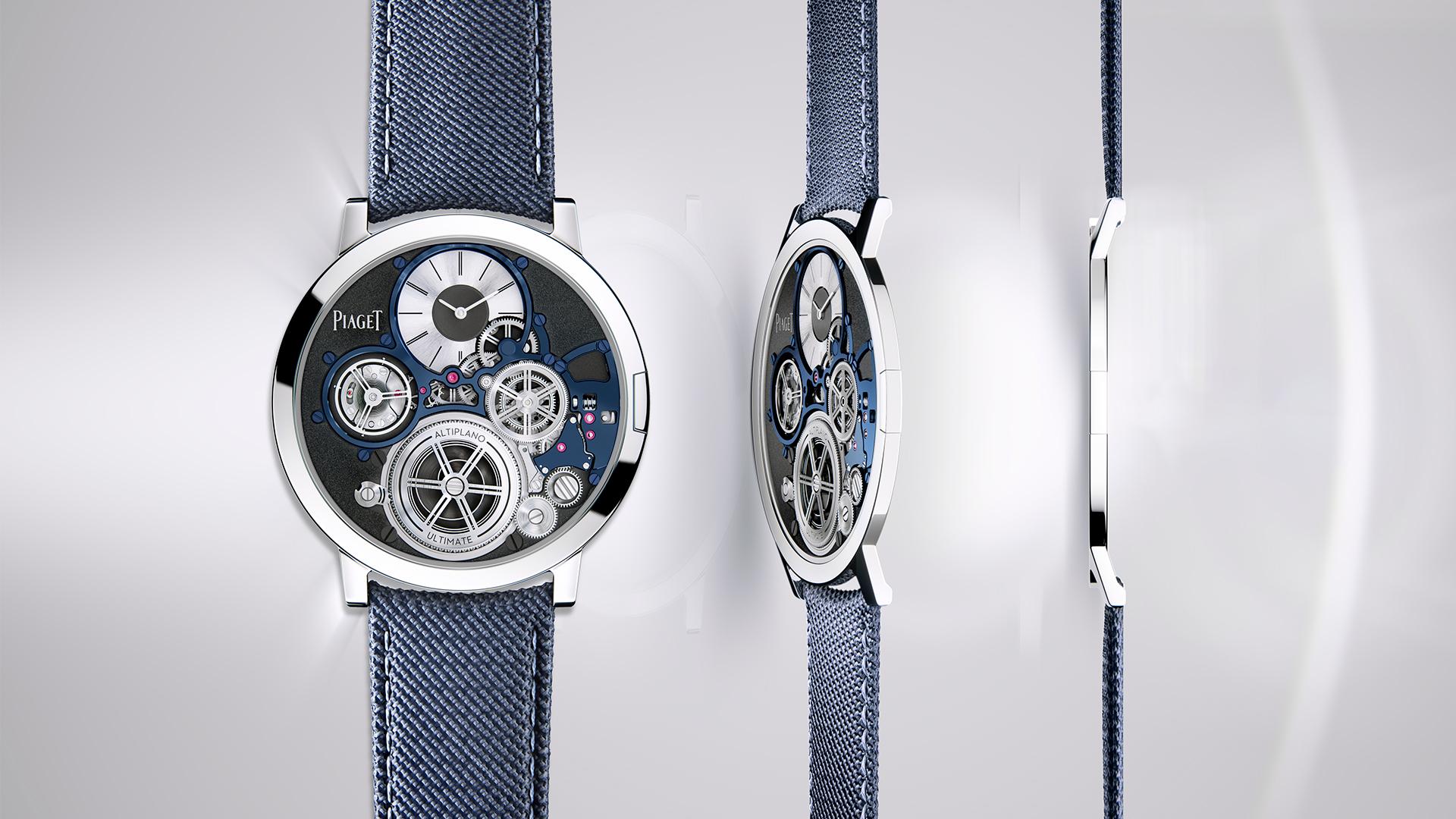 Piaget
Altiplano Ultimate Concept, £POA
Concepts rarely make it into full production. They're interesting thought exercises, tease an unrealistic vision of the future (think of those space-age car concepts), and then slip quickly into the ether.
Back in 2018, Piaget's Altiplano Ultimate Concept was all the rage on the watch circuit: the thinnest mechanical watch ever made, this marvel of horology clocked in at a barely perceptible 2mm thick – for comparison, that's marginally thinner than a two-pence piece. Very few watches move the needle in terms of innovation but, as ultra-thin watchmaking goes, this felt like a big step.
Hand on heart, we didn't expect to hear about this watch again, but just two years later Piaget has rolled out a full production model of the Altiplano Ultimate Concept. Along with the bragging rights for owning this world-record holder, you can specify your choice of colours for all sorts of bits and pieces – so much so, Piaget claims there are there are more than 10,000 possible permutations.
Genuinely, we didn't see this one coming…
Sports
"Don't be ridiculous, Geoff, you can't wear your sports watch for actual sport. You must be mad! Do you wear a sports jacket on the golf course? No, exactly. So, you don't need to wear your Royal Oak for five-a-side, mate."
The sports watch may be the most vague term in horology, but as a style it is one of the most popular on the market. Distinguished by its eminently durable, legible, shock- and waterproof characteristics, it is the perfect timepiece for daily wear; something that can take the odd knock and ding, without compromising the overall aesthetic. Think of it as the sneaker of the watch world – or the ultimate all-rounder.
Check out this year's latest and greatest sports watches… Just don't wear them for exercise.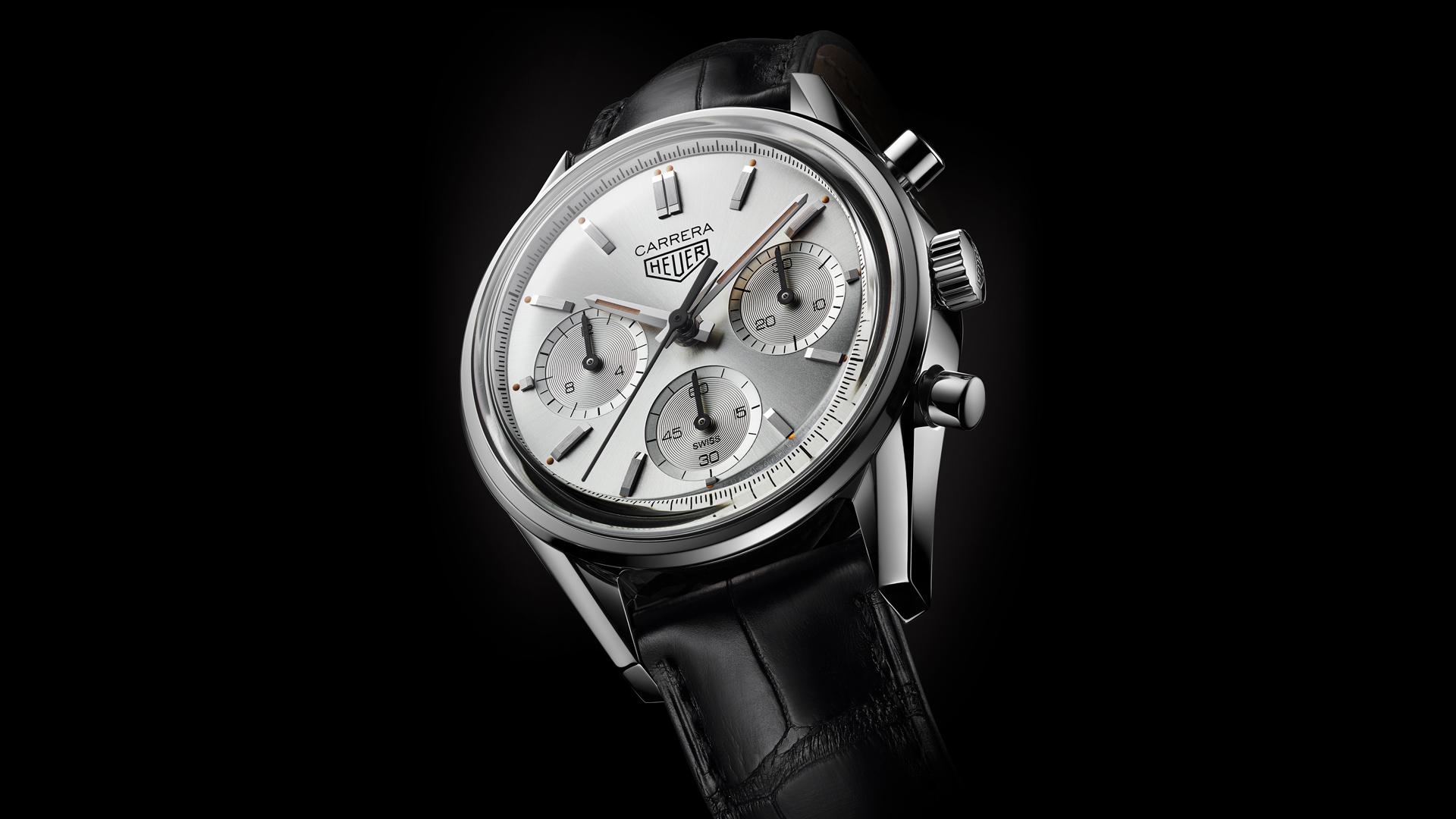 Tag Heuer
Carrera 160 Years Silver Limited Edition, £5,250
In Tag Heuer's 160-year history, you could make a fine case for the Carrera being its greatest achievement. The design, the history, the racing association: it has that all-important cocktail that stands the test of time, and leaves collectors clambering for coveted early references.
The story goes that Jack Heuer was so taken with the deadly Carrera Panamericana race in Mexico that he resolved to dedicate a watch to the event before it was even designed. In 1964, the Carrera had a watch to go with its name.
Two variants kickstarted the icon, the 2447N (noir) and 2447S (silver) – it's the latter to which Tag has given the spit-and-polish treatment for its anniversary year.
The tribute model keeps all the shiny monochromatic charm of its original while making a couple of discrete adjustments for modern tastes. There's an engine change, too, in the form of the excellent Heuer 02 column-wheel chronograph.
It's a racy watch you can't help admire.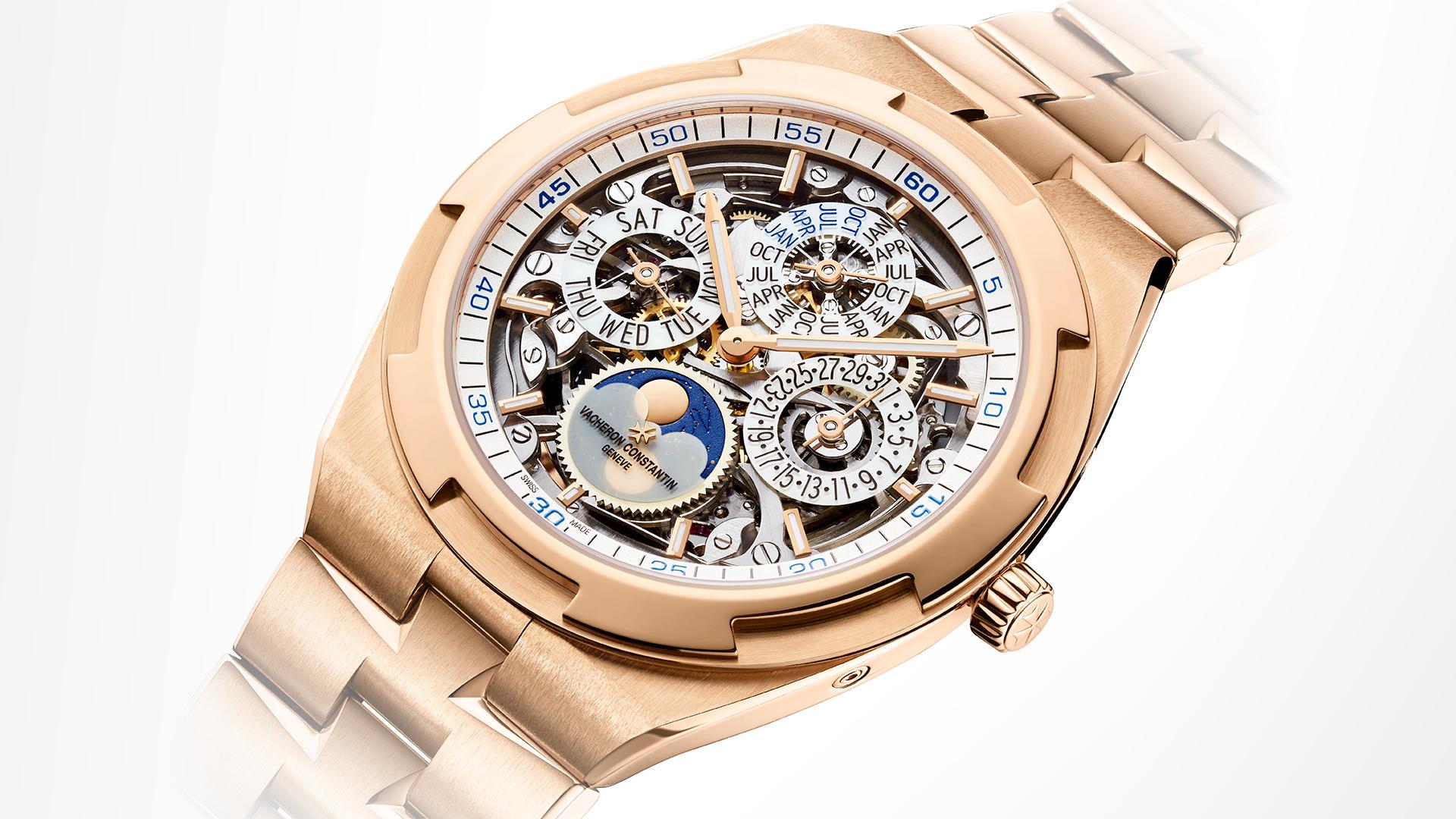 Vacheron Constantin
Overseas Perpetual Calendar Ultra-Thin Skeleton, £121,000
If you ask us, the Overseas collection doesn't get half as much of the appreciation it deserves. Not only is the case every bit as handsome as a Nautilus or a Royal Oak, but it also boasts Vacheron Constantin's particularly astute approach to integrating high complication into ever-elegant approach to design.
The Overseas Perpetual Calendar Ultra-Thin Skeleton is everything great about modern Vacheron: it's high watchmaking somehow delicately balanced inside a sporty modern facade (it is just a facade, though, because this is clearly not a piece you're going to wear playing rugby or what have you).
Vacheron Constantin is also one of the rare manufactures capable of openworking calibres as complex as perpetual calendars or ultra-thin movements. To put both into skeletonised form is quite the work of horological art.
Like all models in the Overseas collection, it benefits from the simple bracelet/strap interchangeability system. Pair it with its stylish rubber strap or the Maltese Cross-style bracelet – one of our favourites in the sports watch category – and it certainly takes on a very different character.
It's the Overseas' weekend party trick.

IWC
Portugieser Yacht Club Moon & Tide, £30,800
The yacht club might be the perfect location for 'sports chic' attire – a light unstructured blazer, a sandy pair of chinos, maybe even a panama hat. With that in mind, it's no wonder back in 1967 IWC dedicated a sports watch to this arena.
Since 2010, the Yacht Club has existed as a member of the Portugieser collection. Born in 1939 out of request from two Portuguese navigators for a marine chronometer in a wristwatch format, the Portugieser only cements the Yacht Club's sea legs – and that's before we get to the new family addition.
The Yacht Club Moon & Tide bundles these nautical inspirations into a rose gold case and sunburst blue dial, with a tide indicator for good measure.
IWC has modified the double moonphase often found on its perpetual calendars to display spring and neap tides – therefore providing information about the strength of the current tide. Spring tides (which bring high water) occur at a full moon and new moon; track the moon, and you'll know the current tide, simple. At six o'clock, a second indicator displays the height of the tide, too.
This might be as niche as it comes, but we respect IWC thinking outside the box here.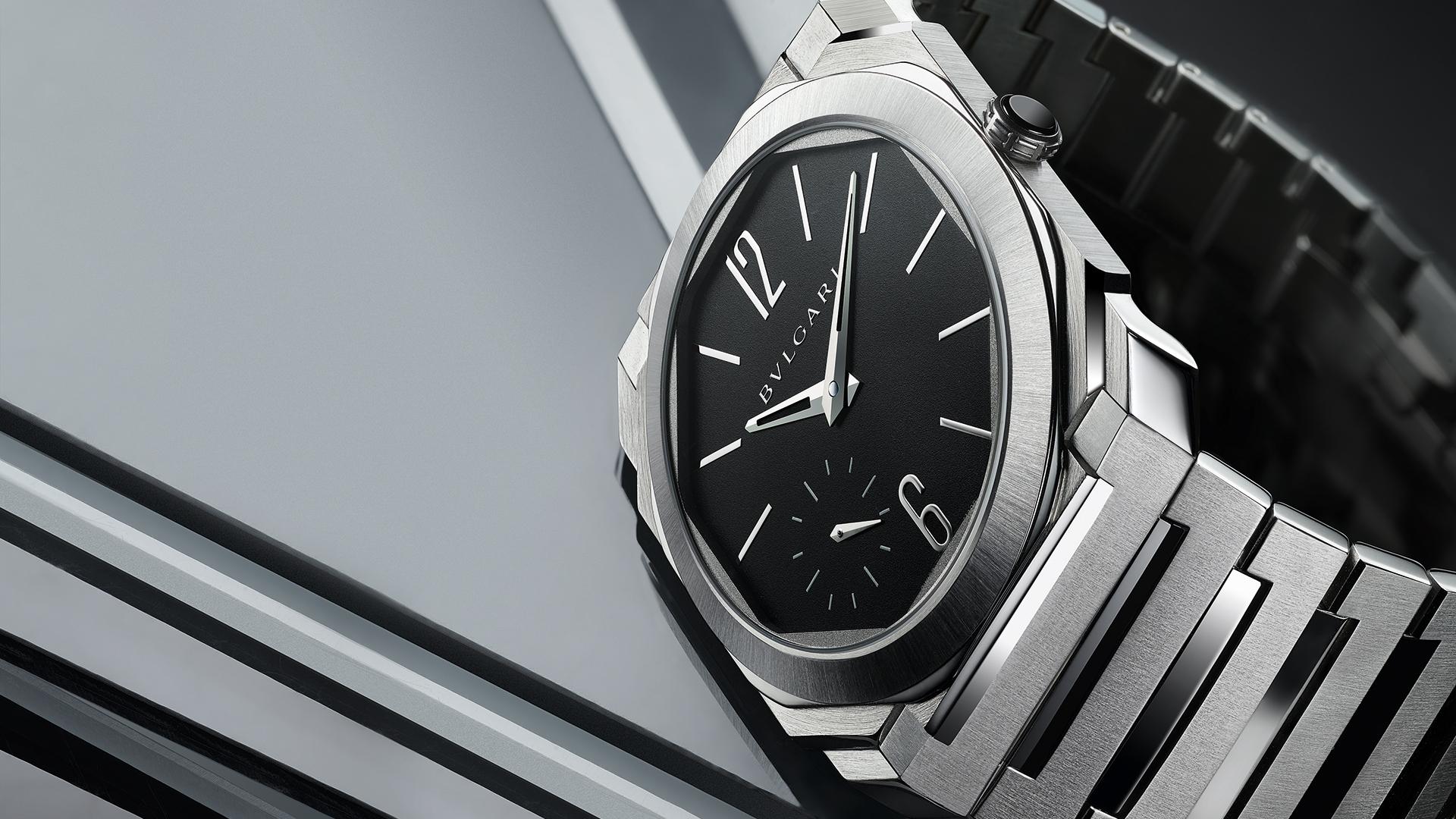 Bulgari
Octo Finissimo in Satin Steel, £10,300
The Octo Finissimo is one of precious few watch designs to go from young pretender to established part of the conversation in less than a decade. In a category as competitive as the sports watch, that's some feat.
Bulgari gave its flagship collection a clear design ethos: bold lines, ultra-thin (often world-record breaking) mechanical movements, and a sandblasted titanium finish.
In a marketplace that largely lived off the designs of the 1970s, this mentality was arguably contemporary to the point of being subversive.
If there was one criticism from a quiet corner of the watch sphere it was the sandblasted titanium didn't have the most premium feeling – Bulgari may have been happy to allow its watchmaking to hide beneath a muted material, but a few wanted something more shiny. Well, they've got what they wanted.
The new Octo Finissimo Automatic is in many ways a rerun of the superb 2017 version. It still contains the thinnest time-only automatic in the world (2.23mm, contributing to an overall 5.25mm case thickness), but it now comes with the brushed and polished surfaces you'd attribute with a sports watch.
Simply put, this is a modern beauty.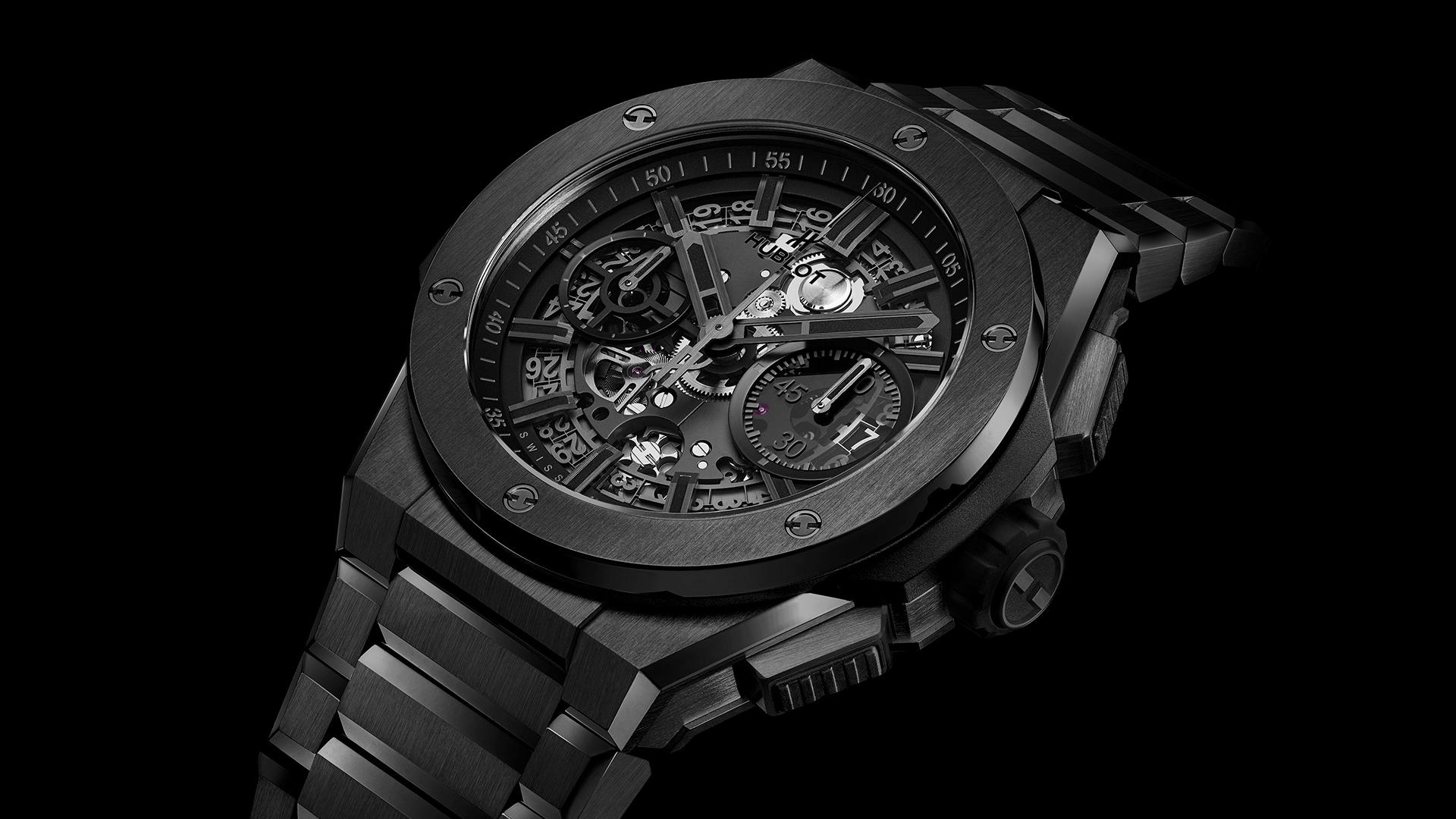 Hublot
Big Bang Integral, from £17,300
It seems somewhat bizarre that Hublot's masculine marvel, the Big Bang, has never been available with an integrated bracelet until now, but that is something the brand has finally put right for the collection's 15th anniversary this year; better late than never, but the Big Bang Integral has it bang on.
The case of Hublot's sporty chronograph has received a liberal helping of bevelling and chamfering to seamlessly slope from watch to shiny new bracelet with ease. It's a cosmetic tweak, but it has immeasurably improved the silhouette – and moves it from 'footballer's watch' territory (the derisory criticism sometimes thrown at the Hublot brand) to bonafide sports watch contender.
It's the biggest leap forward in horological street cred since the Big Bang's Unico movement – featured in the Integral, naturally – was first produced in-house in 2013.
The one downside, in our opinion, is that for now the collection comes in three variants: titanium, black ceramic, 'King Gold' (Hublot's proprietary gold alloy). Sure, we can see why the brand has chosen to showcase its high-tech case materials here, but a steel option would have been nice.
Still, this is a job well done for Hublot – this is the best Big Bang yet.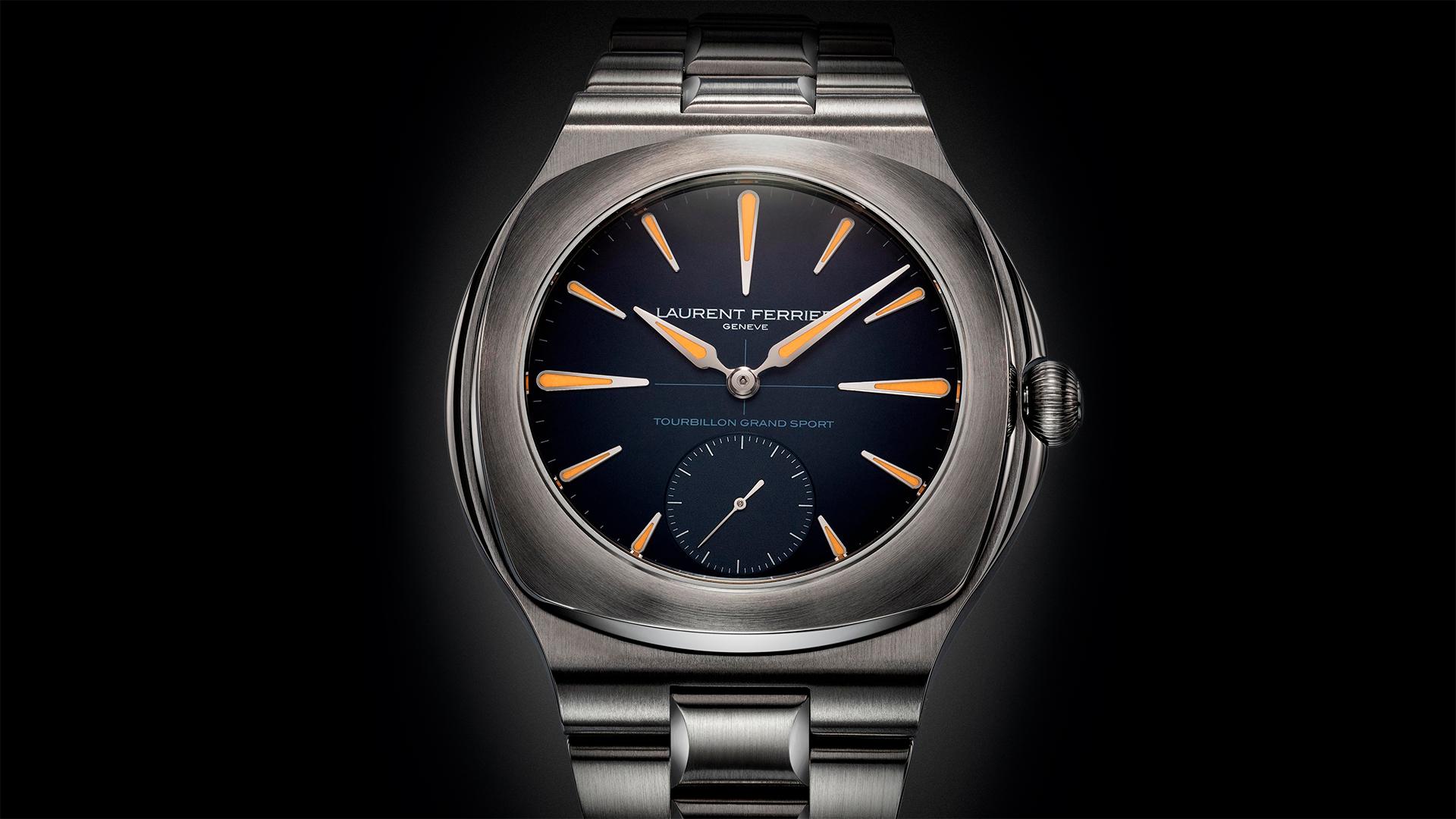 Laurent Ferrier
Grand Sport Tourbillon, CHF 172,000 
Laurent Ferrier is not a watchmaker that Barry from the pub will be familiar with. He won't be impressed to learn that he worked at Patek Philippe for 30-odd years, eventually rising to rank of technical director, and he'll care less that since 2010 his eponymous brand has been producing some of the finest ever examples of neo-classical watchmaking.
Show a watch geek a Laurent Ferrier watch, however, and you'll be met with the same look of glee as when a child sees a big red firetruck for the first time, such is its covetable nature to a true horologist.
The Grand Sport Tourbillon sees Laurent Ferrier put his own ultra-high-end spin on the sports watch – and, boy, does he deliver.
The case boasts Ferrier's signature soft curvaceous style that gently nudges the Grand Sport away from its justifiable Nautilus comparisons, while a brushed steel bracelet provides that typical sporty look.
Flip the watch over and the magic is revealed: a swoon-worthy hand-wound tourbillon, featuring every haute horlogerie tool in the shed. We'll spare the details, but it's this painstakingly meticulous handiwork that justifies the watch's price tag.
Honestly, it's worth every penny.
Classic
There's something pleasingly contradictory about classic watchmaking: despite the fact it has been the predominant way we have displayed the time for centuries, its designs are themselves timeless.
You may find some of the following watches toy with the conventions of the classical aesthetic, but broadly remain true to the style, while others are almost identical in their looks to something you might have worn more than a hundred years ago. Regardless, each timepiece still looks relevant on the modern wrist today. What looks best is down to your personal preference.
Take your pick from this year's classic watches.

Jaeger-LeCoultre
Master Control Date, £6,000
There are two points of note when discussing the Master Control collection. The first is that, in spite of its distinctly classical aesthetics, it only dates back to 1992 and has remained broadly unchanged ever since. Second, naming your watch 'Master' with a focus on pristine technical prowess is a big baller move you can only get away with if you're a watchmaker's watchmaker like Jaeger-LeCoultre.
Across its lifetime, the collection has fulfilled its promise of producing restrained diversions on the classical watch theme, and in doing so has seen the purists line up to get a look at the latest additions. They're going to like what they see this year.
The new Master Control collection adds four new pieces here, all of which neatly fit in with the pared-down philosophy of previous iterations. If anything, they feel a little more modern in their execution – at least compared to the vintage-looking sector dial watches we were treated to in the 2017 Master update – but, really, these watches would be very difficult to place in a given watchmaking era. As intended, they are timeless timepieces.
The big news with these versions, including the Master Control Date [pictured], is an overhauled calibre 899 movement that features shiny mechanical upgrades. In many ways, this is the same old Master Control – but even better than before.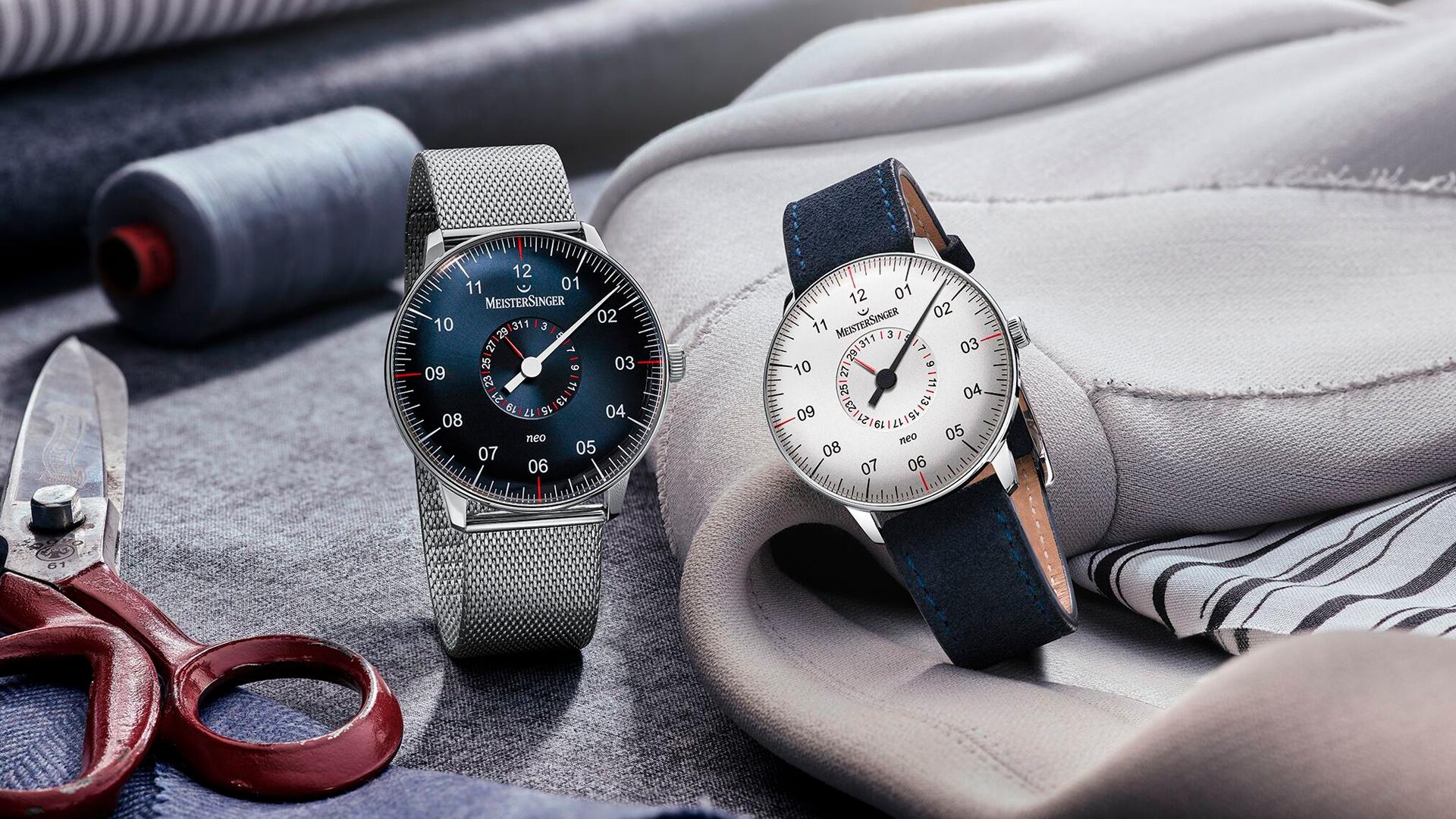 Meistersinger
Neo Pointer Date, from €1,270
Meistersinger's single-hand watches are a departure from the precise time instruments of classic watchmaking. By losing the seconds and minute hands, these watches do not give their wearers the exact time, but rather tell the time to the nearest five minutes. It's a unique concept that hopes to make us all live in the moment a little more.
The latest member of the Neo collection (largely an ode to bauhaus), features the classic pointer date function – which existed long before the date window more commonly seen these days. It's charming.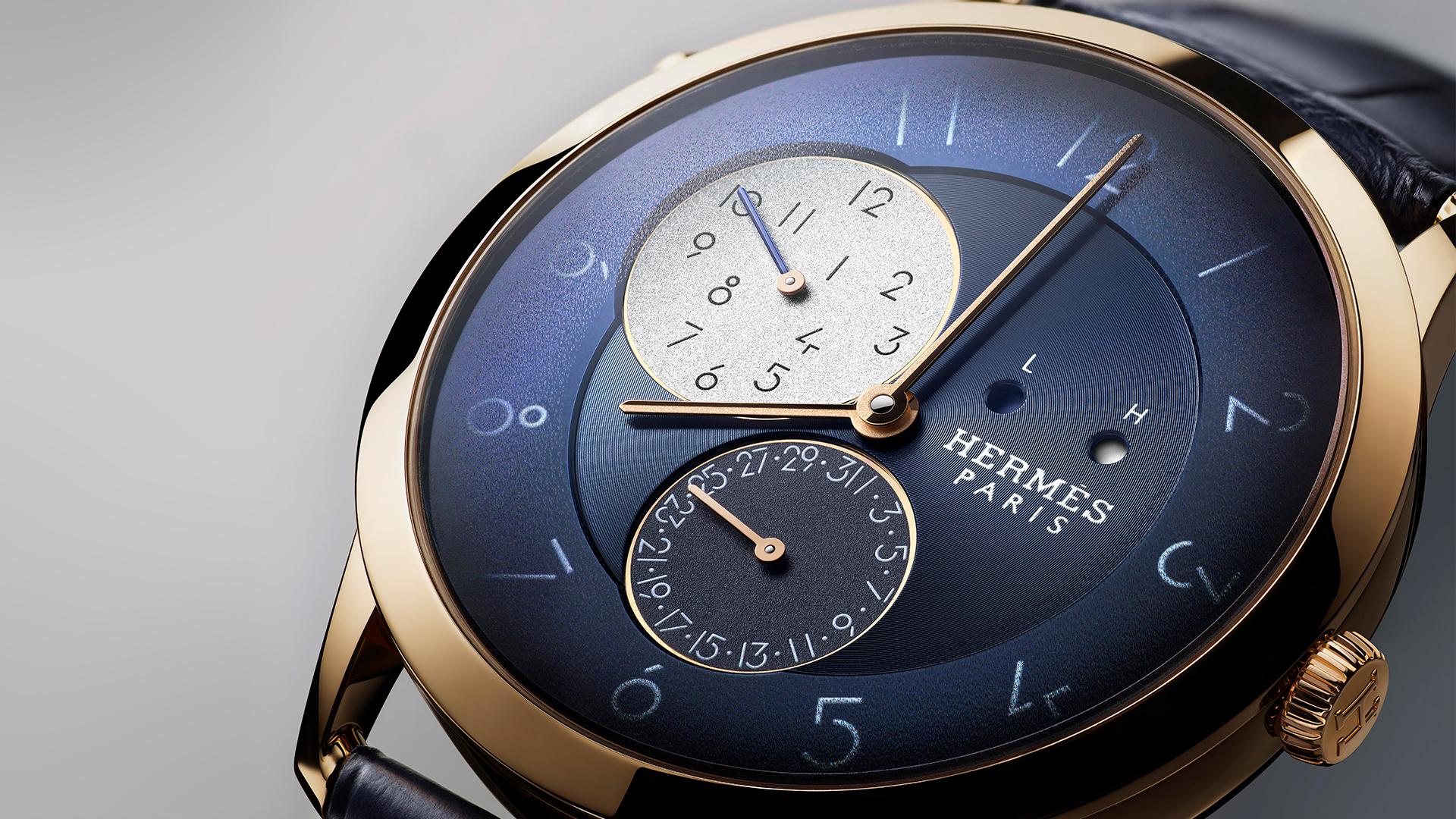 Hermès
Slim d'Hermès GMT, £15,285
Hermès has mastered its unorthodox approach to classical watchmaking in recent years. It pirouettes through the standard conventions of Swiss horology, but it can't help drawing outside the lines with its unique embellishments. On paper, Hermès watches shouldn't differ from the next brand, but in execution their style is all their own. Whether it's the sloping italicised numerals of the Arceau collection or the quirky charm of L'Heure de la Lune's novel moonphase complication, they never fail to put a smile on our face.
The Slim collection, first launched in 2015, is no different. This GMT version features a subdial with asymmetric numbers indicating the home time – it's a beautiful muddle of fun horology. A second subdial at six o'clock displays the date, while the L and H indicate AM or PM in the local (L) or home (H) time zones.
New for this year is the royal blue dial and rose gold case – the original GMT model being released in 2018 – and this just feels like another step towards this timepiece growing into the next Hermès icon.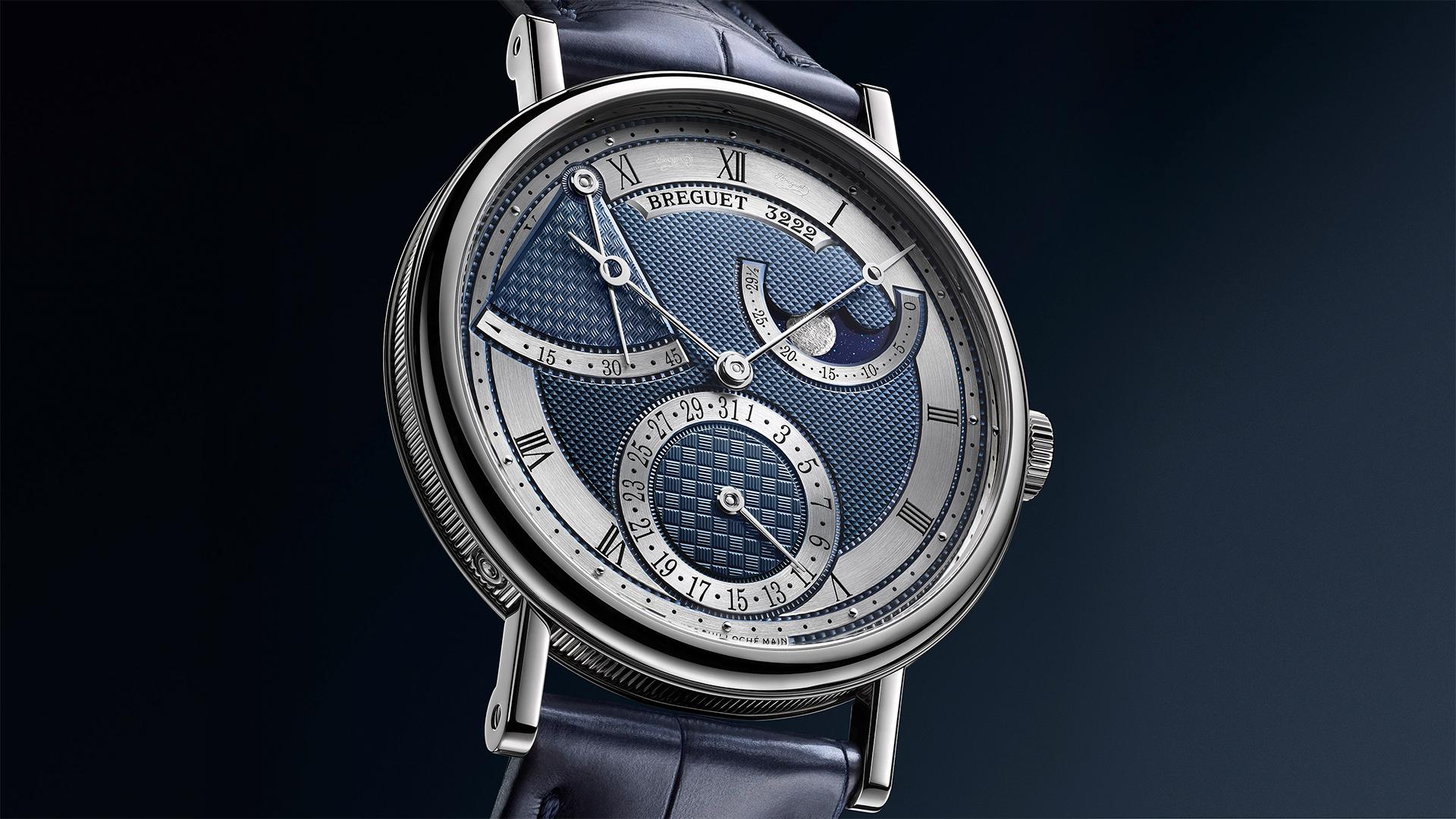 Breguet
Classique 7137, £33,100
Abraham-Louis Breguet, one of the greatest horologists ever to have lived, has given plenty to watchmaking. His technical innovations (some 200 years after creation) continue to inform how we build movements, while his eye for decoration is a mark to which many of the best watchmakers continue to hold themselves, but it's his eponymous brand Breguet, founded in 1775, that is his greatest gift to horology. Just take look at the Classique 7137 for proof of this fact.
Not only is it gorgeous – and it really is gorgeous – but the composition is inspired by the Perpetuelle No5 pocket watch Breguet himself designed in the 18th century.
It features three off-centre indications, each showcasing the best of the era's watchmaking: a power reserve in a fan-shaped display; a moonphase; and a circular counter for the seconds and date. Each is then exquisitely finished with Breguet's distinctive guilloché decoration.
The 2020 version, resplendent in 'Breguet blue', features three variations on the guilloché handiwork of its founder: basket weave for the power reserve, checkerboard for the date, and hobnailing for the main dial. It's enough to make a grown man cry.
Tool
Tool watches are Swiss Army knives for your wrist: practical, robust and ready for action. As the name suggests, these timepieces were originally designed to accomplish specific tasks (like the Certina for use in the water, the tough-as-teak Bremont pilot's watch or Ball Watches GMT for globetrotting) but these days the term is more of a shorthand for a watch that is resilient enough to handle whatever you can throw at it.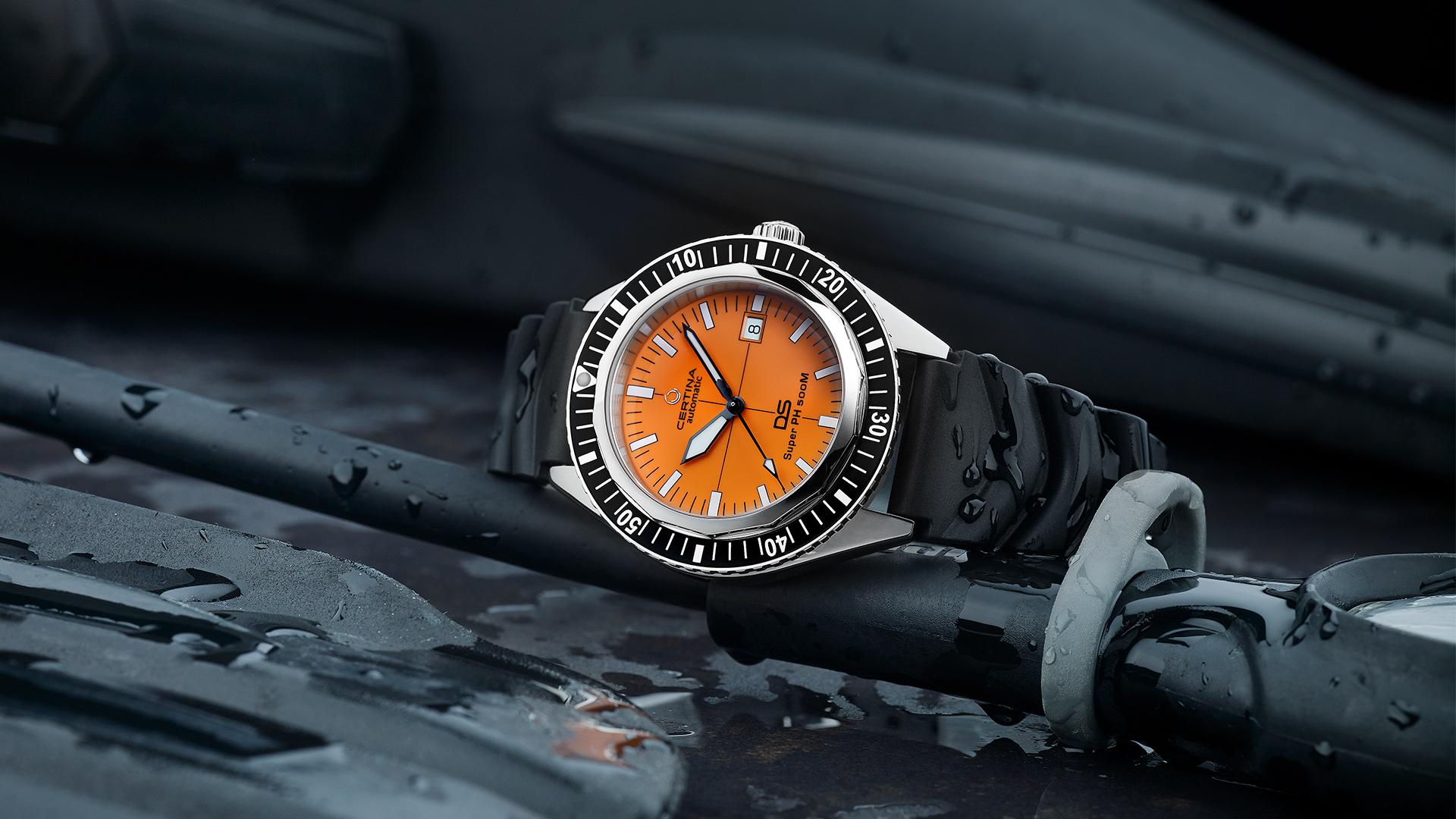 Certina
DS Super PH500m, £795 
There's a lot to like about Certina at the moment: its vintage-slanted timepieces look great, have a story to tell, and feature Swatch's Powermatic 80 movement (boasting accuracy, stability and value beyond its competitors). Case in point: the vibrant orange DS PH500m.
If watchmaking history isn't your thing, we're happy to report this tough little diver simply looks fantastic, and serves its purpose as a rugged tool watch.
If, like us, you like to regale people about your watch's origins (we're fun at parties…), then you'll love the story behind this piece.
Back in the 1960s, Certina dive watches were considered some of the best around thanks to their Double Security (DS) case construction. This piece of tech, essentially an extra layer of shock-proofing, allowed its watches to travel to greater depths than most other companies.
Such was its renown that when in 1969 NASA observed a team of US scientists as they spent two months living in an underwater habitat known as Tektite I, each member of the crew wore a Certina DS-2 Super PH500M on their wrist for the duration of the experiment.
It performed perfectly then, so your commute is no problem.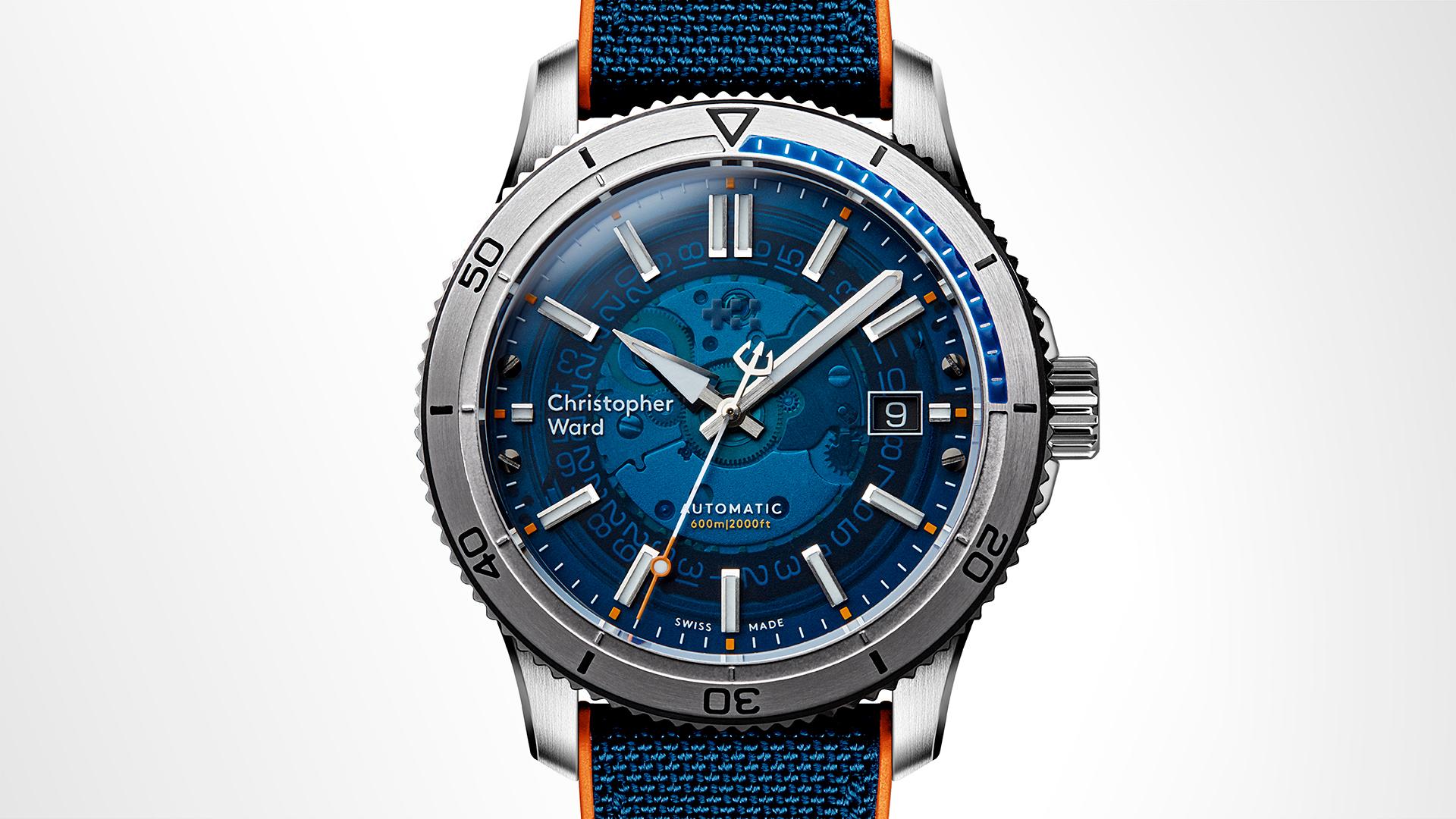 Christopher Ward
C60 Sapphire, £795
The C60 has always been Christopher Ward's standard bearer: as a great-value twist on the classic dive watch, with a respectable movement beating beneath the surface, it neatly sums up the British brand's watchmaking approach.
This colourful new variation features an unusual transparent blue dial that showcases the workhorse Sellita SW200 movement below without going down the full skeletonised route.
It's a strong look – and works particularly well with the accompanying rubber-lined fabric strap.
Panerai
Luminor Marina Fibratech, £17,100
Panerai's Laboratorio de Idee department has been responsible for many of the company's steps forward in recent years, particularly in its approach to composite materials; designed to make its tool watches even tougher.
Its latest innovation is Fibratech, a special new material derived from mineral basalt fibres, which finds its origins (perhaps unsurprisingly) in the aerospace industry. We'll spare you the science lesson on its production and fill you in on the good bits: it's said to be 60% lighter than steel, highly resistant to corrosion, and comes with a textured matte-grey finish which will differ from watch to watch.
It's no surprise that Panerai has chosen to introduce this Fibratech on its chunky diver's watch, the Luminor Marina. Some people will appreciate a slightly less weighty timepiece, especially those who use this tool watch as it was intended – in the sea. Plenty of others will simply appreciate the pleasing contrast between the dark blue dial and the grey case.
All in all, this is a great addition to the Panerai family.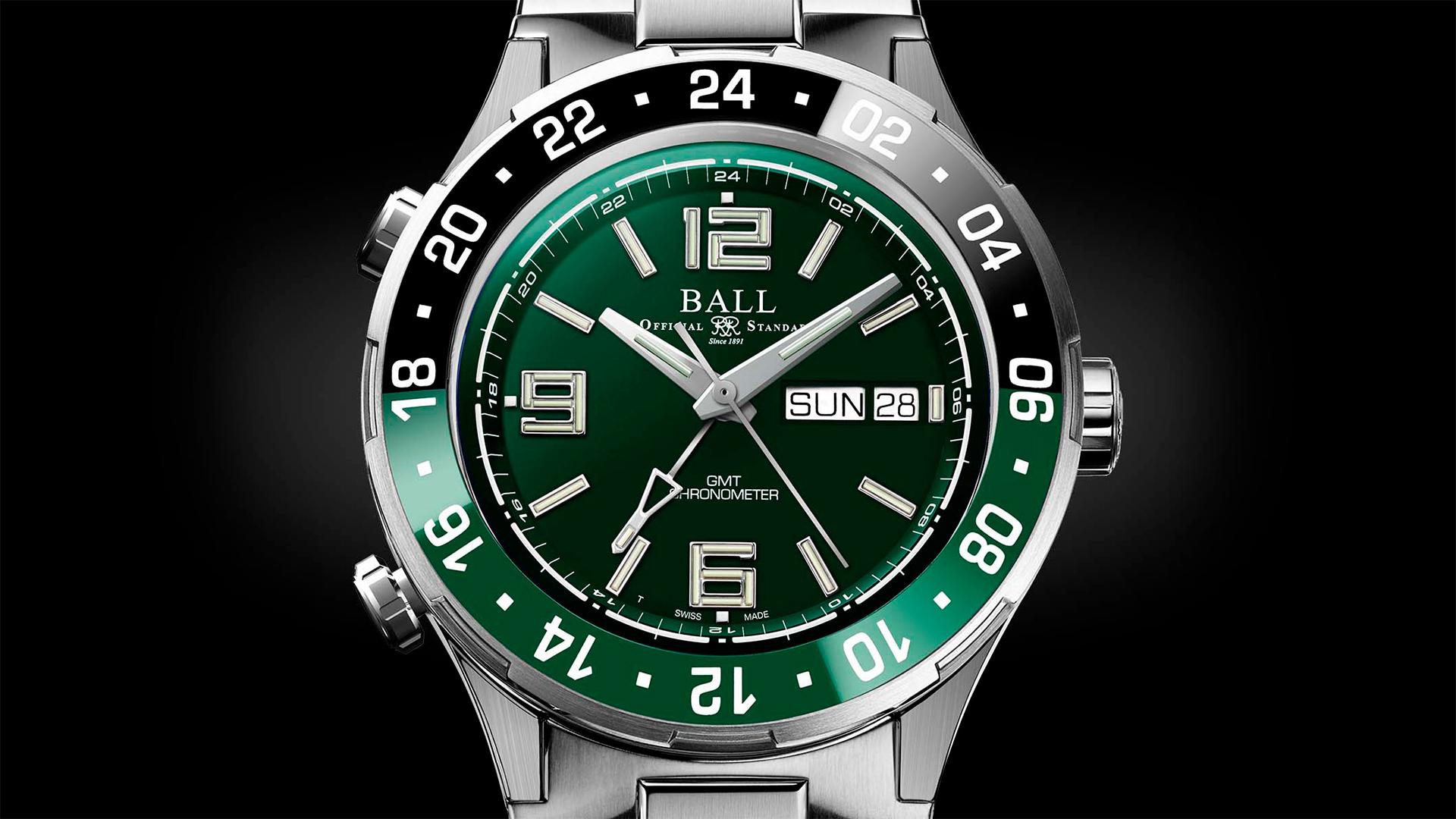 Ball Watches
Roadmaster Marine GMT, £2,067
Ball owes much of its early success to the United States railroad, where its pieces became synonymous with precision timing and a gritty sense of Americana. To look at its modern watches today, you wouldn't think this was a company founded back in 1891.
The maximalist Roadmaster Marine GMT is the tooliest of tool watches: a dive watch, with GMT and day-date complications (a world-first combo, according to the brand). Designed by a 35-year US marine veteran (sir, yes sir), the watch is tough, incredibly versatile and looks good in its black and ivy green robes to boot.
The watchmaking isn't to be sniffed at, either: it comes chronometer certified, features anti-shock technology, and is water resistant to 200 metres.
Elsewhere, Ball makes use of its micro-gas tube technology to create an exceedingly bright lume in darkness. In essence, tritium gas contained within a lume-coated tube produces a luminescence allegedly 100-times stronger than other luminous materials. It's another bright idea on this smart-looking watch.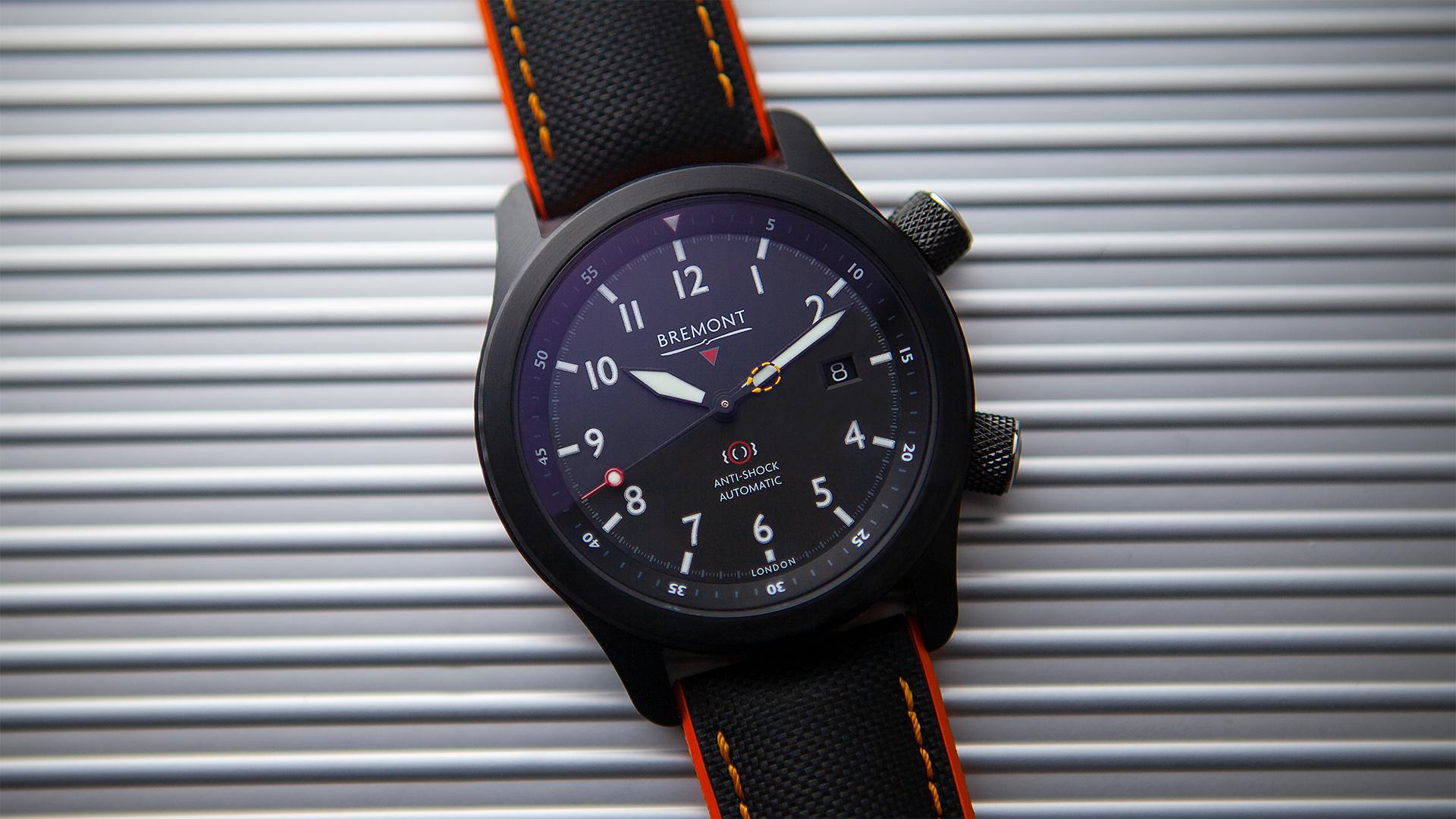 Bremont
MBII, from £3,995
Excuse us while we take a brief segue away from the watch above to its sibling the MBI, because it boasts one of the most awesome facts in watchmaking: to be eligible to purchase one, you simply need to have EJECTED FROM AN AIRCRAFT via a Martin Baker ejection seat. No biggie really…
Anyway, the MBII is for all intents and purposes the same great pilots' watch – without quite the same niche street cred.
It comes with a host of handy tool watch capabilities, including anti-magnetic tech, a patented floating anti-shock movement mount (in case you're planning on ejecting from a plane anytime soon), as well as a sapphire crystal with nine layers of anti-reflective treatment.
In 2020, Bremont has made a few design tweaks to the hands and also replaced the previous day-date complication with a cleaner-looking date window, but the biggest news is that the brand is launching a full online customiser service that allows you to personalise your MBII.
It's not quite a pick-and-mix selection, but buyer's will be able to choose between several dial colours, the finish on the upper case and colour of the mid-case, as well as strap and buckle options.
Perfect for those with a need for speed.