The Court | Membership Information
How to become a member of The Court...
All new members must be proposed by a current member.
The membership committee admits new members when space is available.
Membership is for a minimum period of one year, and then can be renewed annually.
Membership costs £600, with a joining fee of £250.
What's the story?
The Court pulls off the impressive trick of boasting a storied heritage despite literally opening this year. The building once housed the legendary Bag O'Nails, a 1960s nightclub so impossibly cool that it makes Studio 54 look like the Milton Keynes branch of Vodka Revs. Jimi Hendrix played his first UK gig at the Bag O'Nails; Paul McCartney was a regular customer (it's where he met Linda). So yeah, you're in pretty good company.
What's the vibe?
Founder Harry Mead told us before the launch: "I wanted The Court to feel like something out of a novel. Somewhere that almost doesn't exist anymore; a bit of Gatsby, a bit of Rick's from Casablanca. Something that's a bit out of time. You come down here and it feels like an elegant venue in the Thirties."
Mission pretty much accomplished: The Court has an atmosphere of tranquil otherworldliness that couldn't be more detached from its Kingly Street location – you're five minutes from Oxford Circus, possibly the least tranquil place on planet Earth. Partly it's the languidly understated interior, dominated by dark blues and warm browns (Annabel's it is not); partly it's the piano player onstage; partly it's the simple fact of being underground – descending is invariably more louche than ascending. Bogart would definitely drink here.
The club's Signature Gin & Tonic is as good as any I've tasted
How's the food and drink?
Really, really good. Mead has not messed around here, recruiting Mr Lyan to design the cocktail list, and Tom Sellers to supply the vittles. Certain members' clubs have menus that must be endured, or avoided altogether; The Court's should be actively sought out. Come here hungry.
When it comes to booze, the club's Signature Gin & Tonic is as good as any I've tasted, while the Court 75 (Caña brava three-yo. rum, Italicus, yuzu, vanilla and champagne) is delightfully frush, the rum adding a bit of muscle to an otherwise light summer cocktail. Mead deliberately opted for a wine list that caters for all palates (and wallets): "We have £20 bottles of Bordeaux but we also have £15,000 bottles of Opus One in the cellar."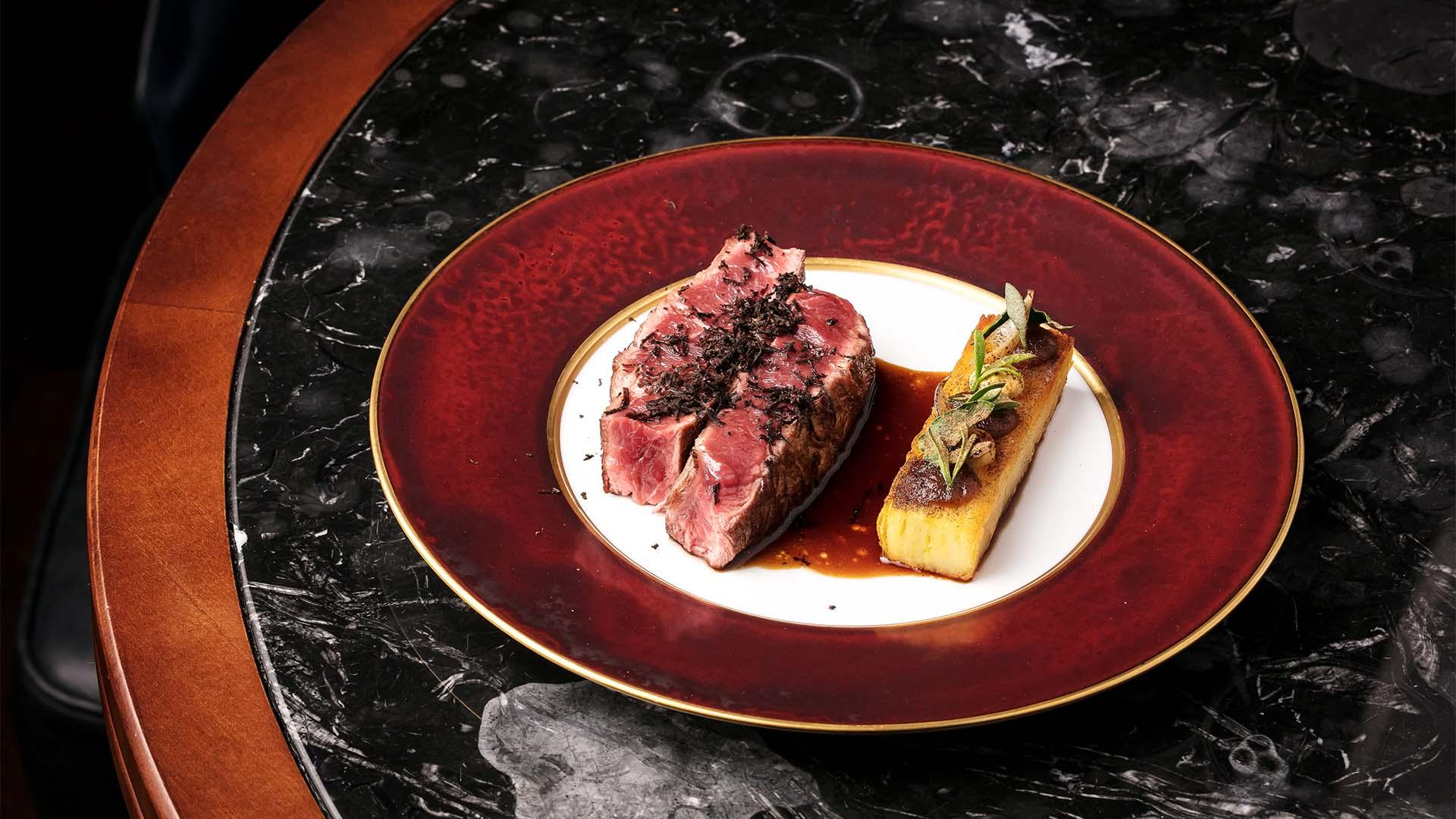 But you'd expect a venue that once hosted The Rolling Stones to serve up good drinks: more surprising is the quality of the food. There's nothing overly elaborate here, no unnecessary culinary flourishes: just quality ingredients combined with minimum fuss and maximum effectiveness. The Crab Toastie – British Isle crab on toasted brioche – is a great example of this 'keep it simple, do it well' ethos.
Forty-five day-aged Steak Tartare comes as either starter or main, and I suggest you opt for the latter: something this good should be enjoyed in the largest possible portion. I discovered steak tartare some 15 years ago in Geneva; no incarnation since has quite lived up to my memory of the first (childish nostalgia, etc) but dammit, I think The Court's steak tartare might just have managed it. Order with truffle fries.
Yet the most memorable dish might be the humble Pea Veloute, pressed upon us by our waiter, and with good reason. It's so light you barely seem to swallow it, the soup basically dissolving in your mouth. Refreshing doesn't even cover it. Take a flask of the stuff into the Sahara and you'd last a month.
There's a 24-hour licence for private events – don't view it as a challenge
Good place to party?
We visited in the evening, when the vibe was more upmarket speakeasy than last days of Rome. Even in the early hours, I don't think 'rampant hedonism' is really The Court's style. Saying that, there's a 24-hour licence for private events – just don't view it as a challenge. Going home is not a sign of weakness.
Come here if…
You have a touch of class. The Court hasn't been open long enough to establish a reputation for any one type of clientele. Indeed Mead isn't aiming for any one type of clientele; he wants The Court to be all things to all people. He describes members as "those people who you actually want to be sat round a table with. I don't care what they do, I don't care how money you have, as long as you've got enough to enjoy the place; what I care about is your character. Our membership profile is decent people. They can tell a good story, they're good company, and they know how to treat other people well."